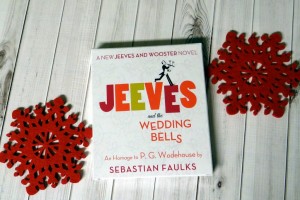 On the tenth day of book gifting, Rural Mom suggests Jeeves and the Wedding Bells – Audiobook CD
I love a great work of fiction and often love them even more on audio!  The tenth pick in our Rural Mom 12 Days of Book Gifting Suggestions is one book I'm truly glad I had the chance to listen to.  The verbal talents of Julian Rhind-Tutt really enhance the story, bringing rip-roaring life to the engaging prose of author Sebastian Faulks.
Bertie Wooster (a young man about town) and his butler Jeeves (the very model of the modern manservant)—return in their first new novel in nearly forty years: Jeeves and the Wedding Bells by Sebastian Faulks.
Bertie, nursing a bit of heartbreak over the recent engagement of one Georgina Meadowes to someone not named Wooster, agrees to "help" his old friend Peregrine "Woody" Beeching, whose own romance is foundering. That this means an outing to Dorset, away from an impending visit from Aunt Agatha, is merely an extra benefit. Almost immediately, things go awry and the simple plan quickly becomes complicated!
If you've never tried an audiobook – they are great for long drives, work outs and even to listen to during house cleaning time – start with this one, it's a hoot!
For more information, visit http://www.amazon.com/Jeeves-Wedding-Bells-New-Wooster/dp/1427237824/ref=tmm_abk_swatch_0?_encoding=UTF8&sr=&qid=
Looking for more ideas? Check out our complete list: