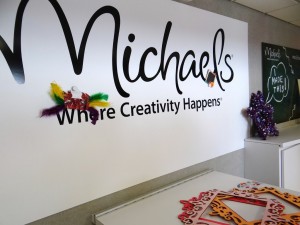 As if the Kentucky State Fair wasn't already chock full of my all-time favorite sights, sounds and foods from our amazing state… in rolls the Michael's Mobile Craft Tour.  Isn't that just a dollop of rich whip cream on an well frosted cake!
A specially designed 18-wheeler, the Michael's Craft Bus features a fully stocked, 1,000-square-foot craft room on the inside.  Free craft projects, interactive social media walls and TV screens showing DIY videos are a few of the special features awaiting those who climb on board.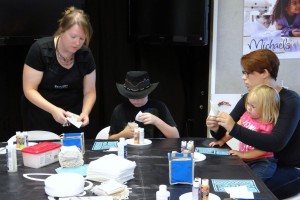 Ample supplies and a friendly staff help children and adults put together a lovely keepsake craft, demonstrating how easy and quick it can be to put your personal touch on every day items.  During our time on the bus we stenciled mini canvas bags and designed funny pencil toppers for back-to-school.  An unexpected and delightful experience during our second day at the fair.
The Michael's Craft Tour began in Utah in June, stopped at the Kentucky State Fair in August and will continue visiting states through October 2013. For a complete schedule, go to michaels.com/crafttour