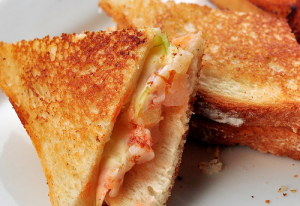 Iron Chef Marc Forgione's unique twist on the classic grilled cheese makes the perfect mouth-watering meal and with the T-fal Mini Grilled Cheese Griddle, the cheese gets perfectly melted while the bread gets perfectly toasted for an even tastier treat.
Perfect for a holiday weekend or every-day treat!
Lobster Grilled Cheese
courtesy of Marc Forgione and T-fal ~ Makes 4 whole sandwiches
Ingredients:
For the Chili Lobster:
· 2 cups Lobster Stock (If you can't find Lobster Stock, get seafood stock, which should be available at Whole Foods or Fox & Obels)
· 4 (1 ½ pound) lobsters, claws removed
· ¼ cup Sriracha
· 2 tablespoons low-sodium soy sauce
· Juice of 2 limes
· 6 ounces (12 tablespoons) unsalted butter, divided
· 4 tablespoons canola oil · Kosher salt
· Freshly ground black pepper
· 2 tablespoons chopped tarragon
· 8 slices of fontina cheese
· 4 slices Pullman Loaf or other high-quality thick sliced white bread (1" thick)
Preparation
1. Cut the tails off the lobster bodies, and into 1-inch pieces while the tails are still in their shells
2. Bring the Lobster Stock to a simmer and add the Sriracha, soy sauce and lime juice. Piece by piece, whisk in 6 tablespoons of butter until emulsified. Reduce the remaining sauce until it slightly thickens, about 2 minutes.
3. Toss the lobster tail pieces in oil with salt and pepper and cook for 1-2 minutes or until cooked through. Place the lobster pieces in a bowl and transfer to the fridge until cooled. When the lobster pieces have cooled, pop the meat out of the tails and set aside.
4. For each sandwich take two slices of bread. Place one slice of fontina cheese on top of the first slice, cover the cheese with some lobster meat, sprinkle ½ tablespoon of tarragon, cover with a second slice of fontina cheese, and then top with the second piece of bread. Brush the outer sides of each slice of bread with melted butter and season with salt. Grill the sandwich on the T-fal Mini Grilled Cheese Griddle and serve with a small bowl of the chili sauce on the side.