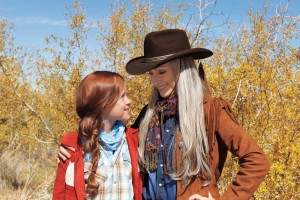 American Girl has always appealed to me due to their clever blending of wholesome values, engaging stories, historical connections and overall upbeat personality of product. My daughter grew up reading American Girl books and making American Girl crafts, and now my grand daughter is nearly the age to introduce her to this lovely line.
Soon, we'll have the chance to engage her interest with a new feature-length movie from Universal Studios Home Entertainment, An American Girl: Saige Paints the Sky.
The movie, releasing on DVD and Blu-Ray on July 2 and airing Saturday, July 13, at 8/7C on NBC, stars Jane Seymour as the beloved Grandma Mimi and introduces Sidney Fullmer as Saige, a talented artist with a passion for horses, in this modern-day story about finding one's voice.
Synopsis: Nine-year old Saige is excited about the new school year until she discovers that art—her favorite class—has been cut. On top of that, her best friend, Tessa, is spending more and more time with another girl. 

For support, Saige turns to her grandma Mimi (Seymour), a well-known artist and horsewoman, who encourages her to take action and inspire her community in a fund-raising effort to start an after-school art program. Heartwarming, empowering, and fun, it's a movie for every girl who has ever dreamed big.
I'm excited to share this special television event next month with my daughter and grand-daughter.  Will you be tuning in? 
More information may be found on http://www.americangirl.com/play/girl-of-the-year/saige/index.php#page=movie