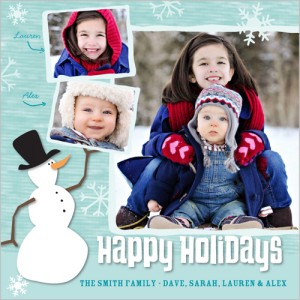 Digital photography has certainly enhanced our ability to capture memorable moments. We can take multiple shots until we capture the perfect one, crop and touch up our photos, and then share our favorite photos with family and friends when we send gorgeous Photo Christmas Cards.
The one thing our cameras cannot do, however, is set the stage for the "perfect" holiday photo or decide what design will work best for sharing a memorable moment.  Maybe you have something in mind, like close-ups of every child or a casual candid staged on the front porch swing.  But if you are stuck for ideas, the time to start thinking about your holiday photos is now, so that you have plenty of time to get prints in time for mailing or gifting.
One simple way to determine what poses or settings you'd like for a holiday photo is to peruse holiday card designs, like those found on Shutterfly.
Maybe a collage style will suit you: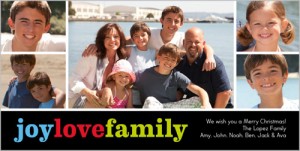 Or how about a showpiece card that will certainly stand out in the crowd of holiday mail: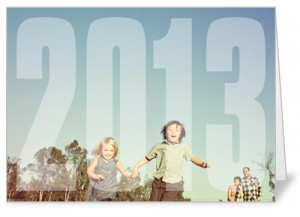 The key is to find a design and color-scheme that appeals to you and then work your photo magic from there.
From the age-old technique of decoupage to creating digital scrapbooks, making things out of beloved photographs never goes out of fashion, holiday cards are no exception. It's a thoughtful way to say "Happy Holidays" to a distant relative and a treasured keepsake to send to friends.
In addition to creating holiday cards, there are a number of ways you can put your holiday photos to use as gifts, too.  Creating photo t-shirts, calendars, wall prints, water bottles, and even iPhone covers! (For ideas and savings, check out the Shutterfly special offers page at
The holiday photo options you can make are limited only by your imagination. With a digital camera and the right inspiration, you can create a stunning memory  to share.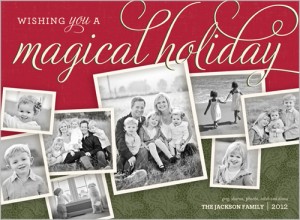 Disclosure:  This is sponsored content created by Rural Mom.  All thoughts, opinions, and ideas are that of Rural Mom.  Photo card pictures are property of Shutterfly, used with permission.