Getting your garden summer-ready is one thing, but if you plan to entertain your friends and family throughout the sunny season, you may want to add a few more steps to make it comfortable, and impressionable. Hosting a garden party is a great way to make the most of your outdoor space, and enjoy the sun.
Whether you like to party to the early hours or enjoy a few cocktails on the decking, you need to adequately prepare your space to host your guests. Here are some top tips to help you create the perfect, outdoor party space.
#1 Tidy up
Although this may be your least favorite task to do, it is going to be the most important. A tidy space will not only impress your guests but will also create a clean and safe environment to host your party. When you invite guests into your home, you are responsible for their safety. If your garden is filled with broken items, debris, clutter, gardening items, etc. then you are creating a hazardous area. That is not going to go down well if you have children playing, or if the adults are drinking alcohol.
A tidy space also means more room to socialize and add furniture such as tables and chairs.
#2 Spruce up
Once you have cleaned up, it is time to spruce up your garden space. You should consider the theme of your party, and design your garden accordingly. This can be anything from hanging decorations, to adding some color around the space. You can do this with cushions, chair covers, tablecloths and napkins. Alternatively, you can hang bunting and other fun items. You can take it a step further and turn your shed into a bar, add candles for atmospheric lighting and display beautiful, brightly coloured seasonal flowers.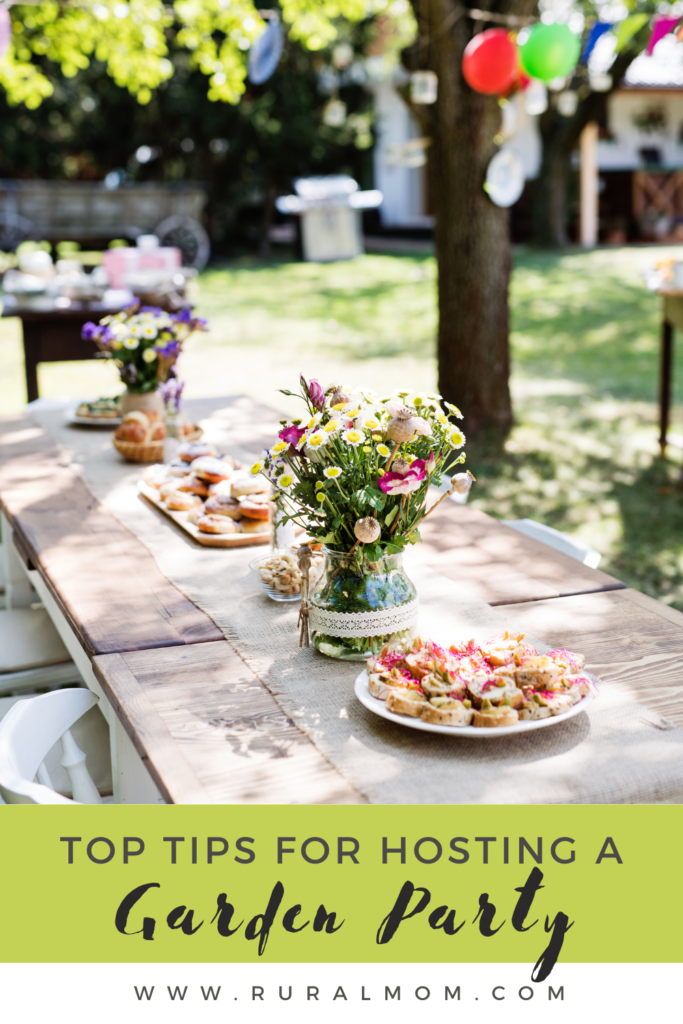 #3 Seating
You will need to ensure that you have comfortable, and adequate seating in your garden before your guests arrive. Before the party, write down the number of guests that you have invited and are expecting to show up. This will give you a better number of the seats you require. There are a variety of options that you can choose from, for example, lounge chairs, camp chairs or stools. If you are short on seating or want to be quirky, then you may choose to leave pillows and picnic blankets around for people to use.
You should also consider the type of party you are hosting and the time of day. If you are hosting a get together during the day, then there is more likely going to be people wandering around, and happy to sit on picnic blankets. If you are hosting a dinner party, then you are going to need consistent seating around a table for your guests to be comfortable.
#4 Cover
If you are hosting a party in the middle of summer, it is going to be extremely hot. You can make your guests more comfortable by providing them with the option of shaded cover around your garden, so they can cool off whenever they feel they need to. This is especially important if you have children, elderly relatives or pets that will be in your garden. You should also consider a shaded place where you can store and display the food that your guests will be eating. Even if you are hosting your party in the summer months, it is also important that you have a backup plan in case the weather takes an unexpected turn.
Some of the best options for shade include a large parasol, leaving space under trees and big shrubs, or you can get creative with a garden arbor and intertwine plants to create a beautiful shaded option.
#5 Lighting
If you are hosting your party during the day, then you won't need to think much about lighting. However, if your party will go on to the evening, or if it is a party that starts late at night, you will need to consider how you are going to brighten up the space. You want to ensure that the type of lights you use meet the theme of the party and set the mood. For example, you could hang some fairy or decorative lights, hang a line of festoons or lanterns along the fence, have a fire pit or burn some candles.
#6 Food and drink
Before your guests arrive, you must obtain any allergy information from your guests. You should also tell them on the invitation what kind of food to expect. When hosting a garden party, there are lots of options that you can choose from. You can simply have a picnic, where guests contribute by bringing items that everyone can share, or you can create a buffet on display for people to pick at. If you are a keen cook, you may wish to have barbeque food while your guests are there, or prepare some of your favorite recipes in the kitchen beforehand. You should ensure that there is always a snack on hand and that guests have access to beverages. Water should always be available, especially if the weather is hot.
#7 Entertainment
How do you plan to entertain your guests? Are you hosting a sit-down meal which will be the main attraction? Or are you having friends and family over for a barbeque and drinks? For the latter, you may consider setting up some entertainment that your guests can enjoy. Garden party games are one of the best ways to have fun and keep your guests happy all day and all night. The great thing about games is that they are suitable for all ages, and are always a huge hit. Depending on the space that you have available, you can set up games like croquet, skittles or hoopla. If you want to entertain your guests, in a low-key way, then you may wish to have music in the background or set up a home cinema to enjoy after your meal.
Planning a garden party is a huge undertaking, but with the right knowledge and preparation, it can be a great success.