Looking for a great way to spend time with your mother this Mother's Day? Often the best present is the gift of time. Finding the best Mother's Day activities you can do together will be a gift she'll truly treasure!
Mothers are amazing people who deserve to be celebrated all year long. Unfortunately, we don't always have the time to make her day truly special.
Whether you are young or old, devoting your time and attention to your mom is the way to go. Here are x ideas to get you started on finding a lovely Mother's Day activity. They are all tried and true gift giving ideas that can be tailored to suit almost any gift recipient.
Get out in the garden
Plants and flowers make great gifts, especially if Mom has a favorite flower or type of plant. If she gardens, even better! Pick out some plants for her to enjoy all summer long. Make plans to help her plant them and maybe even have a garden tea party, too.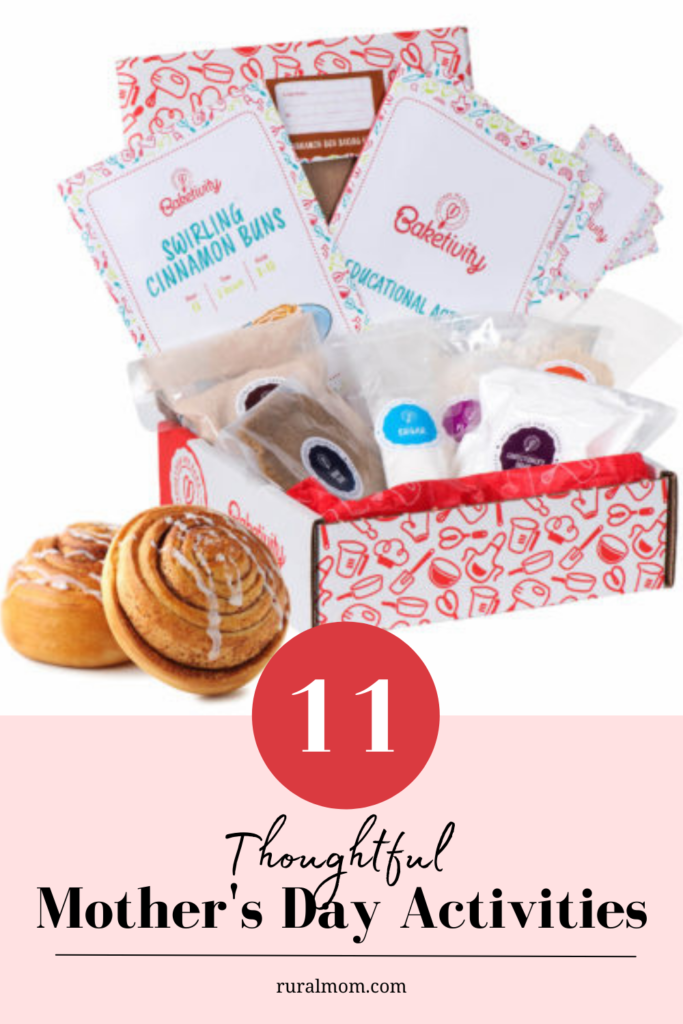 Attend an event
Grab tickets to attend a symphony performance, local art show, or even a craft fair. Whatever suits her particular interests will be a welcome gift. Attend with her or purchase a second ticket so she can bring a friend along to share the experience.
Spend time in the kitchen
Many mothers spend so much time taking care of their families that they do not take time for themselves. This Mother's Day look for a way to pamper her and give her a break from her routine. Offer to cook with or for her. Plan a brunch that you'll both enjoy.
Baketivity is a great gift to give moms, especially ones with younger children. It's also a great gift to have a fun day with adult children, too. These kits are complet with all the ingredients you need to make some awesome goodies for brunch, including delicious cinnamon buns! 
Baketivity's fun-filled baking kits are shipped right to your door and perfect for the whole family. These kits include yummy, kid-friendly recipes, pre-measured ingredients, and an educational activity/craft. Specialty kits include Flower Cookies, Whoopie Pies, Swirling Cinnamon Buns, and Bagels. There's even a S'mores Pie Kit!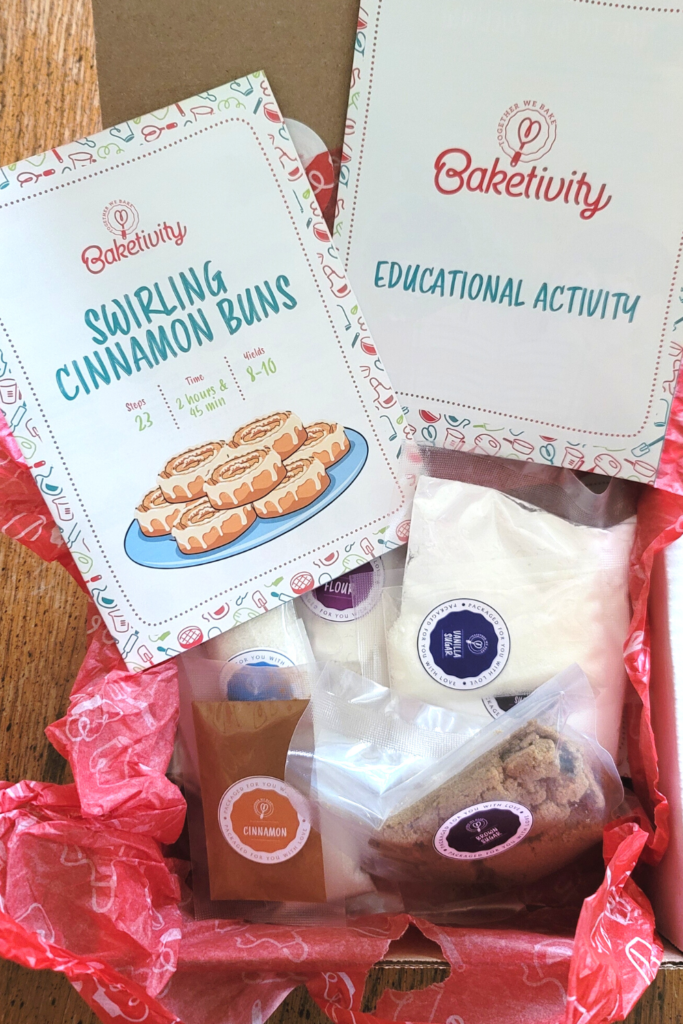 Hang out at the local bookstore
Books and DVDs make wonderful gifts as long as they suit Mom's own taste. Not sure what to get? Gift your mom a bookstore gift certificate and take her to browse and shop the bookstore on Mother's Day. For moms who love to read, this will be a priceless gift and a fun way to discover more about eachother's interests.
Set out a table to craft together
Collect family pictures and together, make her an album or collage full of memories. If she has a hobby that she never finds time to pursue, purchase some supplies to help her get started. Check out online resources, too. You may be able to take a painting class or calligraphy course together from the comfort of your/her home.
Head to the spa
A spa package would be welcome to any mother who cannot find the time to spend on herself. If location and budgeting allow, go with her to make the day even more memorable.
Plan a picnic
Plan a picnic in her favorite spot in the park. Cook her favorite meal and bring it along. Better yet, invite other friends and family to join in the Mother's Day activities with a potluck picnic celebration.
Need some great recipe ideas or want a recipe kit to make with your mom to take to the celebration? Check out Baketivity(detailed above).
Take care of her to-do list
Clean her house. Walk the dogs. Run errands. In general, take care of her to-do list for the day or the week. These are Mother's Day activities your mom will be quite thankful for!
Shop!
Plan a shopping spree
Does your mom like to spend more time at the mall than at home? Or has she been wanting to go shopping for something specific but hasn't found the time? Head out to shop!
This is one of the Mother's Day activities you can extend into a full day of activites to include shopping, lunch, spa treatments and more all in the same location.
Take a hike
Want to avoid the crowds on Mother's Day? If your mom is a nature lover, take a hike. Make the whole day an outing, whether hiking or taking a road trip, choose something that she loves to do and make a day out of that activity.
Go green
Help her with her aspirations to live more "green" this year by choosing an environmentally responsible present. While you are together, sponsor a tree or animal in her name. Buy her a membership or make a donation to an organization that supports her favorite cause. Shop with her to find eco-friendly products she enjoys and then pay the shopping bill. There are many options available.
Whatever the gift giver decides to buy or do for Mom this Mother's Day, make sure that the gift is tailored to suit her personality and interests. Whether eco-friendly or traditional, make this Mother's gift special.