This year at Rural Mom, we all agree we are just ready to bring on the joy of the holiday season! Like you, we understand just how hard all the moms out there work 24/7 and rarely take much needed "me time." To celebrate Rural Moms everywhere, we create a very special Gifts of Comfort and Joy holiday guide full of gifts that pamper and energize the soul.
We are very selective about these gifts look for products that not only deliver smiles, but ones that are innovative and/or enhance the Rural Mom lifestyle. As always, we are thrilled about the items on our Gifts of Comfort and Joy Rural Moms gift guide this year. These gift selections are designed to bring you comfort and joy from head to toe and all around your home.
We have curated a wide range of options that will appeal to everyone from home chefs and gardeners to foodies and even "hard-to-shop" for moms. You're sure to find something in this guide to suit every hard-working mom in your life, (whether that's your own mom, your mother-in-law, your sister, or even yourself!)
Without further ado, here are our top comfort and joy gift picks for 2021 – enjoy!
FinaMill is a great holiday gift for spice lovers, innovation seekers or anyone looking for kitchen convenience. The mill uses interchangeable and refillable pods for each spice to make adding spice to your dishes a breeze. Watch here to see how easy it is to operate. The LED light helps you to actually see the spice grinding in action. Choose from an array of different grinder settings, fine to course, for the perfect spice consistency.
With its sleek, alluring design, FinaMill not only adds to the decor while it lives on your counter within easy reach, but it also makes a statement about you. It says you've got spices and you love to use them. Every home (and professional) chef on the planet will adore this clever kitchen tool.
You put a lot of love into cooking your holiday meals, so why settle for pre-ground spices from the supermarket that don't live up to their full flavor potential? Gift yourself or someone you know a FinaMill, the award-winning, battery-operated, spice mill that has reinvented spice grinding.
At Rural Mom, we love monthly gift box subscriptions. For many of us, they kept us happy and sane throughout many days at home. It's wonderful to have something to look forward to each month. We are so happy to discover the Silver Swag Box because it is hands-down, one of the best lifestyle subscription boxes we've ever found!
Silver Swag Box is designed with seniors in mind. Inspired by the concept of "care packages," this wonderful subscription service is on a mission to help senior adults combat feelings of isolation, engage in meaningful activities, and to inspire connection with their families and loved ones.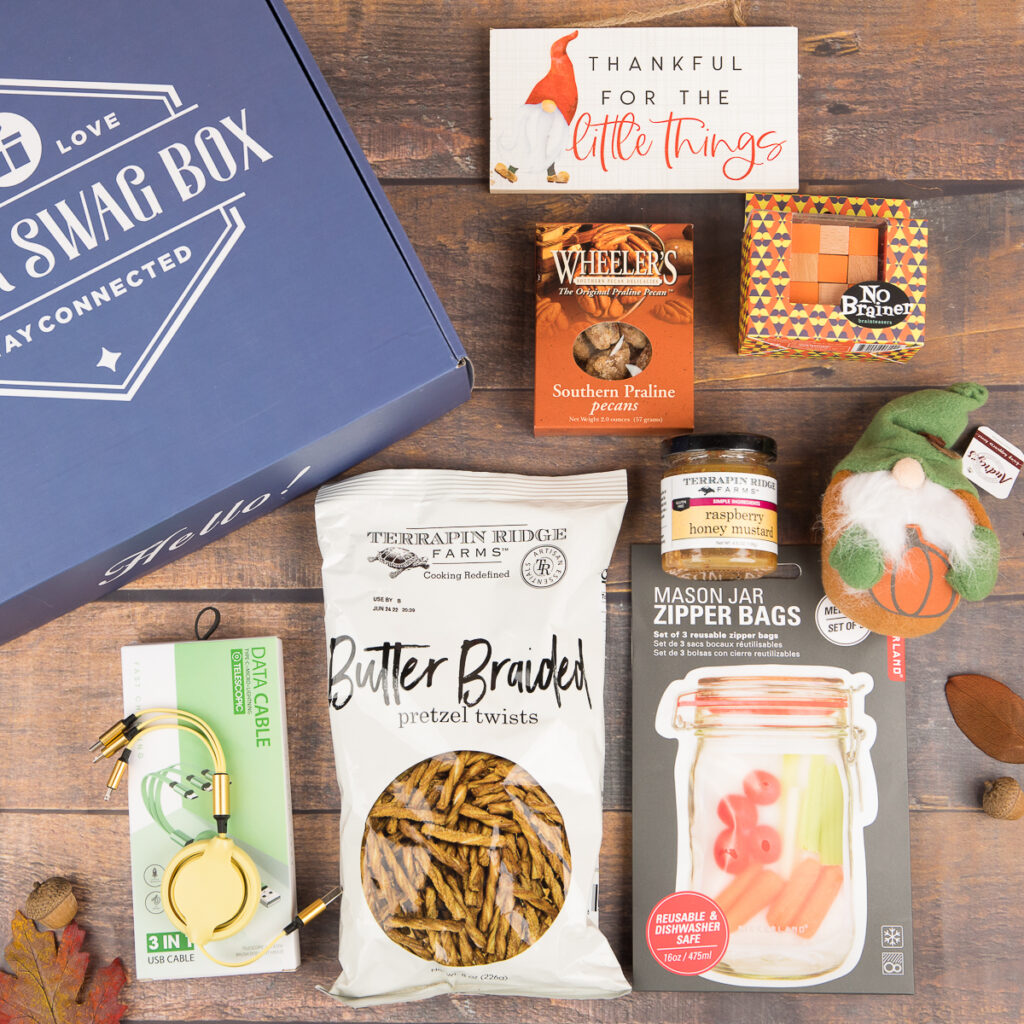 Each themed box includes:
An activity, such as puzzles, puzzle books, games or crafts
Home and/or holiday décor
Personal care or practical items
Delicious and unique snacks (that can be customized to accommodate allergies or dietary restrictions at no extra charge, including sugar-free and gluten-free options)
and a Stay Connected card, designed to provide conversation starters to inspire families to bond and learn more about each other.
Silver Swag Box is offered as a monthly subscription box for $49.99 (shipping included). Discounts are available for 6 and 12-month prepaid subscriptions. And if you're shopping for last-minute gifts – they offer gift cards!
Two things we love are wine and chocolate. Sugar Plum brings us the best of both with the Sugar Plum Wine Box Truffle Assortment!
Sugar Plum's Wine Box Truffle Assortment features a 12-piece assortment of Sugar Plum's incredible handcrafted chocolate truffles all beautifully laid out in a wine bottle-shaped box she will love! Truffle flavors include Dark Chocolate, Black Raspberry, Chai Tea, Cappuccino, Crème Brûlée, and more. All are perfect to pair with a nightcap or to serve for a special holiday dessert.
The chocolates have a velvety center enrobed with a lovely chocolate shell tempered to perfection. This is definitely an exceptional treat!
Sugar Plum also offers a wide assortment of gifts for all tastes from Nostalgic Chocolate Bars to the Sugar Plum Beer & Bourbon Nuts Gift Tin. Pick up one for every mom on your shopping list (and be sure to include yourself)!
It's easy to create a spa moment at home with NW Beauty Works Shower Steamers. The therapeutic oil scents will truly provide comfort and joy for every mom who just needs a "time out" moment.
Cruelty-free NW Beauty are like bath bombs, but for your shower. Each steamer releases a scent as you shower to help start or end your day on a lovely aromatherapy note. Wouldn't you love to:
relieve sinus pressure from a cold or allergies with eucalyptus steamers
relieve tension headaches with peppermint steamers
feel calm and relaxed with lavender steamers
energize with citrus steamers
or feel warm & cozy with warm vanilla sugar steamers?
Us, too!
NW Beauty Works Shower Steamers make a reat holiday gifts and stocking stuffers. Pick out the perfect scent for every mom on your holiday list, and pick out some gifts of comfort and joy at NW Beauty for yourself!
What better way to start your day than with a "Every Day's a Fabulous Holiday" calendar from Workman Publishing? Right now, it's tough to stay on track. With so much of our lives spent at home, sometimes the days all blend. I rely on my calendar to keep things straight and believe it's one of the best and most comforting tools we can have right now for our use.
It's also one of the best holiday gifts you can give! Calendars are a fantastic present for absolutely everyone on your shopping list. Everyone needs to keep track of appointments, meetings, date nights, birthdays, and even garbage day. A vibrant calendar can make these mundane tasks an everyday joy. Workman Publishing creates the best designs available and each calendar has high quality materials that will easily last all year long.
You know those tough-to-buy for people on your holiday list? One of the best solutions to this dilemma is to gift them a calendar.
Formats include Page-A-Day Calendars (featured in our Stocking Stuffer Guide), Engagement Calendars, Gallery Calendars, and Wall Calendars. There's a style and topic for everyone on your gift list. From animals to fantasy to travel and trivia, you will find the perfect calendar to gift. There's even a "Crazy Plant Lady" calendar! Practical, engaging and fun, calendars are gift every mom would love to open this year.
Nothing says cozy winter holiday like a warm cup of peppermint tea! Pair it with organically grown American hemp (known for having oodles of health benefits) and you have one awesome cup o' tea to treat yourself with during the holiday season. Willie's Remedy Hemp-Infused Loose Leaf Peppermint Tea brings two plant power-houses – peppermint and hemp – together for a truly refreshing experience.
Thier pure peppermint leaves are freshly dried to preserve the natural cooling flavor and refreshing effect. The result is a wonderful, pure flavor that will perk you up and infuse a bit of holiday magic. Willie's Remedy Hemp-Infused Loose Leaf Peppermint Tea is a caffeine-free herbal option that brews to a clear green color, equally delightful served hot or on ice.
Tea-lovers on your shopping list will adore this delightful tea. Willie's Remedy offers additional tea blends like Breakfast Black Blend, Hibiscus, and Classic Green Tea, too. Pick up a few and arrange them in a basket with a tea cup for an extra-special gift of comfort and joy!
At our Rural Mom homestead, we do our best to keep our landscape, fields, and forest pollinator-friendly. It's not always easy to figure out what plants to plant, though and that's where Garden For Wildlife's new Native Plant Collections come in.
Support the highest number of backyard butterflies, bees, and birds with food and habitat with each kit. These collections are currently available for 21 states, with more soon to be added.
One of our favorites is the Monarch Muchables colection. This collection includes six native perennial plants for full sun like Beard Tongue Foxglove, Orange Butterfly Milkweed, and Smooth Blue Aster. They typically bloom across three seasons and return each year. And they need less water and no chemicals to keep healthy.
The best part? All orders support their non-profit mission to help declining wildlife and expand native plant availability nationwide. You can bring great joy to the sustainable living-focused or gardening mom in your life and help make the planet a better place, too!
If you've been hanging out with us on Rural Mom for any length of time, you know coffee is our favorite food group. Our pets are extra-special to our hearts, too, which is why we adore the Dog Is Good "Coffee & My Dog" Gift Set!
It's perfect for giving the gift of morning joy to all the dog-loving moms on your holiday shopping list. This gift set includes a premium quality coffee, a retro design mug, and (an optional) My Dog Gift Bag.
For our coffee-savvy crowd that we know wants to know- the coffee is a Columbian Supremo Medium Roast. It's 100 percent Arabica small batch roasted in the USA. Tasting Notes: Red Fruit, Smooth Chocolate, Cinnamon
Dog Is Good takes your "Coffee & My Dog" gift to the next level, too. They partner with the Waggle Foundation, so your coffee habit will also help support veterinary care for dogs in need.
There are plenty of other fun finds at Dog Is Good for dog lovers. You'll find t-shirts, ornaments, and even dog toys and treats to complete your holiday shopping (remember Rural dogs need some holiday treats, too)!
Disclosure:
We receive sample products for review for our holiday guides. Most we donate to local charities after gently testing and inspecting. If it's not a gift we wouldn't love to see under our own trees or personally gift to a loved one, you will not find it in any RuralMom.com holiday guide. We do not accept payment for placement of items in our guides. If it made it to our top holiday gift pick list, it's earned a spot based on its high quality, reasonable price point, and overall excellence in durability and/or functionality.
There are so many fabulous options for comfort and joy on our lists. As usual, it was hard to choose just a few! Are any of the gifts of comfort and joy items already on your list this year?