Are you ready for CLIFFORD THE BIG RED DOG on the big screen?! This is a sponsored post for CLIFFORD THE BIG RED DOG on behalf of Review Wire Media for Paramount Pictures… read on for some fun details and a giveaway, too!
CLIFFORD THE BIG RED DOG is in theaters and on Paramount+ on November 10th. We are so excited to share this film with you as we've seen it… and it MEGA-SIZED AMAZING!
As we don't like to give away spoilers, we will simply share our reactions, which are all 100 percent positive. The film is charming, funny, heart-warming and a joy to watch. It's a fantastic family-friendly film that kids of all ages will really enjoy.
All of the characters are enjoyable and relateable. The hyjinks are hillarious, and I do have to say that actor Jack Whitehall really shines in this great big comedy. It's adorable to see Clifford both big and small in the film and watch a movie that's both enchanting and entertaining. Do make a point to add it to your holiday schedule!
About CLIFFORD THE BIG RED DOG
When middle-schooler Emily Elizabeth (Darby Camp) meets a magical animal rescuer (John Cleese) who gifts her a little, red puppy, she never anticipated waking up to find a giant ten-foot hound in her small New York City apartment. While her single mom (Sienna Guillory) is away for business, Emily and her fun but impulsive uncle Casey (Jack Whitehall) set out on an adventure that will keep you on the edge-of-your-seat as our heroes take a bite out of the Big Apple. Based on the beloved Scholastic book character, Clifford will teach the world how to love big! Rated PG
Learn more about the film on the following sites:

Have fun with Clifford At Home
While you are prepping to head out for a fun family movie night, why not have some big size fun at home?
Download this awesome Clifford Activity Kit with awesome activities (home school parents and teachers, you can incorporate this kit into your daily lessons plans, too!)
Get your pup in on the fun and visit https://cliffordsizeyourpet.cliffordmovie.com/ to Clifford size your pet!
And use your mobile devices to have a unique Clifford AR experience here: https://apps.paramountpictures.com/movie/clifford/ar/
Win A CLIFFORD THE BIG RED DOG Prize Pack!
Thanks to our friends at Review Wire Media and Paramount Pictures, one (1) Rural Mom reader will win a CLIFFORD THE BIG RED DOG Prize Pack that includes:
Pencil set
Dog bags
Small plush
Tote bag
Dog treats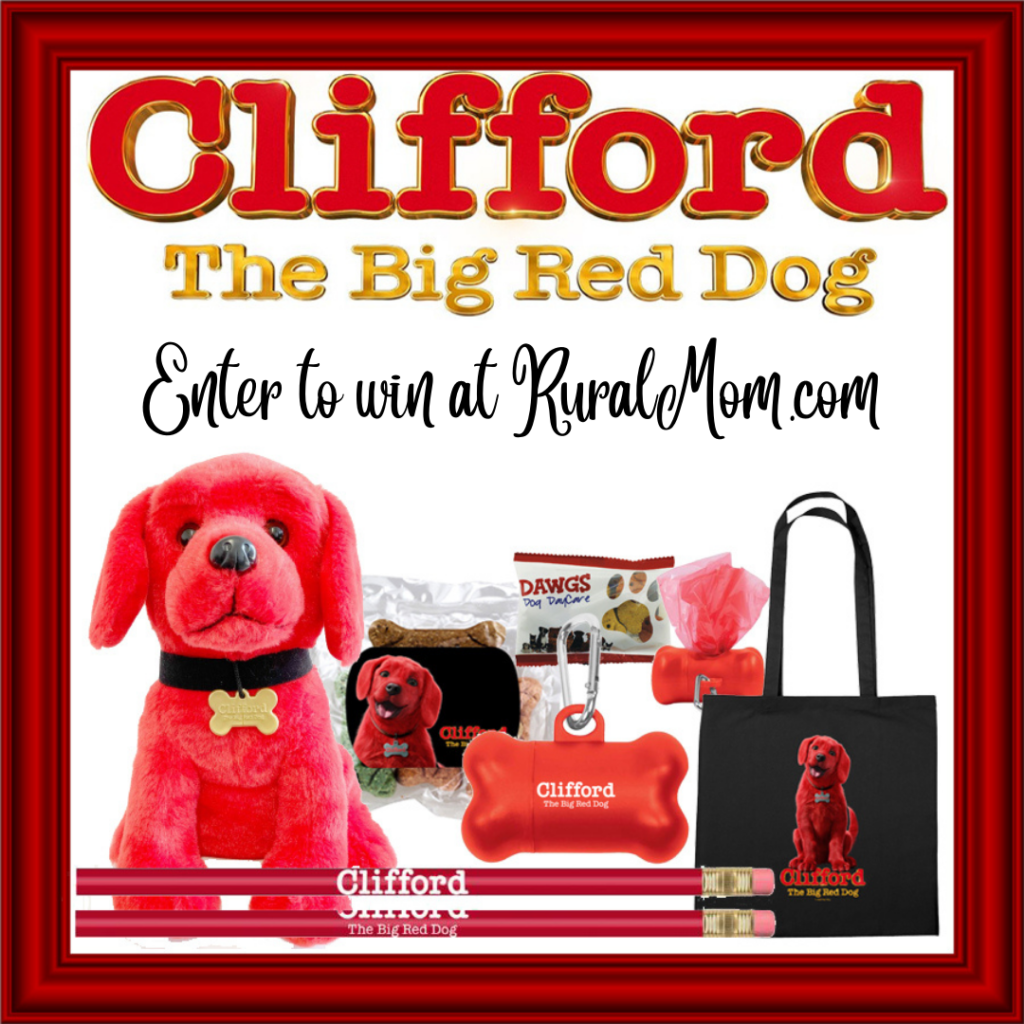 US only, 18+ Prizing provided by Paramount Pictures.
ENTER via the Rafflecopter below:
Are you excited to see CLIFFORD THE BIG RED DOG? Who in your family do you think will enjoy the film the most?