The assortment of holiday items for sale can make finding just stocking stuffers bewildering! Each year, we love to find clever stocking stuffer ideas that are creative and fun. We take as much time choosing them as we do selecting gifts for under the tree!
We're quite proud of the collection we assembled this year. These are stocking stuffers everyone will truly enjoy receiving. And ones they'll actually use throughout the holiday season and beyond.
As stockings are generally the first treat everyone opens, it can really set the mood of the festivities. Rather than just filling the stockings with candy or fruits, add a personal gift to each one. This makes emptying the stockings just as fun as opening presents.
Below you'll find our twelve (as in 12 Days of Christmas) picks. We hope you'll find something you'll want to pick up for everyone on your list here (including yourself!)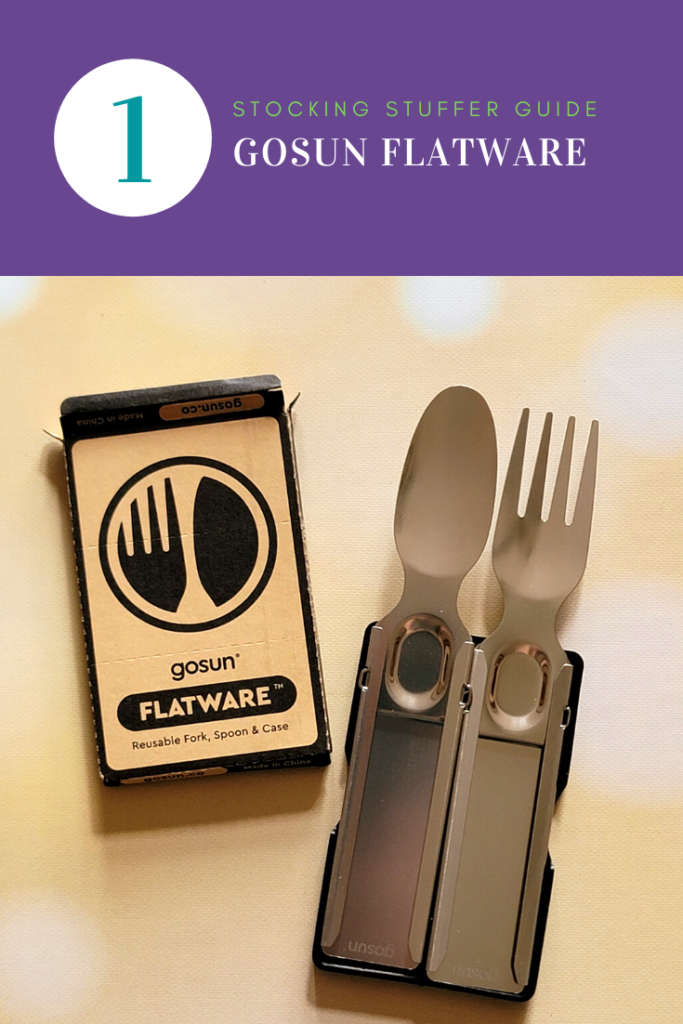 With two avid campers, three hunters, and five off-road trail riding fans in our family, one thing we've found to be essential on-the-go is silverware! GoSun Flatware is the perfect portable flatware set for all our needs. It's also great for keeping in lunch boxes or your purse. Because, truly, which one of us has not encountered a time when the restaurant forgot to include silverware with our order?
GoSun Flatware is an innovative, eco-friendly utensil set that finally makes bringing your own spoon and fork practical, clean and green. What separates Flatware from other reusable cutlery is the sleek and compact design – packing a full cutlery set into the footprint of a credit card (just 3mm thick), which simply slides out when you need to use it. Crafted from stainless steel, it's super easy to clean – you can literally pop it in the dishwasher – and won't mold/break/stain like some other reusable options on the market.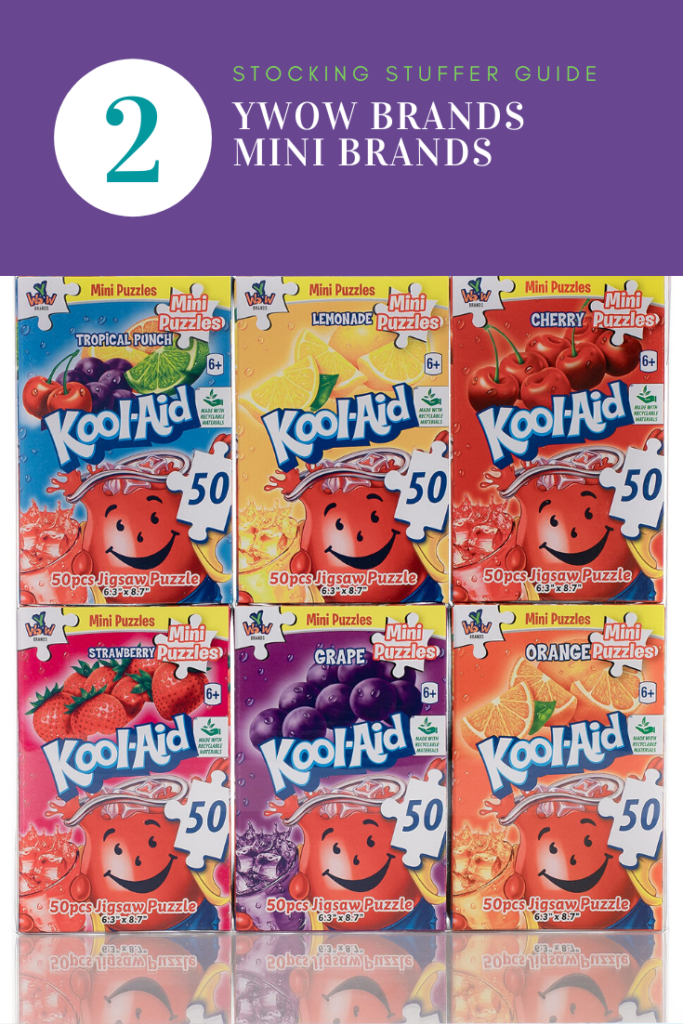 In the past two years as more folks stay at home, puzzles have soared in popularity. YWOW brands has a clever new collection of Mini Puzzles that celebrate iconic brands. Perfect for puzzle lovers, as a family gift, or for any one on your shopping list who could use a little extra fun!
Mini Puzzles celebrate icons like Kellogg's, Pringles, Heinz, JELLO, Pizza, and Space Mission. Two of the newest available are:
Mini Puzzles Mentos. A collection of 5 jigsaw puzzles, resembling the real Mentos candy rolls' packagings. They look super cool and is the perfect fun activity to do with family and friends! The puzzle image inside matches the packaging, and together they make the perfect artwork to display. The styles to collect include Mentos Mint, Apple, Rainbow, Fruit, and Strawberry.
Mini Puzzles Kool-Aid. A collection of 5 jigsaw puzzles, resembling the real Kool Aids' packaging. They look super cool and is the perfect fun activity to do with family and friends! The puzzles' images inside matches their packagings, and together they make the perfect artwork to display. The styles to collect include Kool Aid Cherry, Grape, Lemonade, Orange, Strawberry, and Tropical Punch.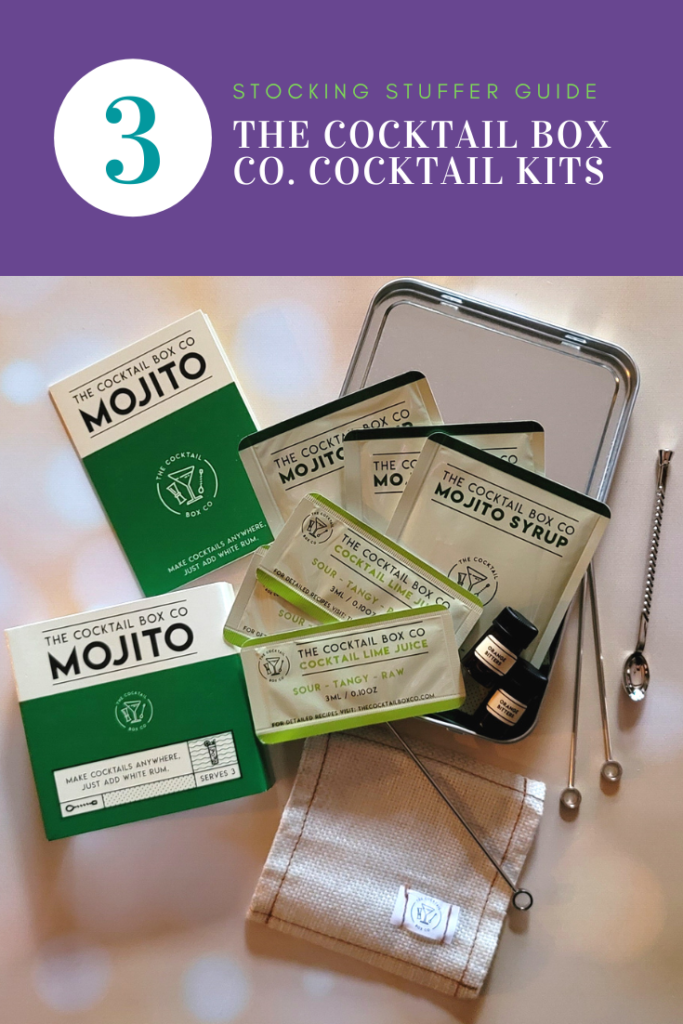 Have you had a virtual happy hour lately? This trend is something we truly enjoy! It's a great way to visit with friends who live in different areas or to just have a fun girls' night in without having to dress up. The Cocktail Box Co. Cocktail Kits are a great way to share your favorite cocktails with friends or to try a new beverage without having to commit to a wealth of expensive ingredients.
Perfect for the foodie in your life, these innovative travel sized cocktail kits are a available in a variety of flavors including:
The Old Fashioned
Champagne Cocktail
Moscow Mule
Gin & Tonic
Mai Tai
Margarita
Mojito
and Manhattan.
Each kit makes 3-6 cocktails and you just need to supply the spirits. They also have mini bar tools such as a muddler spoon, cocktail picks, and coaster. They are a great hostess gift, too, and awesome to have on hand for family gatherings. The Cocktail Box Co. also sells a variety of home bartender equipment and accessories if you are seeking companion gifts to give.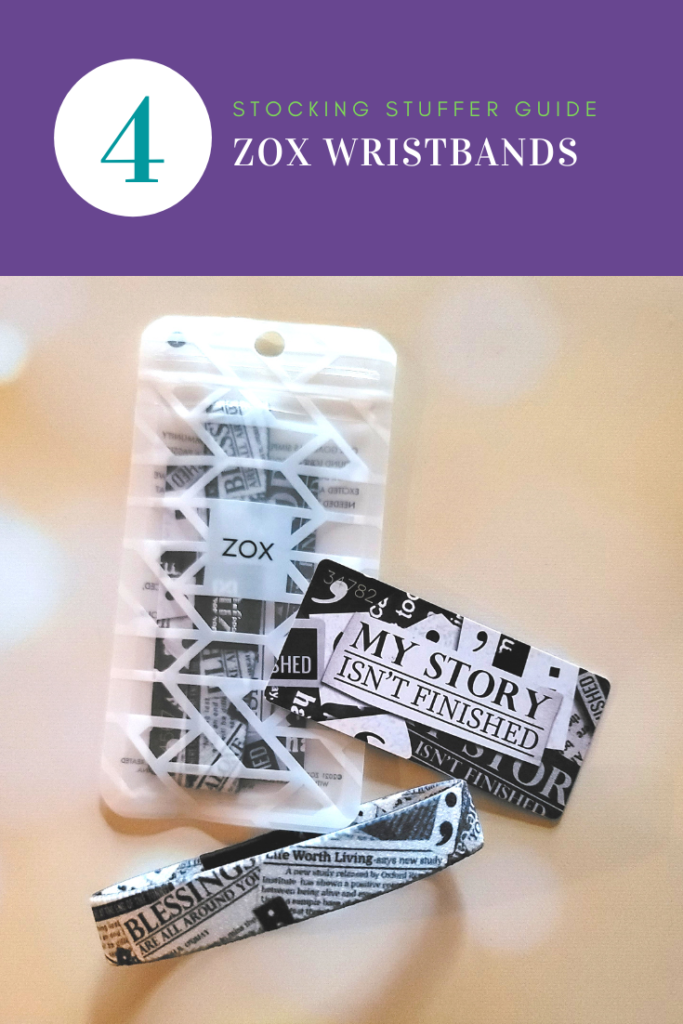 When my sister found ZOX, she bought everyone in our family a special wristband. I quickly understood why as we all instantly fell in love with the creative ZOX designs and messages.
ZOX wristbands are the perfect stocking stuffer for absolutely everyone on your holiday shopping list! These $10 reversible wristbands have awesome art on one side and a positive, motivational, or personal message on the other side. Great for gifting to someone that needs a little pep talk, inspiration, or an extra bit of love on their wrist. ZOX will truly make your holiday season extraordinary.
A family-owned company in Austin, Texas, ZOX is all about heart and the discovery of collecting. You can buy extra ZOX to swap or build your own personal collection, too. These beautful, comfortable wristbands are stylish and fun. Two of our personal favorites in the new collection are "My Story Isn't Finished" (pictured) and "Wanderlust. Both speak to the adventurous soul! Everyone on your shopping list will love sharing their ZOX wristbands and comparing styles, which will make for some wonderful Christmas conversation and memories well beyond the holiday season.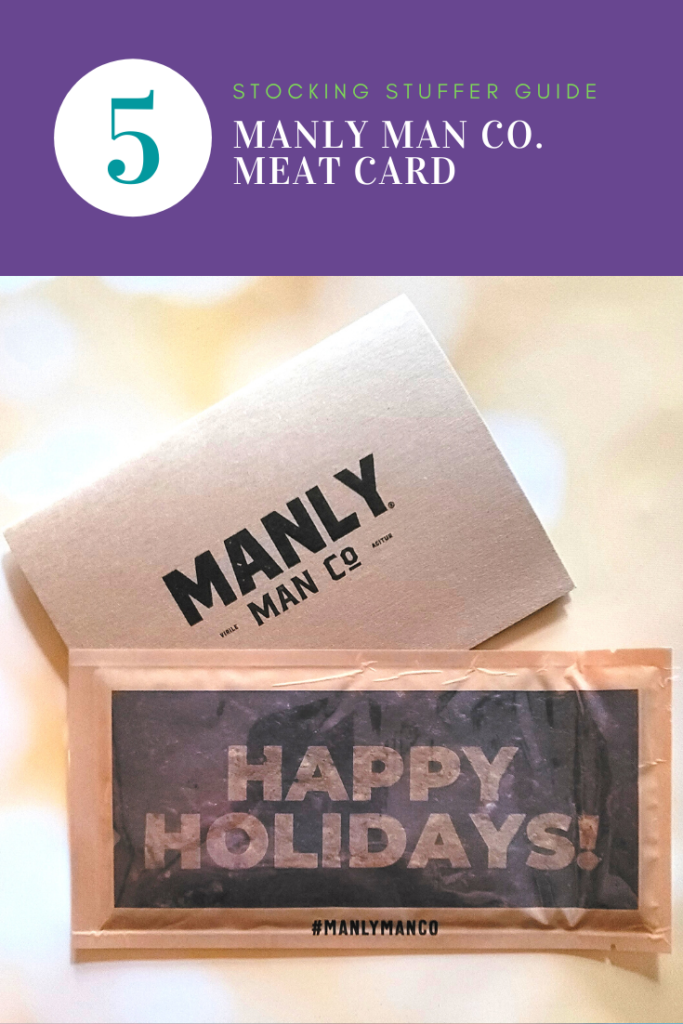 If there's one thing we've learned over the year, our Rural guys sure love to snack on a well-seasoned, delicious piece of jerky. What better way to express holiday joy then than with a Manly Man Co. Meat Cards™!
Manly Man Meat Cards have you custom message laser engraved on a large greeting card-sized piece of tender, delicious, beef jerky. Not sure what to say, you can also choose from a range of standardized messages based on various holidays and occasions.
They are 100 percent editble and vacuum sealed for freshness. Each 4-inch by 9-inch Meat Card will bring a smile to the recipient. Trust us, this is one they'll be talking about for many holidays to come!
If you're looking for the perfect add-on gift, Manly Man also crafts man bouquets and gift boxes to include a thoughtful or creative message. In addition to being a very clever stocking stuffer idea, Meat Cards are awesome for sending to relatives and friends afar throughout the holiday season.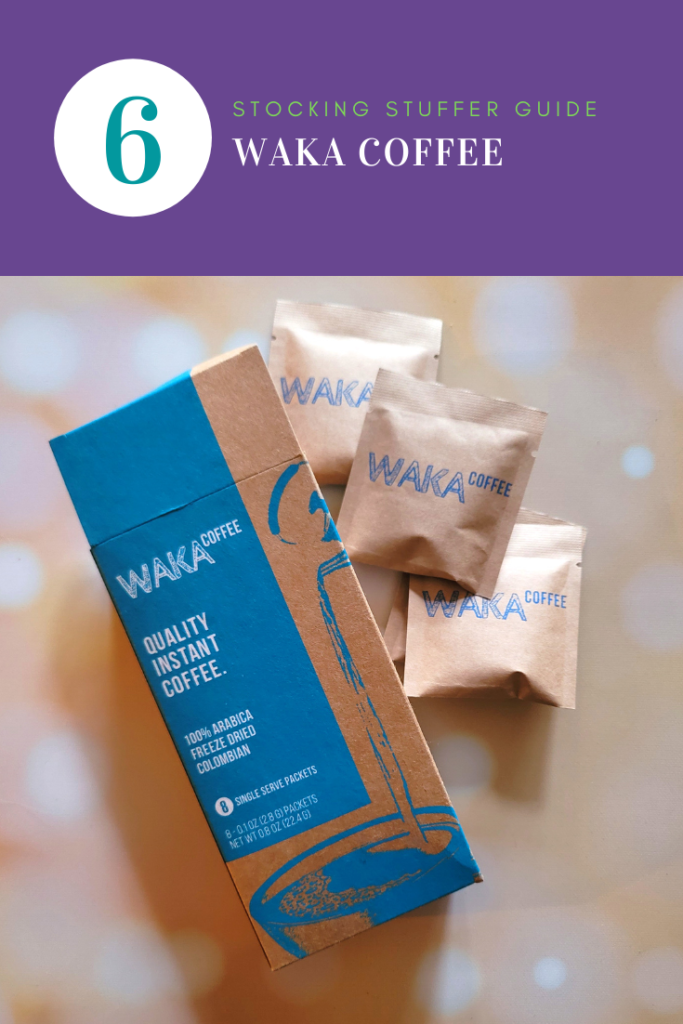 At Rural Mom, we've have a saying that "coffee is our favorite food group." Well, it's also our favorite holiday gift to give and receive! This year we've added Waka Coffee to our clever stocking stuffer ideas because its truly an innovative brew. They're perfect for anyone who needs to unwind with a smooth, aromatic beverage that is ready in seconds.
If you have a coffee lover on your holiday list, they'll definitely enjoy finding Waka Coffee in their stocking. This quality instant coffee is made from 100% Arabica beans and is freeze-dried to perfection. It tastes just like freshly brewed coffee, minus the hassle of making it. Single-serve packets are convenient to take around, which is perfect for camping and traveling.
Environmentally friendly folks love Waka Coffee, too, as their packaging is "green". They do not use any plastics and donate a portion of our profits to charity. In addition to being a fabulous stocking stuffer, Waka Coffee is perfect for holiday travel. If you are headed out of town or to a hotel, you definitely want to be sure you have your coffee stash close by. Waka Coffee makes it easy to make coffee any time of the day on-the-go.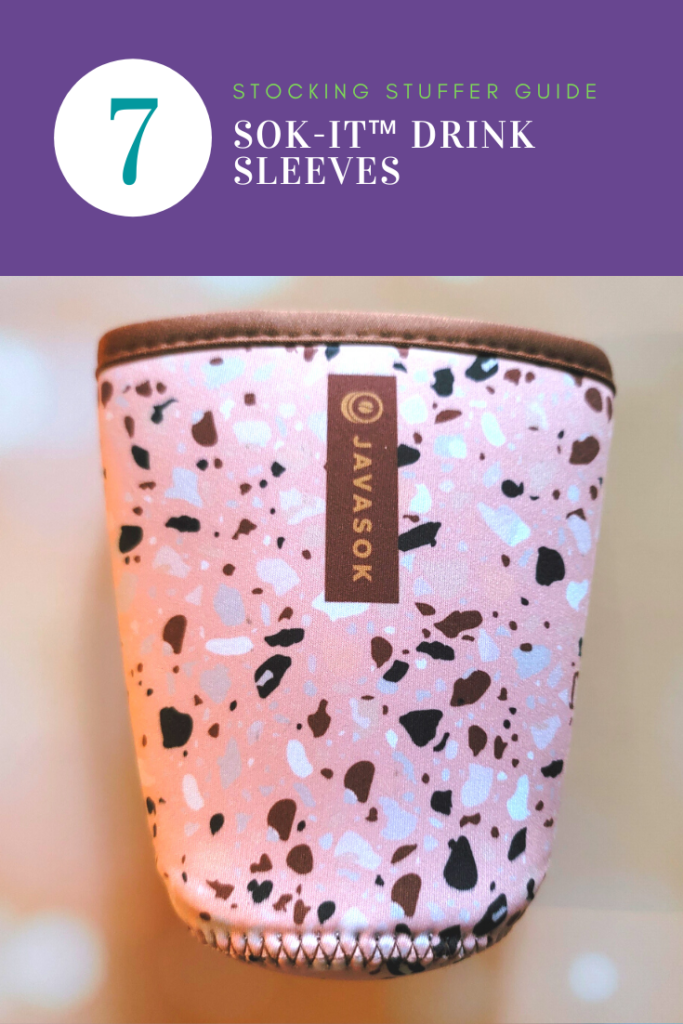 What better way to keep your aforementioned coffee cozy this holiday season than with a Sok-It™ drink sleeves?! The latest rage in hip hyrdation, Sok-It drink sleeves keep your iced coffee cool or your hot beverages warm longer. And they are one excellent stocking stuffer for the coffee or tea lovers on your holiday list.
Sok-It products are made from thick, insulating, 4MM coated neoprene fabric on its inner and outer sides to provide natural barriers to various elements. JavaSok, for iced coffee in sizes from 16 oz. – 48 oz, fits nearly 85% of the cups from a variety of drink stores to pair with containers from Dunkin®, Starbucks®, and McCafé®. HotSok™ sleeves for hot coffee. It protects your hands from extreme heat and fit most disposable coffee cups better than single-use cardboard sleeves that tend to slide off easily.
You'll easily find one for everyone on your holiday shopping list. Sok-It features nearly 50+ patterns and styles. In addition to being a clever stocking stuffer gift options, they make awesome gifts for teachers, healthcare workers, tailgaters, office workers, and those who love to travel.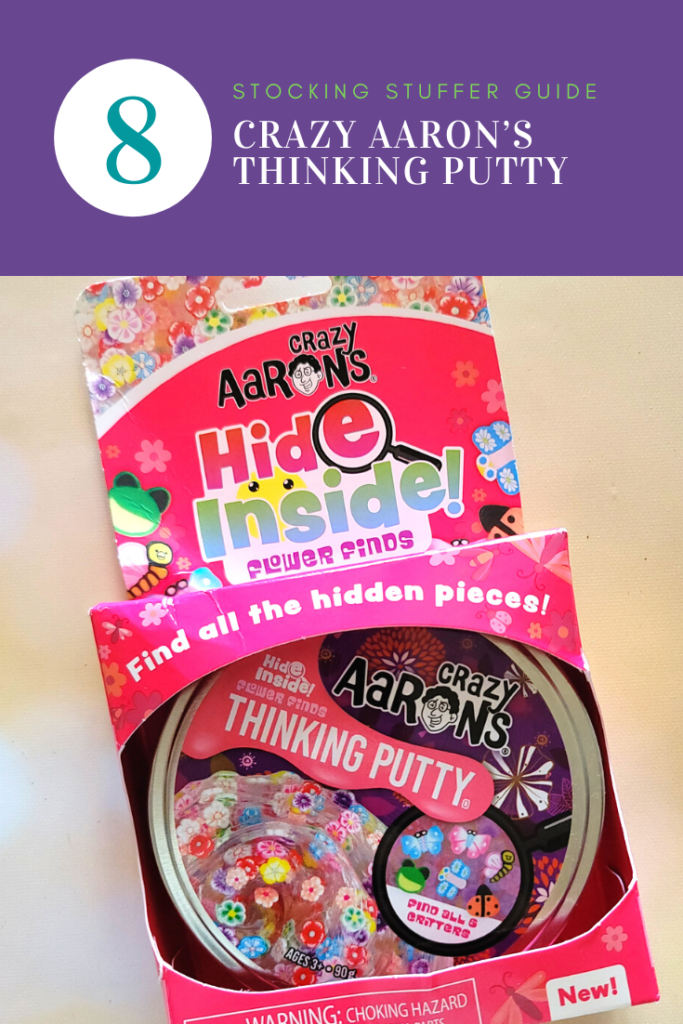 Life is full of surprises and Thinking Putty from Crazy Aaron's has plenty more! The Hide Inside! Collection you has everyone on the hunt for six unique pieces. It's a captivating challenge that keeps your hands and mind busy, making it a perfect fidget putty, too.
The holiday Hide Inside has a bundle of fun hiding among wrapped presents. Will you find a teddy bear or a gingerbread man? Or maybe a snowman? Your gift recipients will love searching and playing with this squishy, flexible putty that doesn't leave residue.
New to the Crazy Aaron Thinking Putty line is the Rainbow Thinking Putty. Rainbows make everything better, don't they? The transparent putty material bends various colors of light differently. White light is then broken up into a dazzling rainbow. With every twist, pull and stretch, uncover a sparkling band of colors in your very hands.
Crazy Aaron's Thinking Putty is made in the USA from nontoxic silicone and never dries out. Stretch it, bounce it, pop it, tear it, and sculpt it! Kids age 3 and up will absolutely love to find this gift in their stocking!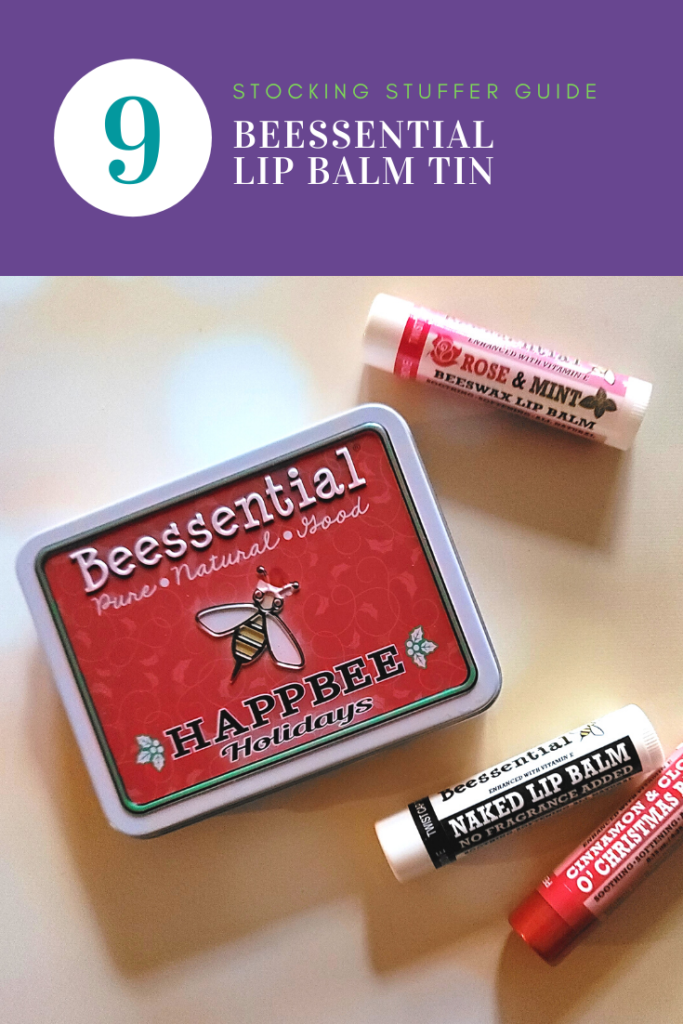 Warm Cinnamon, cooling Clove, Rose, and Mint – you'll find brilliant blends in the all-natural holiday lip balm offerings from Beessential. Good for you and good for the environment, Beessential has a festive Custom HappBee Holiday Five Back of Lip Balm Tin that's one clever stocking stuffer!
It's the perfect pack of holiday bliss to place in stocking this year to keep lips soft, supple and protected from the winter wonderland outside. Choose one flavor or go crazy and choose five different flavors for days when you need to change things up. This lip balm soothes dry, chapped lips and keeps the delicate skin around lips looking beautiful.
Beessential is a beekeeper-owned natural bath and beauty company in Ohio (all products are produced in Cleveland). Beessential Natural Lip Balm made with a unique blend of replenishing Virgin Olive & Coconut Oils, moisturizing Beeswax, Aloe, Honey, Hemp. Varieties include Lemon Lavender, Orange Ginger, Rose & Mint, Cinnamon & Clove, Unscented, and Coconut Lime. You'll want to pick up on for every stocking on the mantle, including your own!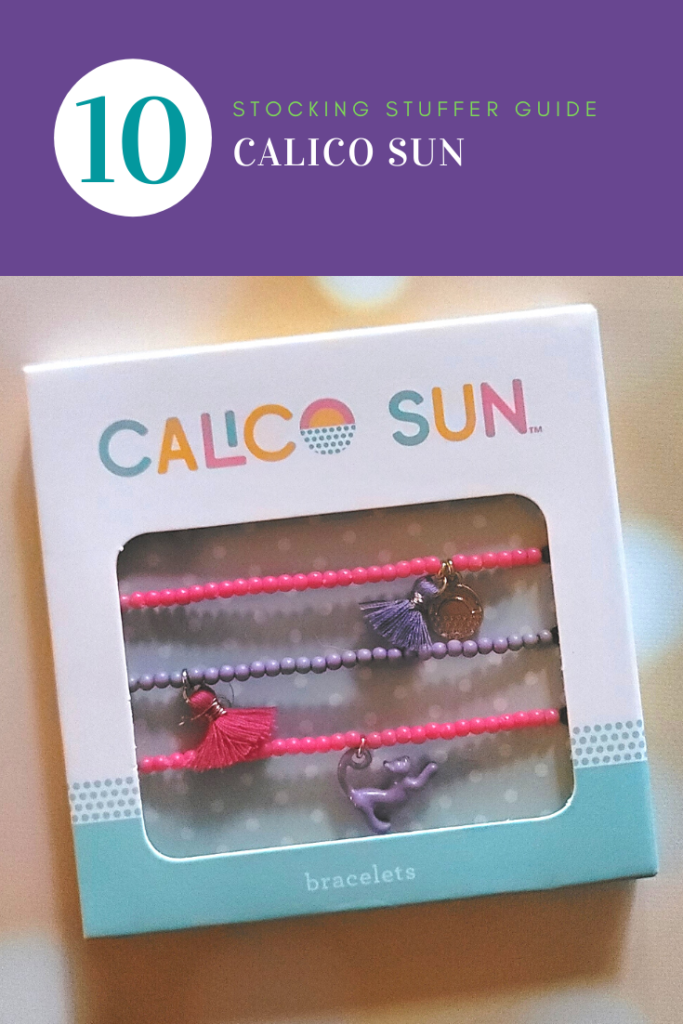 Created by one of our long-time favorite companies OOLY, Calico Sun is a kid's accessories brands focused on inspiring happiness. Each product is cute, clever, fresh and inspiring. Calico Sun will bring a smile to everyone, especially the tweens and teens on your holiday shopping list.
Calico Sun knows how important it is for young minds to feel free to express themselves in whatever they choose to wear. They're are dedicated to inspiring kinds to express themselves and be kind, positive and confident.
The line includes bracelets, necklaces, hair accessories, and keychains. You're sure to find something extra special that helps your gift recipient's creativity shine through to the world!
On of our favorites is the "Zoey Bracelets Cat" (pictured). It's simply purrrrrfect! A charming purple enameled cat charm dangles from a delicate enameled pink bead elastic band. The 2 other layering beaded color coordinated bracelets have cute little pink and purple fluffy tassels. It's easy to layer and mix and match with other bracelts in the Calico Sun collection. And it fits neatly into holiday stockings!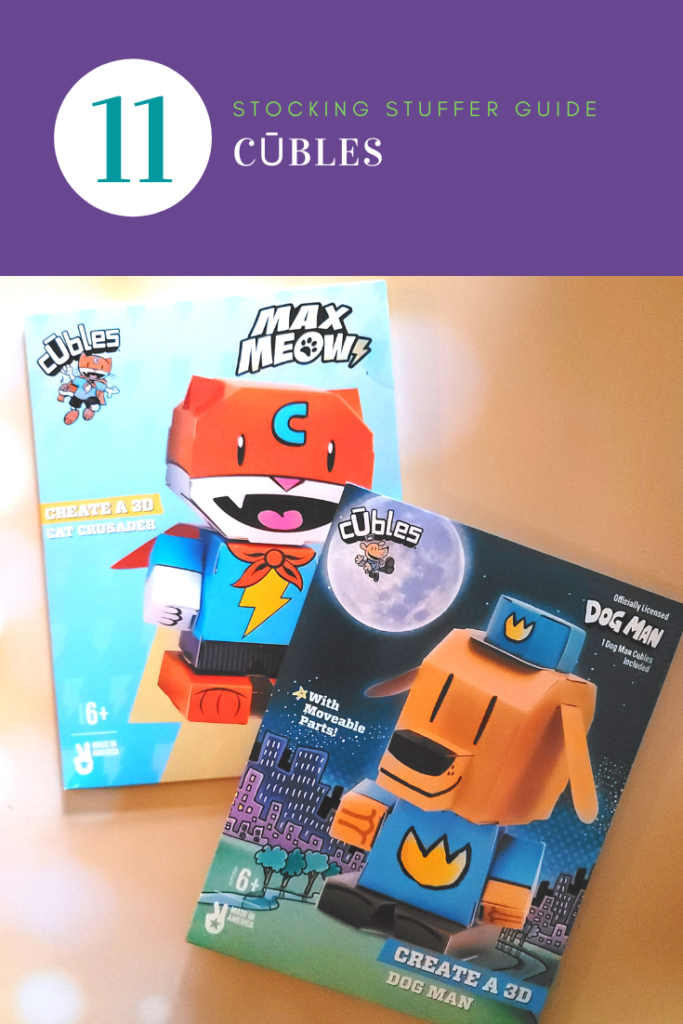 Dogs, Dragons, Cats, Unicorns, Robots, Aliens, or the Statue of Liberty – CŪBLES lets you unfold a wealth of fun adventures! This mash-up between Origami and puzzle cubes is an innovative wonder that's oodles of fun to build.
Designed for ages 6 and up CŪBLES are perfect for every age and interest on your shopping list. There's even a Little House on the Prairie® Ingalls Family Set! They're perfectly stocking-sized, 100 percent recyclable, STEM certified, and made-in-the-USA. Everyone will love to assemble into characters they love.
CŪBLES are made of strong and sturdy paperboard, not your typical printer paper. They requires no glue or scissors. And they're a great hands on, stress free activity . Every Cūbles has moving parts held together by paperboard so they are playable without the plastic. And best of all their color coded instructions and patented engineering make each one fun and easy to build.
In addition to stuffing all the stocking with one, for extra fun at holiday gatherings, you could place CŪBLES by every plate. This will make for a great conversation piece and give everyone an awesome activity to complete while they await the holiday feasts!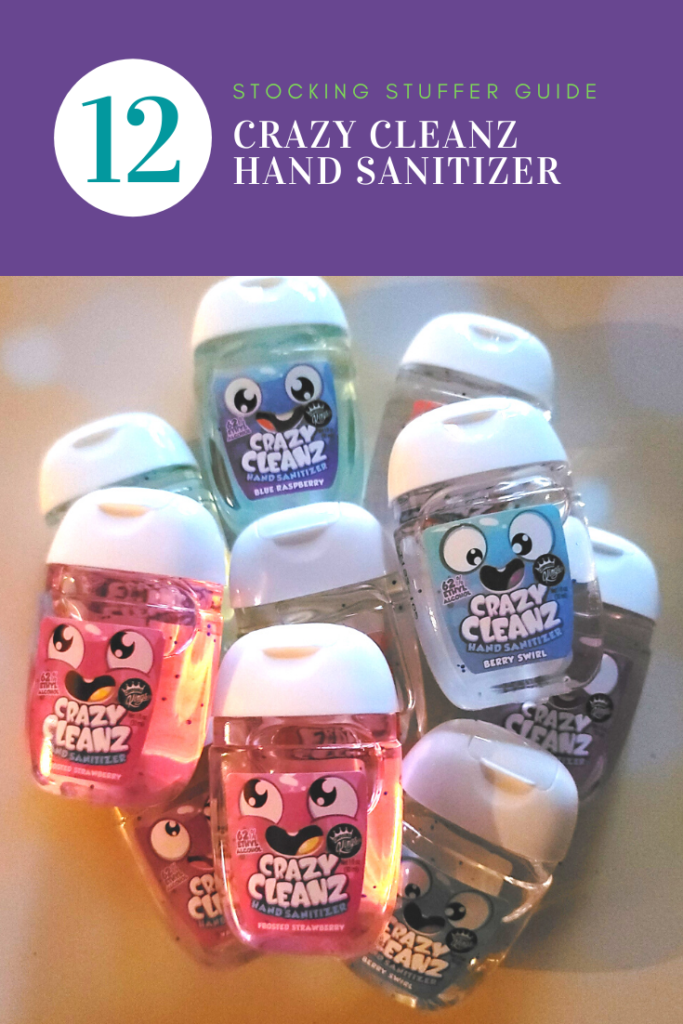 Hand sanitizer has become an everyday must-have, but many of them are not very kid friendly. CRAZY CLEANZ has changed the hand sanitizer game with both kid-friendly scents and packaging. Young and old, everyone will love to find these clever stocking stuffers on Christmas morning.
Scents include Berry Swirl, Frosted Strawberry, Vanilla Swirl, Strawberry, and Blue Raspberry. It's a 62% Alcohol hand sanitizer that helps reduce bacteria. Perfect for little hands and easy to use.
The CRAZY CLEANZ Hand Sanitizers 30ml 10 Pack will give you plenty to tuck in all your holiday stockings and even in some gift bags for friends and family, too. Gentle on hands, this great scented hand sanitizer is convenient for use at home, school, office, workshop, camping, or on the go.
Stocking Stuffer Ideas Disclosure:
We receive sample products for review for our holiday guides. Most of these are donated to local charities after gently testing and inspecting. If it's not a gift we wouldn't love to see under our own trees or personally gift to a loved one, you will not find it in any RuralMom.com holiday guide. We do not accept payment for placement of items in our guides. If it made it to our top holiday gift pick list, it's earned a spot. We base decisions on high quality, reasonable price point, and overall excellence in functionality and/or durability.