Do you know what to get the loved ones in your family? Creating a holiday shopping list can sometimes be as challenging as shopping during the busy holiday season!
For years I struggled with this task. Turns out, though, you can write down gift ideas easily by following some of these simple steps. When you're finished, you'll have plenty of gifts they want.
Some ways to plan are merely common sense during the rest of the year. But during the chaos of holiday shopping, they can often be overlooked.
Ask!
This is the most simple idea of all, and it is often overlooked. You can ask without your target recipient knowing that you are making a Christmas list.
Ask them about their favorite cartoon, author, toy, store, or clothing brand in a casual conversation. Take notes on your phone or at home after your conversation. It's easy to slip these questions into a conversation. For example, say "I'm looking for new books to read, any suggestions?" Most people are eager to share their favorites.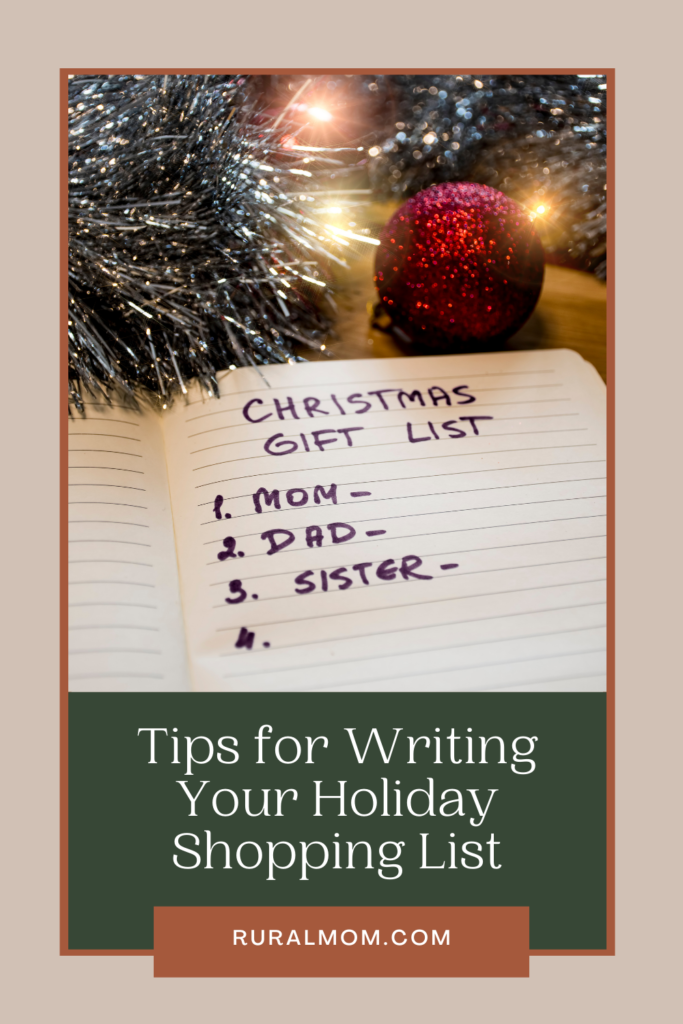 Letters to Santa
Some children have a difficult time telling their parents what they want for Christmas. They may believe the gift extravagent or expensive for their parents to afford. Today children are often more cost conscious, so if you really want to spoil them, help them write a letter to Santa. Kids will gladly tell this complete stranger whose sole purpose in life exactly what they want for Christmas, when they are not able to tell their own family.
Investigate (aka snoop a little!)
Look through your intended's book collection, figure out who their favorite author is, or the author they read the most books of. Check the New York Time's best seller's list, and find the newest book available by their author to buy that they do not have yet. The same can apply to movies, collections, or even LEGO sets.
Do a little visual sleuthing to figure out what their favorite colors or hobbies are. Don't snoop too much or open up closets or drawers, in other words, this is not a suggestion to invade privacy. Simple look around at things that are in plain sight. Even a t-shirt they are wearing may clue you into favorite tv shows, movies or likes such as "coffee" or "cats" or "reading."
Consider themed gift cards
Does your son, daughter, sister, brother, husband, wife, girl friend, or boy friend have an iPod and love music? Buy them an iTunes gift card. If they are younger, set up an account for them, and then let them pick out their favorite songs or tv shows.
Do they love to read some of everything? Well, a Barnes and Noble gift card will go miles further than a book they don't want or ever have any intention of reading.
Gift cards may seem generic, but when they are well targeted towards interests, the recipient will be delighted to have one.
Don't overlook the bare necessities
Does your son not have enough pants? Your teenagers would love a giftcard to their favorite clothing store to be used for pick some out. Does your daughter frequently run out of her favorite scent from Bath and Body Works? Grab some to fill her Christmas stocking with and look for other items like candles with the same scent.
Even socks and under garments are great to gift. The one year I didn't gift these to my sons, they noticed and asked why. Turns out they look forward to getting them! I always looke for fun patterns or colors in their favorite styles to make the gift more personal.
Go the extra mile without breaking the bank
Gifts for your loved ones do not need to be expensive or extravagant to make them gifts that they will love, appreciate, and remember. For example, a picture of her grandchildren is a gift my mother always loves. I often do more than that, and she appreciates it more because she knows that she would have been happy with just a picture. Keep it simple, and be specific with your purchases. People appreciate gifts from the heart.
PS: Check out our upcoming Rural Mom holiday gift guides for more ideas!