Have you all heard about the new QUEENPINS film? In partnership with STXfilms, I helped host a special Girl's Night Out screening for QUEENPINS in Louisville this week and loved every single second of the event and the outrageously funny film. If you're looking for an excellent movie to see this weekend- QUEENPINS is it!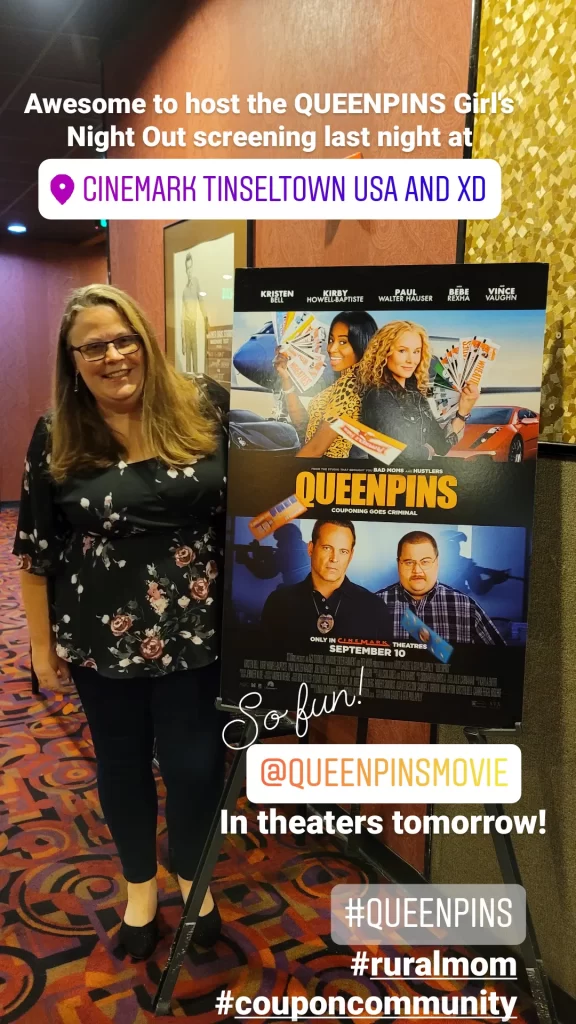 About QUEENPINS
Starring Kristen Bell, Kirby Howell-Baptiste, Paul Walter Hauser and Vince Vaughn, QUEENPINS is a romp of a comedy about a bored and frustrated suburban homemaker, Connie (Kristen Bell) and her best pal JoJo (Kirby Howell-Baptiste), a vlogger with dreams, who turn a hobby into a multi-million dollar counterfeit coupon caper. Inspired by a true story, the film follows their escapades as the duo hatch an illegal coupon club scheme that scams millions from mega-corporations and delivers deals to legions of fellow coupon clippers.
On the trail to total coupon dominance, a hapless Loss Prevention Officer (Paul Walter Hauser) from the local supermarket chain joins forces with a determined U.S. Postal Inspector (Vince Vaughn) in hot pursuit of these newly-minted "Queenpins" of pink collar crime.
QUEENPINS is currently playing in select Cinemark theaters nationwide and will be streaming on Paramount+ exclusively, September 30.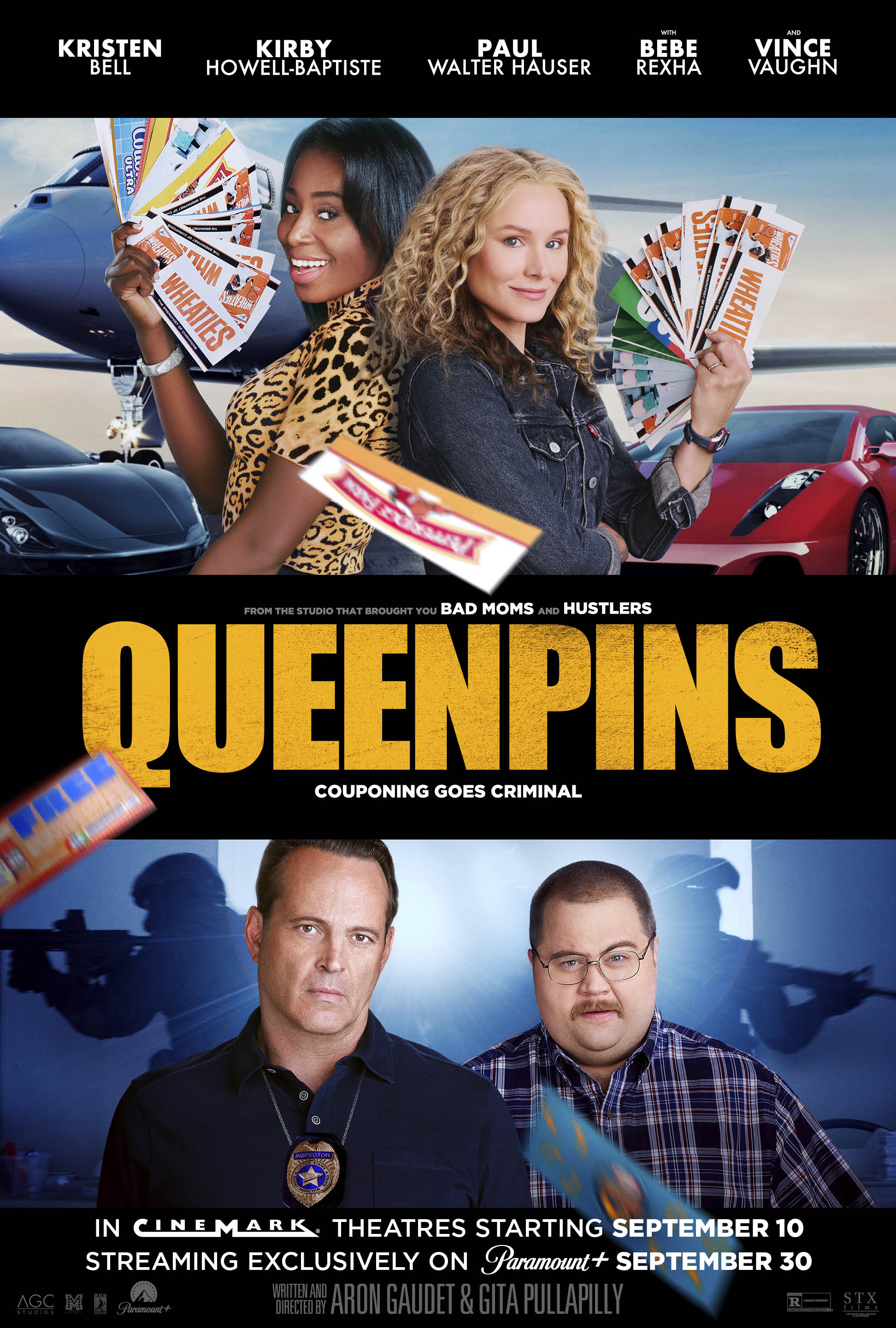 My Thoughts
Fun fact – before Rural Mom was established in 2008, I started blogging/vlogging as a coupon blogger. This film brought me right back to those days of bargain hunting and coupon deals… only I wasn't nearly as savvy as the QUEENPINS!
Part of the charm of the film is Connie and JoJo are characters we can all relate to. They are entrepreneurial women who dream of more. And they sure get more than they bargained for! Mayhem ensues and the film is a total belly chuckler. I confess at one point in the film, I nearly had to spit out my popcorn. I was laughing that hard.
My daughter attended the screening with me. We both agreed it's a fantastic movie for a mom-daughter movie night out, a girl's night out, or even a date night. There's plenty of relatable humor for everyone. Though there are two fabulous female leads, it's not a "chick flick", it's a film everyone will enjoy!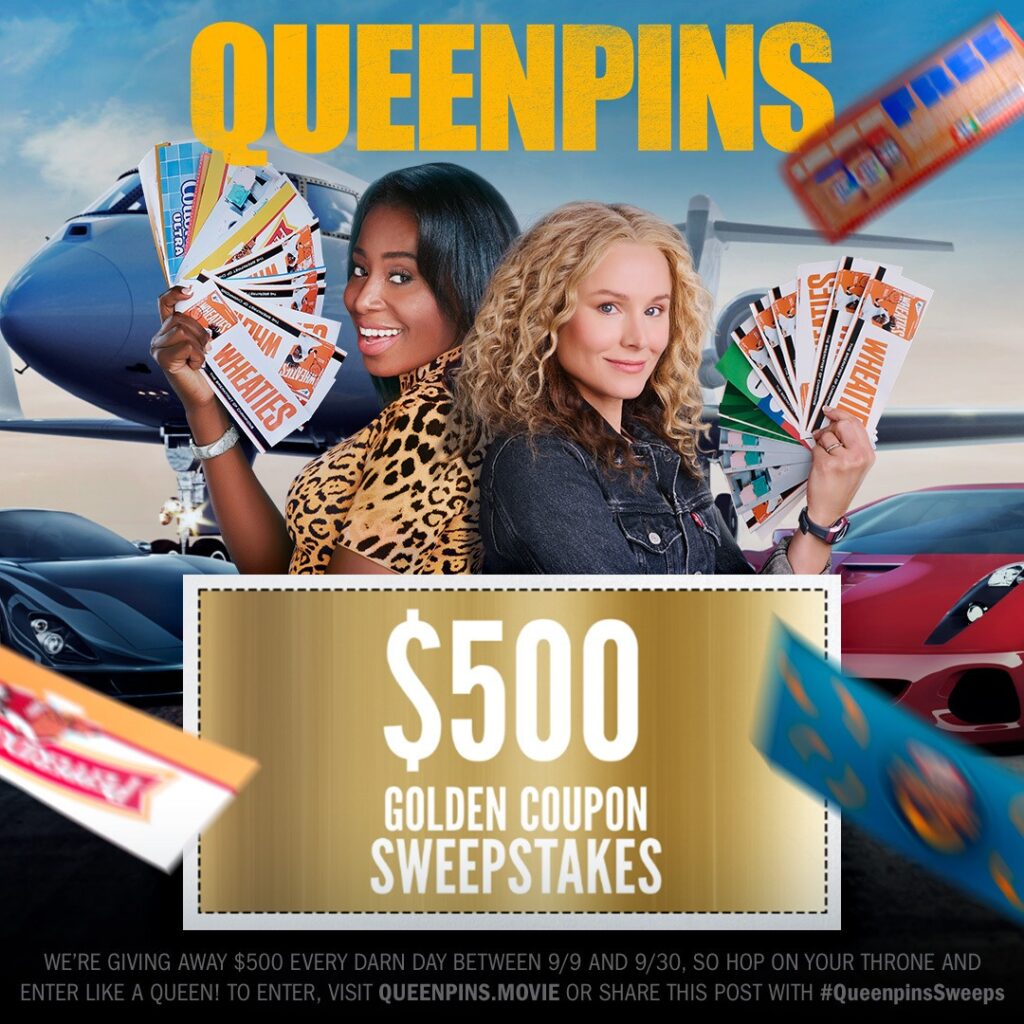 Will You Win a Golden Coupon?
During the special Girl's Night Out screening for QUEENPINS, I had the honor of drawing the first winner for the QUEENPINS GOLDEN COUPON SWEEPSTAKES! This couple was more-than thrilled to get a $500 gift card just in time for holiday shopping!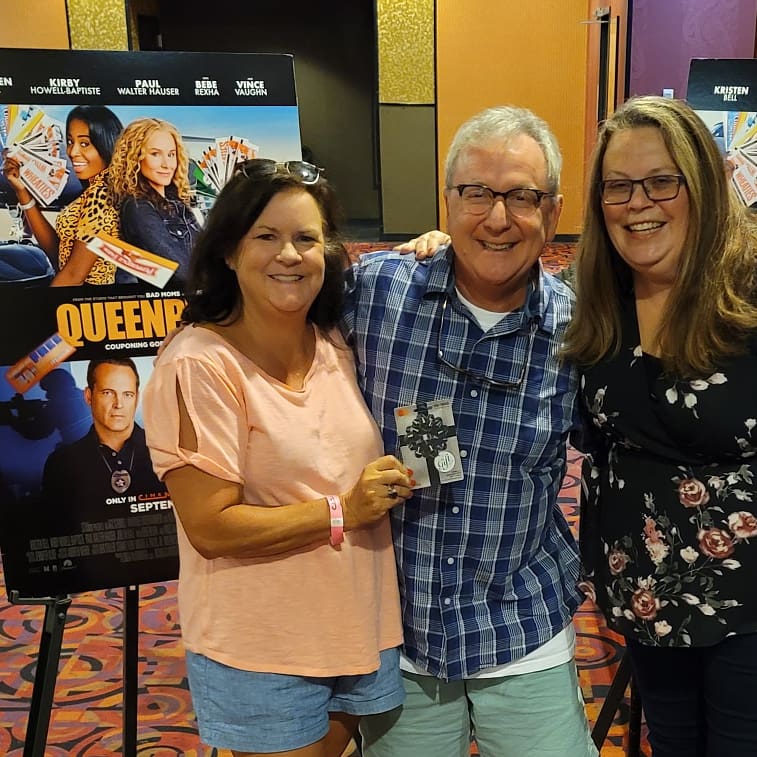 The QUEENPINS GOLDEN COUPON SWEEPSTAKES is still going on. There are plenty of chances to be a winner of $500! They are choosing one winner every day (through 9/29/2021)! Pop over to Queenpins.movie for more information on how to enter!