A trellis with a flowering plant is a great addition to any garden. You'll find plenty of flowering vines with eye-popping colors to brighten your space, but not all are easy to maintain.
Each flowering vine has it's own unique characteristics. We happen to love ones that delight us with vibrant flora and thrive in a variety of climate conditions.
This list is certainly not inclusive of all the varieties of flowering vines available. If you are seeking varieties that are easy-to-care for and grow prolifically, though, this is the list for you!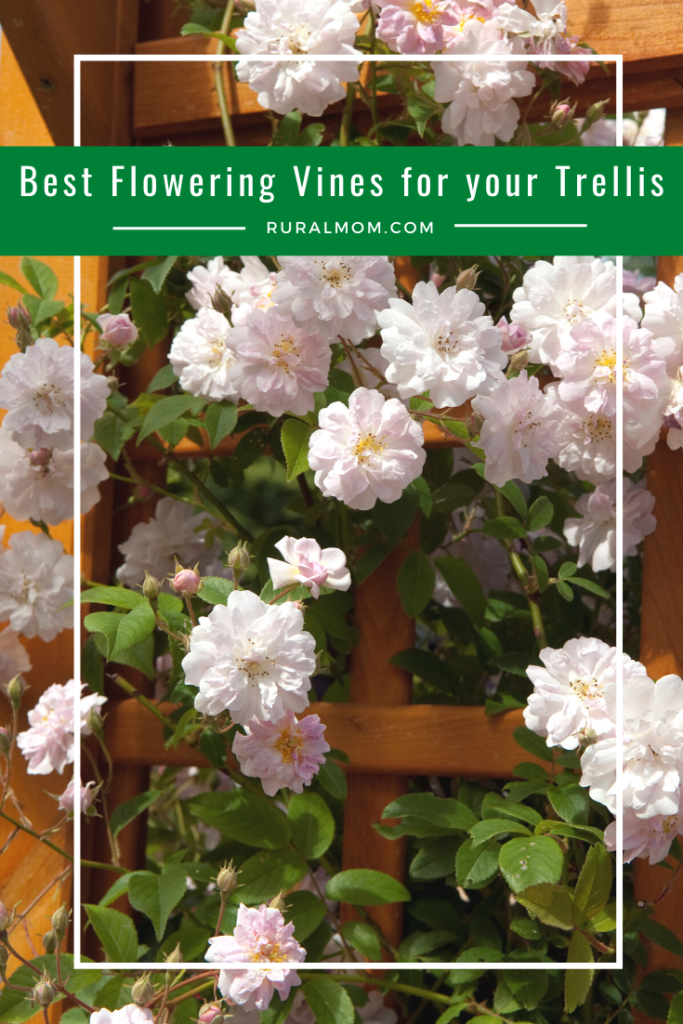 Climbing Roses
Climbing Roses are great for a trellis. They can be found in many different colors and are treated in a similar fashion to other roses with well drained soil and full sun conditions. These plants will not grow very quickly.
To help them thrive, new growth should be tied to the trellis to help with stability. Fallen, dead leaves should be removed to discourage any problems with mildew.
Do note: You will want to research varieties of climbing rose prior to purchase. Some will bloom only once while others will bloom multiple times.
Clematis
Clematis are great climbing plants that can be found in many different varieties. Like climbing roses, some will bloom one time a year while others will bloom multiple times.
Certain clematis will have small flowers that are the size of a coin and other varieties will have blooms that are larger than your hand. These plants will climb relatively well on their own, but you can help by tying it to the trellis in the beginning to get it started going the way you want it to.
Black Eyed Susan Vine
While many may be familiar with Black Eyed Susans as a perennial plant, there is also a vine with the same name. This plant is an annual in everywhere except zones 10 and warmer.
As an annual, this plant will grow up to 8 feet long. Blooms are beautiful 1.5 inch flowers that are yellowish-orange. Black Eyes Susan vines will grow quickly in moist, well-drained soil in full sun. It also appreciates a bit of shade in the afternoon.
Nasturtium
Tropaeolum, otherwise known as nasturtium, is a great plant for trellises. It's not only a beautiful plant, it's also remarkably easy to grow. These plants can be found in different varieties that may be grown as bushes, trailers, or climbers.
You'll want to be sure to research varieties prior to purchasing. Nasturtium will bloom from the spring to the fall. A thirsty plan, nasturtium requires regular watering.
Sweet Pea
This annual plant may be found in several different varieties that come in different colors like red, white, pink, blue, and lavender. Sweet Pea also has a great fragrance.
Flowers bloom from late spring to summer or fall. Sweet Pea will grow to a height of 6-8 feet in full sun.
These are just a few of the wonderful plants that you can choose from to grow on your trellis. Other plants you may want to consider are Mandivilla, Morning Glory, and Blue Moon Wisteria.