I covered a lot of CBD ground in my new book "Getting  Baked: Everything Need to Know about Hemp, CBD, and Medicinal Gardening", but of course there's always new information popping up. As promised in the book, I'm dedicated to ensuring readers have supplemental information to continue the journey. Which brings us to today's topic – what's the buzz about Delta-8 CBD and Delta-8 THC?
You've just learned all the ins-and-outs of shopping for CBD and now there's a new kid on the shelf. Delta-8 CBD has staked its claim on shop shelves but there's plenty consumers need to know about this compound. The first fact is that Delta-8 is not CBD, Delta-8 is Delta-8 THC.
Disclaimer: The information in this post is not meant to substitute for medical advice. This is merely a discussion of what Delta-8 CBD is. Before consuming any supplement, it is prudent to discuss with a medical professional.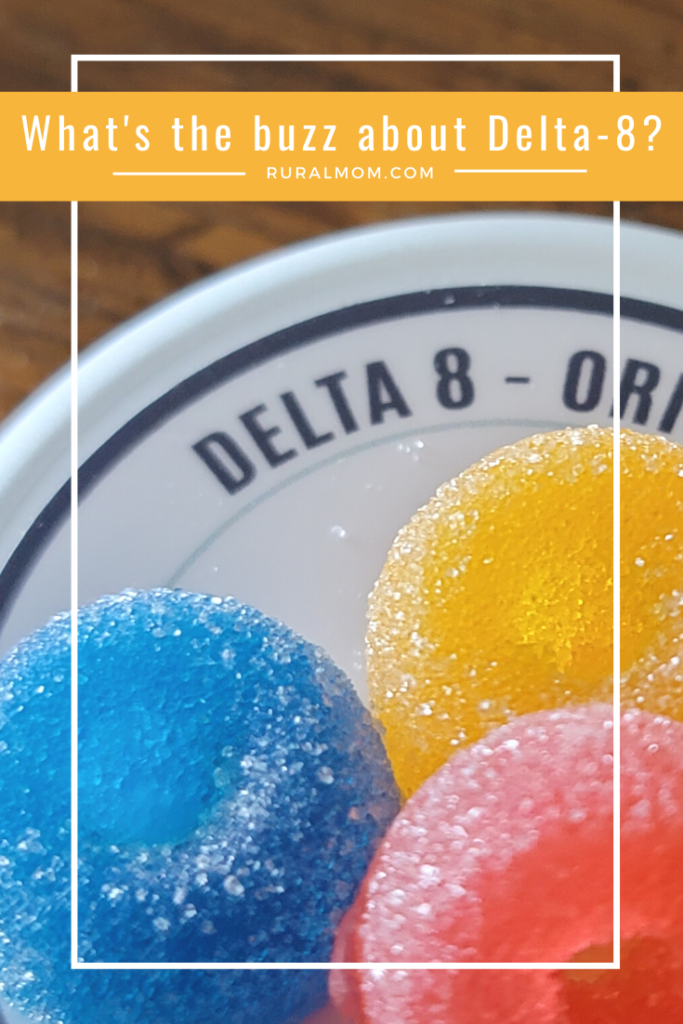 What is Delta-8 THC?
Delta-8 THC is a cannabinoid synthesized from federally legal hemp/cannabis. To be "federally legal" the hemp plant much contain less than .3% Delta-9 THC.
Oh wait a second… what is Delta-9 THC? It's what we commonly refer to as THC, otherwise known as tetrahydrocannabinol. Delta-9 THC is what gives you the euphoric effect when consuming hemp/cannabis that is not federally legal, meaning it contains more than .3% Delta-9 THC. Though it is not a legal substance by federal law, hemp/cannabis containing high levels of Delta-9 THC is legal in numerous states throughout the United States.
Delta-8 THC is very similar to Delta-9 THC in that it can cause effects of euphoria. However, it is less potent than Delta-9 THC.
Because Delta-8 is synthesized from federally legal hemp/cannibis, the compound is currently not prohibited by low in most areas. However, many states are reviewing their laws to address this loop-hole.
Why am I seeing Delta-8 CBD instead of Delta-8 THC on packaging?
The process of creating Delta-8 THC primarily involves synthesizing CBD Isolate into Delta-8 THC. There are potential benefits of Delta-8 THC for users (discussed below), so it has grown in popularity.
Some manufactures are combining Delta-8 THC with CBD. When Delta-8 THC is paired with CBD it often reduces the euphoric effect. (Keep in mind though, that even when paired with CBD, Delta-8 THC may still produce euphoria.) As THC still has some taboo in the market place, some manufacturers are labeling these products Delta-8 CBD.
Personally, I find this tactic of muddling Delta-8 THC with CBD and calling it Delta-8 CBD to be highly confusion for the consumer and it's a red flag, buyer beware situation. Do proceed with caution!
Other products on the shelf, such as those from SOLOS HEMP, contain only Delta-8 THC and are clearly labeled as Delta-8 THC.  This is much less confusing for the consumer and the manufacturer also clearly states that their gummies are a "potent one-of-a-kind euphoric, uplfiting, and motivating feel with a calming body sensation."
Delta-8 THC products are currently available in gummy format (most popular), tinctures, vape, wax, and even found in ointments for topical use.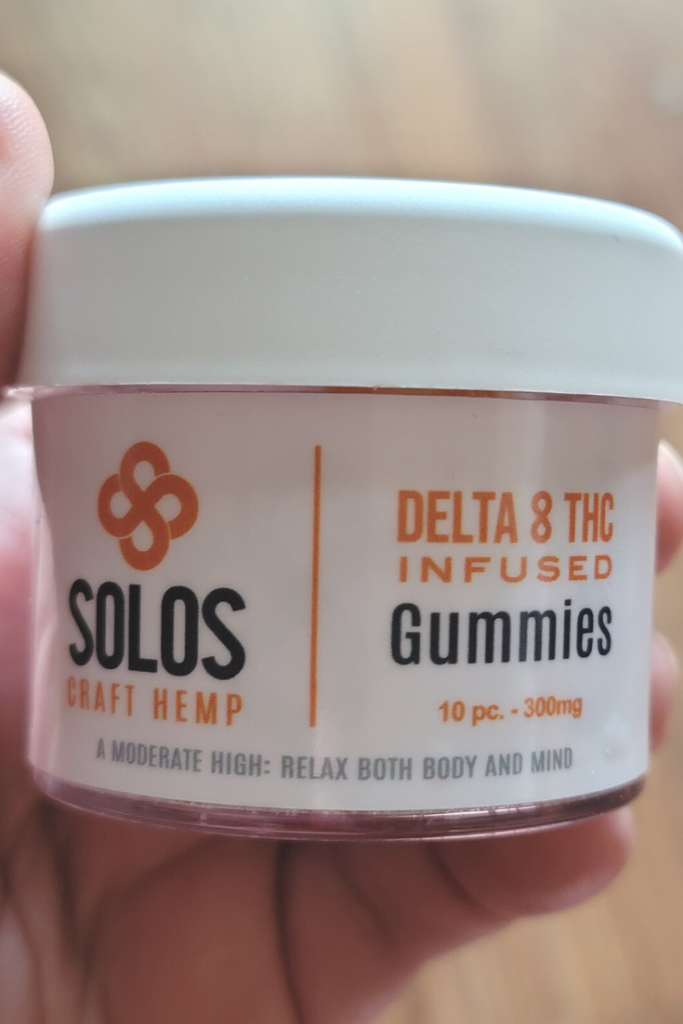 What's the buzz about Delta-8 THC?
Since we already have Delta-9 THC available in many states for medical and/or recreational use, why is Delta-8 THC a hot topic?
Studies have revealed some promising outcomes for Delta-8 THC including:
antiemetic properties that curb nausea and reduce vomiting (1)
potential link to reduction of cancer tumors (2)
appetite stimulant that may be useful in treating appetite disorders
is less psychoactive and causes less anxiety than Delta-9 THC (primarily anecdotal)
currently federally legal
There are, however, plenty of risks associated with Delta-8 THC products and production. The most obvious for the consumer is the potential for euphoria interfering with daily activities.
Side effects of Delta-8 THC also include:
red eyes
dry mouth
increased appetite
paranoia
impairment of memory
impairment of motor functions
anxiety
Also if you are concerned with drug testing at your place of employment, Delta-8 THC will test "positive" in the same manner that Delta-9 THC does.
Bottom line:
Proceed with caution. Delta-8 THC is a compound to keep watch on. Effects will vary from user to user and there's still not enough research available.
I recently spoke with Danielle Simone Brand, author of "Weed Mom: The Canna-Curious Woman's Guide to Healthier Relaxation, Happier Parenting, and Chilling TF Out" on this subject and her advice is top-notch! She also suggests to be really cautious and if Delta-8 THC is a supplement you wish to try, go slow and start with a low dose.
"We have much more information available on Delta-9 THC and we know it's a pretty low-risk safe bet," says Brand. "With Delta-8 THC, I can't even tell you where to find a reputable source."
Delta-8 is not currently regulated and may soon be deemed federally illegal.
Lastly, if you are a regularly CBD user, it's important to understand that Delta-8 THC is more psychoactive than (federally legal) CBD.
SOURCES
(1) Aya Abrahamov, Avraham Abrahamov, R. Mechoulam, An efficient new cannabinoid antiemetic in pediatric oncology, Life Sciences,Volume 56, Issues 23–24, 1995, Pages 2097-2102, ISSN 0024-3205
(2) Antineoplastic activity of cannabinoids, Journal of the National Cancer Institute, Vol. 55, No. 3, September 1975, pp.597-602, by A.E. Munson, L.S. Harris, M.A. Friedman, W.L. Dewey, and R.A. Carchman
(3) Avraham Y, Ben-Shushan D, Breuer A, Zolotarev O, Okon A, Fink N, Katz V, Berry EM. Very low doses of delta 8-THC increase food consumption and alter neurotransmitter levels following weight loss. Pharmacol Biochem Behav. 2004 Apr;77(4):675-84. doi: 10.1016/j.pbb.2004.01.015. PMID: 15099912.
Getting Baked: Everything You Need to Know about Hemp, CBD, and Medicinal Gardening
New to the CBD journey? Cannabis curious? Or want to know more about how herbs and spices can help aid your wellness goals? Then be sure to grab a copy of Barb Webb's new book "Getting  Baked: Everything Need to Know about Hemp, CBD, and Medicinal Gardening" today!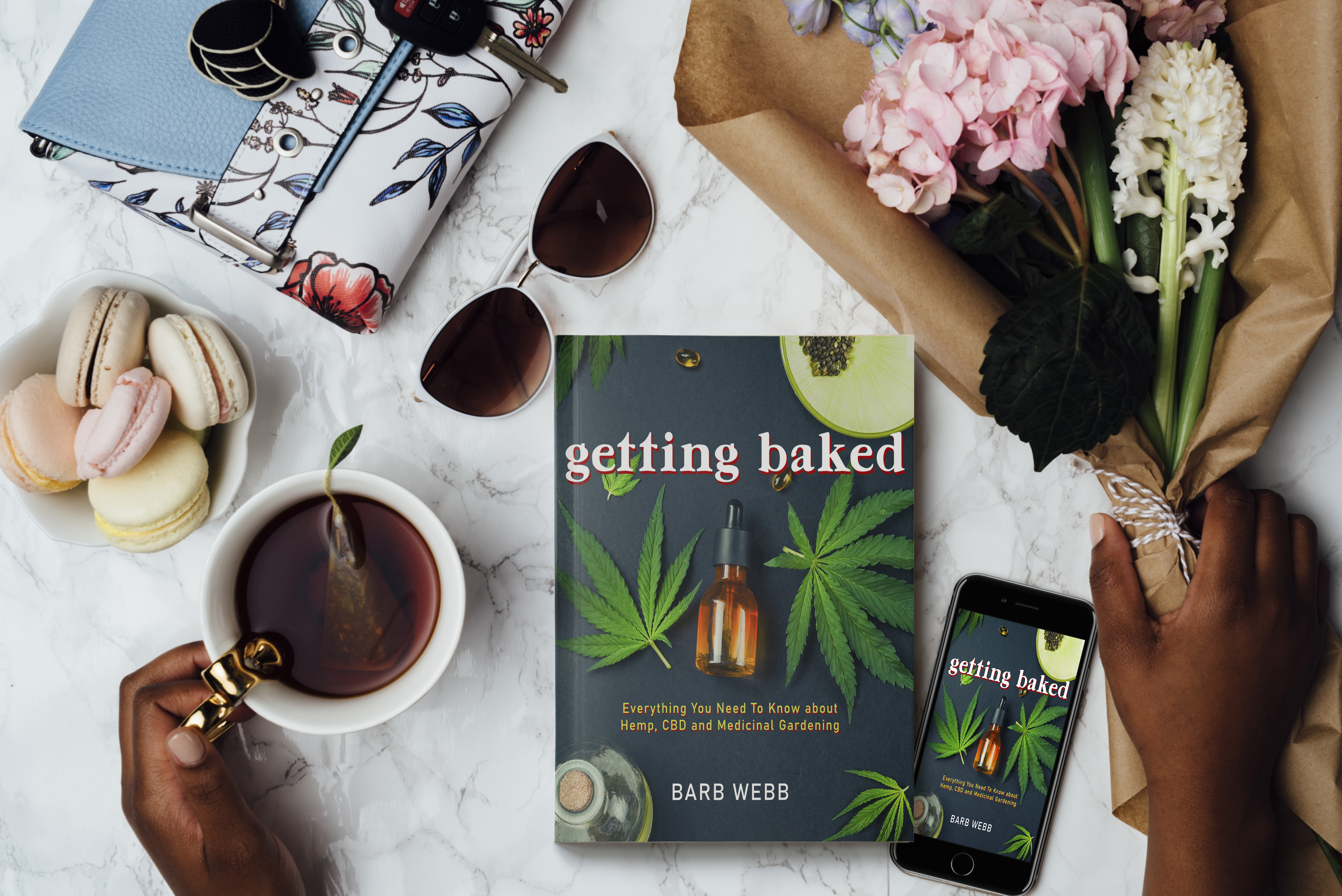 Available in print and eBook versions at Walmart, Target, Amazon and bookstores everywhere. Coming soon to audio!