Different medical conditions and complaints tend to require different kinds of treatment. Even though there is still plenty of research that needs to be done on CBD, it too comes in a variety of different products for a variety of different uses. Here are six ways you can currently take CBD.
1. Oils
CBD oils are a mixture of CBD and a carrier oil, such as coconut oil or glycerin. The carrier oil depends on what the oil is meant to be used for. If you want an edible oil, the carrier oil should be edible.
If you're looking for an oil you can aerosolize, you may want to choose a fragrant carrier oil. A traditional oil is generally an infusion of CBD into the carrier oil, while a tincture is made by soaking hemp or cannabis in glycerin and alcohol. These tend to be the most popular CBD products.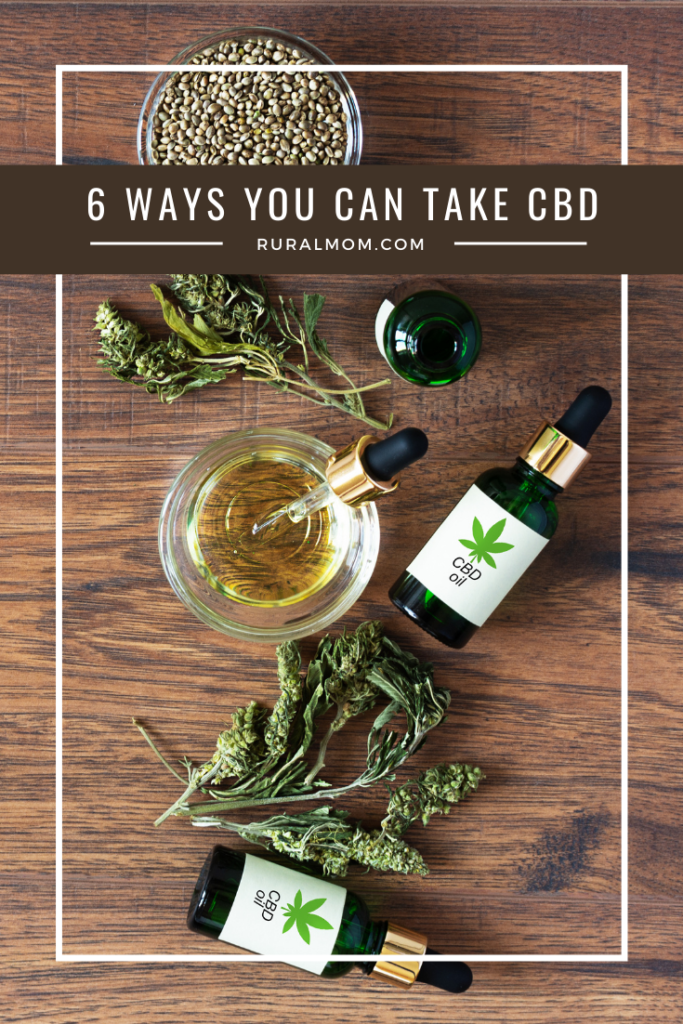 2. Edibles
In a similar vein to gummy vitamins, there are several products that aim to make palatable edible CBD products. There are many subtypes of edibles. You can choose between tinctures, which are edible oils containing CBD, CBD gummies, hemp gummies and more. These products can come in a variety of flavors and carrier ingredients, such as carrier oils or gelatin.
CBD edibles don't tend to have the highest or most potent amount of CBD, but they're good options if you only want or need to take a small dose. They're also easy to incorporate into your daily routine.
3. Capsules
Capsules are similar to edibles in that they can be an easy way to add CBD into your daily routine without making too many changes. You can take them along with your daily medication or other supplements just like gummies, and they tend to be easier to take than tinctures, which need to be placed on your tongue via a dropper.
The CBD content tends to be higher than most edibles. There are also fewer ingredients than there are in gummies, particularly flavor components like sugar.
4. Vaporizers
Vaporizers may be one of the most well-known types of CBD products. Vaporizer products like vape pens administer a CBD oil that is aerosolized and inhaled for fast-acting effects. Remember, there is very little research on the safety and efficacy of vaporizer products, and there is some research that suggests vaping may be linked to an increased risk of lung injury. If you have asthma or another chronic respiratory condition, a vaporizer may not be the right CBD product for you.
5. Topicals
Like edibles, topical CBD products have many subcategories. There are creams, lotions, gels, salves and balms available. Many topical products are marketed as pain relievers, anti-aging products and moisturizers.
However, it's important to keep in mind that research into CBD uses doesn't currently prove or disprove CBD's effects on pain and skin health. There is some preliminary evidence that CBD can help relieve inflammation, which means that it may be able to help with pain caused by inflammation, such as arthritis pain, and inflammation-related skin issues like acne.
6. Concentrate
This is the product with the strongest dose of CBD. If you don't have much experience with taking CBD, you may be better off starting with a weaker or less concentrated product. You could also take a very small dose of the concentrate at first and slowly increase the dosage over time. Typically, a concentrate is placed on the tongue with a dropper, much like a tincture.
Talk to your doctor before deciding whether to take CBD and which type of product you should use. Different products may be better for certain conditions than others. For example, edible CBD may have more of an effect on anxiety than a topical product.