What better way to please your Valentine – or a special friend – on Valentine's Day than with an indoor plant with flowers that will keep blooming. Flowering plants can keep the spirit of Valentine's Day alive for months or even years. Choices come in seasonal bloomers or those that flower almost continually.
Plants that grow easily indoors and bloom in bright, cheerful colors are a joy year 'round. Most can be purchased at a nursery, florist and at many supermarkets. Wrapped in red tissue paper with a matching ribbon, they're ready for Valentine's Day giving.
If your Valentine's Day gift recipient doesn't have a green thumb, we have a solution to that, too! Our partners at Nearly Naturals have the solution. Their silk flower plants and arrangements so closely resemble the actual plant, that you have to get way up close to tell the difference. (Right now, Nearly Naturals has a great Valentine's Day sale going on, too, so be sure to stop by and check out their exclusive Valentine's Day collection.)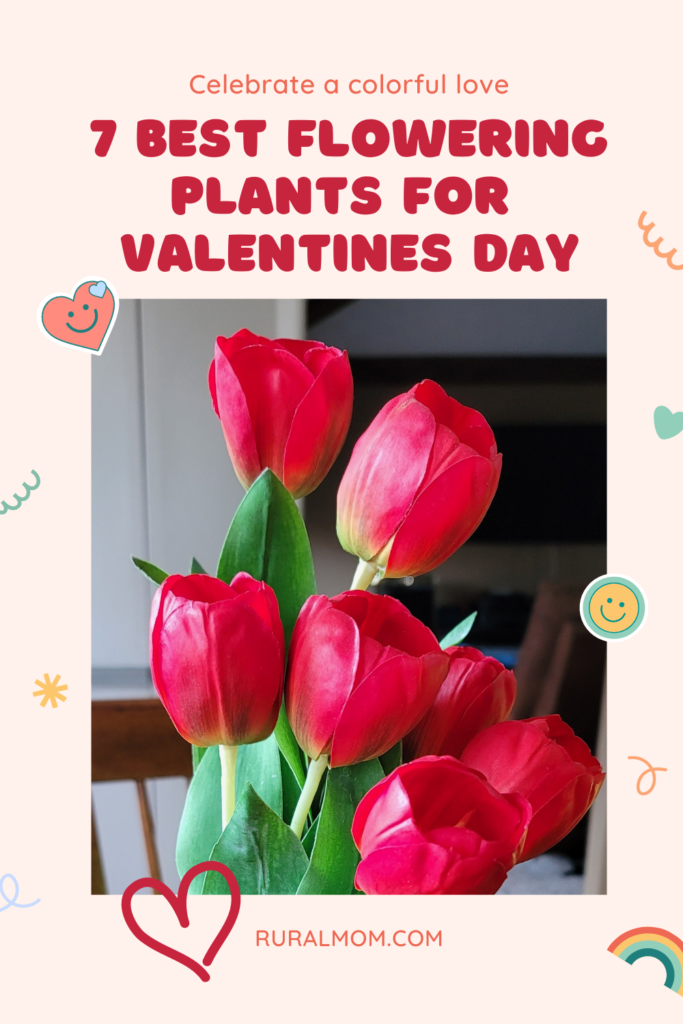 Miniature Daffodils (Narcissus)
By the end of January miniature daffodils begin appearing in shops. They're popular, and no wonder: they bring the promise of spring in mid-winter. They can be given as Valentine gifts that brighten a sunny window indoors. In spring they can be planted outdoors in a patio container, window box or right in the garden. These sunny blossoms are inexpensive to purchase.
Flamingo Flower (Anthurium)
The showy red flowers of the tropical Anthurium bloom around the time of Valentine's Day. The flowers are large and glossy. They do well in a shady spot which makes them ideal for indoor display as long as the interior temperature remains warm. Between flowerings, the long leaves make for handsome foliage plant.
Tulips (Tulipa)
Nothing says Spring quite like a tulip. Long cherished by many cultures, these bulb beauties are easily gifted to start indoors for later spring transplanting. As it's one of our favorites, we had to check out the Nearly Natural Artificial Tulip Arrangement in Cylinder Vase( featured in photos throughout this post.)
This gorgeous arrangement can be shipped straight to your Valentine to add an immediate burst of color and cheer to their décor for Valentine's Day and beyond. One thing we really love about our Nearly Natural friends, too, is how lovely their packaging is and how well protected each floral treasure is to ensure it arrives in perfect condition.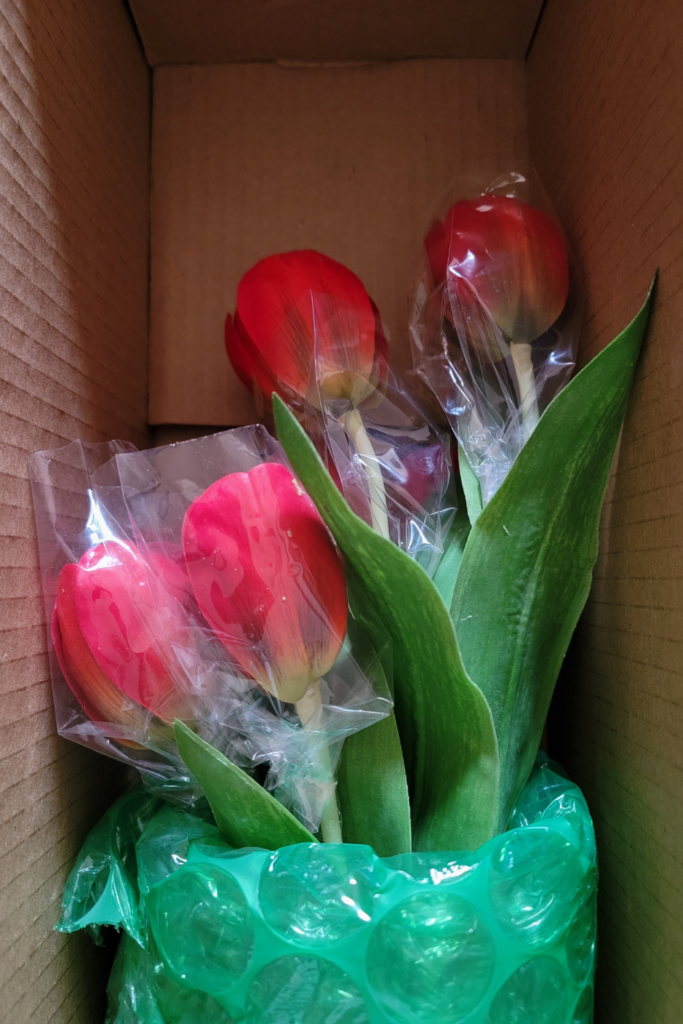 The meaning of the tulip is, "perfect love." If you are looking for the perfect flower selection to express to someone that they are your perfect match, the tulip is the right choice.
Bromeliads (Various Species)
These tropical plants include many species in a variety of colors. Most have large, showy blooms arising from a rosette of green foliage. It is actually the bracts of the flower that are colored, typically in red or yellow. These exotic-looking plants make welcome gifts for any occasion.
African Violets (Saintpaulia)
African violets have been prized as houseplants for generations. Violet is the primary color of the flowers, but varieties also come in shades that include red, pink, blue and white. They bloom all year round. African Violets are generally small plants that can be dressed up for Valentine's Day with a novelty container such as a heart-shaped tea cup. They're easy to care for as long as they don't get waterlogged. It's also important to avoid dripping water on the soft, fuzzy leaves.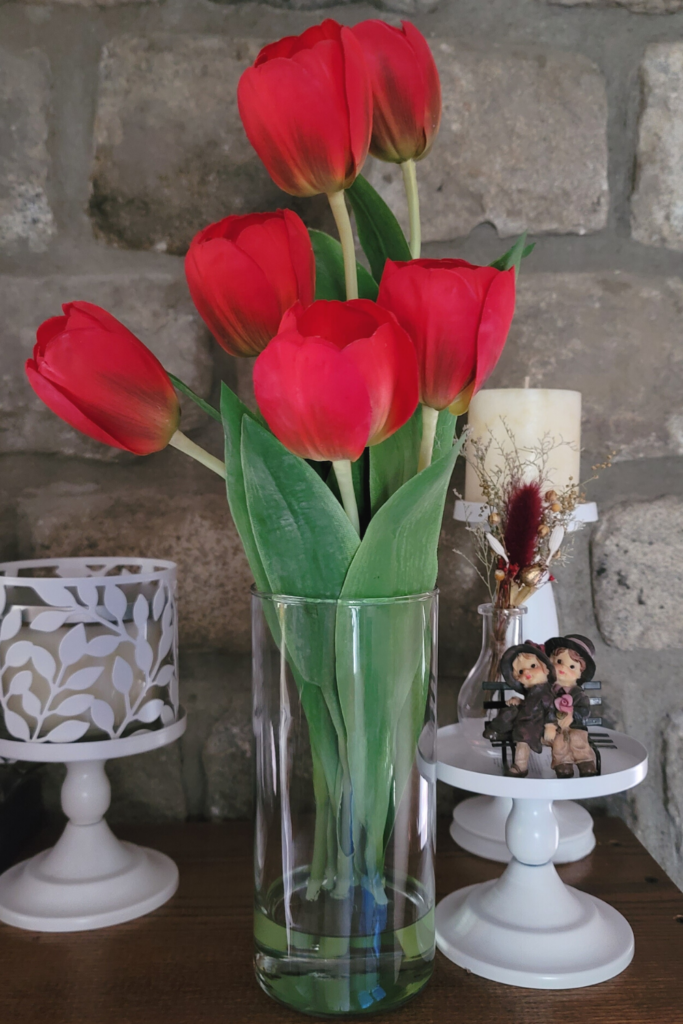 Primrose (Primulaceae)
Another harbinger of spring, primroses begin blooming in January, just in time for Valentine's Day. These come in a myriad of colors that can brighten a windowsill through spring. When the weather warms they can also be moved outdoors.
Paperwhites (Narcissus)
These fragrant relatives of daffodils are easy to start indoors in the dead of winter. Gift-givers can buy flowers already blooming or start the bulbs in a decorative bowl for their favorite Valentine. No soil is necessary.
To force paperwhite bulbs at home, they should be placed in a bed of small decorative stones in a four-inch deep container, pointed side up. Water comes next, covering only the base of the bulbs. A few small groups of bulbs placed tightly together in the bowl will provide a pleasing arrangement and help the sprouting stems support one another. They'll begin to bloom in just a few weeks.
Flowering plants can be the perfect expression of love and friendship on Valentine's Day.