Are you tired of staring at the same ol' walls? It's fabulous to be home, but the view can get a little monotonous. If you have or prefer neutral paint colors on your walls, it may be time to change things up and add color to your home.
A pop of color in a room can truly brighten up the area and your mood. Happy colors like red, lilac, and yellow can enhance your optimism. Warm colors like blue can bring calm to your home.
Colors do not have to be bright. Lighter shades of green evoke peace and tranquility. Soft gray adds warmth and sophistication. Light wood tones create an inviting environment and bring a little element of nature indoors.
Paint, of course, is a quick and easy way to add color to your home, but it's not always an option, especially if you are renting a space. It may also be that you simply love your wall color, but still want a fresh new update. No matter which category you fall into, you can use the following tricks to bring plenty of color into your home without changing the paint color on the wall.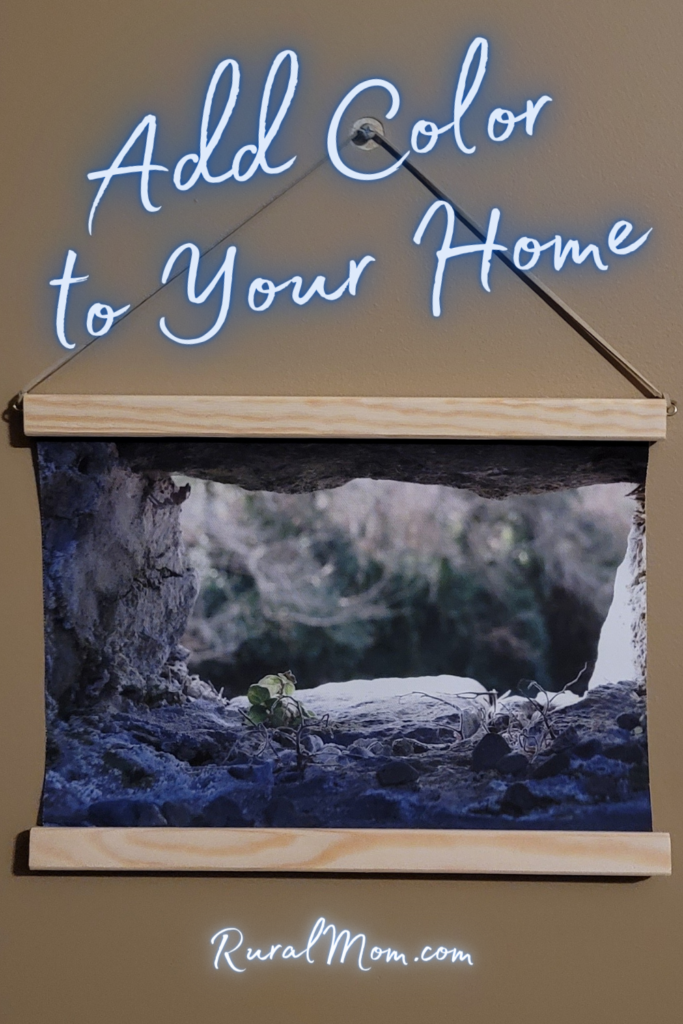 Brighten Your Environment with Artwork
This catchall can encompass a nicely framed painting, a collage of photos, cleverly painted furniture pieces, or anything that you consider art. The key is to give your artwork a focal place in your home.
One of my favorite ways to add color to a room is by selecting and displaying a range of personal photos. Artwork often invokes a desired mood and treasured family photos quickly liven up a space. Photos bring us comfort and remembrance of happy times and folks who fill our hearts with joy.
To add interest and color to a room, select photos from a trip that complement or contrast your current décor theme. Thanks to my current partnership with CanvasDiscount.com, I was able to create a MIXPIX® collage of our photos from an Ireland trip.  The results were ideal for our family room which features a stone fireplace and wood tones throughout. The photos pick up on the nuisances of stonework while splashing in a nice mix of reds, blues, and greens that add subtle pops of color that attract the eye.
MIXPIX are 8-inch by 8-inch lightweight foam tiles that stick to your walls with reusable adhesive pads. What this means is you can position MIXPIX tiles and then remove or rearrange them to suit your décor mood any time. With CanvasDiscount's best-price guarantee, you can also afford to change your MIXPIX tiles seasonally or update them after each vacation!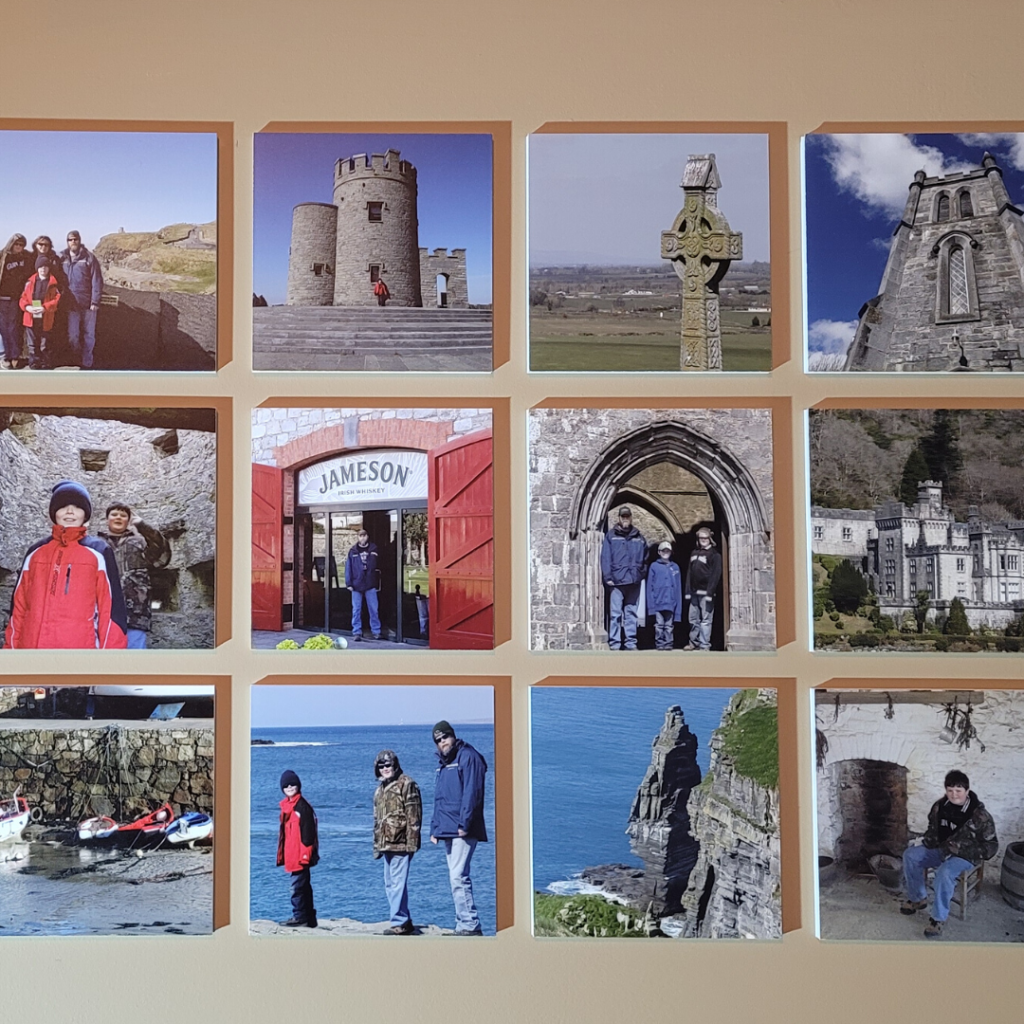 With proper placement and arrangement you can quickly turn your room into a comfortable home gallery with a little help from CanvasDiscount.com. In addition to MIXPIX tiles, you'll find canvas prints, canvas wall displays, acrylic prints, retro canvas, metal prints and more to customize your special look.
Let the Sunshine in with Window Treatments
If you're crafty you can probably whip up a new set of curtains by yourself. If not, you can find plenty of discount window treatments from numerous retails. The results of changing your curtain can be well worth it.
Adding brightly colored window treatments gives the room a different feel and creates a glow when natural light shines in that can alter the room's entire mood. If you have dark, heavy curtains, adding sheer curtains to the room can instantly brighten the room with natural sunlight, enhancing other efforts you're making to add color to the room.
Use Fabrics to Add Color To Your Home
Go crazy with the fabrics and get or make slipcovers, blankets, throw pillows, and rugs. If you can cover it, then do it with aplomb. Imagine how incredible your home would look with plain white walls and a brilliant gem colored accent on almost everything.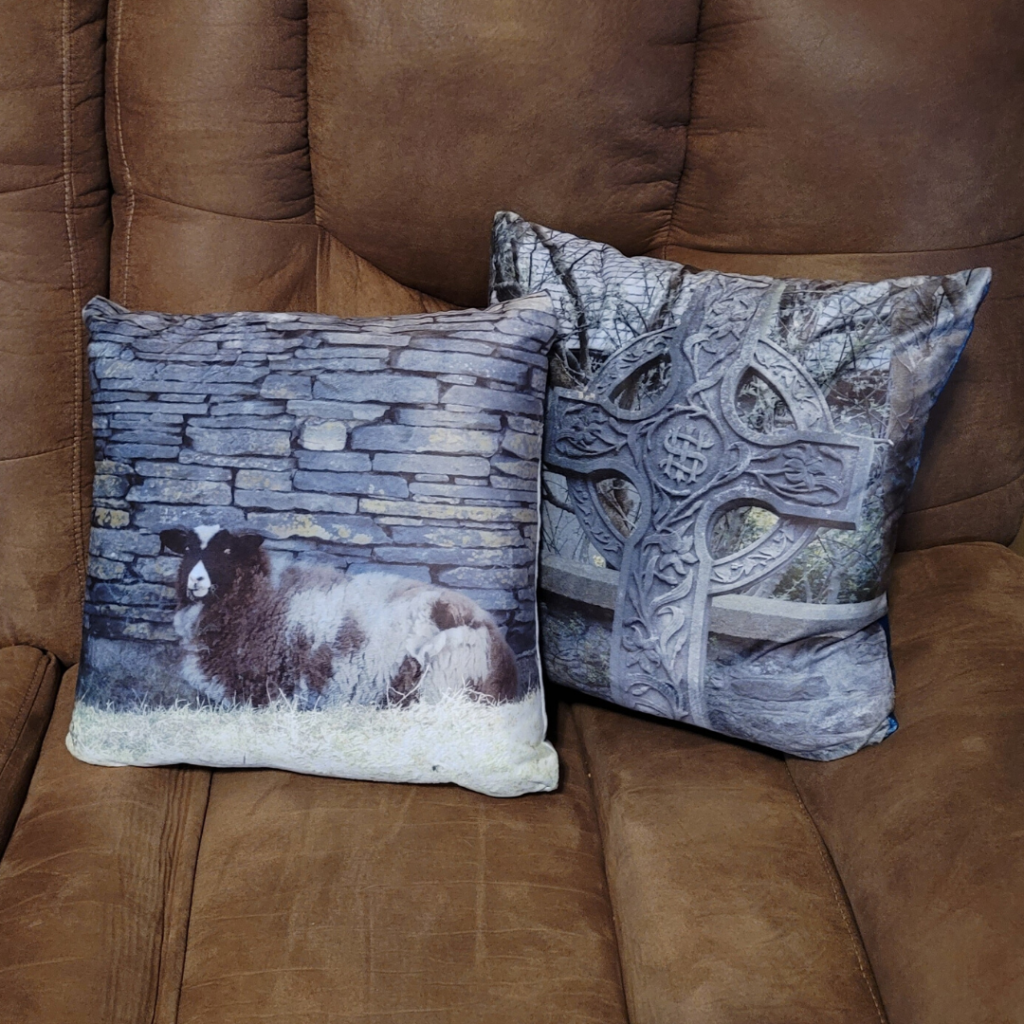 Another way to add color with fabrics is to custom print towels, pillows, or blankets at DiscountCanvas.com. For our family room, I opted to print additional photos from our Ireland trip to put on throw pillows for the room.
The result is truly a conversation piece! Everyone who has visited has commented on them, remarking how unique they are an how well they fit in with our current décor theme. Each pillow also has a pop of color on the back so that they add interest no matter how they are positioned on the couches.
Add Plenty of Colorful Storage
Whether you fill your shelves with books, knickknacks or electronic equipment; shelving can make a big difference. For hesitant decorators, try smaller shelves in neutral or natural colors but for those brave souls out there, buy some large bookshelves or shelving units and paint them one or more splashy colors.
This trick is pretty inexpensive and gives your collectables, even tattered old paperbacks, new life.  If you already have shelving in place, consider painting it a different color to add little accents of color in your room.
Put Some Light on Your Subjects
Lights have become more important in today's modern decorating. If you can master the art of home lighting, you can create some incredibly dramatic effects. Try using a small spotlight aimed at a blank wall with a colored gel to give the wall a whole new color. Changing the color is as easy as changing the gel.
We also used colored lights outside our home to give our exterior walkway a unique look. During the holidays, we put a different color light bulb in all our fixtures to mimic holiday lights and the effect is quite charming.
These tips can be used in combination or separately to give your home a little more life and personality. It's up to you how extreme or subtle you want to use colors in your home. One things for sure, it will definitely change your outlook and potentially enhance your mood!