This feature, in partnership with Warner Bros. Pictures is chock full of THE WITCHES Halloween fun. Read on to discover more about this delightful film and be sure to enter THE WITCHES gift box giveaway!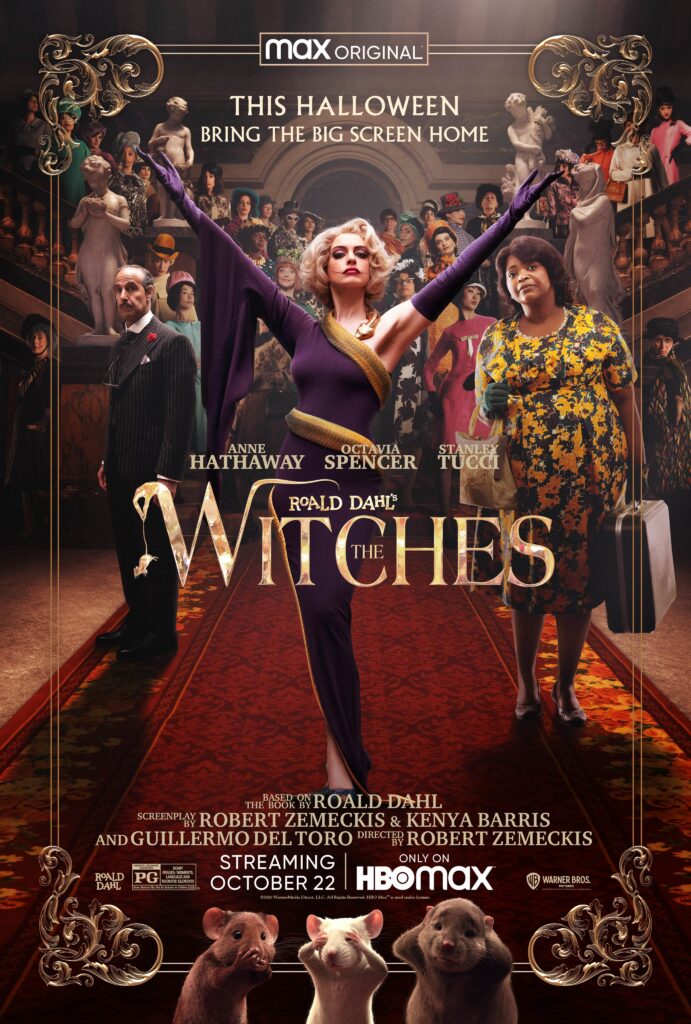 I adore a great Halloween film and one that makes me laugh, even better! Wasn't initially sure what to expect with THE WITCHES, (as I hadn't read the book,) but it's certainly a treat.
Witty and a bit irreverent, THE WITCHES is a rollicking good time for a family movie night. While there's some "scare" to the film, it's not a scary movie, so it's suitable for a wide age range.
There's plenty of heart-warming moments and lots of comedy – it's simply a fun, imaginative film with absolutely spectacular cast!
About THE WITCHES – Now Streaming on HBO MAX
From Oscar-winning director Robert Zemeckis ("Forrest Gump") comes the fantasy adventure "Roald Dahl's The Witches." The film stars Oscar winners Anne Hathaway ("Les Misérable," "Ocean's 8") and Octavia Spencer ("The Help," "The Shape of Water"), Oscar nominee Stanley Tucci ("The Hunger Games" films, "The Lovely Bones"), with Kristin Chenoweth (TV's "Glee" and "BoJack Horseman") and award-winning comedy legend Chris Rock. Newcomer Jahzir Kadeem Bruno (TV's "Atlanta") also stars, alongside Codie-Lei Eastick ("Holmes & Watson").
Reimagining Dahl's beloved story for a modern audience, Zemeckis's visually innovative film tells the darkly humorous and heartwarming tale of a young orphaned boy (Bruno) who, in late 1967, goes to live with his loving Grandma (Spencer) in the rural Alabama town of Demopolis. As the boy and his grandmother encounter some deceptively glamorous but thoroughly diabolical witches, she wisely whisks our young hero away to an opulent seaside resort. Regrettably, they arrive at precisely the same time that the world's Grand High Witch (Hathaway) has gathered her fellow cronies from around the globe—undercover—to carry out her nefarious plans.
To learn more:
Win THE WITCHES Gift Box!
Thanks to the generous folks at Warner Bros. Pictures, one (1) Rural Mom reader will win a THE WITCHES gift box containing:

Google ChromeCast
HBOMax complimentary code for 7 day free trial
WITCHES bookmark and novel
Flavored popcorns, snack packs, and Coffee Beanery coffee sample
Wood decorating craft kit
White gloves
Mouse ears headband
Splat hair dye and hair chalk
Wind-up mouse
Crayons and activity booklet
Open to US mailing addresses only, 18+ Prizing provided by Warner Bros. Pictures.
We also received a complementary box from Warner Bros. Pictures and I can assure you this will totally amp up your holiday fun, so be sure to enter!!
ENTER via the Rafflecopter below:
Celebrate with THE WITCHES Family Movie Night this Halloween
Do you think witches are real? Can you spot a witch?
Hop over to our special THE WITCHES Activity Pack, Games, and More feature to learn how find out if you or someone you know is a Witch. You'll also find a special THE WITCHES activity pack which includes:
games like "spot the difference," word search, and tic-tac-toe
paper dolls and other fun cut-outs like a "witch or not a witch" fortune teller
color by numbers coloring pages
Halloween decorations
and pumpkin carving templates, too.
Gather up your family and complete oodles of fun activities for your THE WITCHES family movie night!