Are you in a holiday frame of mind yet? I'm totally ready let the holiday spirit into our home. With the cold weather coming in, it's a great time to snuggle under your favorite blanket with a lovely holiday read like Hallmark Publishing's "Christmas Charms"(… and maybe a pumpkin spice latte or hot cocoa, too!)
Based on a Hallmark Original Movie, "Christmas Charms"  is now available in paperback, e-book, and audiobook for your enjoyment.
It's a wonderful way to relax and indulge… and also a perfect for setting the mood for the upcoming Hallmark holiday time movies.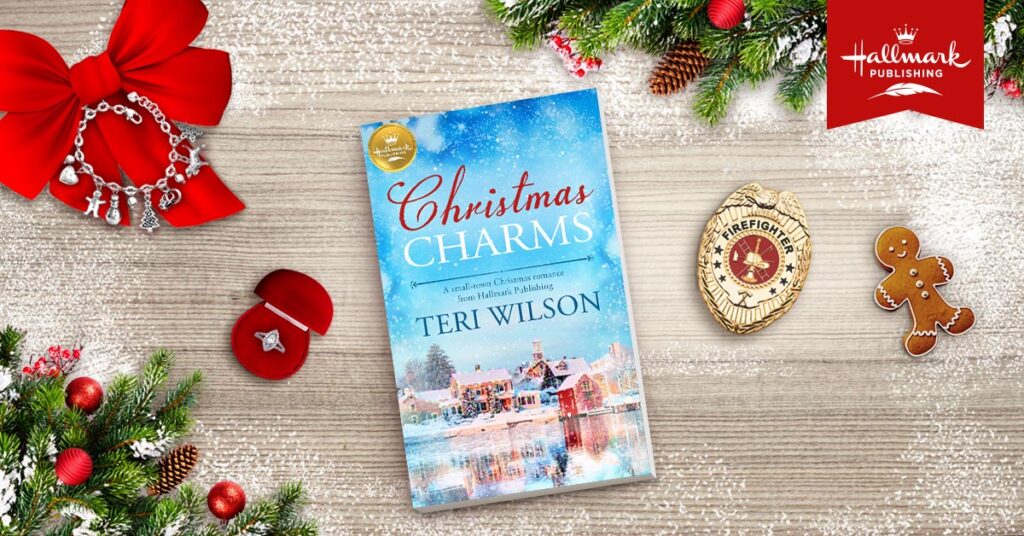 For a little extra yummy fun, you can whip up a batch of Spiced Walnut Crust Cookies with Chocolate Ganache to enjoy as you cuddle up with "Christmas Charms."
In "Christmas Charms", it's tradition for the James' household to bake and deliver Christmas cookies to the firefighters. As a thank-you gift to her old flame Aidan for rescuing her, Ashley joins in on this tradition and tries to replicate her mother's recipe with mixed results.
The Spiced Walnut Crust Cookies with Chocolate Ganache and Sea Salt are so easy to make that even Ashley could make them successfully, and so good you'll want to start your own holiday tradition of sharing them with your friends, family, and loved ones.
All this certainly has me dreaming of tree trimming time and cookie exchange parties!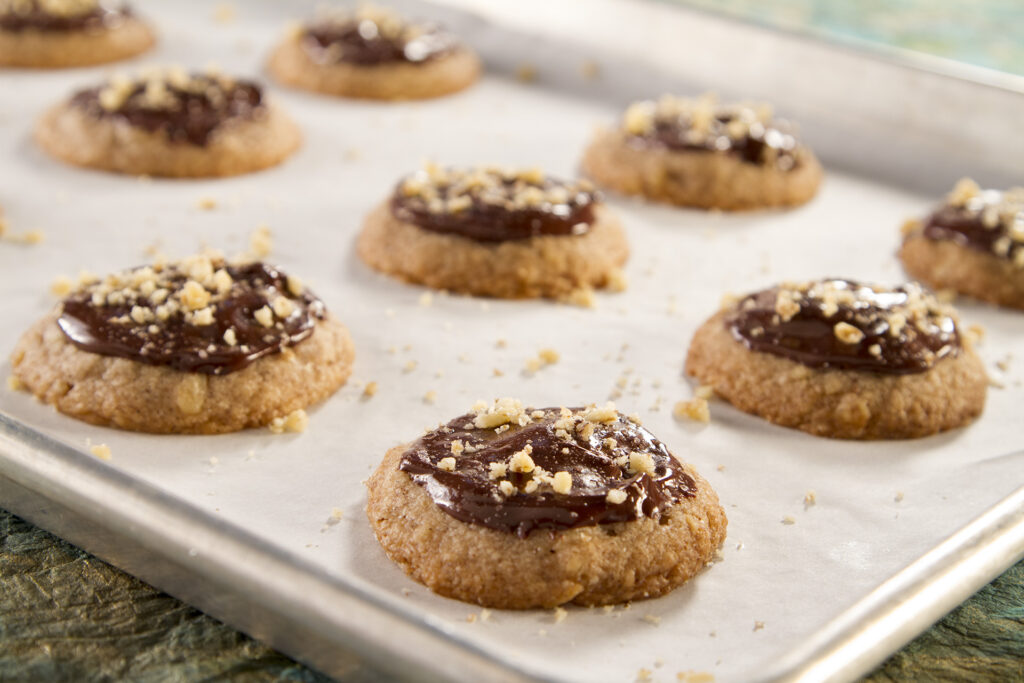 There's even more to look forward to as Hallmark Publishing will also be releasing two new additional titles soon:
Wrapped Up in Christmas Joy (Oct 27)
and Christmas in Evergreen: Tidings of Joy (Nov 3)
It is sure to be a very merry Christmas season, especially if I find these new books in my Christmas stocking this year!
Ashley's supposed to be having the Christmas of her dreams. After four years of working at an upscale jewelry store in Manhattan, she's finally going to get a little velvet box of her own—from her boyfriend Jeremy, who's taking her on a romantic trip to Paris. What could go wrong?
Well, everything.
Ashley heads home to Owl Lake instead, falling asleep on the train ride there…and waking up with a beautiful antique charm bracelet on her wrist. Soon, she realizes that each silver charm predicts an event that happens in real life. What does this mean for her and Jeremy…or her and Aidan, her former high school boyfriend, who's now a local firefighter? Is there still a chance that she could have the perfect Christmas?
About Author Teri Wilson:
Teri Wilson is the Publishers Weekly bestselling author/creator of the Hallmark Channel Original Movies Unleashing Mr. Darcy, Marrying Mr. Darcy, The Art of Us, and Northern Lights of Christmas, based on her book Sleigh Bell Sweethearts. She is also a recipient of the prestigious RITA Award for excellence in romantic fiction. Teri has a major weakness for cute animals, pretty dresses and Audrey Hepburn films, and she loves following the British royal family. Visit her at www.teriwilson.net or on Twitter @TeriWilsonauthr.
About Hallmark Publishing:
Now, you have even more ways to relax and indulge in a Hallmark story. The kinds of heartwarming romances and intriguing mysteries you love are now available as books! In addition to companion novels to beloved Hallmark movies, you'll discover brand-new novels to brighten your day and leave you feeling good about life. With the same attention to storytelling that goes into every Hallmark movie, we'll bring you new characters, relationships, romances, and intriguing mysteries. And each book includes an original recipe inspired by the story!
We're thrilled to announce that in addition to being available in paperback and eBook, Hallmark books are now available in audiobook!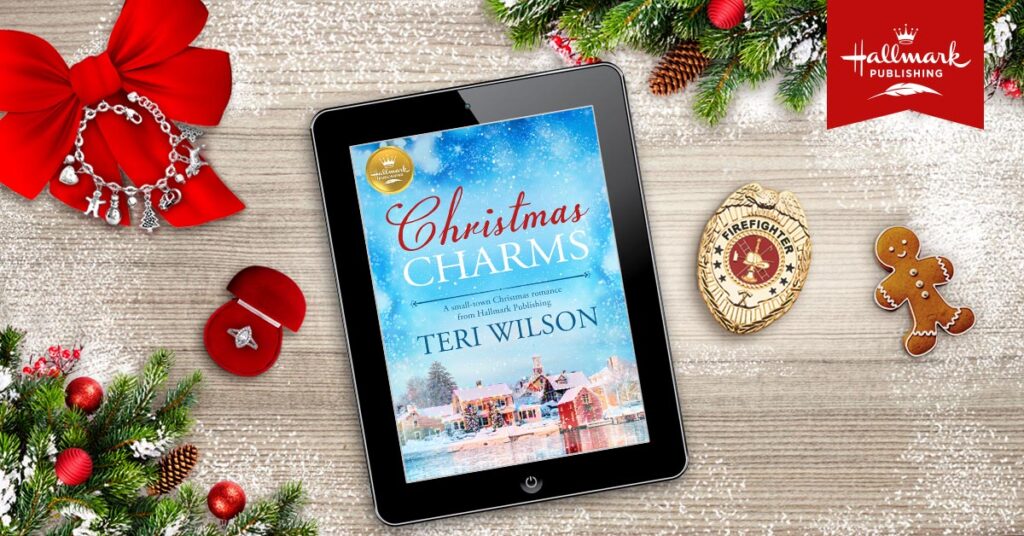 My Thoughts on CHRISTMAS CHARMS
I adore a great holiday romance. There's just something so comforting, enjoyable and uplifting about the season, you want to believe in miracles, kindness and the power of love. CHRISTMAS CHARMS embraces all of these wonderful notions and so much more!
Engaging from page one, CHRISTMAS CHARMS delights the reader with holiday magic and a bit of mystery. The narrative of the book is cozy. You'll feel like you are having a fireside chat with a good friend, recounting an intoxicating tale of unexpected romance during their jaunt home for the holidays.
Hallmark really knows how to celebrate the holidays and they certainly do not disappoint with their newest book based, CHRISTMAS CHARMS, based on the movie. While I absolutely love all the Hallmark movies, I do enjoy reading the books and gaining more insight into the characters. It's always fun to step inside the character's thoughts and get that additional personal point-of-view.
Truly, CHRISTMAS CHARMS is everything you could possibly want from a lovely holiday romance. The book begins with a line about Christmas magic and the speculation of whether it is real… after reading CHRISTMAS CHARMS, I can say with certainty that the author certainly brings Christmas magic to life. This story will leave you believing and hopeful for your own charming holiday season!
WIN IT!
Thanks to the fun folks at Hallmark Publishing, (1) one Rural Mom reader will receive a copy of "Christmas Charms" to enjoy!
US only, 18+. Prize fulfillment by Hallmark Publishing.
ENTER via the Rafflecopter below:
Stay tuned… I'll be back with my personal review of this terrific new book!
Do you enjoy reading holiday stories? What's your favorite fall/winter holiday?