February is here and love is in the air! We all have a different take on Valentine's Day. For me, it's just another wonderful opportunity to celebrate all those we love and cherish.
Seize the opportunity to make a few phone calls or write a love letter to express how much you care. And should you want to include a thoughtful Valentine's Day gift, we have some clever ideas for you!
Each year we strive to find you an interesting selection of gifts for each holiday – ones we feel will be well appreciated and suitable for a wide range of gift recipients.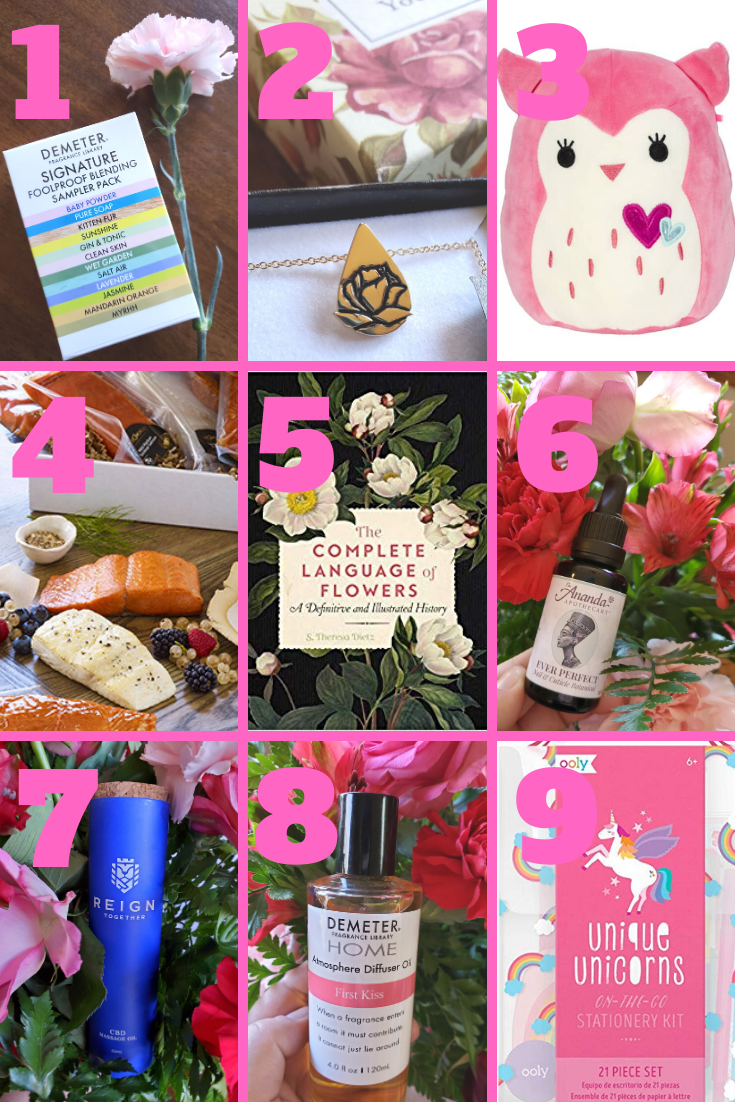 There's definitely a little something for everyone in this year's "Thoughtful Valentine's Day Gift Ideas for Her". From foodies and gardeners to grandkids, there is an awesome gift here to help you deliver Valentine's Day smiles!
Hope you find all that you need to have a joy-filled Valentine's Day celebrating everyone you hold dear!
Sunshine, kitten fur, wet garden – these are all thing that make my life happier! How fun to find a fragrance kit that celebrates all the sights and scents that bring joy to our lives.
The Demeter Signature Foolproof Blending Sampler is truly delight to gift or receive. Fragrance is a traditional Valentine's Day gift, but fragrance that allows the user to customize their scent? That's a "WOW" Valentine's Day gift!
Included in the kit are 5 ml samples of some of our best-selling and classic fragrance notes to layer or blend your own, personal Signature Scent – Baby Powder, Pure Soap, Kitten Fur, Sunshine, Gin & Tonic, Clean Skin, Wet Garden, Salt Air, Lavender, Jasmine, Mandarin Orange, and Myrrh.
Valentines Day is more than just romance. It's such a great holiday to really focus on all the people we love, past and present. Holidays can be a particularly difficult time when you lost someone you love.
What do you do when Valentine's Day is a mixed blessing? Honoring all our loves past and present is a beautiful way to celebrate.
At Perfect Memorials, you'll find an array of loving, thoughtful gifts that strive to offer a bit of comfort along with remembrance of the people and pets we have lost.
One of our favorite selections (featured) is the Perfect Memorials Memorial Tear which features a rose represents undying love for one gone but cherished still. It's an incredibly heartfelt gift to give yourself or a loved one this Valentines Day.
For friends or family who are missing their furr-babies, Perfect Memorials has a lovely selection of Pet Memorial Jewelry available, too. Each piece is well crafted and will be treasured by your Valentine.
Young or old, everyone loves to cuddle Squishmallows!
If you're looking for an alternative to the traditional candy or flowers, Squishmallows are a snuggly way to go. Each adorable character will offer that much needed hug to your Valentine when you can't be there. Plus, they simply make everyone smile!
The all-new line features more than 10 characters ranging from four to 20 inches in size. The Valentine squad is the perfect treat for kids, teens, adults, collectors and toy lovers of all ages. As cuddly as they are cute, they are available now at national retail chains and online at squishmallows.com.
One of our favorite Squishmallows Valentine's Day squad members is Sharie the Blue and Purple Tie Dye Sloth (featured). With lots of hugs and kisses (xoxo) she totally stole our hearts!
Probably no surprise that we'd include a foodie gift on our Thoughtful Valentine's Day Gift Ideas for Her list! They say the way to a man's heart is through his stomach, well the same is true for many women, too. If you are a foodie, nothing delights you more than a gourmet selection of goodies.
Vital Choice Wild Seafood & Organics offers premium sustainable seafood, along with a range of pastured proteins, organic foods, and marine-source nutritional supplements. Their gift packs and samplers a wonderful gift for your Valentine's Day foodies near and far.
Every home chef knows that finding quality, fresh fish can be a mega challenge! Vital Choice removes the challenge by providing fast home delivery of the world's finest wild seafood and organic fare. Every selection is harvested from healthy, well-managed wild fisheries and farms.
Want to keep showering your Valentine with foodie love? A Vital Choice Wild Seafood Subscription is a wonderful choice for any home chef. A gift that will keep giving! Subscriptions are available for salmon only, a variety of wild fish, or a wild seafood box that includes shellfish.
Have an avid reader on your Valentine's Day shopping list? Or want to gift a garden and/or flower lover some florals that will last longer than a few weeks? The Complete Language of Flowers: A Definitive and Illustrated History (Complete Illustrated Encyclopedia) is a gift they'll be wild about!
Containing over one thousand flower species, this book is romantic, practical and fascinating. Along with visual depictions, each entry provided the flower's name, characteristics, and historic meanings from mythology, medieval legends, folklore and flower poetry.
If you are wondering what flowers to send your loved ones and the meaning of each, it's an awesome reference guide to have at home, too. Anyone who loves to grow flowers in their garden, has an interest in floral arrangements, or simply enjoys all things magical and symbolic will truly enjoy owning this gorgeous guide.
From skin care to aromatherapy to overall health and wellness, Ananda Apothecary has a lovely gift selection for every Valentine.
The ancient Ayurvedic practice of Aromatherapy harnesses the mind and body benefits of essential plant oils. It can also freshen the air, create atmosphere, boost mood, energy, and mental focus, ease congestion, help relaxation, improve sleep and much, much more. All delightful pampering treats.
Ananda Apothecary sources the finest essential oils from around the world and works to create the best blends possible. Whether you gift a hair botanical or one of their limited edition Valentine's Day Massage Blend sets, you'll know you are gifting not just a product, but an experience.
One of our favorite finds at Ananda Apothecary is the Ever Perfect Blend Nail & Cuticle Botanical. This harsh winter can take its toll on your cuticle and nails. This new nourishing blend of hydrating plant botanicals and extracts supports strengthening the nails while synergistically softening and soothing the cuticles. Perfection!
It's no mystery that we are big fans of hemp and CBD products on Rural Mom. As early adopters of each, we know first-hand the amazing benefits of these power ingredients when it comes to your over all health and well-being.
Reign Together has two new products we thing are simply wonderful for Valentine's Day gift giving – Reign Together CBD Massage Oil and Reign Together Kissing Balm. Both are designed to deliver a spa-like experience and complete pampering to help you find balance while support healthy skin.
When it comes to romance, we all want to have kissable lips. Reign Together Kissing Balm helps keep lips healthy with a formula that's designed to decrease fine lines and keeps lips hydrated using a combination of broad-spectrum CBD oil (10 mg), Hemp Seed Oil, Mango Butter, and Peppermint oil.
Reign Together's CBD Massage Oil is formulated with ingredients like jojoba oil which mimics the skin's own sebum and Broad Spectrum CBD Oil to stimulate the Endocannabinoid System, whose main purpose is to create balance in the body. It's also THC Free, Non-GMO and 100% natural and Vegan.
Whether you decide to gift one or both, you'll certainly deliver the right touch this Valentine's Day!
We're not shy about showering Demeter with love on Valentine's Day or any day! Their home and body products are all top notch.
Scents have the power to instantly uplift our mood. We love that Demeter Atmosphere fragrances let you create your own environment, setting the mood with your favorite scents.
For Valentine's Day, the Demeter Fragrance Library Home Atmosphere Diffuser Oil in First Kiss scent will transport you right back to that very time! With all its deep, dark and swirling energy, and its underlying sweetness, First Kiss has notes of champagne, sugar and the depths of the Black Pansy.
You can also opt for the First Love scent, also available in the Atmosphere Diffusser Oil collection. It's is a lovely light floral combination of lemon zest, jasmine, honeysuckle, water lotus and white rose.
Choose one or both or any other of Demeter's wonderful home fragrance options to help fill your loved ones home with amazing scents.
Working on writing love letters to all your Valentines? OOLY has some charming stationery to help you bring joy to each one!
It's also one of our favorite thoughtful Valentine's Day gift ideas for kids, teens and loved ones who live afar (to help encourage them to write more love notes to you!)
Available in Funtastic Friends, Paw Pals, Magical Mermaids, Fresh Fruits and Unique Unicorns, each kit is designed to elicit a smile and plenty of fun writing moments. Kits come in a travel case and include 8 letter sheets, 4 envelopes and postcards, a notebook, a mechanical pencil, a four color click pen, a sheet of cute stickers and an eraser too.
If you have a creative crafter, student, teacher, or anyone who appreciates super cute and practical stuff on your Valentine's Day shopping list, OOLY has a huge selection of gifts for everyone.