The season for entertaining is here. Whether you throw big parties this time of year or host intimate dinner engagements or expect to see plenty of drop-in guests, it pays to prep your kitchen for the holidays.
A clean, well-ordered kitchen can help you get through the holidays with your sanity in tact. Heck, you might even be able to stop and enjoy yourself now and then!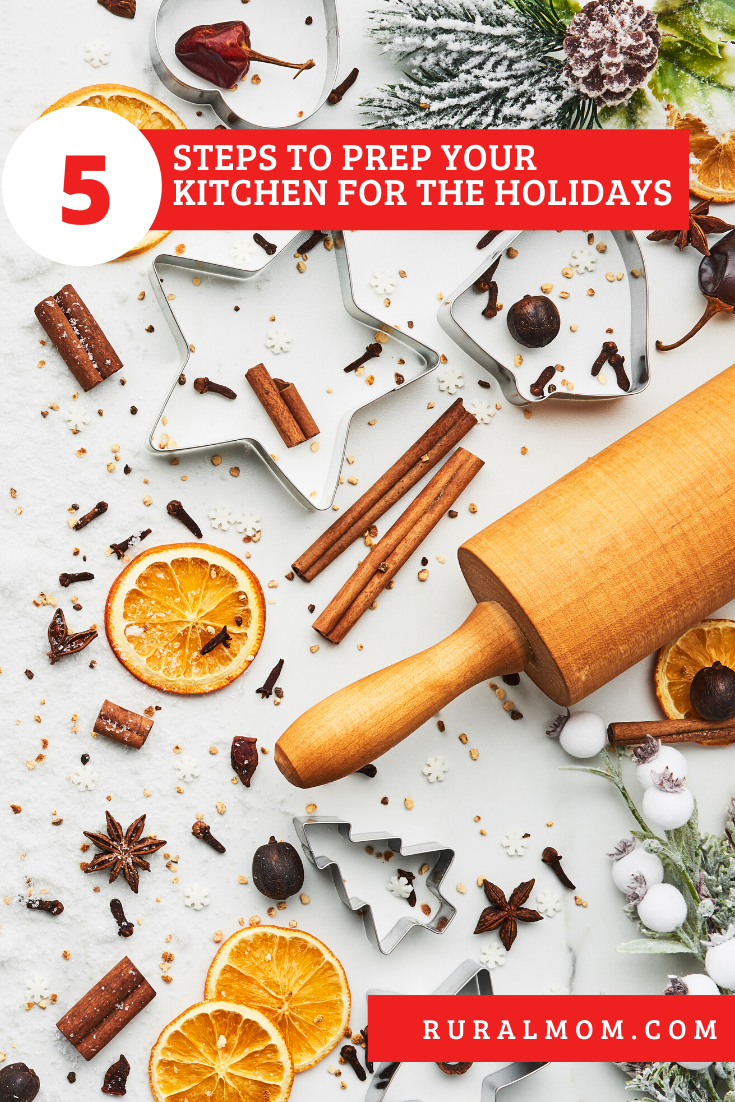 Step 1: Clean out your fridge
Check the expiration date on everything. Anything past its prime has to go. Same applies to the freezer.
While you've got the fridge emptied out take a moment to wash the shelves and the drawers.
Keep a pen and paper handy and jot down any condiments you need to restock. Olives for martinis? Mayonnaise for sandwiches? Relish? Mustard? Maraschino cherries?
Step 2: Attack the pantry
Get rid of anything stale. Toss out all those bags of chips that your kids have eaten down to the crumbs.
Take stock of what you're out of and low on. Add those items to your list. Go through the recipes you plan to use in the coming weeks and add any items to your list that you'll need, but that you don't usually keep on hand.
Step 3: Organize your cupboards and drawers
Hopefully, they stay pretty well ordered, but we all have that one drawer or cupboard we tend to toss things into.
While you're organizing take note of any serving items you'll need. Maybe you're pie server's beginning to look a little faded and unappealing. Now is the perfect time to get a new one.
Step 4: Stock up on drinks and quick snacks
Whether you're throwing a full-on party or entertaining guests who just stopped in, these items will always come in handy. Liquor, mixers, beer, and wine are holiday staples in many homes. Don't forget the soft drinks and sparkling ciders for your underage visitors.
For quick snacks, make a big batch of Chex mix, like this Minion Munch, and store it in an airtight container. Put some in a pretty bowl when guests stop by and you'll have an instant hit. Cheese and crackers, baby carrots and ranch, cold shrimp and cocktail sauce, and cookies are all easy and popular.
Step 5: Your kitchen is organized, and your fridge and pantry are stocked
You're ready to entertain. If you really want to set your parties apart, here's a little secret to do the trick. Keep plenty of apples and cinnamon sticks on hand.
Whenever you're expecting guests, slice up and apple, throw it in a small pot with a couple of cinnamon sticks and a little bit of water, and set it on the stove to simmer. Your house will smell like the holidays and that will leave a lasting positive impression on your guests, whether they realize it or not.
Also add a few festive holiday touches, like a bowl full of ornaments. Silverware tied in groups with pretty ribbon, ready for serving. Or a festive Christmas bouquet or cookie jar.
It's easy to prep your kitchen for the holidays. Once it's done, you can relax a little more and enjoy the season!