The kids are home from school break and you know the big question is coming: "What can we do?" Finding activity ideas for winter days can be daunting. If the weather is bad you may need plenty of them!
We're here to help you out with 101 activity ideas to help you out during winter break. With this list your children can suit themselves by picking and choosing what activities they enjoy most. Or you may want to use the list for yourself, there's plenty of activity ideas for winter days here to keep everyone busy!
Plenty of these topics are linked to even more ideas or directions for the activity, so you'll find even more ideas and ways to enjoy your free time.
Bookmark this page so you can return to it regularly or print off a copy and hang it on your bulletin board.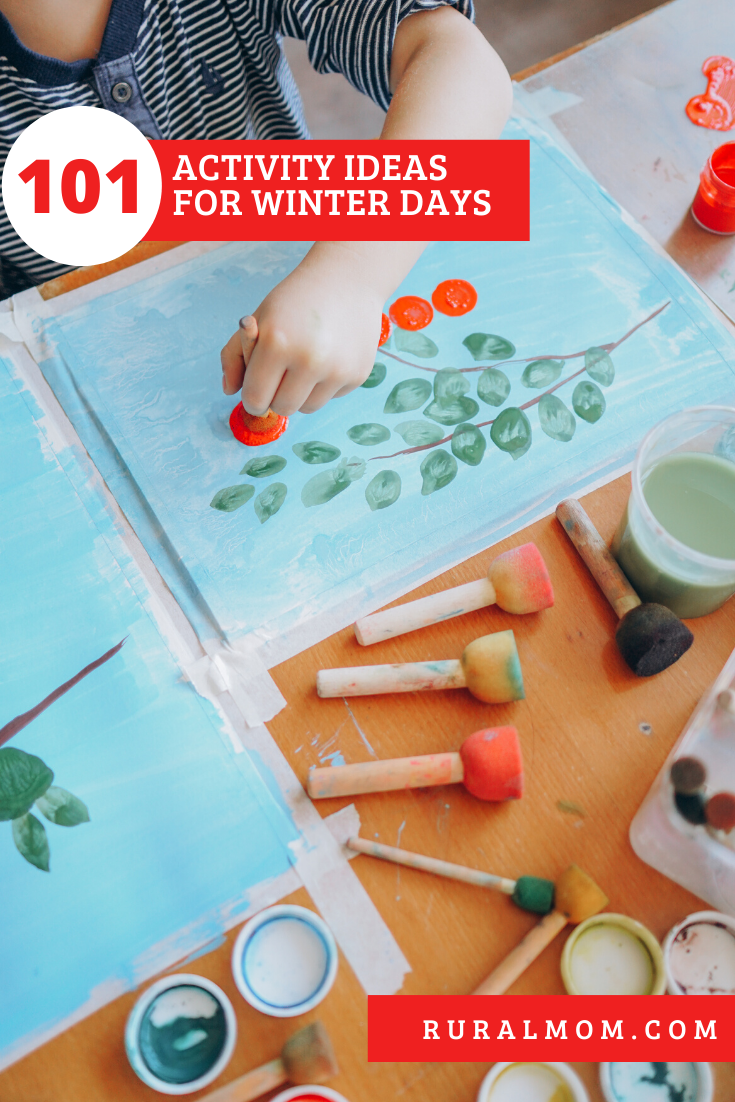 101 Activity Ideas for Winter Days
Board games–Pull out those games–Monopoly, Clue, Checkers, chess, Scrabble, Jenga. How about Trivial Pursuit, Pictionary, States, Candyland, Chutes and Ladders, Mancala, or dominoes?
Listen to audio books. We love Anne of Green Gables, Secret Garden, I, Houdini, Hank the Cow-dog and Rascal.
Start a family book club. Read the same book together, then host a fun discussion complete with special treats.
Paint pictures, sketch, draw, collage, stencil on poster board or white freezer paper.
Play with LEGOs or blocks. Challenge each other to create special designs, characters or shapes.
Have a puppet show or play.
Sing a silly song. Take turns making up lyrics.
Set up a tent inside and have a mock camping trip complete with microwave S'mores.
Download the Duolingo app and learn the basics of a new language.
Play in a big box. Make it a house, a car, a rocket ship.
Plan your spring garden. Plan a fairy garden, too!
Play with play dough or modeling clay.
Put bird seed or bread crumbs out and watch the birds. Look up ones you can't name.
Write a journal list of the birds you see.
Try sketching some birds.
Work on collections, sports cards, stamps, coins,fossils, or whatever you collect or are interested in collecting. Sort and label. Study.
Read aloud a great winter story like The Long Winter or Snowed Up.
Drink hot cocoa.
Make beaded necklaces and bracelets.
Work a jigsaw puzzle.
String popcorn for the tree. Hang some strings out and watch the birds eat them.
Go onto the internet and read about The Ice Palace Hotel.
Study encyclopedias for an new subject of interest.
Play Slapjack, Old Maid, Solitaire, or Go Fish card games.
Make chocolate or tapioca pudding.
Prepare a snow meal. Prepare all white foods like mashed potatoes, coconut and whipped cream fruit salad, fish, turkey, chicken, bread, pudding, milkshakes, marshmallow dip on apples, white cheese toast, linguine, shrimp, rice, ice cream, etc.
Cut out paper snowflakes for place-mats. Use white or clear dishes. Eat by candle light.
Prepare Christmas cards.
Write a family newsletter.
Make a collage from words and pictures cut from old magazines.
Try to find 10 items in each room that you can donate to your local charity donation center.
Try some calligraphy . Letter your name.
Work crossword or WordSearch puzzles.
Color in coloring books. Use crayons or colored pencils.
Melt chocolate, dip pretzel sticks and decorate them with sprinkles.
Have a tea party. Set the table, heat tea water, set out teas, bake scones or tea cookies, dress up, turn on some nice soft music.
Work on scrapbooks.
Have a shadow puppet show.
Play Lite Brite, Spirograph or Tanagrams.
Play Hide and Seek, I Spy, Mother, May I?, or Simon Says.
Roll a soft ball back and forth. (Toddlers will love this one!)
Sew, crochet, knit, embroidery or cross-stitch. Or create a no-sew craft.
Work at your established hobby or practice playing your instrument to enhance your skills.
Make a booklet. Fold paper and staple or string them together. Draw illustrations and fill in a made up story or poem.
Think of 10 questions you would like to ask your grandparents.
Call a grandparent on the telephone. Ask them your questions!
Call another relative or friend and invite them over to play games.
Draw a blueprint for your dream house.
Take a hike. Observe what's going on in nature right now. Write your observations in a journal.
Have a winter picnic. Pack a basket lunch and take a quilt to a room where you usually don't eat. Play a nature sounds CD.
Go through all your books. Read an old favorite or one you have never read before.
Take photos and make a poster with printer copies.
Have a sing-a long. Practice singing carols or hymns.
Pop popcorn. Play a game of guessing what the pieces look like.
Make a calendar. Illustrate the months according to their holidays or weather. Line off the weeks and fill in the numbers and day names. Add quotations or seasonal Bible verses.
Redo the family bulletin board.
Play yo-yo , juggling, or spinning tops.
Create a vision board for the upcoming new year.
Alphabetize or organize your recipe cards. When you are done, pick a favorite recipe and make it together.
Blow bubbles. Have a bubble contest to see who can make the biggest one.
Volunteer. See if a local food or pet shelter could use help for the day.
Try yoga. (You can find plenty of family-friendly beginner classes on YouTube.)
Have a mini-dance party! Get out the hula hoops, too for extra fun.
Paint a mason jar. Make it a vase, pencil holder, or a lovely gift for someone for the holidays.
There are just not enough cold days for all the fun things to do indoors! We hope you are inspired and have oodles of fun with our activity ideas for winter days!