'Twas the month before Christmas and the stockings were full of Rural Mom's top stocking stuffer ideas! We love to find clever, creative, fun and practical stocking stuffers and take as much time choosing them as we do selecting gifts for under the tree.
As stockings are generally the first treat everyone opens, it can really set the mood of the festivities. Rather than just filling the stockings with candy or fruits, add a personal gift to each one to make emptying the stockings just as fun as opening the presents under the tree.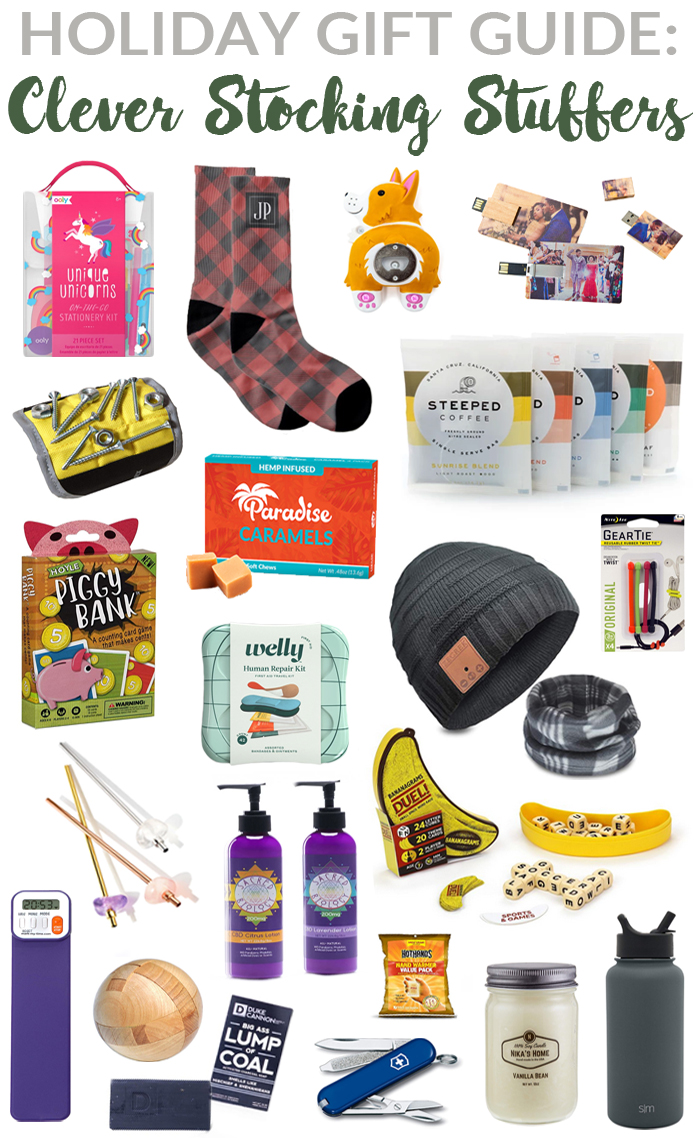 Below you'll find our top picks along with a few extra ideas. We're truly excited about this year's stocking stuffer list. We hope you'll find something you'll want to pick up for everyone on your list here (including yourself!)
One thing I've learned from teaching elementary school and from having three children of my own, kids love card games! The Piggy Bank Card Game is not only a great education tool, it's super fun to play.
Awarded the best family-friendly media, products and services by the mom's choice awards. The game teaches children counting by fives and tens along with simply addition and subtraction. Designed for 2-4 players, it's perfect for children ages 4-6 on your holiday list.
At Rural Mom, we've have a saying that "coffee is our favorite food group." Well, it's also our favorite holiday gift to give and receive! This year we've added Steeped Coffee to our clever stocking stuffer ideas because its truly an innovative brew.
Steeped single-serve coffee bags are filled with 100% specialty coffee and are crafted for quality, freshness, and convenience. Every bag is nitro-sealed inside packaging that's made using compostable and renewable materials, making every cup guilt-free and eco-friendly. They are perfect for mornings you are in a rush, for on-the-go and for traveling.
If you have a coffee lover on your holiday list, they'll definitely enjoy finding steeped in their stocking!
Stockings in your stocking? Absolutely! Fun patterned socks have soared in popularity and they are even better when personalized with a monogram. We were made for Buffalo Plaid last year and it's still a fan favorite.
Zazzle's Red and Black Buffalo Plaid Monogram Socks are perfect for anyone on your shopping list that loves a bit of style. They'll add a bit of festive flair to the holidays and all the months ahead in the new year.
If you are looking for more personalized items to add to your stockings, Zazzle has plenty. You'll find charm bracelets, shirts, wine charms, door signs, phone cases and more. Truly something for everyone!
Elegant and eco-friendly, Crystals for Humanity stainless steel straws are both clever and practical. We all want to be better stewards of the earth and re-usable straws are a step in a positive direction to reduce plastic waste.
Each Crystals for Humanity by Gem-Water kit includes:
One food-grade, high-polish, stainless steel straw
a hand-selected, fairly mined, tumbled crystal charm
custom microfibre carry pouch
and a cleaning brush
Crystals are an age-old tradition used for enhancing drinking water with energetic properties. These lovely straws allow you to stylishly bring old world practices and new earth-friendly one together for a new way to enjoy refreshments.
Everyone loves a gift that gifts a laugh, but Welly tins also serve a practical purpose. The Welly Human Repair Kit will surely elicit a chuckle with it's clever name. It will also quickly become a gift your loved one will take with them everywhere!
This pre-assembled and refillable Human Repair Kit includes bandages, ointments, and hand sanitizer. Everything you need for a quick fix when on-the-go.
Welly also has other fun stocking stuffer ideas like a Superhero Supplies kit and a Bravery kit, too. These handy little companions will be making an appearance in all our Rural Mom stockings this year!
We are big fans of our fur-friends and love to celebrate them around the home. The Dog House Key Holder from Big Mouth is a key chain and key holder wrapped up in one adorable set. The dog keychain fits perfectly inside the house while the little corgi butt sticks out.
Dog lovers will truly love to find this unique gift in their stocking. For extra fun, Big Mouth also has a Corgi Butt Bottle Opener available. This wall-mounted opener is a hilarious way to pop the top off your favorite bottle refreshment.
We've professed our love for all-thing-OOLY before for good reason – they have incredibly creative and clever products! This year is no exception. The holiday gift sets are a wonderful stocking stuffer for kids of all ages.
Chock full of art and stationery products like scented erasers, metallic pencils, paint sticks and inflatable coloring toys, the kits offer hours of endless fun. One of our favorites for students is the Unicorns Happy Pack. We also think the Mighty & Modern Metallic Writing Pack would be a beautiful addition to any holiday stocking. Be sure to check out all their fun and festive options!
CBD products* are one of the hottest trends this holiday season. Paradise is a front-runner in CBD edibles. Their infused caramel candies were formulated over a decade ago with superior ingredients in our proprietary recipe.
Based the "traditional caramel melt-in-your-mouth, classic taste," each Paradise CBD Caramels delivers 10mg rich hemp oil along with a delicious taste experience. While there are plenty of CBD products on the market today, this one is truly a perfect holiday stocking stuffer!
*As always, before taking a new supplement like CBD, it's advisable to check with your physician.
Ideal for the photographers, students and office co-workers on your list, Nations Photo Lab Custom USB Drives will truly "wow" the recipient!
My teenager is a Harry Potter fan so I used a photo from our recent trip to The Wizarding World of Harry Potter at Universal Orlando to customize his drive. It's both a reminder of his favorite character and the super fun trip we took. I love knowing that he'll be revisiting the memories every time he saves his schoolwork.
You can choose from three eye-catching USB Drive styles: Classic Wood, Contemporary Wood, and Contemporary Metal with 8GB and 16GB storage options. Choose a custom design to imprint on it for a truly one-of-a-kind gift.
Hemp and CBD are not only known for their internal wellness properties but also for their natural skin care use, too. Slip Sacred Biology Relax and Energize Lotions into a holiday stocking to deliver a little bit of pampering and joy.
Energize lotion contains citrus essential oils that help get you up and moving. Relax lotion combines lavender and rosemary essential oils to reduce tension, ease anxiety, and soothe you into a peaceful night sleep.
Each lovely scented ultra moisturizing and conditioning formula uses pure, Organic Hemp Seed Oil and CBD to help replenish, renew and rejuvenate.  It leaves skin soft and hydrated. Packed with essential fatty acids, vitamins, and vital nutrients, it's a great gift for any skin type.
Everyone loves BANANAGRAMS and now the makers of the original game are offering a new way to play! Duel is a head-to-head BANANAGRAMS snack for cozy spaces and on-the-go play.
In this two-player word game face-off, players race to build their own word grid using letter cubes. BANANAGRAMS Duel includes fun banana-shaped theme cards for an added challenge during every round of play.
This is a great gift for just about everyone on your shopping list. Pick up one for each stocking and host a BANANGRAMS Duel night during the holidays!
Additional Stocking Stuffers You'll Love:
As always, we scour the gift offering each holiday to bring you the best of the best. To ensure we give you clever stocking stuffer ideas for all ages and interests, we also found these gems to include in our annual guide.
Disclosure:
We receive sample products for review for our holiday guides, most of which are donated to local charities after gently testing and inspecting. If it's not a gift we wouldn't love to see under our own trees or personally gift to a loved one, you will not find it in any RuralMom.com holiday guide. We do not accept payment for placement of items in our guides. If it made it to our top holiday gift pick list, it's earned a spot based on its high quality, reasonable price point, and overall excellence in durability and/or functionality.
How does your list compare to our top picks? If you think we missed some great stocking stuffer ideas, be sure to let us know!