Decorating for Halloween doesn't have to be frightening.  You can achieve super cute or scary looks with just a few Halloween decorations in or outside your home.
If you are having a party, you don't have to bust your budget and go all out.  Keep your focus on one area of your home and make it a Halloween-friendly paradise.
Want to set the mood immediately?  Start outside.  You can simply put a Halloween wreath on your door and few carved pumpkins on your steps.  Minimalist designs are still very effective at setting the tone for the holiday.
Take things a step further with these fun tips for Halloween decorations: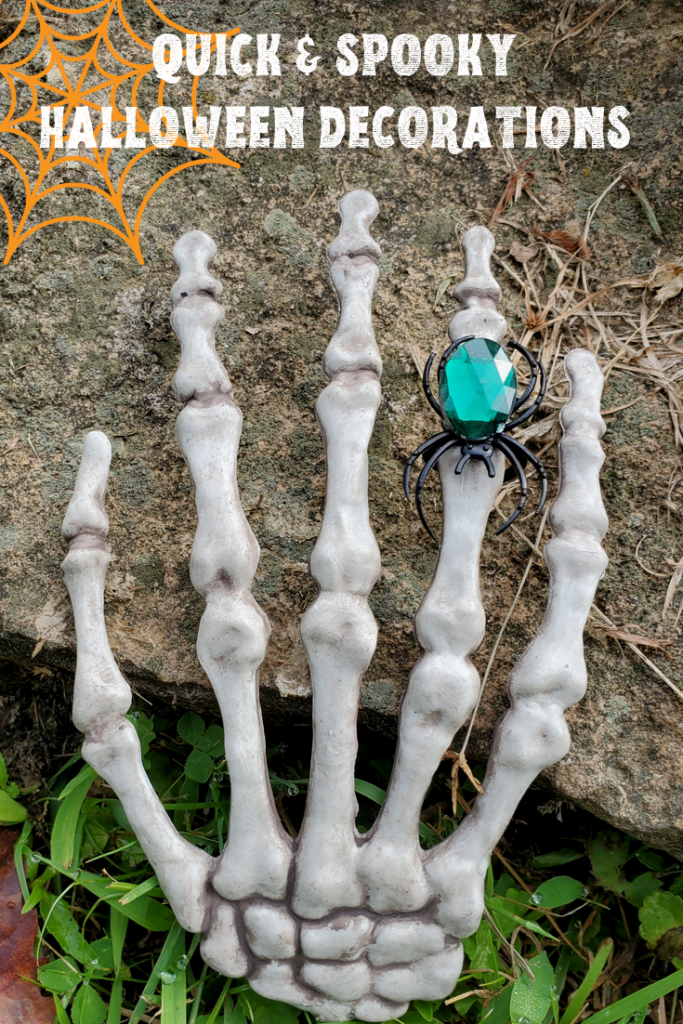 Graveyard, Lights and Silhouettes
Create a truly haunted house by setting up a graveyard.   It's an interesting and immediately recognizable design that screams "Halloween."
If you are worried about scaring away trick-or-treaters, keep your graveyard on the "cute but creepy" side.  Set up fantasy skeleton scenes like a battle scene with knights and dragons.
Graveyards can be very inexpensive and fun to make. First, start with foam board. Cut the foam board into tombstone shapes, and spray-paint a dull shade of gray. Adding a bit of dark green along the top of the tombstone can create the illusion of age. Write in clever names, such as "Ima Ghost" and "Scare D. Cat", painted in black.
Don't feel like being crafty?  No worries!  There are plenty of inexpensive tombstones available at your favorite retailers.
To make a lighted pathway, spray paint picnic torches black, and adorn each with a lighted candle to create an eerie effect. Place either throughout the yard, or up a walkway. You can also purchase specialty lighting for around $20-$50.
Black poster board can be used to cut out figures of witches, ghosts, and goblins. Hang the figures with string or tape in front of windows.  Strategically place a flame-less candle behind them to enhance the ghastliness.
Ancestor Pictures, Music, Illusions, and Dracula
Pictures on the walls do not need to be straight! Tilt pictures and mirrors, and look for daunting "ancestor" pictures at flea markets and garage sales. Prints can be printed off the internet as well, and framed so that they look like actual photos.
Music can really set the mood for your indoor atmosphere.  Make a chilling mix of Halloween songs and sounds to transform your home into a haunted one.
Gather up dead tree branches from outside and use them in your vases.  Pick up some mock spider webbing at your dollar store and drape it in the branches.  Add a few plastic or rubber spider to complete the look.
Sphagnum moss, found at florist supply shops, can also be draped from the branches to add spookiness.
Throughout your home, make an illusion of spider webs by hanging dozes of pieces of long thread from a piece of rope attached to the top of a doorway. This trick works well when walking between dimly lit rooms.
For extra party fun, enlist a volunteer to dress up like Dracula.  Have them lie in a cardboard box spray-painted black. When a visitor walks by, have Dracula stir!
Halloween decorations can be fun and spooky at the same time. There is no need to spend a lot of money or time creating a haunting atmosphere, just a bit of creativity and lots of black construction paper!