This year, thanks to the innovative folks at Husqvarna, we welcomed a new tool for our lawn maintenance to our homestead – the Husqvarna Automower.  We've received a complementary Automower to test out from Husqvarna and couldn't be more pleased with the results we've had.   This robot mower helps keep you out of the heat while keeping your grass healthy and neat!
Summer may be over, but our Automower is still going, taking care of our fall lawn needs.  Our grass has stayed consistently trim over the past three months of testing and we stayed cool inside, letting Automower do our chores for us in the 90-degree temps.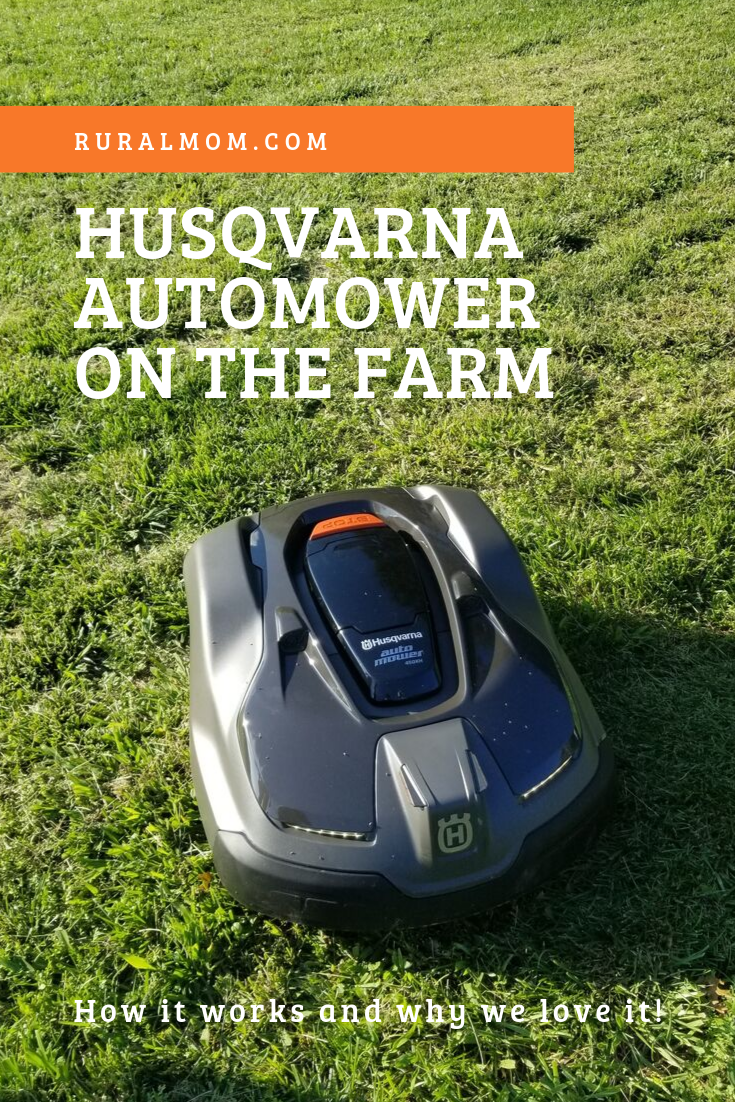 Automower is a robotic lawn mower.  It's sort of like a robot floor sweeper, but more sophisticated in its technology, design and of course, it mows your lawn.  Everything is hands-free, except the set up.
You program Automower to your specific lawn care needs and it keeps your lawn trim.  Once it's set, you can basically forget it there.  Just step outside each day and enjoy a lovely lawn.
Our model is the Automower 450 XH which has a work area capacity of 1.25 acres and a cutting height of 2 to 3 1/2-inches, which is perfect for us.  There are units available for small and large landscaped lawn areas with settings that suit your specific needs.
How does the Automower work?
Part of the charm of the Automower is its razor-sharp cutting blades.  These blades slice the grass (instead of tearing as other methods do,) leaving small grass clippings to help fertilize the soil and reduce grass yellowing.
Every yard owner knows, if you leave clumps of grass clippings on your lawn, it damages the grass below it.  By tending to your yard daily, Automower prevents this from happening and saves you the chore of raking, bagging, sweeping or blowing the grass away after each mowing session.
Automower also lighter, so theirs no trampling of grass and as a bonus, its more energy-efficient.
You set your Automower to mow during a specific time period each day (or on specified days) and your preferred cutting height.  Once this is set, Automower simply follows the commands and does it's job, adjusting where it see the need to.  For example, if a patch of grass is growing faster than another, Automower will sense this and spend more time on it.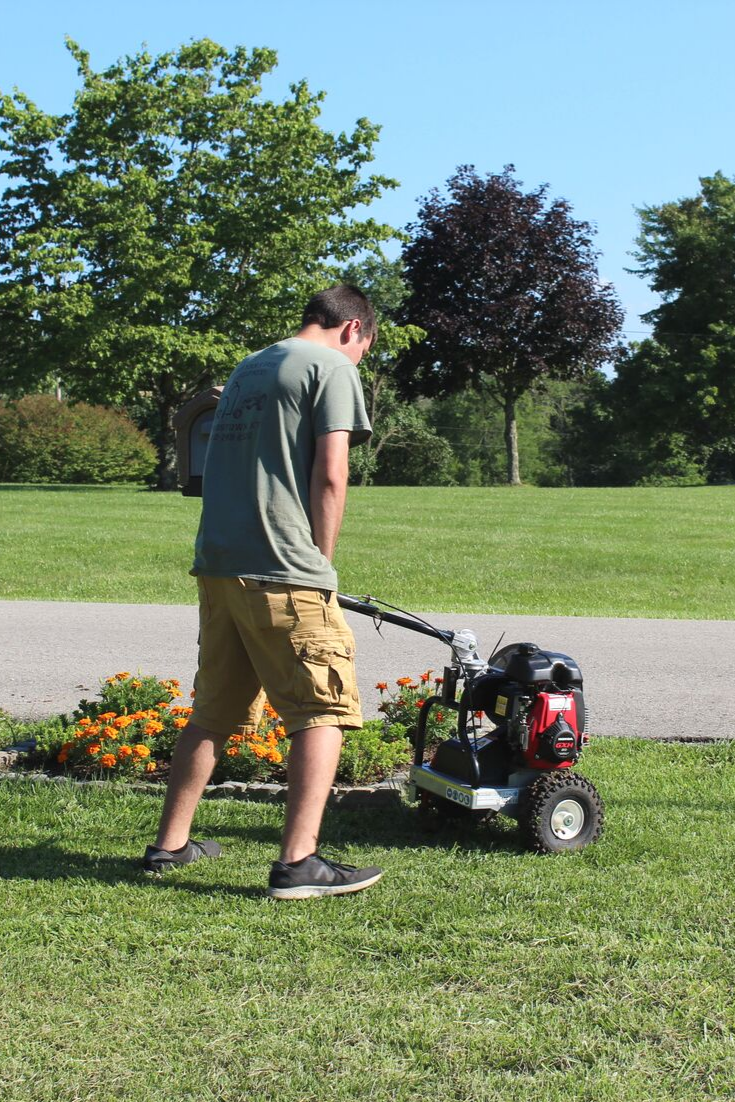 How does it know where to mow?
The number one question everyone asks first about our new Automower is:  "how exactly does it know where to mow?"
The answer is = boundaries!  Automower uses a boundary wire to identify where to cut. Wires are easily installed by you or the selling dealer to define your property line, help the mower navigate landscape obstacles and to give the Automower a guide track back to its charging station.
O'Bryan's Farm Equipment in Bardstown, Kentucky made this process a breeze with a nifty little machine that lays the boundary wires into the ground.  The grass naturally grows over them. You'll never know they are there, but Automower sure will!
If you have a lawn that crosses your driveway, that's no challenge at all. Our installers simply used the concrete groove to lay down boundary wire taught so Automower knows where to cross. I'm seriously amazed how high-tech it all is but how easy it is to get started.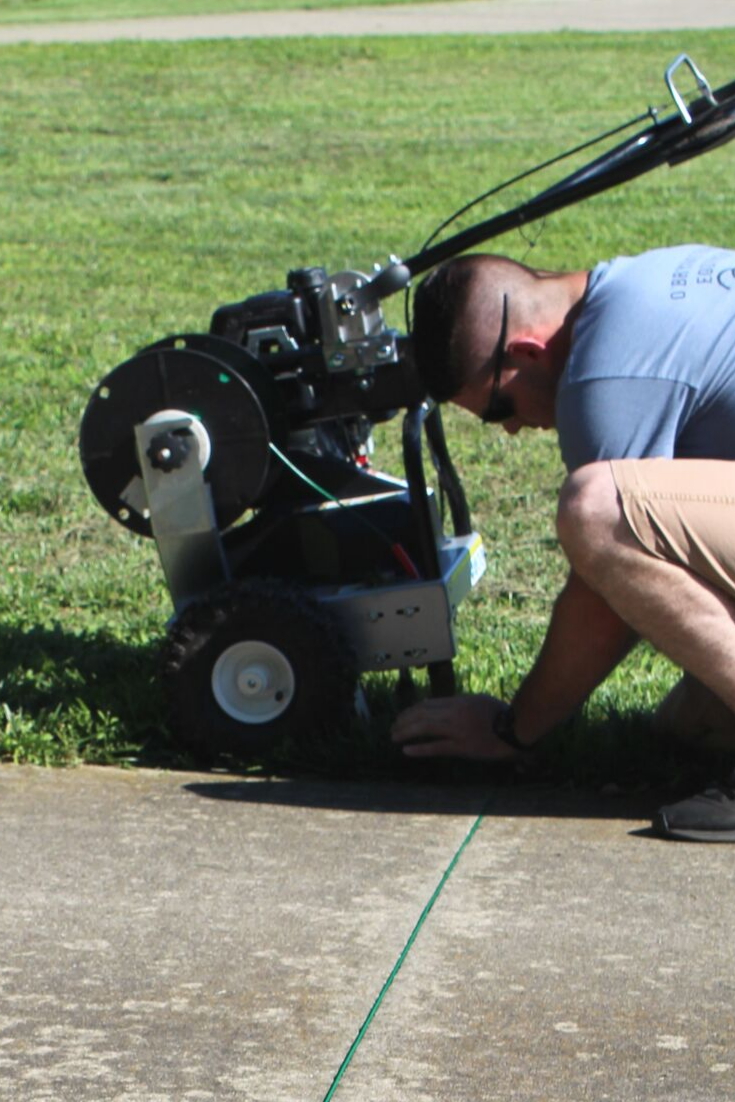 Within the boundaries, Automower maps out the best cutting path for it to keep the lawn trim and tidy.
How do you control it?
Automower comes equipped with either Automower Connect or Automower Connect@Home which allows you to control it via a free app on your smart phone.  You can monitor, issues commands, change mowing times or depths and plenty more with this handy app.
Every day, Automower leaves me pretty little geometric patterns.  I can see them right in my phone via the app which tracks the movements through GPS.  Looks kind of crazy random, but Automower sure knows what it's doing. My lawn is perfectly trimmed everywhere.
If something goes wrong with the Automower, such as a branch obstructing it's path, the app alerts you to the situation.  The app will also alert you if someone tries to pick up the Automower.  In addition. Automower will emit a high pitch sounds if someone tries to pick it up that can only be shut off with your unique personal PIN code.  This is one of the great built-in theft deterrents the machine has.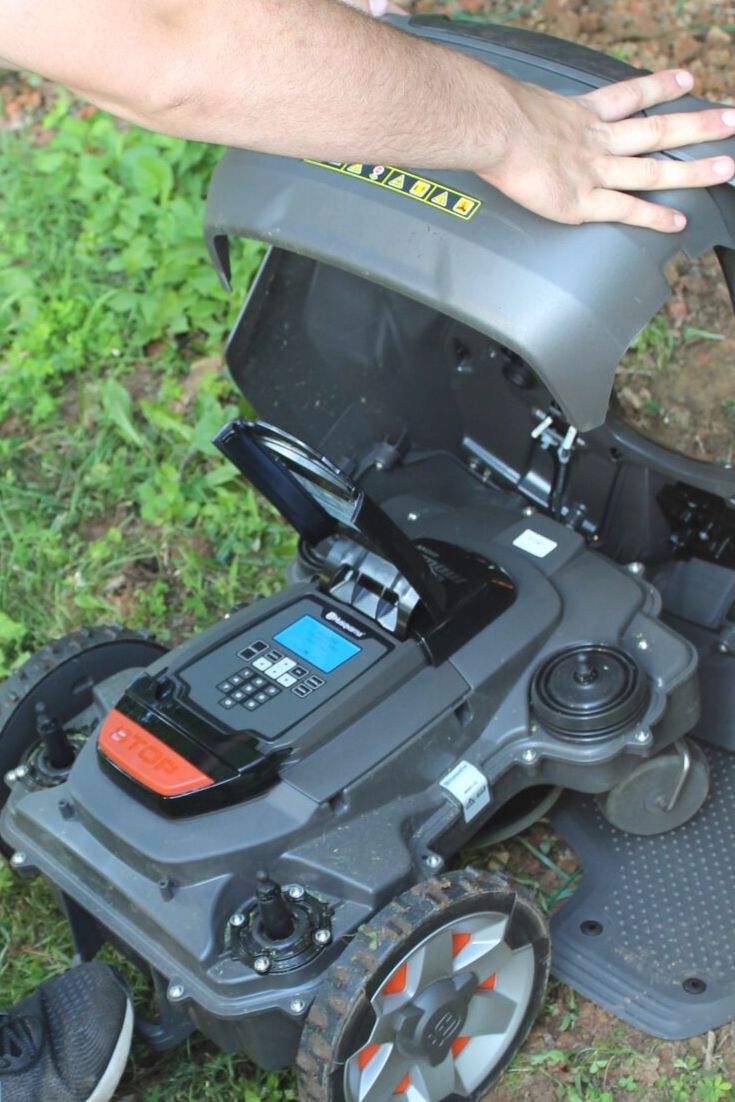 Quiet as can be
Lawnmowers sure can be noisy things so I'm also seriously amazed how quiet our Automower is.  I never hear it running while I'm indoors.  Barely hear it when I'm outside unless I'm within a few feet of it.
The quiet nature of Automower allows you to set mowing times any time day or night without having to worry about it disturbing anyone.
Weather resistant
Another feature we love is that Automower will keep your lawn mowing maintenance up rain or shine.  It's built to withstand wet, rainy weather.  If the ground or grass gets too saturated, Automower will simply go back to its charging station.
When winter rolls around, you simply place the Husqvarna Automower and its charging station in a shelter, such as your garage, just like you would any other lawnmower.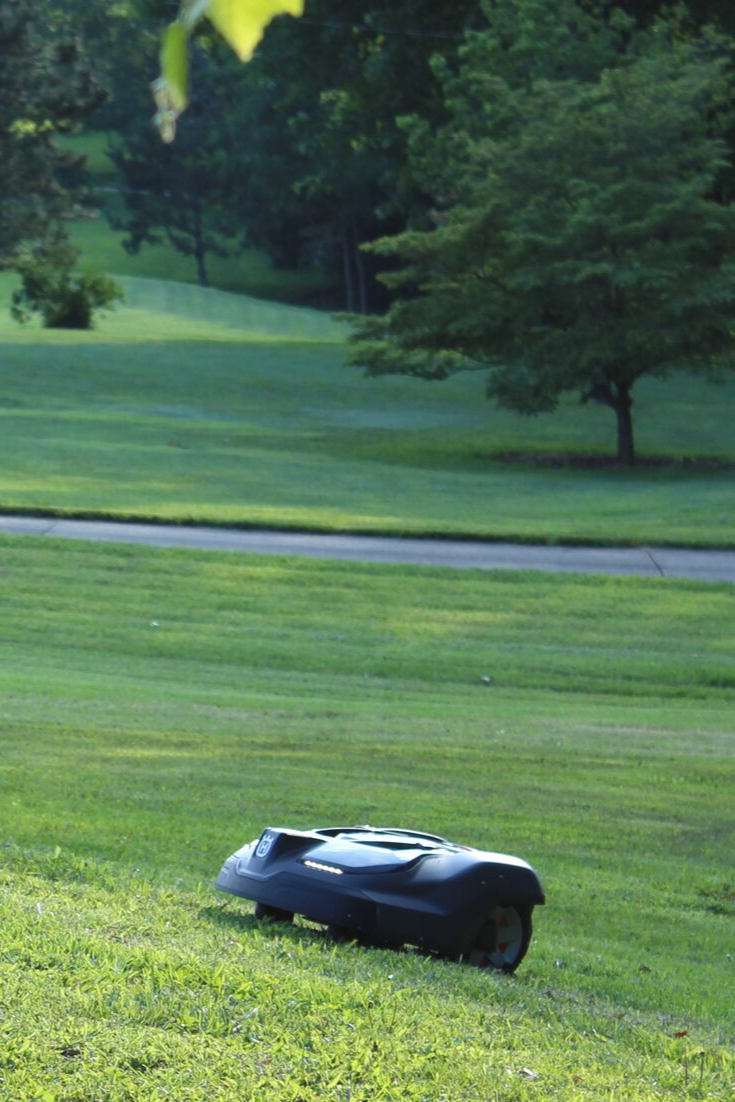 Built for our terrain
As we live on a small farm in the rolling hills of bourbon country Kentucky, our lawn isn't perfectly flat.  Automower can handle slopes up to 24-degrees.  The sloped lawn stays perfectly clipped, too.
We also have a split circular driveway, apple trees and other landscaping such as a mailbox garden.  Automower has mapped its way around all of it with ease.
The only thing that could possibly make Automower better is if it had the ability to cut our pastures, too.  For now, we have heavy duty equipment for the task. If Husqvarna decides to design a robotic tractor, you can bet we'll be early adopters of that tech!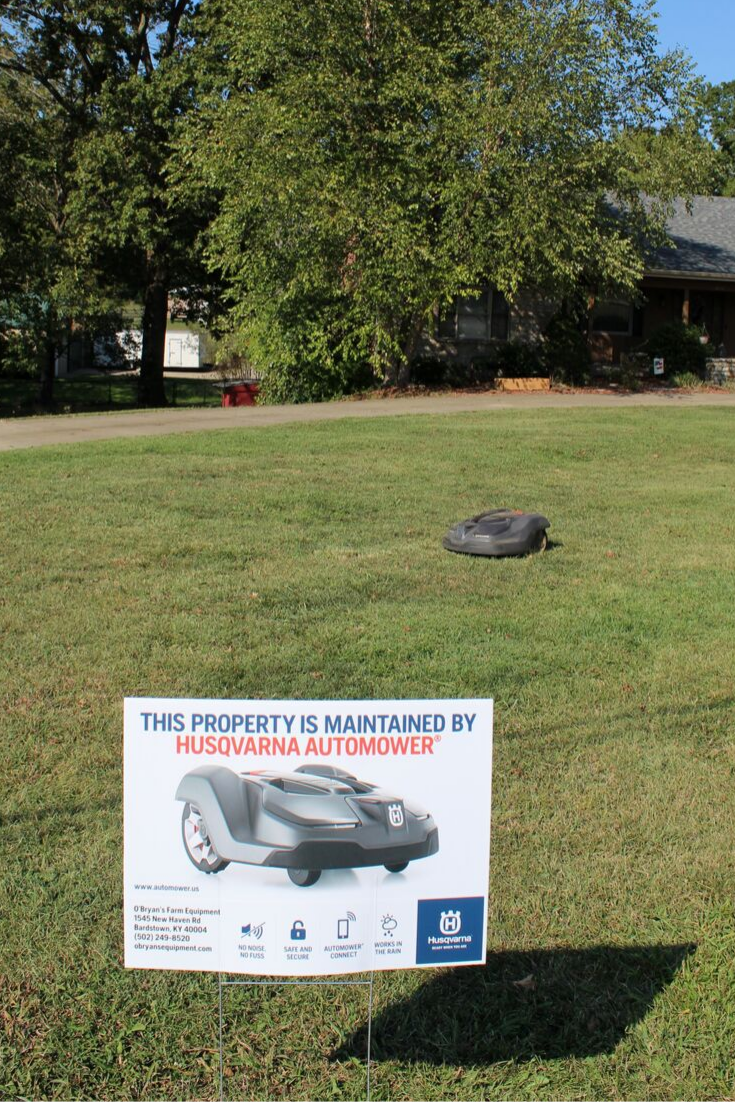 Bottom Line, We love Automower!
We are totally proud of the way Automower has kept our lawn neat and trim all summer long without hardly a stitch of help from us, outside of picking a few settings and preferences.
People stop by all the time and ask about our Automower.  Of course we love to share and show them the clever design.  We also recently put up a special sign so they can learn a little bit even if we aren't around to demo.
During the day, even when I'm outside gardening or hanging out in our pool, I hardly know Automower is running. Yet there it is, quietly going about its job of keeping our lawn neat and tidy.  It's the little lawn helper we never imagined and now don't want to live without.
Hands-down (and hands-free!) the Husqvarna Automower is one of the best lawn maintenance tools we've ever had on our farm.  Truly looking forward to having Automower around year after year to help keep our lawn looking awesome and our lives less complicated!