Route 66 is a meandering highway connecting small towns across the heart of America.  Since it was decommissioned in the 1980's, the "Mother Road" is perfectly paced for families to stop, play, and explore.
There's plenty to explore along your trip. This short list of "hidden" attractions that appeal to the younger set is only a brief sample of treasures. From wonderful to ridiculous, there's plenty waiting to be discovered.
One of our favorite towns along Route 66 is Gallup, New Mexico where you'll find a world of adventure, so be sure to schedule an overnight stay there!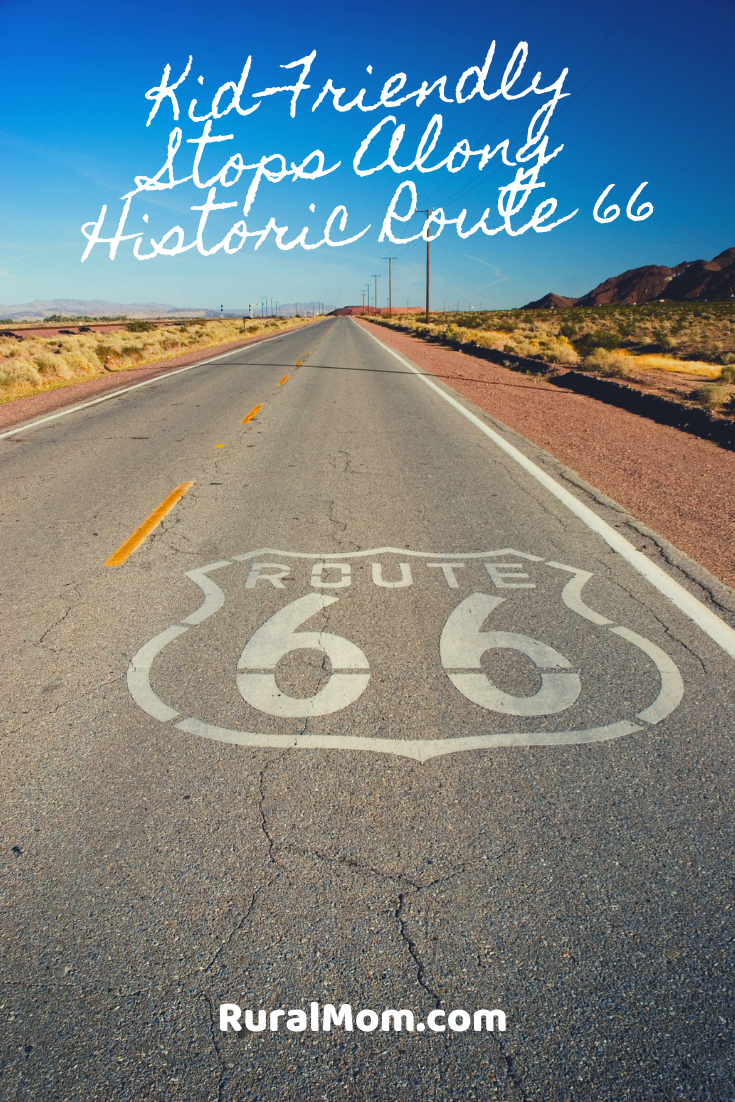 Driving Along in Your Automobile
The Route 66 Drive-In Theatre, near St. Louis, in Carthage, Missouri, is newly restored.  You'll find it in full operation every Friday, Saturday, and Sunday night.
Movies are recent releases, suitable for the entire family, and tickets are available on line. Children love the playground for letting off steam before the movie begins.  If you have a kid-sized tent, it can be set up nearby for a spontaneous picnic. The concession stand has drive-in dinner and the family atmosphere is friendly.
OK County 66 is John Hargrove's interpretation of many Route 66 attractions. His indoor-outdoor collection allows plenty of room to exercise the imagination and a chance for children to touch, explore, and play.
Scattered around his property just outside Oklahoma City are John's takes on some Route 66 icons: A huge Arizona jackrabbit, a Wigwam motel room, a Meramec Caverns barn roof and a Volkswagen Beetle nose down in the dirt. A 25-foot version of the Big Blue Whale waits for children to come and play. And, these are only a few items of John's expanding collection of playful art waiting for Route 66 visitors.
The Grand Finale of Route 66
A stop at the Grand Canyon is the highlight of any Route 66 trip and a ride on the Grand Canyon Railroad is a thrill for any child, no matter the age.
Your adventure begins at the depot in Williams. This Grand Canyon Railroad travels almost due-north to the south rim of the Grand Canyon, more than 2,000 feet above Williams. Views of the Grand Canyon are dramatic and eye-popping, but when you tire of oh-ing and ah-ing over the landscape, musicians and entertainers are on hand for non-stop fun. Regularly scheduled bank robberies and shoot-outs add to the hilarity.
At Christmas, the Grand Canyon Railroad tranforms into the Polar Express.  It operates to the delight of the youngsters who dress in pajamas, hear the Polar Express story, receive a good-luck token, and keep warm with cups of hot chocolate.
The Rialto, California Wigwam Hotel No.7 is the nicest and most modern of the remaining Wigwam Motels. This community of 19 tepee-styled concrete buildings is modeled after the Wigwam Motels near Mammoth Cave in Kentucky. Frank Redford, owner of the chain, built "Number 7" for himself.  It has additional amenities including a spacious, glass-enclosed lobby, swimming pool, an outside barbecue area, and palm trees.
Kids love swimming in the kidney-shaped pool, making new friends in the "truly artificial" Indian village, and exploring all the regional attractions just minutes away in such famous California destinations as Big Bear and Cucamonga.