Chicago is a large vibrant city perfect for both quick getaways and extended stays.  It also happens to be the city where I lived the first twenty years of my life and the place I return to often to visit with family.
Traveling to Chicago can be a bit pricey.  The difference from Louisville to Chicago in the cost of food, gas, accommodations and entertainment is significant.  I've learned it's easy to extend your Chicago travel budget, though, by simply including a few fun and free family-friendly activities.  Next time you head out to the windy city, add one or more of these free attractions to your trip.
Buckingham Fountain
From mid-April to mid-October, Buckingham Fountain offers a free show every hour. The best time to visit is between dusk and 10 p.m. when the water show is accompanied by music and a light show.
One of the world's largest fountains, it was opened in 1927 and is located in Grant Park downtown, at the intersection of Columbus Drive and Congress Parkway. In 2009, the fountain reopened after a $25 million renovation and is one of the city's highlights.
If you are in the Chicago area in July.  Grant Park is also home to the annual Taste of Chicago festival.  Held for 5 days, the cost of food samples isn't low, but you can easily spend the entire day there enjoying good food, live music and other fun activities.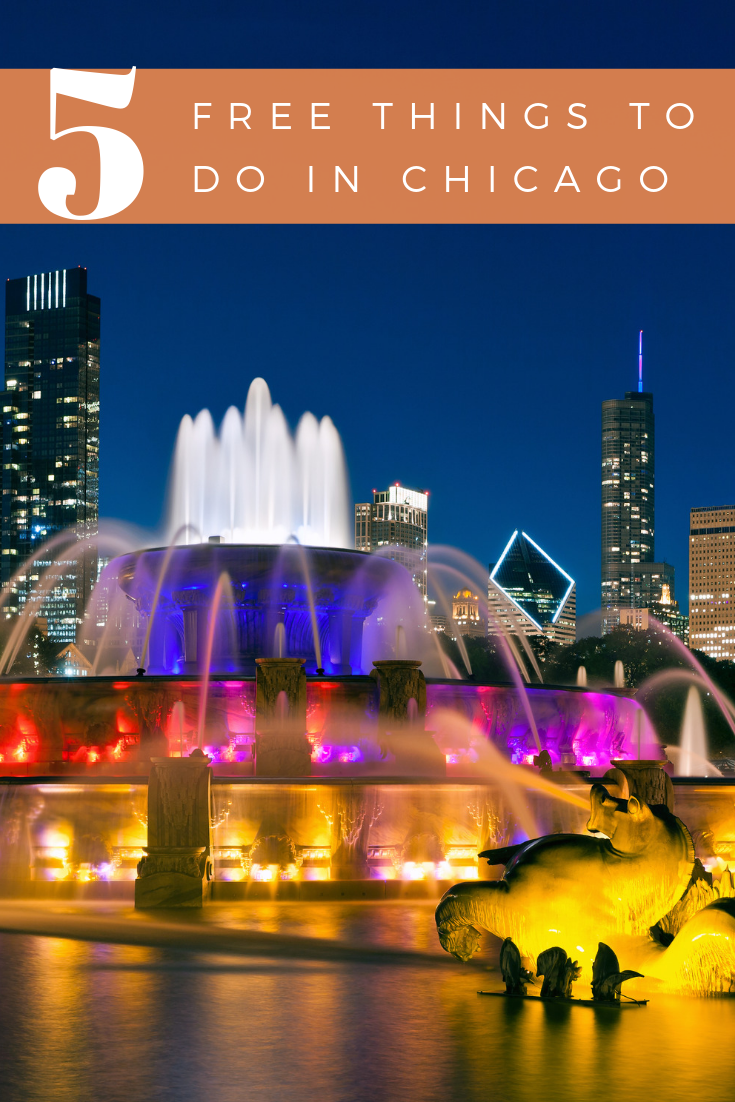 Field Museum
From dinosaurs to anthropological digs, the Field Museum houses over twenty million specimens, according to their media liaison.  This isn't just any old stuffy history museum, though. It's quite possible to spend hours upon hours here without getting bored.
Admission here is a bit pricey at $29 for adults. But savvy travelers can gain free admission on select days each month, as well as every second Monday of each month. Time the visit just right and save $29 per person!
Lincoln Park Zoo
One can't-miss attraction in Chicago is the Lincoln Park Zoo. This park has primates, penguins, zebras, sea lions and even a children's zoo with baby animals.
The zoo is located off Lake Shore Drive at the Fullerton Parkway exit, just minutes north of downtown Chicago. Hours are generally 10 a.m. to 5 p.m. and admission is always free.
Millennium Park
One of the most popular destinations in Chicago is Millennium Park.  Pack a picnic lunch and head out for some lush surroundings.
Not just a green space downtown, the park includes the Frank Gehry-designed Jay Pritzker Pavilion, the interactive Crown Fountain by Jaume Plensa and the iconic Cloud Gate sculpture on the AT&T Plaza.
Some events may have a separate admission, but the majority of the park access is completely free.
Museum of Science and Industry
Push buttons. Conduct experiments. Learn how things work. This interactive museum at Lake Shore Drive and 57th Street will bring out the kid in anyone.
The Museum of Science and Industry isn't always free. Most days, admission is $16/adult (still a bargain for such a great museum).  But every month, there is at least one day when admission is free for everyone.
January is the best month to nab a free day (almost the whole month is free admission). The museum has a list of upcoming free days online.