If you lack the space for a full-scale garden, you can still grow your own fresh fruits, vegetables and culinary herbs. The only requirement is that you have access to an outdoor space, such as around your home's foundation, deck, patio, or on a balcony.  Proven techniques like succession planting and container gardening can help you optimize your space and reap the benefits of fresh vegetables throughout the seasons.
Succession Planting: Grow More Vegetables in Less Space
If you have a small amount of space to plant a vegetable garden, you are probably eager to get the most out of it. Succession planting is a great way to accomplish this. This practice involves growing the same or complementary crops in the same spot.  This is done continuously throughout the season in order to maximize the yield a garden can produce. In other words, succession planting combines the efficient use of space and timing to obtain better results.
Many novice gardeners mistakenly believe that planting and sowing seeds is a one-and-done process. So, they head out to the garden each spring, get some plants and seeds in the ground… and wait for the magic to happen.
Unfortunately, following this one-off approach to planting is almost guaranteed to cause many peaks and valleys in what can be harvested throughout the season. If you want your garden to produce an abundant supply of fresh produce all season long, you need to plan ahead for it.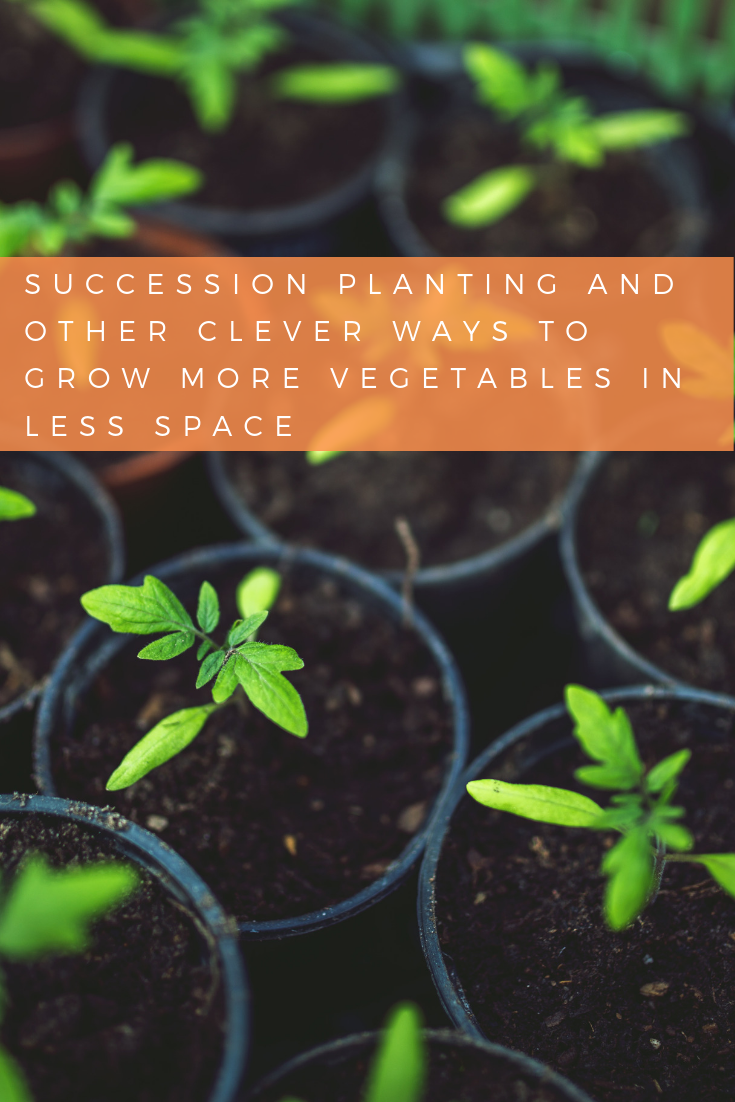 Plan Ahead for Successful Succession Planting
To create a successful succession-planting plan for your garden, you need to take a number of variables into account. For example, you'll want to consider how long each crop takes to reach maturity.  It's also important to note which crops can be harmoniously planted in the same space at different times throughout the season.
Although the number of variables involved in succession planting may seem a little intimidating at first, don't let that discourage you. It may take some practice, but you can definitely get the hang of it. If you are just starting out, choose only one or two beds or containers to practice in your first year. Also, take detailed notes in your garden journal throughout the growing season so you know what worked.  It's also good to know what didn't work when next season rolls around.
Getting Started with Succession Planting
Before you start digging in the dirt, you'll want to have a good idea of what you plan to grow. Start by making a list of which plants you want to grow in your succession planting area. As you are compiling this list, make sure you note the correct variety of each plant.  There is a lot of diversity among different varieties of the same plant species.
Then, next to each plant variety on your list, note how long that particular plant takes to reach maturity.  Also note if it's heat or cold tolerant, how many hours of sunlight it needs, what type of soil it prefers, and spacing requirements. The back of seed packets and garden catalogs are great starting points for this exercise.
Once you know what you'd like to grow in your selected space, decide if you want to focus on growing the same crop or if you want to try inter-planting more than one variety. Lettuce and herbs like basil and cilantro are great for repeated sowing all season long. However, if you want to try more than once crop, try to find a couple of recommended companion plants.
If you need more information on companion planting, there are tons of great resources and books available on this topic. The best ones provide a lot of great information to help in your planning process. Online resources are nice, but it's always good to have a hard copy on hand for future reference.
Succession planting may seem complicated at first but you'll be amazed at how quickly you can make it work for you. By applying the principles of succession planting to your own backyard garden, you'll soon be growing more fresh fruits, vegetables and herbs than you ever thought possible.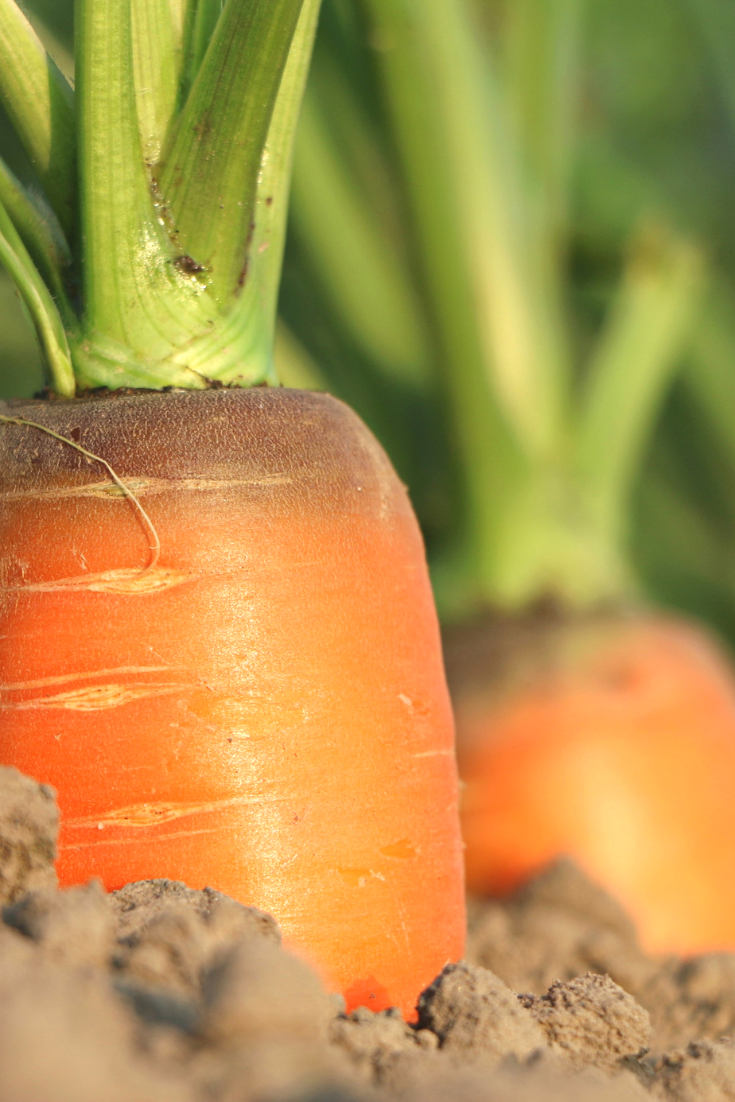 Stealthy Ways to Grow More Fruits and Vegetables
If you live in a home with landscape plants around its foundation, you have plenty of opportunities to grow fresh produce. Assuming you have permission to modify the existing landscaping, you can weave in a many different kinds of food-producing plants.
The key to doing this is to look for plants that are both beautiful and yield a tasty crop. You will also want to be sure your ornamental plants aren't sprayed with chemicals or pesticides that can contaminate your food-producing plants.
Most traditional landscape designs consist of a variety of ornamental trees, bushes, shrubs and flowering plants. While this approach can be very pleasing to the eye, it doesn't do much for your stomach. So, instead of planting strictly ornamental landscape plants to improve your home's curb appeal, start looking for edible alternatives that are suitable for your climate.
For example, many fruit-bearing trees, including apples, pears, plums, peaches or cherries, are available in compact, attractive varieties. Blueberries are both delicious and nutritious and they add 3-season appeal to your landscape design. Compact bush beans form attractive deep green mounds that look lovely, especially when planted en masse. The gorgeous Swiss Chard 'Bright Lights' variety creates an eye-catching color pallet with its deep red and yellow stalks and dark green leaves.
In the fall, you can tuck some hard-neck seed garlic in among your established landscape plants. To make them easier to find next year, plant them in clusters. Then, once they develop those charming gooseneck scapes in the spring, cut them off to force the plant's energy back into the bulb. Don't let them go to waste, however. Tender garlic scapes are delicious on top of baked potatoes, fresh salads or in soups.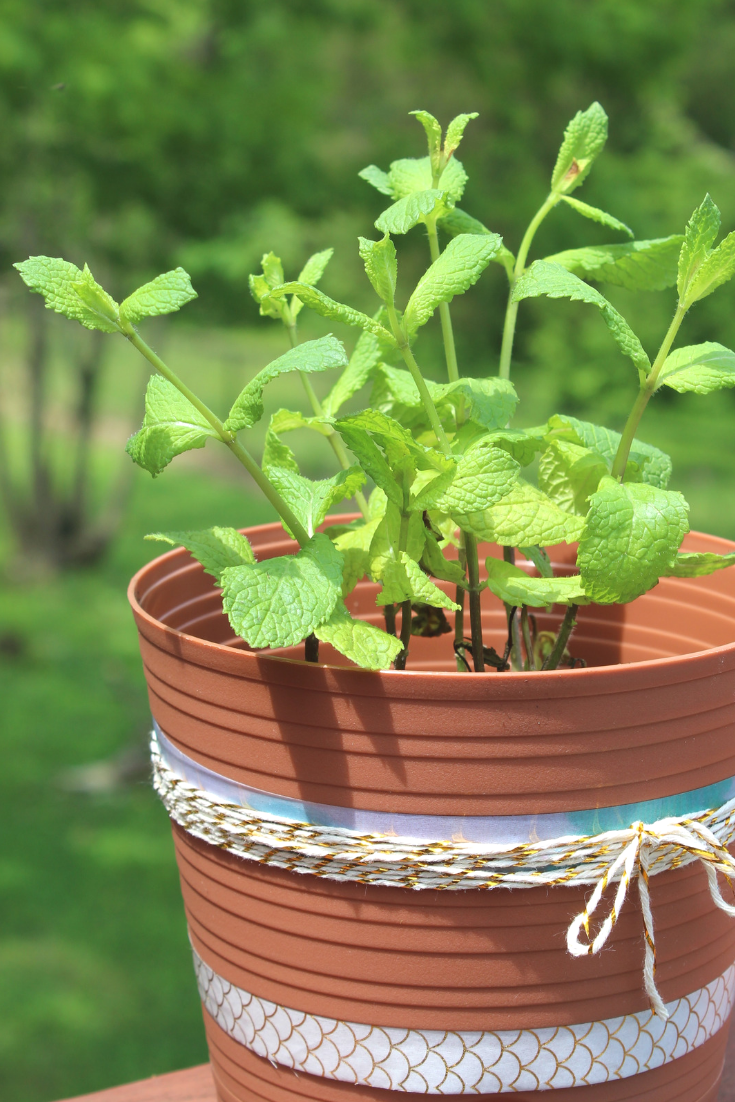 Using Herbs in Your Landscape
Thyme is also a welcome addition to any landscape because of its gentle creeping habit and wonderful fragrance. For this reason, thyme is ideal for filling in along paths and walkways. For a more distinctive look and wonderful citrusy aroma, look for the lovely lemon variety. If you plan to use your thyme in recipes, plant some in elevated containers or in an out-of-reach area.
Sage, with its soft greyish-green leaves, is another herb that is as beautiful as it is delicious. Planted in groups, it makes an attractive focal point at the front of a landscape bed. To enjoy, snip several leaves to make a delicious browned butter and sage sauce to top fresh gnocchi or pumpkin ravioli.
Even plants that aren't traditionally attractive can add visual appeal to a landscape. For example, cherry or pear tomato plants look great when added to large colorful containers and set in among ornamentals. Try this old design trick: use an odd-number of containers to create a strong visual statement. A collection of 3 or 5 cobalt blue planters with neatly staked and well-maintained plants creates a visually interesting display.
Container Gardening Solutions
Speaking of containers, don't forget to tuck fragrant herbs and edible flowers in among your more traditional annual ornamental flowers. Rosemary is a great addition to container gardens because it offers a strong vertical element.  This complements plants with more compact and trailing growth habits. You may want to consider edible flowers such as violas and chive blossoms, as well.
If your planting area is confined to a small patio or balcony, don't despair. You can still grow a lot of wonderful culinary herbs, dwarf fruit plants and a couple of tomato plants in a very small space. In fact, you will be pleasantly surprised by how much your modest areas can produce.