Valentine's Day is certainly the day of love and I seizing the opportunity to enjoy celebrating all the loved ones in my life.  A fun way to do this is by hosting a Valentine's Day party.
There are many great ideas from heart-shaped foods to fun photo booths that you can incorporate to create a memorable, loving celebration.  Use the following ideas to inspire your festivities!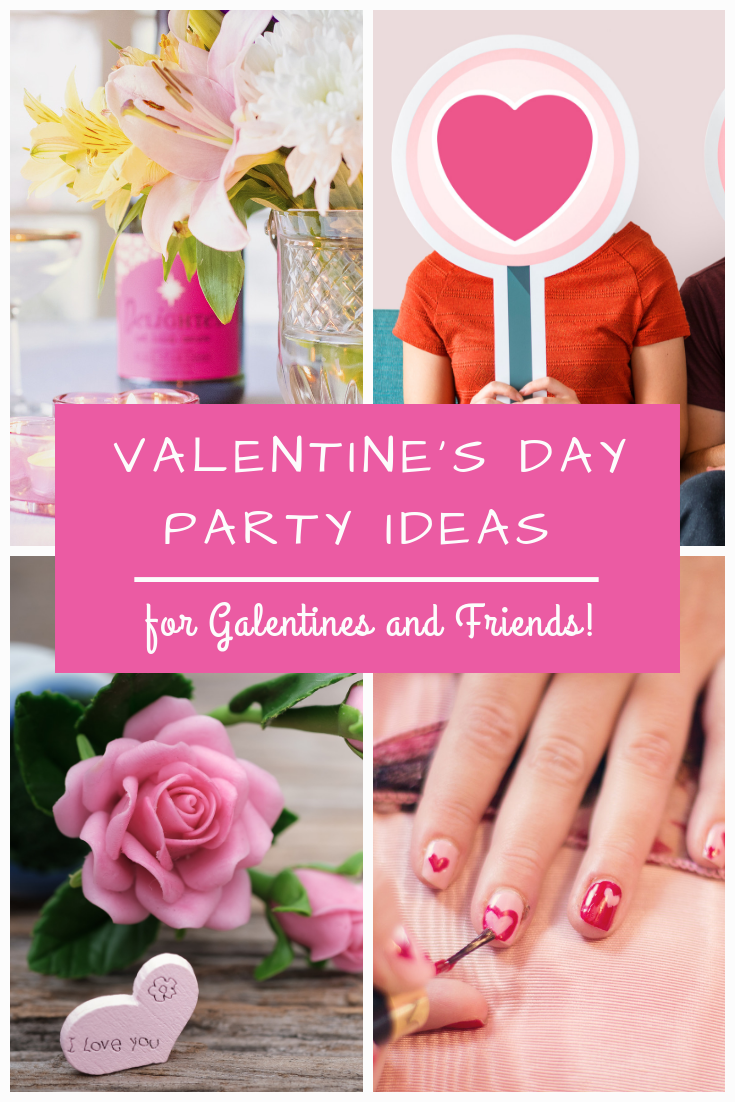 Play a romantic game
Games are a great way to engage your guests.  Why not have some romantic-themed ones? They sell many commercially or you can make up your own. For instance, you can play a version of the newlywed game. You can ask the females of the group questions about their husbands and then vice versa. Everyone will have to guess what the other said so you can find out how well they knew each other.
Hosting a Galentines party and want to keep things a little more casual, look for friendship-themed games like FRIEND OR FAUX or TRUE COLORS (find more information on these adult games HERE.)
Include other interactive activities for guests, too.  A DIY nail-polish station is great for Galentines parties.  Photo booths with heart-shaped props will encourage plenty of interaction and laughter, too.
Let everyone talk about their loved one
Another sweet activity to do during a Valentine's Day party is to have everyone talk about their loved one. They can say what is special about them or the good times they remember. This can create a lot of good feelings and truly put "love in the air" as you share.
You can also have everyone tell the story about how they first met their significant other. Many of these stories may be very heartwarming and some can be satirical. Alternatively, if they are married they could talk about the proposal.
Enjoy fun Valentine's Day food
You can even make food related to Valentine's Day.  Heart shaped cookies are always a hit but you can also used the colors of the foods, like using red apples to liven up your dishes.
Want to do something really heartfelt?  Use a heart shaped casserole dishes to cook your dinner or sides.  You can also set up a decorate-your-own cookie or brownie station with red, pink, purple and white frostings and decorative candies.
Make Valentine's Day food to gift, too, so that each of your guests leaves with sweet remembrance of the party.  Rural Mom's Red Hot Apple Jelly recipe is a fun, quick and easy gift to create.
Have people bring in old romantic videos
You can ask people to bring in their wedding videos and play those on the television in the background. They can also bring in home videos from vacations or other special times during their relationship as well.
Alternatively you can ask that people bring in photographs from their wedding or early in their relationship. You can post up physical photographs. If they are digital then you can even do a slideshow on the television.
Of course you can schedule time in your party for watching a favorite romantic classic, too, like "When Harry Met Sally," "Four Weddings and a Funeral" or "The Notebook."  Just be sure to have tissues on hand for some of those poignant heartbreaks and romantic happy endings!
Ask everyone to dress in the spirit of the holiday
Red is often considered the color of Valentine's Day. You can ask that people wear this color. Alternatively they could wear something else that is related to Valentine's Day such as an outfit with hearts. They could also wear something that is meaningful to their relationship such as the outfit they wore on their first date, during their engagement party, and so on.
A Valentine's Day party can contain plenty of elements designed to celebrate the love that one feels. Consider the above ideas to inspire your creative planning!