Baby, it's cold outside! And going on a winter trip requires a specific type of packing for cold weather. It usually means filling up your suitcases much quicker with less items due to the bulk of most winter items.
When you are short on space or have too much in your suitcase, here are the essentials you should be sure to pack if you're going to be spending a week in a cold climate.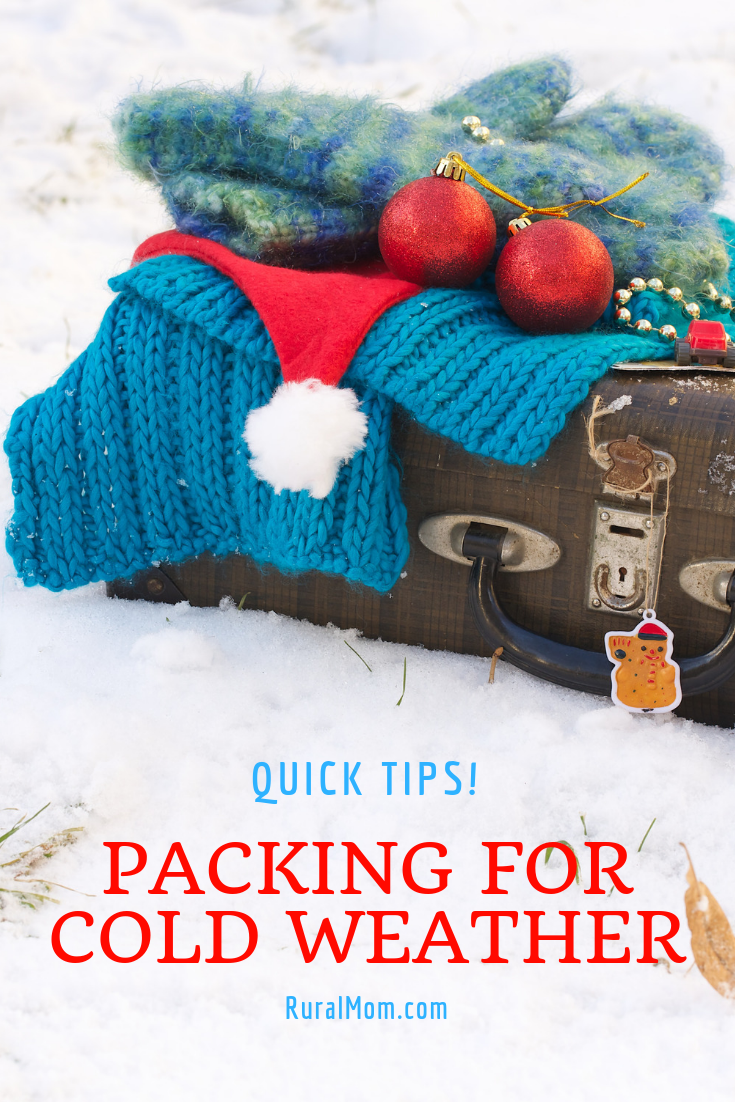 Thermal underwear
Keep yourself warm starting with the first layer. Thermal underwear will help keep the heat even if your other layers get a bit wet or there's a strong wind.
Take three or four pairs with you or more if you won't have anywhere to do some light washing. Your thermal underwear should consist of a top and bottoms which you can wear under a shirt and sweater or jumper.
Also, Include a pair of warm stockings that you can wear under pants if it's below zero degrees where you are going.
Shirts and Pants
Jeans, tailored or tracksuit pants may all come in handy. Take two pairs of each. If there's snow or wet weather you may need to change often. Having more than a couple pairs will ensure that you have a pleasurable holiday and can survive the cold climate.
For shirts, think layers, rather than bulk.  Make sure your shirts will fit comfortably over your thermals and easily under your sweaters.  If it's a casual trip, t-shirts and plain long sleeve shirts are a great way to go as you can layer easily or wear each item separately.
Boots and socks
Warm boots are a must so forget sandals, pumps or any other uncovered shoe. Take a second pair of warm shoes with you along with the ones that you will be wearing.  If it's snowy or rainy, your first pair of boots may get damp inside and you'll want to let them air out before wearing again.
Socks are very important too, you want your feet to be able to breathe but also stay warm. Take a few pairs of socks that will be worn with your shoes and some socks that you can wear in your hotel room if it's really cold.  Bring pairs to spare, socks are easy to pack and you'll be glad you have extras when you need them.
Sweaters and Jackets
In a cold climate you will need at least one warm sweater to keep you warm. Underneath you will wear a shirt of some type and maybe even a singlet. If you're going to be spending time outdoors take two or three sweaters with you that will keep you warm and go nicely with your pants and boots.
A winter-ready jacket is a must.  You can't spend a week in a cold climate without a proper jacket. Everyone feels the cold differently but having a warm jacket is a must!  Even if you plan to spend most of your time indoors, you just never know when you might have to be outside for an extended time.
If you don't like traveling with a bulky jacket on.  Take a lighter one that you to wear in the car or to the airport and pack a warmer one in your suitcase.
Hats, Scarves, and Mittens
When you are trying to conserve space in your suitcase, invest in a hat, scarf and mitten set in neutral colors that will go with every outfit.  You should be able to use the same hat and scarf throughout your entire trip, but you may want to bring a couple pairs of gloves.
Thinner gloves will be great for times when you'll be spending very little time outdoors or for driving.  Thicker gloves that are water proof will be well appreciated when you find yourself outside a lot.
Sunscreen, Lip Balm and Lotion
If you will be spending any length of time outdoors, sunscreen and lip balm are must-have essentials!  The effects of the sun on your skin can actually be just as damaging as the summer rays.  Prolonged exposure to the elements will chap your lips quickly.
Lip balm and lotion will be also be needed to combat the typical dryness that comes when heaters are running.  Be sure to drink a lot of water, too, to combat the dryness of the season. You'll feel a lot better when your skin is well hydrated and pampered throughout your travels.
Ultimately, the lower the temperature the more layers you're going to have to wear. The above are the basics that you should take with you to stay warm and will get you through most temperatures. Be prepared and stay warm on your winter holiday.