The second Halloween is over, I am that person that's in full Christmas mode!  Last year, I told you I knew where Santa Claus lives and it's the very same place that you can find the Famous Santa Claus Postmark that takes your holiday greeting card envelope from "meh" to "magical!"
For the 2018 holiday season, the Santa Claus, Indiana, Post Office has selected a new special picture postmark to help add holiday joy to mailboxes everywhere. On Saturday, December 1, the post office will begin offering the picture postmark to cancel the postage stamps on holiday mail.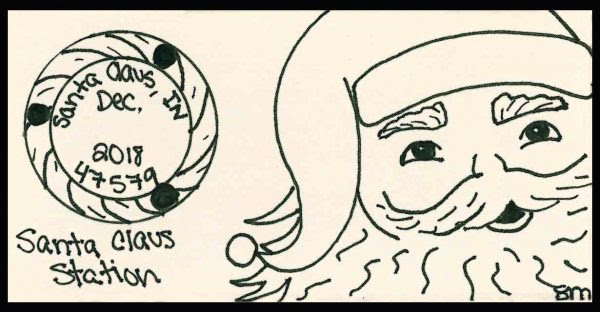 This famous small-town post office is the only one in the world with the Santa Claus name and receives over 400,000 pieces of mail in December – compared to only 13,000 pieces of mail per month the rest of the year. This special picture postmark has been offered every Christmas season since 1983.
Each year, the holiday postmark is designed by a local high school art student as part of an annual contest. This year's artist is Savannah McCutchan, daughter of Tim and Holly of Lincoln City, Indiana.
People (like me) drive hundreds of miles to this charming destination not just for the postmark, but for the amazing holiday spirit that fills Santa Claus, Indiana each year.  There are so many lovely holiday activities to joy throughout the season and obtaining the special postmark on your holiday greeting cards is the extra icing on the joy-filled-cake!
If you are interested in getting the special cancellation on their holiday mail, follow these simple guidelines:
Allow at least a 2-inch by 4-inch space in the stamp area for the picture postmark
Apply postage to cards or letters before bringing or mailing them to the post office
If you wish to mail Christmas cards to the post office, package them – with postage stamps already on them – in a sturdy envelope or box, and mail to: Postmaster, Santa Claus Station, Santa Claus, IN 47579-999
Please also note:
The picture postmark is available on working days between December 1 and 24
The picture postmark must be requested by the postal customer
To ensure a good postmark imprint, do not enclose large or bulky items in your holiday mail (Ex: reindeer food, snowflakes, glitter, stickers, etc.)
There is no charge for postmarking; however, there is a limit of 50 picture postmarks (hand cancellations) per person per day
Santa Claus, Indiana, will also host a celebration of family fun on the first three weekends of December.  Find details about all upcoming events at SantaClausInd.org/Events