It's that time of year again! We've compiled a list of our favorite top toys for 2018. All toys on this list encourage learning, creativity, and activity in some way. Of course, they're lots of fun to play with, too!
This year's list also focuses a lot on toys that help to develop motor skills. We're sure the kids on your holiday gift list will love them as much as we do,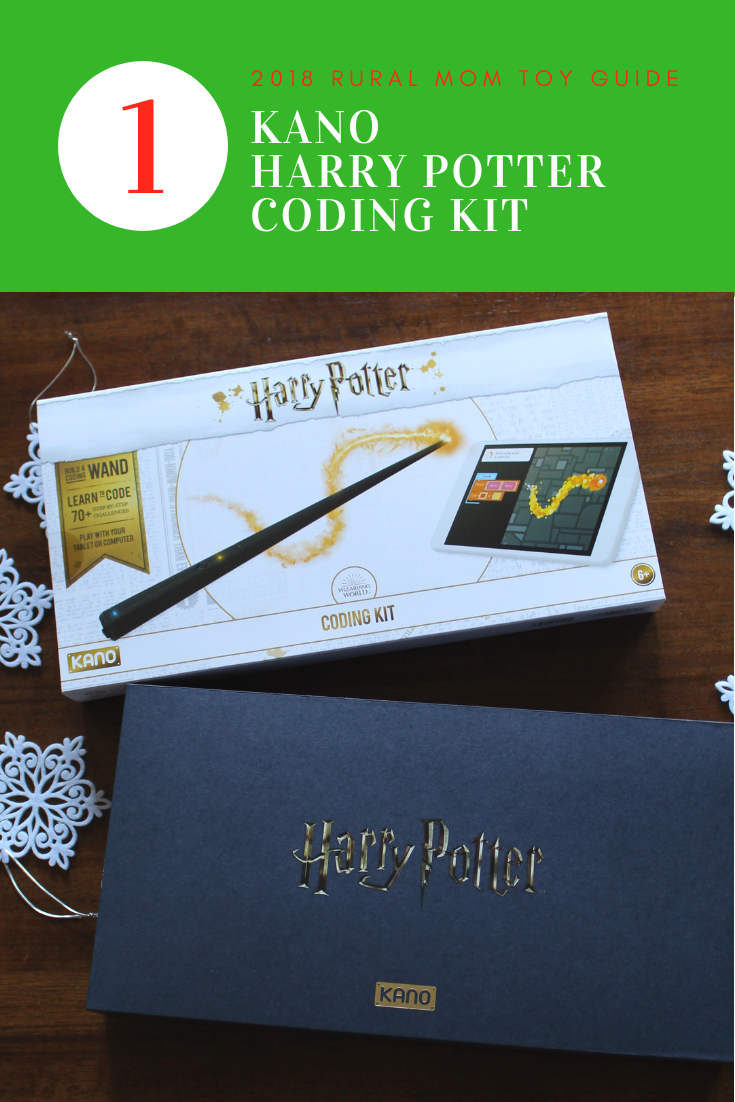 Technology meets education meets fantasy in this awesome Kano Harry Potter Coding Kit! The kit comes with everything you need to create a coding wand, connect it to your device, and start creating great wizardry! All the pieces are included. Kids simply follow the directions, build the wand, and learn how it works. Once it's built, they connect it to their tablet or computer and start coding!
The wand contains a gyroscope, accelerometer, and magnetometer. While building, you learn how these things work to wirelessly "talk" to your computer. Once you download the Kano app to your device, you can begin making Harry Potter – themed art, games, music, spells, and much more. Examples include flying broomsticks, chocolate frogs, and Butterbeer floats. This gift is great for anyone who's into technology, Harry Potter, or both! It's a fun learning tool for kids that is sure to keep them entertained long after the holiday season is over.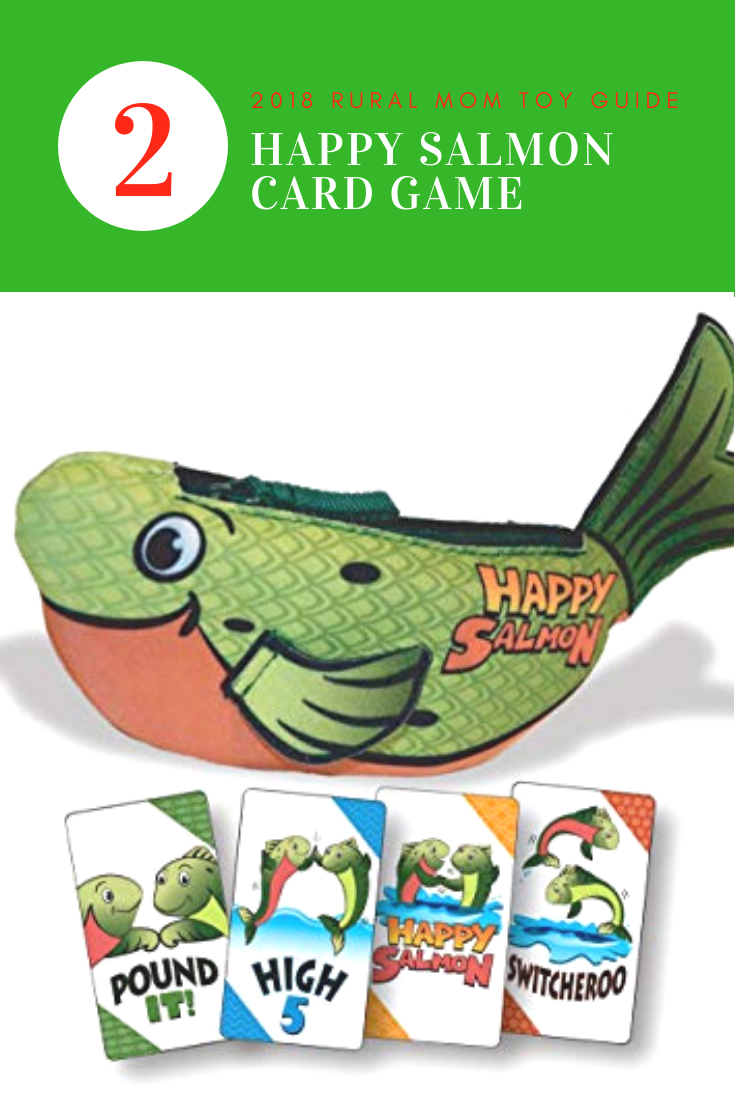 At the top of our list of great toys this year is Happy Salmon. We love it because it's enjoyable right from the beginning. This easy game takes only 30 seconds to learn and has all players moving around and getting excited right away. The way it works is that players call out the action shown on their card. That action may be "Pound It". "High 5", "Switcheroo", or "Happy Salmon." When there's a match, the players act out their action together. The result is hysterical laughter and a great time to be had by all.
The game is fast-paced and can be played quickly and just about anywhere. (We've got your back, parents of kids who want to bring out a game ten minutes before dinner!) The card game even comes in a portable fish pouch for safe keeping and transport. Happy Salmon is well-suited for kids ages 6 and up and can be played with 3 to 6 people. Since just about everyone in the family can play it, it's been voted Family Game of the Year!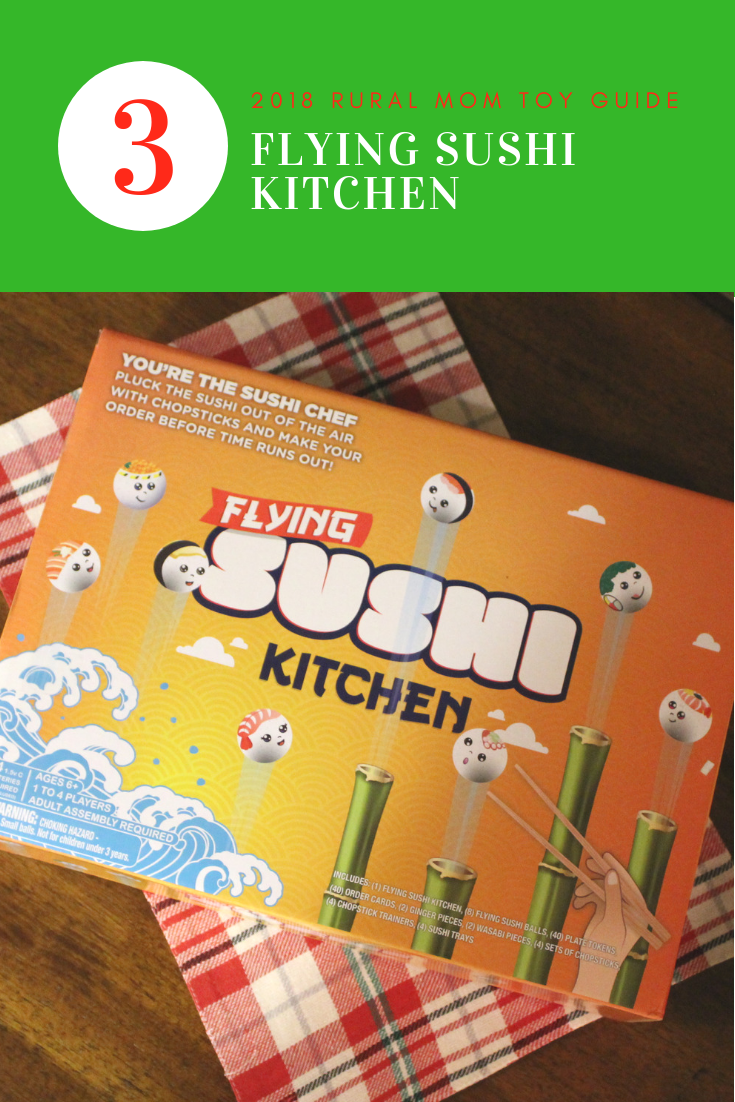 Flying Sushi Kitchen is a game of speed and precision that brings a whole lot of fun to your next family game night! The goal is to earn $25 in play money by correctly filling the sushi orders before time runs out. Sounds easy, right? Only the sushi is floating in the air and players must pick it up with chopsticks!
There are 5 air vents that blow the sushi balls into the air. Each player draws a card from the deck and loads the balls into the vents. Depending on the card, the player gets 45 to 60 seconds to fill their order. Every now and then, there are a few twists thrown in with the cards, too, like having to use the opposite hand to fill the order or using the chopsticks without the chopstick trainers. Even those experienced with chopsticks are likely to mess up a few orders! Flying Sushi Kitchen is a super fun game that everyone in the family will enjoy playing again and again.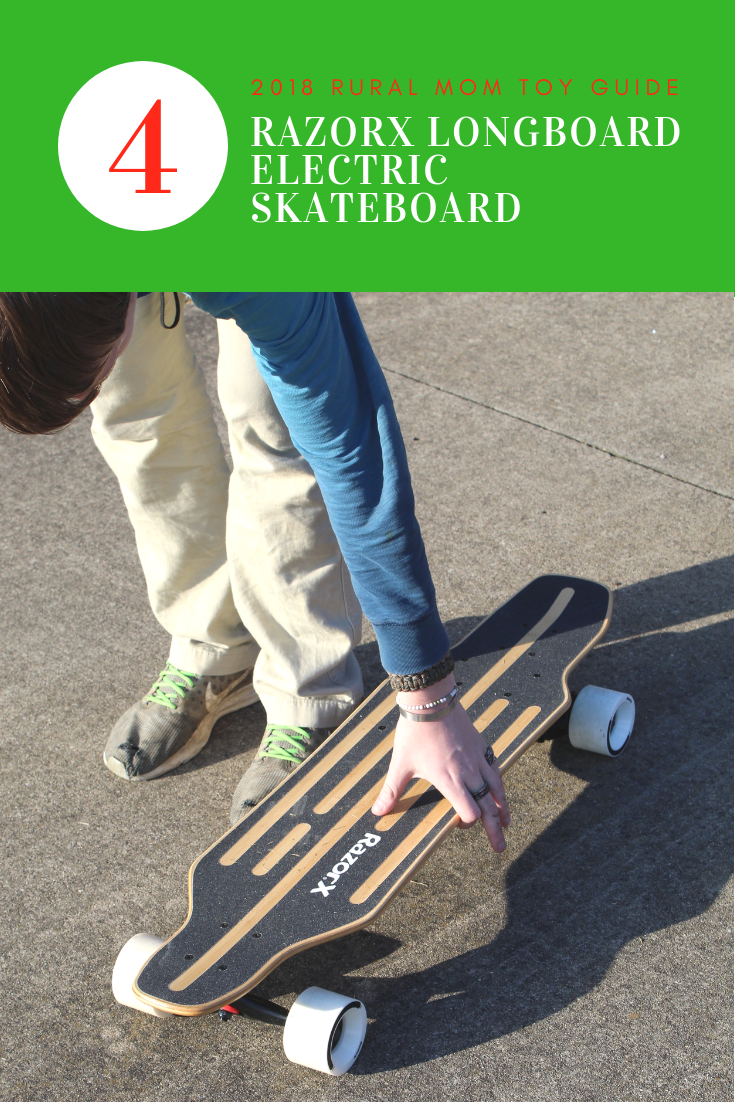 The RazorX Longboard takes everything you already know and love about RazorX products to an entirely new level. It's powered by a rechargeable lithium-ion battery and a 150-watt, geared, rear-wheel-drive hub motor. Simply kick to start this electric longboard and you're on your way with speeds up to 10mph for as long as 40 minutes. What teen wouldn't love that?
This fun electric skateboard makes an awesome holiday gift for any teen who loves technology, gadgets, and skateboarding. Bonus for parents: It's pre-assembled and literally ready to roll right out of the box! (That's a gift in itself!) The board also makes a great gift for an adult who enjoys playing like they're still a kid every now and then. You may want to grab a couple while you're doing your holiday shopping. Once you see how much fun your kids have with the RazorX Longboard Electric Skateboard, you'll be totally jealous!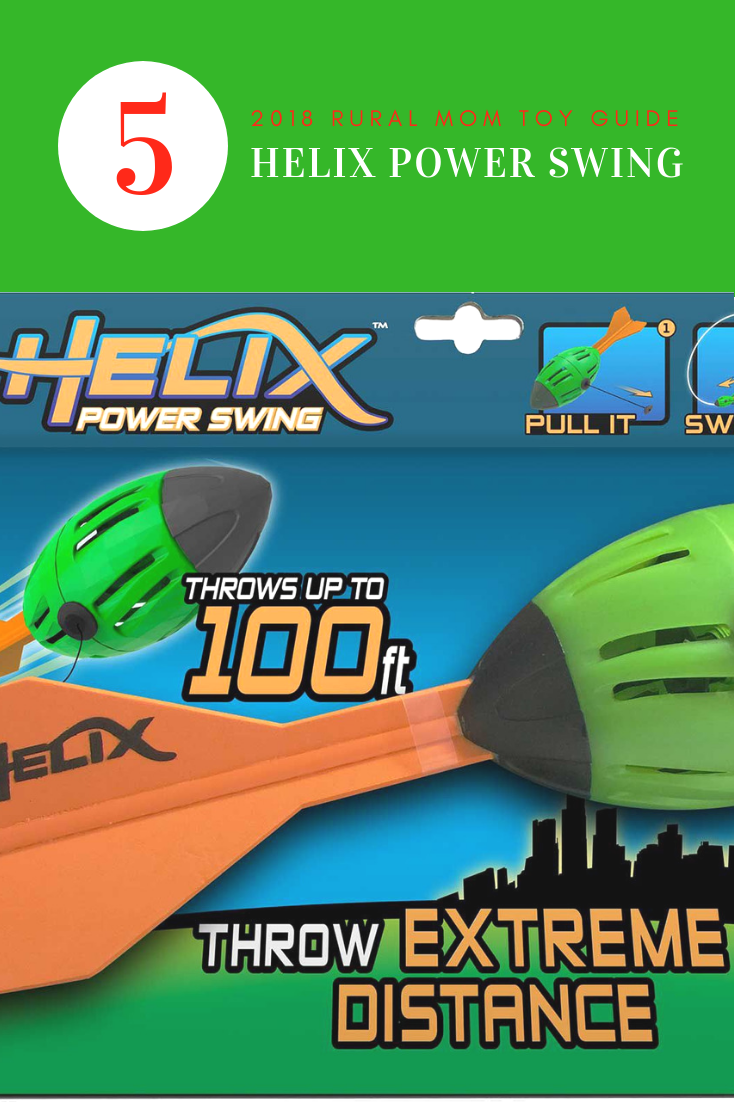 For the football lover on your list, we recommend Helix Power Swing. This hot new toy is essentially a football attached to a cord. You simply swing it in a circle to wind it up and then let go and watch it soar! This football is a load of fun for kids ages 5 and up as it can fly up to 350 feet! The whistling sound it makes as it flies through the air adds to the excitement and enjoyment. The cord automatically retracts when it's released.
Helix Power Swing is a good tool for helping practice motor skills with spinning, throwing, and catching. The toy is simple enough for smaller kids to operate, but exciting enough for teens to enjoy playing with it as well. It's a great way to get kids outside and playing together as a family.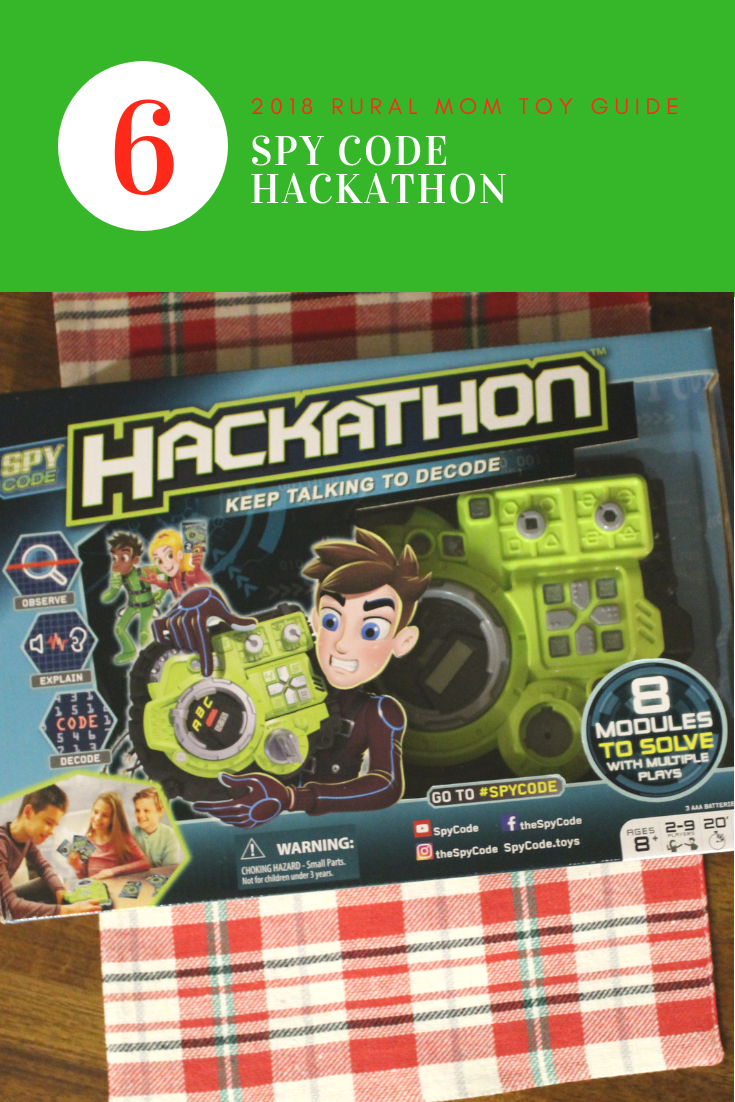 Spy Code Hackathon is an electronic interactive family game suitable for ages 8 and up. The premise behind the game is that a group of villains has stolen your identity and saved it inside a super-advanced console. Your spy squad is tasked with retrieving the info. Only one person can work on the console at a time, but that person can only hear directions from other players. It's a game of mystery, logic, and teamwork. There's only so much time to crack the code, so teams have to work quickly!
This game makes a great gift for kids and adults alike. We can't think of anyone who doesn't find super sleuthing cool! It is a more difficult game than others we're recommending this year, so probably more suited for older kids. Games like this build life skills that can be used forever – teamwork, communication, efficiency, and perseverance to try again. It's a really fun game that has so many concurrent benefits.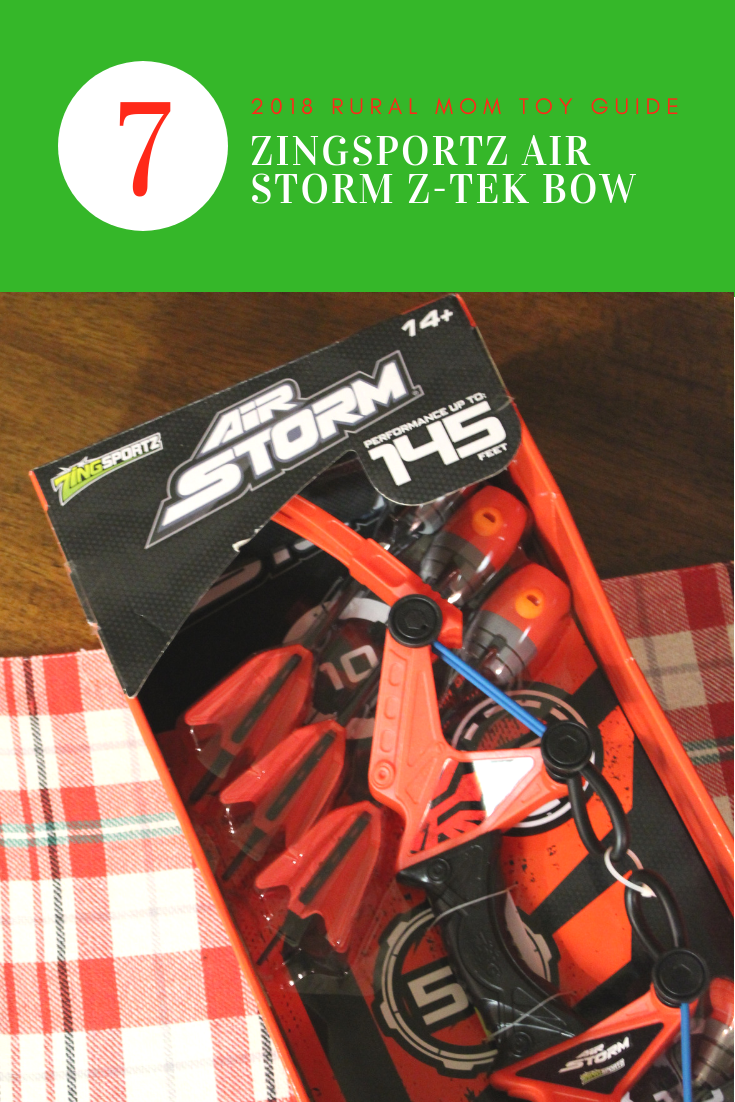 For kids that love to fire at targets, the Airstorm Z-Tek bow is the gift to give! The bow and screaming foam arrow set embodies the latest and greatest in technology. For extra effect, the suction cup arrows scream as they soar over 100 feet into the air. The new design and shape makes for a great new archery experience.
Kids can fire the whistling arrows against a wall for bounceback action or set up some soda cans for target practice. Either way, this is a great gift idea for kids that enjoy active play. The toy includes one bow, two zonic whistle arrows and one zarts suction cup arrow. It promotes good hand-eye coordination, a love of being active, and good old-fashioned playing outside in the fresh air! Because the arrow tips are made from foam and suction cups, Air Storm Z-Tek Bow and arrow can be played indoors if you have the space for it, but it's way more fun outside!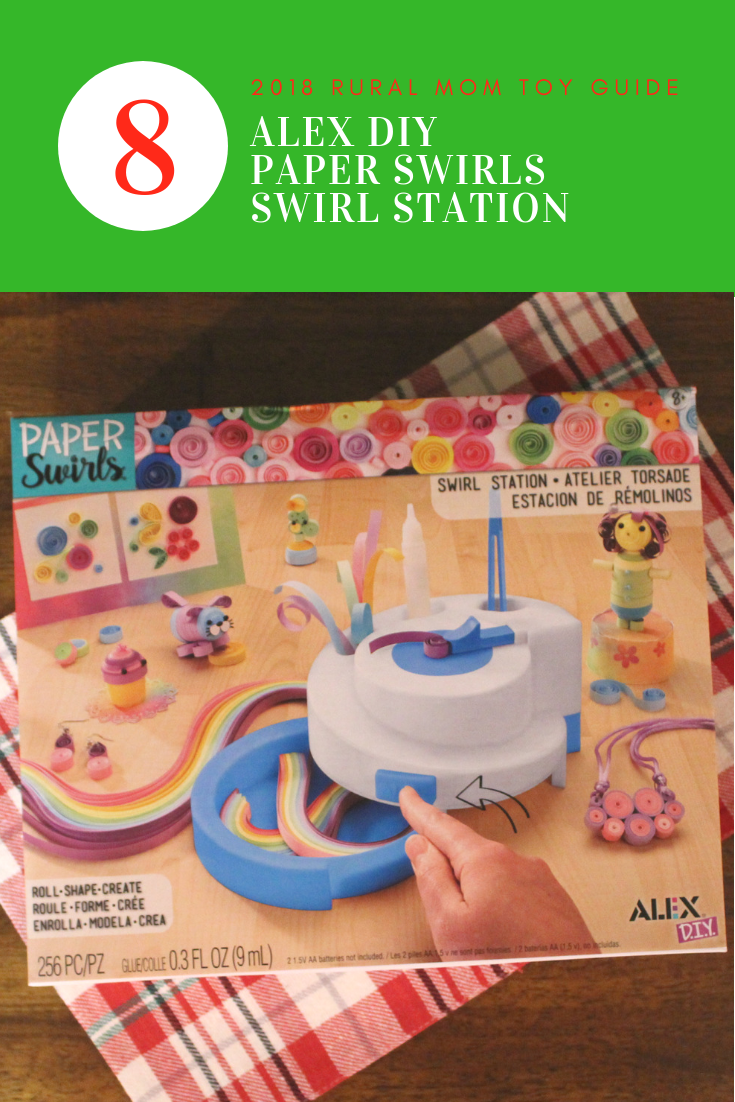 If you've got someone on your list that wants to learn about quilling, which is making art with rolled paper strips, this is the gift idea that will light up their holiday! The Alex DIY Paper Swirls Swirl Station makes quilling easy for kids. With just the touch of a button the machine rolls the paper strips in seconds for them. There is an included instruction booklet to help make all sorts of cool shapes, but the possibilities don't end there. Swirling different shapes together makes for some really awesome creations!
The kit includes the motorized Swirl Station quilling machine, 200 self-adhesive paper strips, 12 body forms, a quilling board, white glue, tweezers, 6 jewelry findings, 20 beads, 8 white cards, 4 pre-printed cards, envelopes, papers, and an instruction booklet. The machine makes quilling easy, but this is a gift best given to older kids – ages 8 and up. It's perfect for creative kids that like to craft and make DIY projects. You may want to gift one to yourself, too!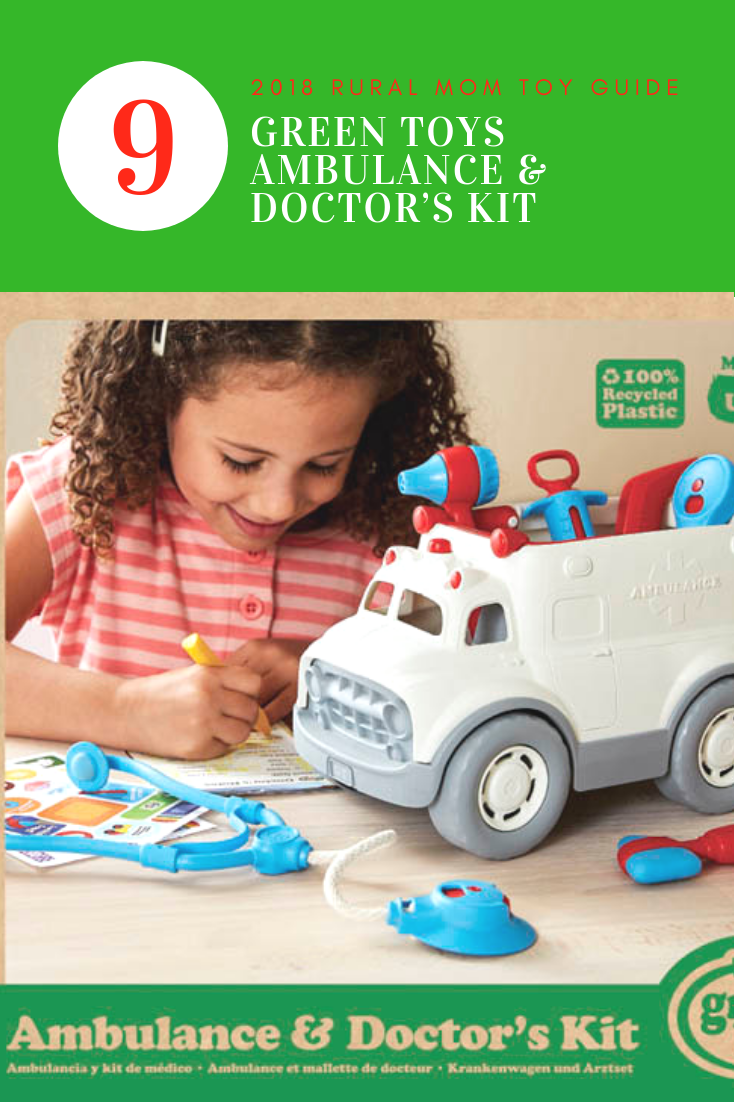 I'm willing to bet that every single person reading this list knows someone who would love finding the Green Toys Ambulance & Doctor's Kit under the tree this year! The 10-piece set includes everything kids need to play doctor, nurse, and even veterinarian! The back of the ambulance provides storage of all the included accessories – a reflex hammer, syringe, stethoscope, thermometer, otoscope, stethoscope, forceps, notepad, and stickers. When a pretend emergency arises, kids simply drive their ambulance to it and make a rescue! When they're finished, the lights flip up to form a handle and carrying case.
The set is a great teaching tool and helps to make doctor's visits less stressful for little ones. Another reason we love this toy is because it's proudly made in the USA from 100% recycled plastic. It meets FDA food contact standards and contains no BPA, phthalates or PVC. It's also super easy to clean and sanitize – throw it in right in your dishwasher to clean it up. Like other Green Toys, the Ambulance & Doctor Kit is printed with soy inks and packed with recycled and recyclable materials.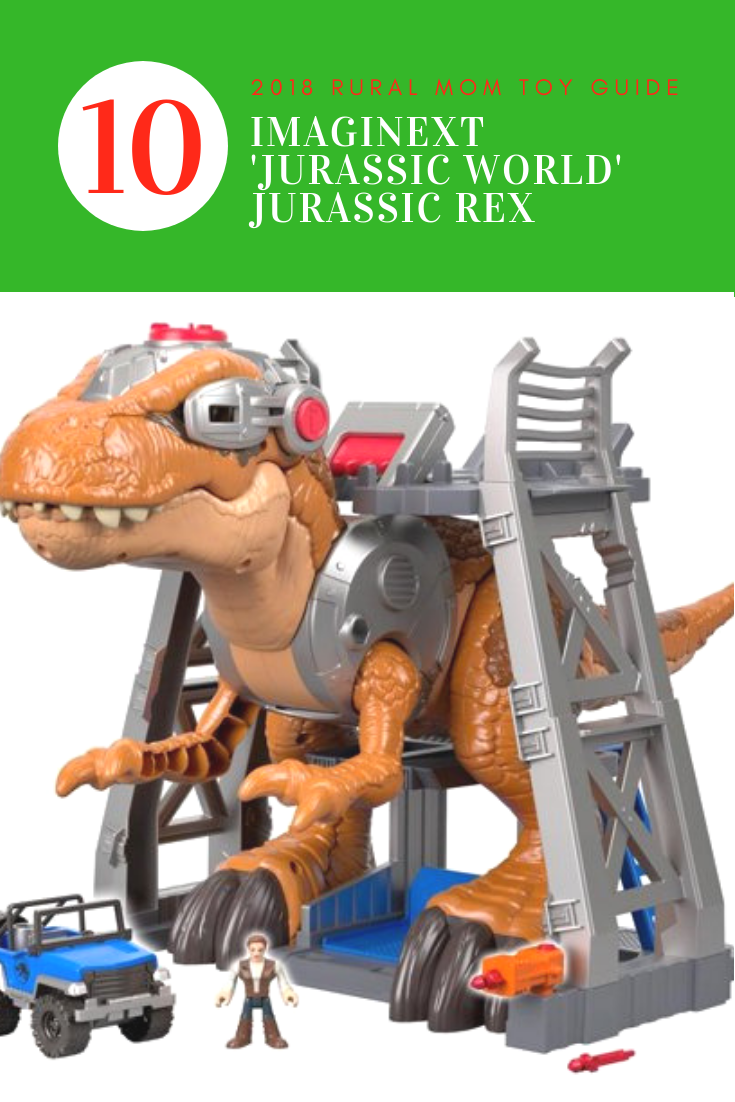 Jurassic World: Fallen Kingdom was one of the hottest movies this year, so it's no surprise that the Imaginext Jurassic Rex T-Rex is one of the hottest toys on wish lists! Jurassic Rex stands 15.8 x 29.9 x 15.8 inches tall. The enormity of the toy only makes her even more fun to play with – when you stand Owen and the vehicle next to her, she seems gigantic!
Jurassic Rex is controlled by the handle on her back, which allows her to lunge with arms and mouth open to devour her prey. Our favorite dinosaur toy also has a Power Pad that gives her some extra features, too. Her eyes can light up green and dilated or red and un-dilated with a glowing red mouth! The Power Pad also launches the vehicle, sending Owen into battle. This fun gift idea is perfect for anyone who loves Jurassic World, dinosaurs, or Imaginext toys.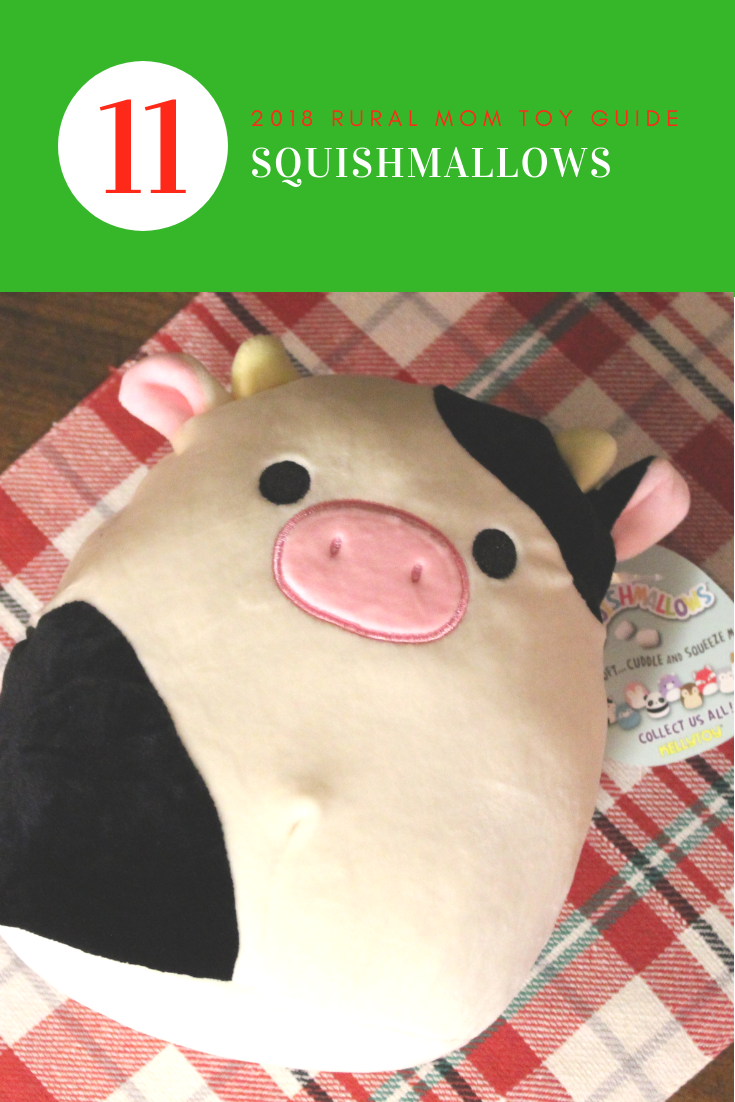 Squishmallows
Squishmallows are simply irresistible!  When you first see them, it's definitely 'hug at first sight!"
The collectible Squishmallows plush toy line is chock full of personality and cuddle-ability.  From domestic, sea and farm animals to fantasy creatures like unicorns, there are more than 50 styles of these cuddly characters available for everyone on your holiday shopping list, big and small.  Seriously, everyone will want a Squishmallow once they see them, so it's best to pick up plenty for gifting (and a few to keep, too!)
There's 3.5-inch "clip-on" styles that make great stocking stuffers and 16 and 20-inch sizes which make delightful presents.  They are one of the most cuddly soft stuffed animals available and they make great pillows for kids, too.  Christmas-themed Squishmallows are also available.  Toss a few on your couches to liven up your holiday decor.  Your guests will truly love them and we have no doubt, that Squishmallows will be among the top favored toy gifts of the season.
OOLY 3D Colorables
Every holiday season, I love to gift the little ones some type of coloring or craft gift that inspires creativity.  OOLY 3D Colorables are this season's top pick!
OOLY 3D Colorables are Inflatable toys that you can color with any coloring supplies like colored pencils, markers or crayons. Once you are done perfection your design, you inflate them into 3D (using the included inflating straw) and they become a colorful accessory for dress-up, a fun toy to use for imaginative adventures, or a lovely craft to display.  3D Colorables can be deflated and stored, then re-inflated later for more imaginative play time.  We love this clever coloring toy.  It will be a huge hit with everyone on your holiday shopping list and offer hours and hours of fun playtime!
[amazon_link asins='B07C7X8LG9,B01D5CBK8A,B07D3QM89M,B071R61CCS,B00WOECWF6,B07G4BJZL5′ template='ProductGrid' store='ruralmom' marketplace='US' link_id='97c40ef0-e56b-11e8-b7aa-6dc58088d01f']
[amazon_link asins='B00CVBJJWG,B07CJQB9CG,B079NJYBH5,B0751WB377,B078WKRZ8T,B079V95X2H' template='ProductGrid' store='ruralmom' marketplace='US' link_id='06a86d8a-e56c-11e8-a91f-79ef407fb10c']
Disclosure: We receive sample products for review for our holiday guides, most of which are donated to local charities after gently testing and inspecting. If it's not a gift we wouldn't love to see under our own trees or personally gift to a loved one, you will not find it in any RuralMom.com holiday guide. We do not accept payment for placement of items in our guides. If it made it to our top holiday gift pick list, it's earned a spot based on its high quality, reasonable price point, and overall excellence in durability and/or functionality.
We're always on the hunt for the hottest new gift ideas and there were so many options this time around that it was tough to choose our top ten for this year. If you'd love to see a different toy featured or feel that we're missing out on a great one, please let us know!