I am writing on behalf of Mirum to share details for an exciting Black Saturday promotion at QVC… read on for the full scoop!
If you're like me, the second Halloween ended, you got super excited for the upcoming holiday season!  Christmas bells are ringing in our home and I'm in total holiday decor and shopping mode.
While I'm making my list (and checking it more-than-twice,) it's fun to add a little something special for myself, too.  After all, this is the best shopping season of the year.  And every savvy shopper knows, now is the best time to snag bargains.
It's also lovely to treat yourself.  With the stress of the holidays, a little pampering is good for the soul and an amazing gift like the HP Laptop featuring Intel® Optane™ Memory will serve a practical purpose, too, keeping you organized through the holidays and the new year to come.
You'll be able to store your holiday shopping lists, keep your budget on track, organize your holiday celebration schedule, keep in touch with your loved ones, send e-cards and even keep files for your recipes.  Whatever you want to do on you HP PC, you'll definitely do it quickly with the speed of this awesome tool.
Benefits of the HP Laptop featuring Intel® Optane™ Memory* include:
Short boot times and Fast app launches- allowing you access the information and tools you need more quickly
Responsive performance – you'll wait less and do more! HP PC and Intel® Optane™ memory adapts to the way you use your notebook for an incredible personalized experience
8th Gen Intel® Core™ i5 processor with Intel® Optane™ Memory, 8GB RAM, 2 TB Storage
Touchscreen and Backlit keyboard
Windows 10 included
*Intel® Optane™ memory system acceleration does not replace or increase the DRAM in your system.
Another aspect of the HP Laptop I absolutely love is HP's commitment to environmental responsibility that is prevalent in the design of the HP PC featuring Intel® Optane™ Memory*. It's ENERGY STAR® certified(62), EPEAT® Silver registered(27) and has mercury-free display back-lights, arsenic-free display glass, is low halogen, and comes packaged in a recycled in easily recycled materials.
As a steward of the earth, these are the types of attributes I love to see in a product I know I'll love using!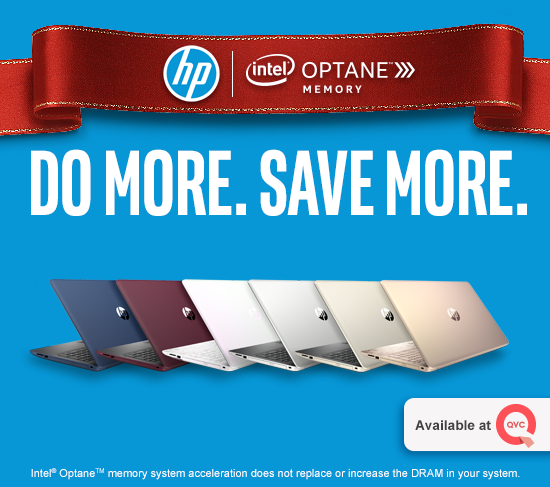 Right now, you can snag a great deal on the HP PC featuring Intel® Optane™ Memory from QVC, plus get:
exclusive colors (iridescent rose gold and iridescent white,)
6 months no interest
and free shipping!
The 15" HP Laptop powered by Intel® Optane™ Memory (without Microsoft Office) is only $599 (with Microsoft Office $649). The 17" HP Laptop powered by Intel® Optane™ Memory (without Microsoft Office) ius
$649 (with Microsoft Office $699).  This is a fantastic price to purchase one for yourself and another for a special someone on your shopping list.
With my oldest son starting college soon, I'm thinking about picking up another extra for his upcoming graduation.  It's truly an excellent gift that will be well-used and well-received.