Bird Seeds Recipe Snack for kids was cleverly invented by my daughter when reflecting on some kindergarten memories shortly after her daughter began her new school experience.
Leaning about birds is a memory she remembers from her kindergarten experience. Making bird houses from craft sticks, coloring birds, making bird feeders and identifying birds was a week long activity turning into a life long tradition at our house.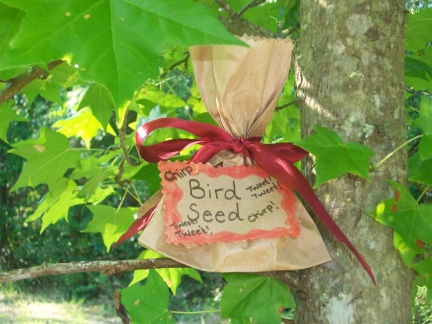 One day at school when they were making bird feeders she licked her bird feeder after finishing it to experience why seeds are such a treat to birds. The child next to her let out an "Eww!" as the whole class began looking at her with disgust. Being shy she did not welcome the attention or the desire for her school mates to label her as weird. Thankfully the teacher set her at ease by smiling and replying, "I bet you turn in to bird this weekend." She was so relieved (and a little excited at the prospect of actually turning in to a bird) that all I could say was "Cheep!" Everyone laughed along with my daughter and she knew she was not weird but curious with no more ridicule from her classmates.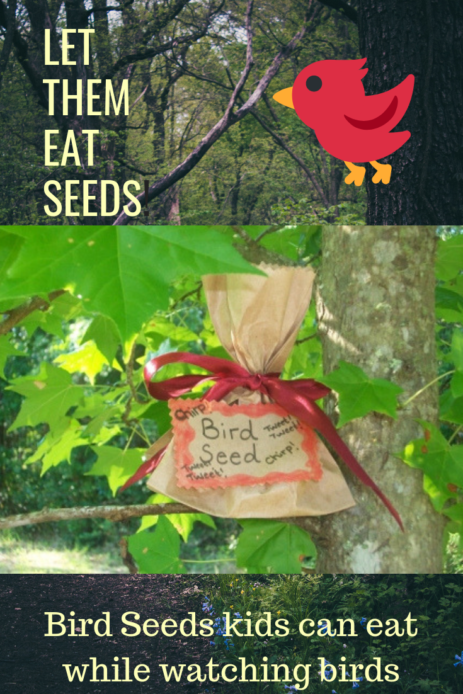 She and her children make these pine cone bird feeder each year and she makes a kid friendly, ridicule free bird seed her children eat as they watch the birds enjoying their treats.
Bird seed- two servings
Ingredients:
1 cup hulled sunflower seeds
1 cup honey glazed pecans*
1/3 cup dried cranberries
1/3 cup raisins
Directions:
Simply pour measured ingredients in a bowl or zip lock bag and mix! Then pour the trail mix in any bag you'd like. It might be fun to cut down and decorate a small paper bag to look like a sack of birdseed and then tie the top with ribbon twist tie. Just have fun and use your imagination!
Honey Glazed Pecans – one cup Ingredients:
1/3 cup honey, warmed
1 cup pecans
1 tablespoon sugar
Directions: Preheat oven to 350 degrees F. Stir together honey and pecans, tossing to coat well. Spread pecans in one layer in a shallow baking pan and sprinkle with sugar. Bake for 15 minutes, then stir and bake 5 minutes more. Transfer while still warm to a sheet of parchment paper or foil and, working quickly, separate pecans with a fork. Allow to cool completely for about 1 hour and remove nuts from the parchment and break up any large chunks.
As winter continues and the kids watch the back yard birds eat their treats now they too can eat bird seed… without ridicule!