MAMMA MIA! HERE WE GO AGAIN makes me want to buy a suitcase full of overalls and hop on a plane to Greece!
Of course I felt that way with the first film, too.  And of course, my reality says that's not going to happen!  So, I'm doing the next best thing, thanks to Universal Pictures Home Entertainment who send a review copy along – I'm celebrating this weekend with a MAMMA MIA! HERE WE GO AGAIN movie night in.
There will be singing!  There will be dancing!  There will be Greek food and plenty of OPA!  There may even be some overalls worn.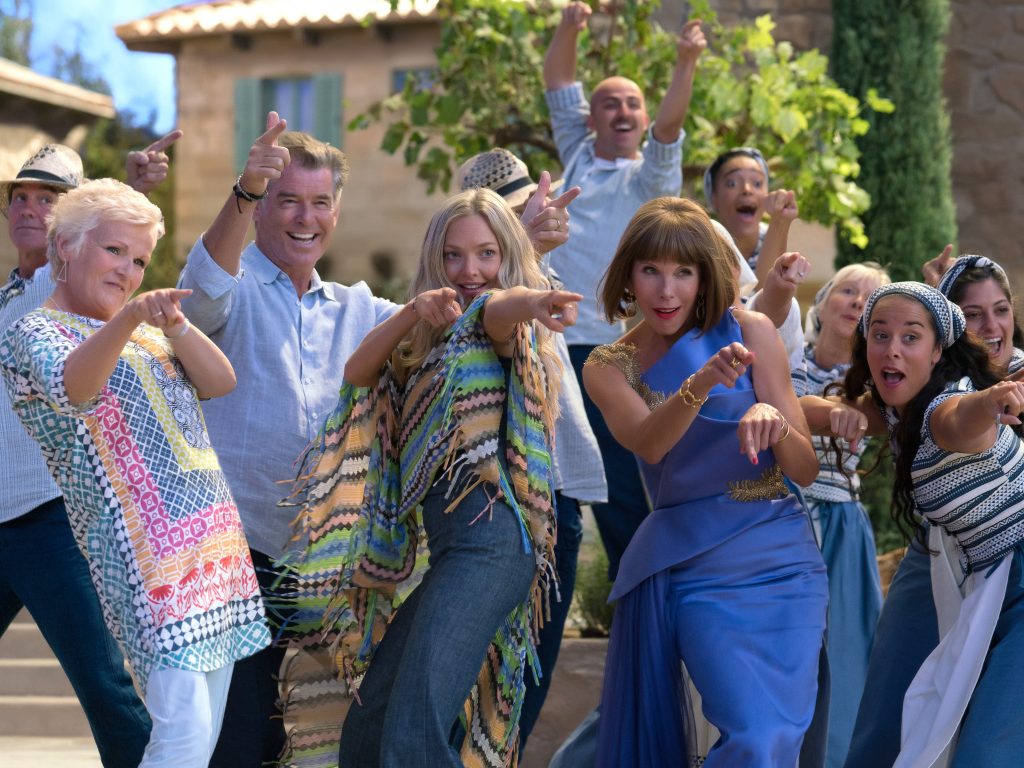 The first time I saw MAMMA MIA! HERE WE GO AGAIN was at our local movie theater with my niece and my youngest son.  We're all huge fans of the first film and had to rush out to see this newest addition.  It did not disappoint!
We all laughed, sang, resisted the urge to dance in the aisles and thoroughly enjoyed every fun indulgent moment of MAMMA MIA! HERE WE GO AGAIN.
This is a film chock full of amazing talent, beautiful scenery, whimsical sentiments and pure fun.  What I love most, though, is how the film simply celebrates life and family and friendship to the utmost.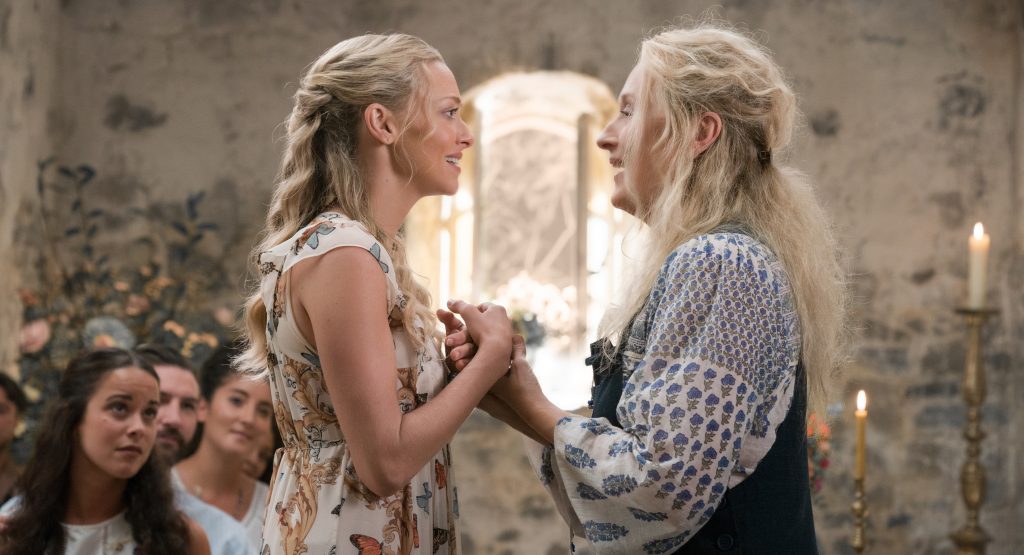 [amazon_link asins='B07FMTQX4X,B07F9GVFK6,B009CGGCSC' template='ProductGrid' store='ruralmom' marketplace='US' link_id='b7ed58e1-d94b-11e8-a3e6-850e19ec1b6f']
About MAMMA MIA! HERE WE GO AGAIN
Ten years after MAMMA MIA! The Movie, MAMMA MIA! HERE WE GO AGAIN invites you to return to the magical Greek island of Kalokairi to continue the story's emotional journey of family and friendship whilst discovering just how those life-changing relationships were formed and includes hit songs such as When I Kissed The Teacher, Fernando and Dancing Queen.
Both a prequel and a sequel, the film tells two stories: present day as Sophie Sheridan (Seyfried) prepares for the grand reopening of her mother Donna's (Streep) hotel and 1979 when young Donna (James) first arrives on the island. Sophie learns about her mother's exciting, fun-filled adventures with the young Dynamos, Tanya (Jessica Keenan-Wynn) and Rosie (Alexa Davies), and how young Donna first met her three possible dads Harry (Hugh Skinner), Bill (Josh Dylan) and Sam (Jeremy Irvine) all those years ago.
MAMMA MIA! HERE WE GO AGAIN Bonus Features
Get ready to sing and dance all over again with the entire cast and go behind the scenes with MAMMA MIA! HERE WE GO AGAIN on Digital, 4K Ultra HD, Blu-rayTM and DVD – with over an hour of bonus features including one- of-a-kind lyric videos and a never-before-seen performance of "I Wonder."
BONUS FEATURES EXCLUSIVE TO 4K ULTRA HD, BLU-RAYTM & DIGITAL include:
• Deleted/Extended Songs and Scenes with Commentary by Director/Screenplay Writer Ol Parker
• Enhanced Sing-Alongs
• Cast Meets Cast
• Cast Chats
• High Jinks
• Sophie's Story – Of all the characters, Amanda Seyfried's Sophie has developed the most since the first movie. Here we will chart how Sophie has gone from a vulnerable young girl to a confident young woman following life-changing events.
• Choreographing MAMMA MIA! HERE WE GO AGAIN – Choreographer Anthony Van Laast and his team will reveal some of the secrets behind the highly original dance routines.
• Dancing Queen: Anatomy of a Scene – The most famous piano roll in musical history opens one of ABBA'S biggest hits, "Dancing Queen." The number is the biggest and most complex sequence. Ol Parker will discuss where and how he wanted to use the song in the story.
• Performing for Legends – Here the Young Dynamos will discuss the daunting prospect of stepping into the recording booth at Air Studios to sing ABBA to ABBA.
• Class of '79 – The story of the Young Dads and Dynamos is told against the backdrop of Oxford, Paris and the Greek Islands of 1979, when hairstyles were wackier and the fashions were bolder. This featurette will focus on the Young Dads and Dynamos and their experience bringing these characters to life.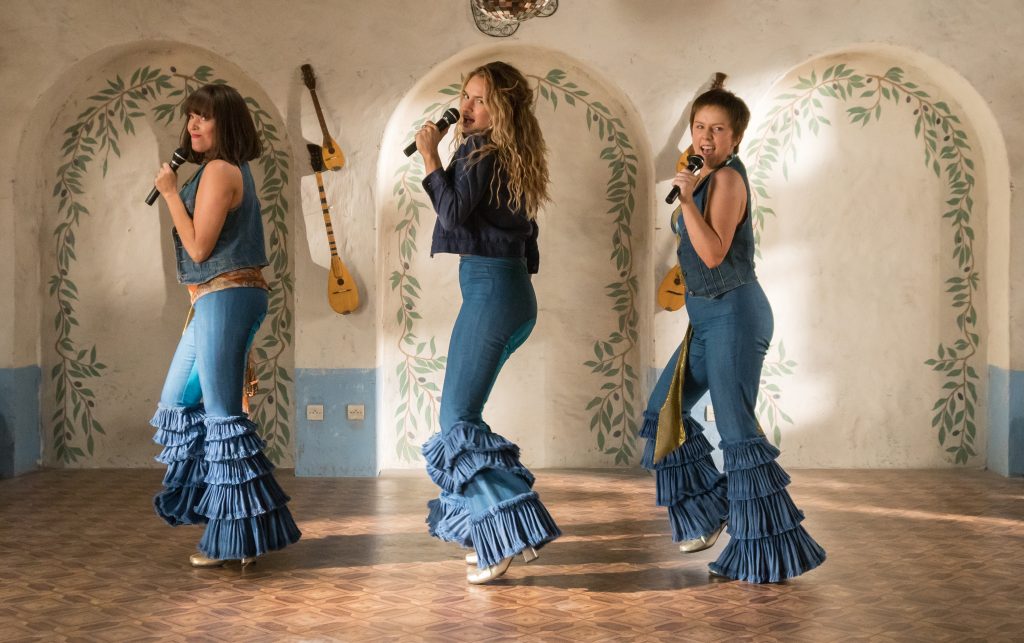 BONUS FEATURES ON 4K ULTRA HD, BLU-RAYTM, DVD & DIGITAL:
• Deleted Songs and Scenes with Commentary by Director/Screenplay Writer Ol Parker
• Enhanced Sing-Alongs
• The Story – Producer Judy Craymer reveals how the MAMMA MIA! legacy began, evolved into the first feature film and how she teamed with executive producer/co-story writer Richard Curtis and director/screenplay writer Ol Parker to develop the perfect sequel.
• MAMMA MIA! Reunited – Focusing on the legacy performers and their excitement at reuniting a decade later, the filmmakers discuss the paths they've paved for the characters since we last saw them.
• Playing Donna – This piece centers on Meryl Streep's cameo performance and Lily James' preparation for filling this iconic role.
• Meeting Cher – The Queen of pop reveals her excitement at joining the MAMMA MIA! family as Ruby Sheridan – Sophie's glamorous grandmother. Fellow cast members will share their delight at meeting and watching a legend on set.
• Costumes and The Dynamos – The Young Dynamos have some pretty cool costumes in MAMMA MIA! HERE WE GO AGAIN, and of course so does Cher. And who could forget those trademark dungarees? We will join costume designer Michelle Clapton as she highlights some of her favorite outfits from the movie.
• Curtain Call – Who can forget the finale to MAMMA MIA! when the cast danced onto cinema screens in full spandex for one final number? Ol Parker has chosen "Super Trouper" to close his movie and it features all 16 key cast members.
• NBC's TODAY Show Interview with Cher & Judy Craymer
• Feature Commentary with Director/Screenplay Writer Ol Parker
• Feature Commentary with Producer Judy Craymer