Tailgating season is here!  For us, that means wing, wings, and more barbecue wings – one of our all-time fall favorites!  Thanks to my partnership with Mealthy Multipot and my participation on the #MealthyMoms team, I'm bringing you my family's favorite recipe, Apple Cider Barbecue Wings re-made with the Mealthy MultiPot!
Everyone has a time tested favorite recipe for tailgating season.  For me, it's my slow cooker barbecue wings made with fresh apple cider from the local orchard.  You just know that fall and tailgate season is here when there's apple cider involved!  Plus, it makes your ribs ridiculously-flavorful, which keeps everyone coming back for more.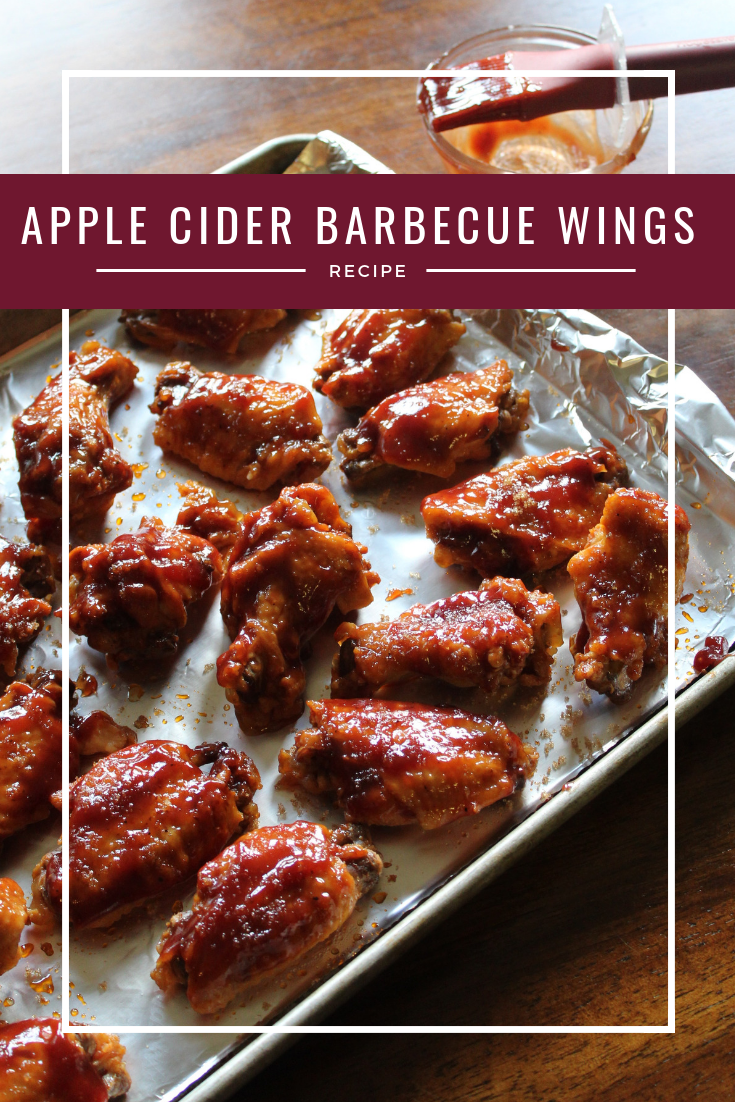 The challenge with making my favorite wing recipe, is that it's typically an all-day affair.  I have to remember to set them up in the slow cooker early in the morning in order to have them fall-off-the-bone ready when it's time for the big game.
Though the Mealthy MultiPot has a slow cooker setting, I was challenged by the #MealthyMoms team to re-make my family's favorite recipe to see if I could cut down the cooking time while still sealing in the amazing flavors and tenderness we love.
I'm happy to say I rose to the challenge readily and successfully pulled off making some of the best wings we've had in a fraction of the time!  What this means for me is that I no longer have to wake up early to prep the wings for slow cooking.  Sometimes things just need to get cooked quickly.  Now, I can make the wings an hour ahead of game night (and easily pack them up to take with us if we are tailgating outdoors.)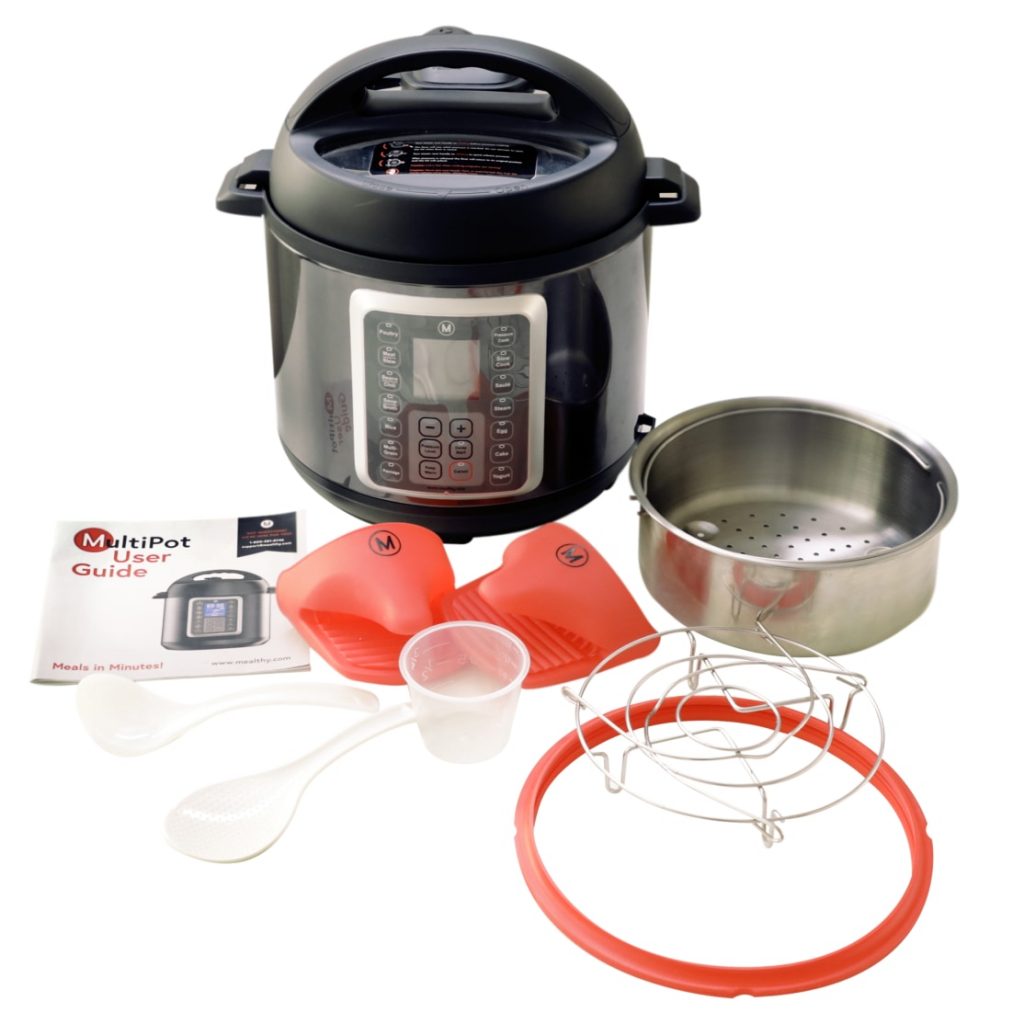 What is a Mealthy MultiPot?
The Mealthy MultiPot is a 100 percent BPA-Free 6-Quart appliance that is a pressure cooker, slow cooker, steamer, rice cooker, yogurt maker, saute pan, egg boiler, cake maker and more.  Quite frankly it's the one-and-done appliance that suites nearly all your cooking needs and will quickly become your go-to choice for meal time and beyond.
The Easy Touch Panel settings include: Pressure Cook, Slow Cook, Saute, Steam, Poultry, Meat/Stew, Beans/Chili, Soup/Broth, Rice, Multi-Grain, Porridge, Egg, Steam and Cake.  The LCD Screen displays pressure settings, cooking time, preheating functions, warming time, pasteurizing status (for yogurt making,) temperature indicators, and progress indicators.
Each Mealthy MultiPot comes with a steamer basket, trivet, spare silicone gasket, silicone mitts, full color visual guides, recipes and access to instructional videos and more recipes via the app or website.   There's even a lovely Facebook group for Mealthy enthusiasts to share tips, ideas, and recipes: https://www.facebook.com/groups/278823729299475/

Apple Cider Barbecue Wings Recipe
3 pounds chicken wings
1 cup barbecue sauce (use your family favorite)
1 cup apple cider
1/4 cup brown sugar
1/4 cup water
Stir 3/4 cup of barbecue sauce (reserve 1/4 cup for later,) apple cider, brown sugar and water together in the Mealthy MultiPot steel pot until thoroughly mixed.
Add chicken wings and toss to fully coat wings.
Lock MultiPot lid in place.  Turn steam vent handle to Sealing.  Select POULTRY setting.  Choose HIGH PRESSURE setting.  Set "cook time" to 10 minutes.
When cook time is complete allow MultiPot to self vent (do not open vent with quick-release.)  Let pressure naturally vent for 15 minutes, then turn steam vent handle to VENTING to quick-release any residual pressure.
Remove lid to MultiPot and transfer chicken wings to a tray.
Baste remainder of barbecue sauce in a thin coat evenly distributing atop the chicken wings.  Serve and enjoy!
Optional:  If you like crispier wings, pre-heat oven to 400 degrees Fahrenheit.  Line a baking tray with foil.  When wings are finished in the MultiPot, transfer wings to the baking tray.  Baste wings with barbecue sauce.  Sprinkle a bit of brown sugar over the wings.  Bake wings for 10-15 minutes (or until browned and bubbling.)  Remove wings from oven.  Allow to rest for 5 minutes, serve and enjoy!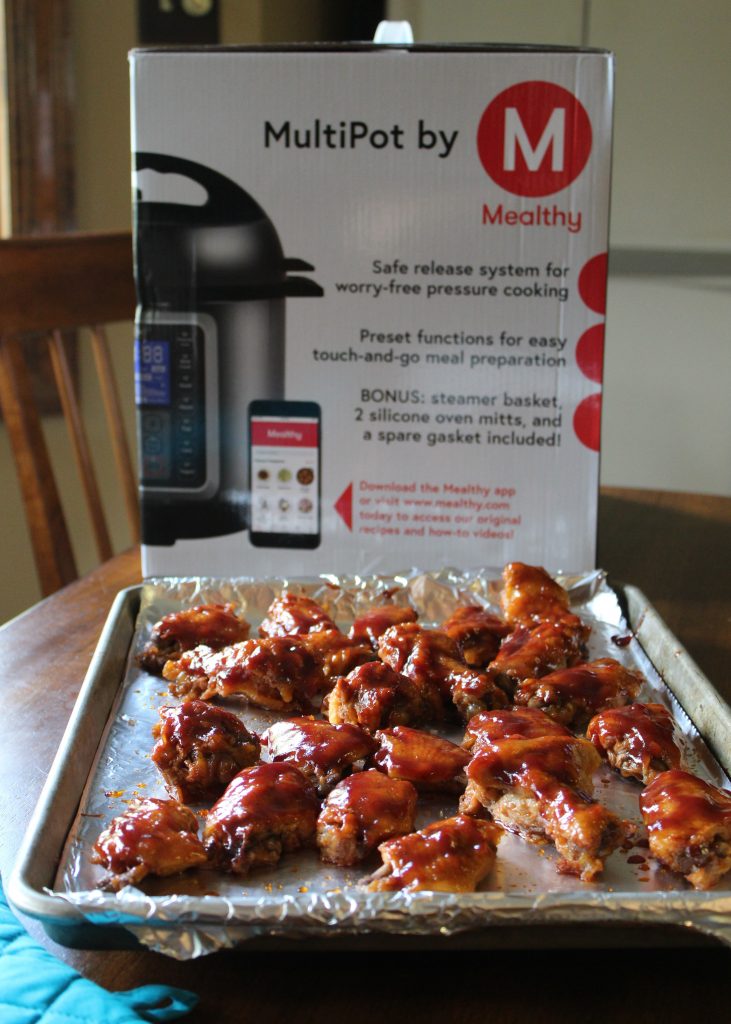 #MealthyMoms Cooking Kit Giveaway
Thanks to the awesome folks at Mealthy MultiPot, one (1) Rural Mom reader will win a #MealthyMoms Cooking Kit which includes:
$35 Gift Card for mealthy.com
An exclusive #MealthyMoms Bamboo 4 Piece Utensil Set
A #MealthyMoms Sept Highlight Recipe Card Set
18+, US only.  Prizing and samples provided by Mealthy MultiPot. 
ENTER via the Rafflecopter below:
What would you love to try making next in your Mealthy MultiPot?