This post is sponsored by Universal Pictures Homes Entertainment.
Run!!… to your nearest retailer – JURASSIC WORLD: FALLEN KINGDOM on Blu-ray is now in stores! Thanks to my partnership with Universal Pictures and my participation as part of #TeamJurassic, I have some fun family movie night ideas to share, including kitschy dessert that will encourage your whole family to "dig-in" and have a dino-riffic time!
Truly, we don't really need an excuse for a family movie night, it's one of our favorite family activities.  We do, however, get really excited about a family movie night when it features one of our favorites, like JURASSIC WORLD: FALLEN KINGDOM.  For an epic film like this, we like to go the extra-snack mile and theme our evening to enhance our movie night experience.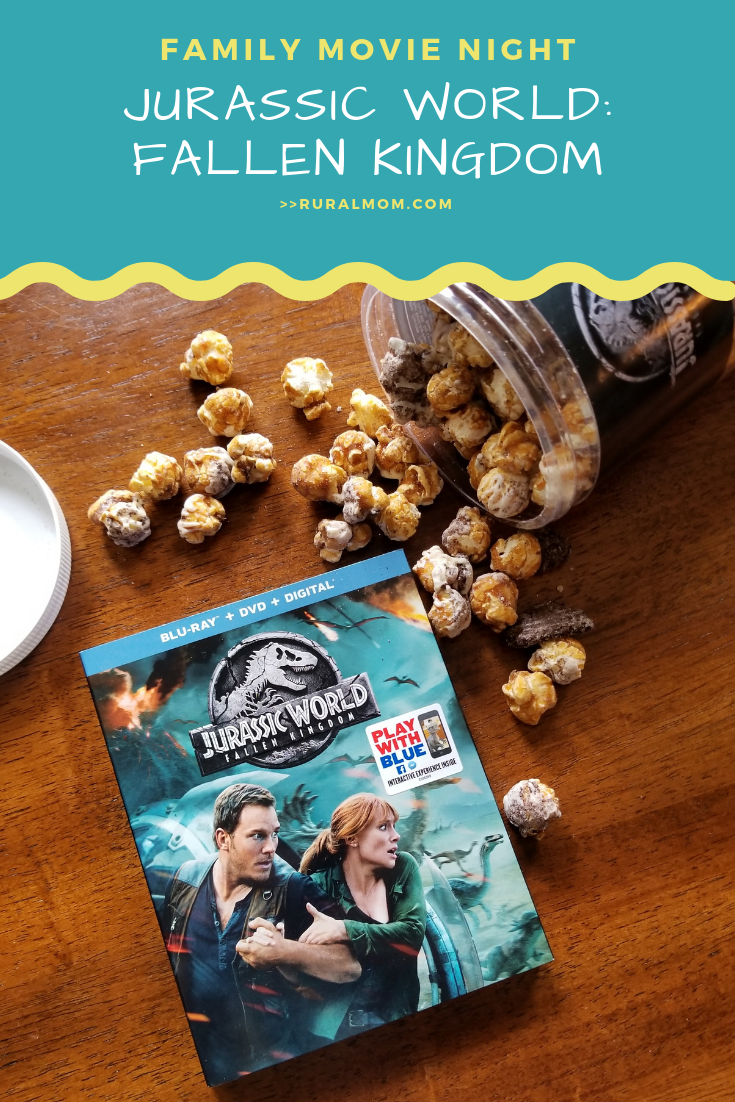 Sometimes we'll play a board game before or after that goes along with the central theme of the flick.  Most often we create special treats that use colors from the film (like a "blue" drink would be perfect for JURASSIC WORLD: FALLEN KINGDOM.)  If we have time, we also love to get cuisines themed around locations that are used in the film, too. When my kids were younger, I would look for printable coloring pages or crafts that would pair well with the movie, too.
We also love to set aside time to view all the extras and the JURASSIC WORLD: FALLEN KINGDOM Blu-ray has some fantastic bonus features including:
on-set footage with Chris Pratt and Bryce Dallas Howard
Birth of the Indoraptor
Chris Pratt's Jurassic Journals
Jurassic Then and Now
and much, much more!
Inside the Blu-ray you'll also find a code for an interactive experience that lets you play with Blue on your cell phone.  I won't ruin the surprise with any spoilers, but I will say it's crazy-cool and we all loved it!
With a little creativity, it's super easy to add a bit more excitement to your family movie night, making each one memorable and creating family memories your kids will truly treasure.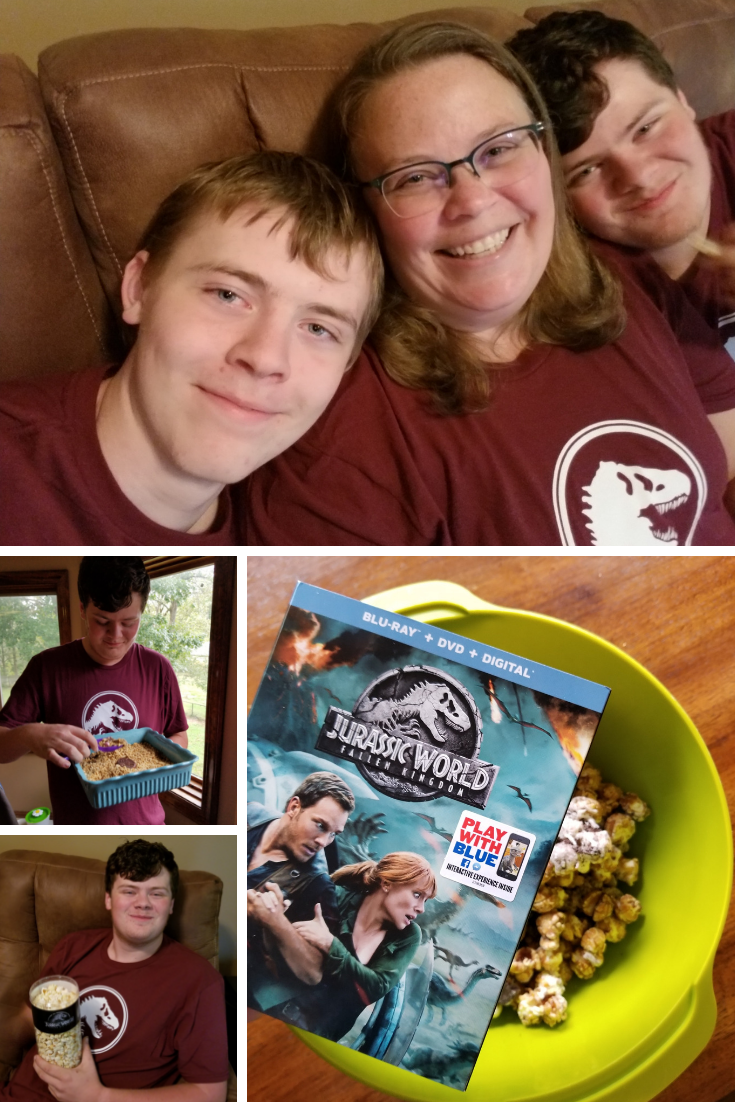 For our JURASSIC WORLD family movie night, we received an awesome bundle of snacks and goodies as part of our participation with #TeamJurassic.  We even had super cool gear to wear during the show and out and about later.
To amp up the fun-factor, I also created a special dessert to enjoy while we were watching this adventure-packed film I dubbed "Dino Dig Dessert."  It's basically a quirky dish reminiscent of the traditional "worms in dirt" dessert.  But instead of worms in dirt, I have dinosaur eggs buried in sand, just waiting to be dug up by my explorers!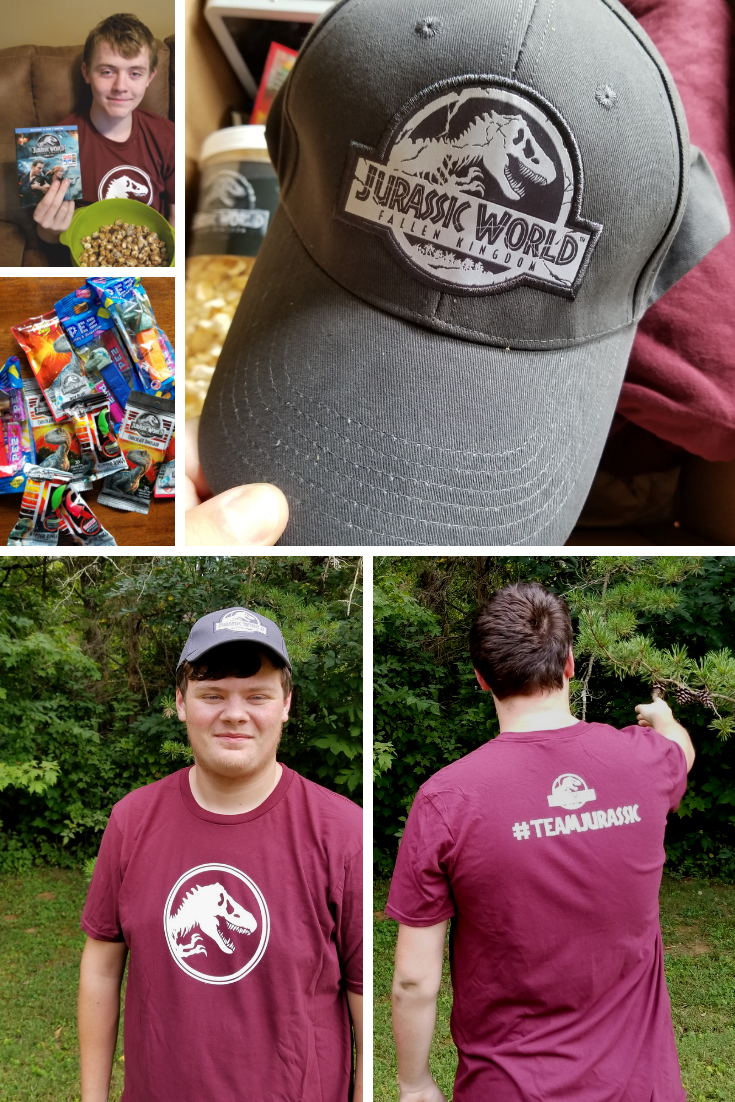 Trust me, this dessert may be perfect for little ones, but it's truly a hit with teens.  My guys immediately grabbed the shovel and dug into the dessert to find out what was buried.  We had a lot of fun guessing which color jelly bean we would dig up next.
Dino Dig Dessert
When it comes to snack time, I'm all about quick, easy and fun. Because, really, who wants to fuss when everyone is excited to get the show rolling!
This dessert takes minutes to prep and kids of all ages enjoy the flavors. We all enjoy digging through the layers to discover a sweet surprise. It's perfect for any night but especially for your Jurassic World: Fallen Kingdom movie night.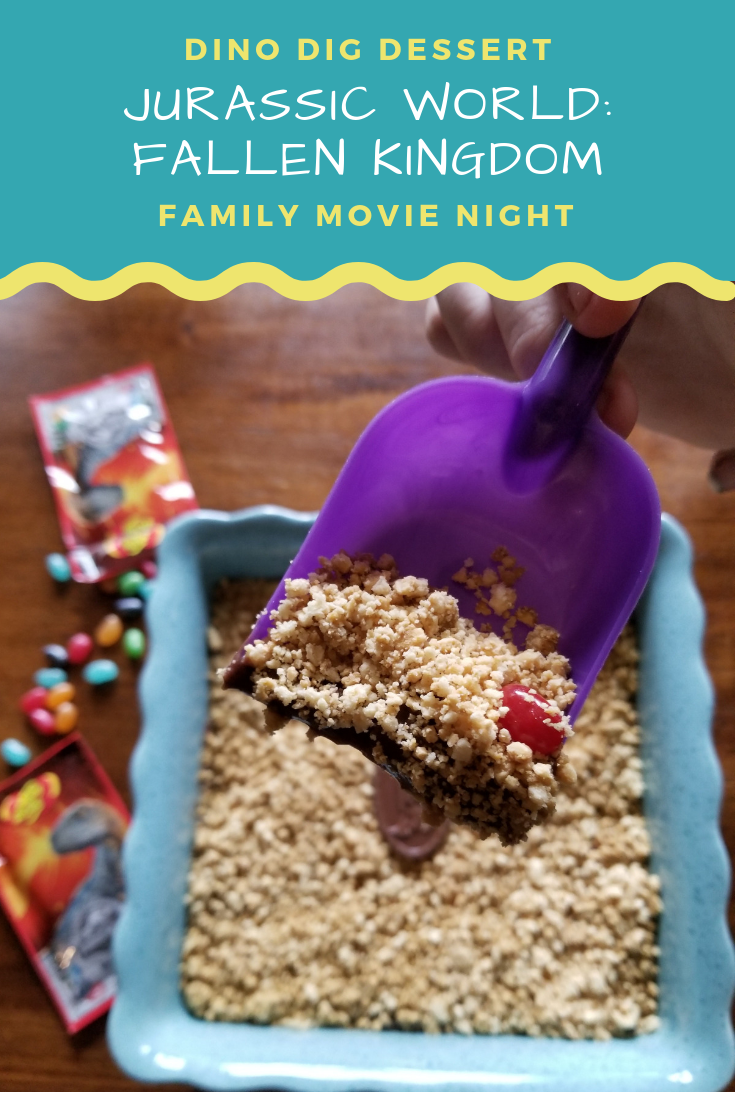 I used chocolate pudding to resemble an "earth" layer and crumbled vanilla cookies to mock "sand." You could use any flavor pudding you prefer and could certainly use chocolate cookies to make a "dirt" crust. You can use Jurassic World Jelly Belly Jelly Beans for the "dinosaur eggs" to dig up in the dessert, but if you can't find them, any jelly beans, chocolate drop candies or even dinosaur-shaped fruit snacks would work well. Whatever you decide, everyone will still love this fun treat.
Ingredients:
3-4 cups Chocolate pudding
20 Vanilla creme sandwich cookies, crushed fine
2 1 ounce packages of Jurassic World Jelly Belly Jelly Beans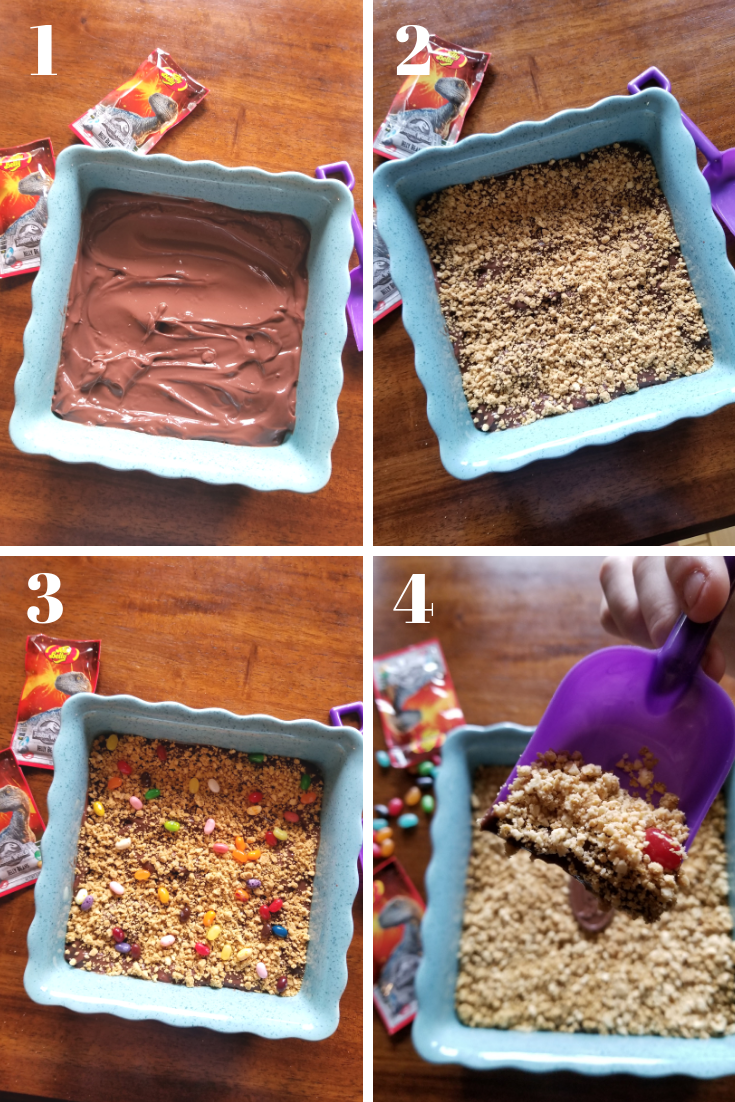 Directions:
Spread an even layer of chocolate pudding in an 8×8 baking pan.
Sprinkle a thin, even layer of crushed cookie crumbs over the pudding.
Scatter jelly beans over the cookie crumb layer.
Cover jelly beans with a layer of remaining crushed cookie crumbs.
Use a small toy shovel for serving (or a serving spoon.)
Optional: Decorate the top of the Dino Dig Dessert with dinosaur-shaped chocolates, cookies or candies. I used a Jurassic World Chocolate Dinosaur for extra flair.