Super Hero Piggy Banks
Super hero piggy banks are a fun addition to the kids' bedroom and are a prerequisite for Super Saving children.
This craft is fun because the kids get to use their imagination and create and dress their super hero piggy banks any way they choose.
Here are two proud artists with their super hero piggy banks.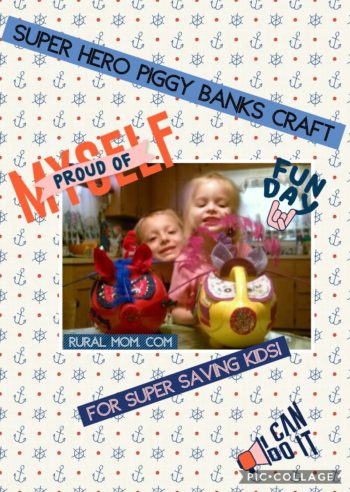 One weekend when my grand children were two and six I invited them over for a weekend. I kept them busy with crafts but one particular craft went extremely well.
After making our Piggy Banks we decided we would save our money and try and go to Disney World.
Directions
I prepared two bleach bottles ahead of time by rinsing them out thoroughly, cutting the openings for the money to go through, cutting holes for the cork legs, and painting them with special paint for plastic.
It isn't necessary to paint the bottles with paint. I just wanted to make them bright and festive. Since my granddaughter is only two then I have cut out some flowers for her to glue on out of felt.
This project is great because there is no set standard on how you decorate it. I found some clearance decorations at a fabric store and let them use them to decorate their pigs.
The kids really used their imaginations and created two cute pigs.
This is a craft you can make with just scrap craft supplies on hand.
Here are some supplies for you to consider collecting for your pig project.
Supplies
Glue Gun
Spray paint for plastic (optional)
Bleach bottle
Felt, for decorating
Pipe cleaner for tail
Feathers
Stickers
Glitter Glue Sticks
Scissors
Buttons or movable plastic eyes
Corks or plastic corks for legs
Magnet strips to glue on the side of the pig so the child can put a picture on the pig to personalize it.