Disney Hyperion sent me a copy of DRAWN TOGETHER to check out and is partnering with me for a giveaway… read on for more details!
My grandfather gifted me with so many wonderful moments and memories.  One of the greatest life skills he taught me was how to swim.
I was so lucky to have grandparents who retired to Florida and to be able to visit them in the summertime.  The very first problem I encountered, though – I was eight years old, surrounded by water I wanted to play in but had no idea how to swim!   With a lot of love and patience, my grandfather taught me the skills and even had me diving off the diving board of their pool by the end of my first visit.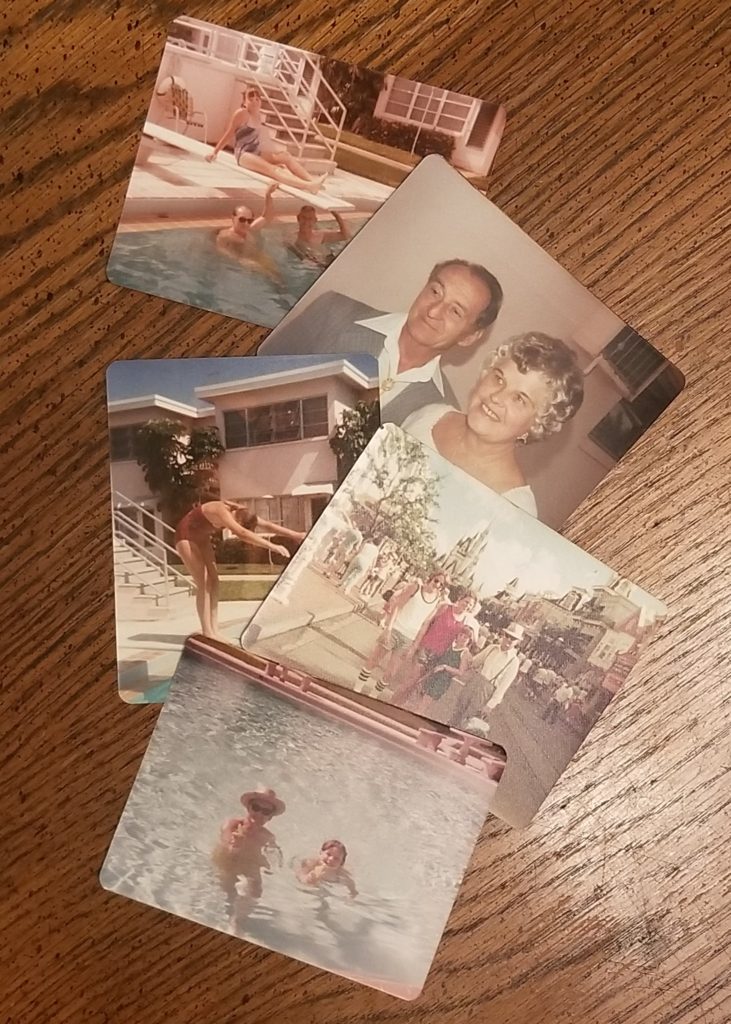 For a young girl, this shared love of water and swimming gave my grandfather and I a special bond that I still cherish.  It also helped boost my confidence and instill a life-long love of water sports.  The first thing I did when my children were old enough to learn was pass this knowledge onto them, teaching them to swim and my daughter has already continued the tradition.
The second I read DRAWN TOGETHER, memories of time spent with my grandfather flooded back and I pulled out my photo albums to help relive some of the moments.  It is incredible how sharing a love of an activity can bring people together in a lasting way.  When I was eight, I didn't exactly speak "grandparent" language or enjoy the same things, but the our mutual love of water and his ability to share his life skills with me, gifted my grandfather and I with a very special bond that transcended any barriers we may have had.
DRAWN TOGETHER is a lovely and loving book about a young boy who finds an amazing commonality with his grandfather than brings them together in a magical way.
The book is beautifully illustrated and a joy to share with your loved ones.  I'm looking forward to sharing it with my granddaughter, who happens to share my love of arts and crafts.  The universal message of transcending barriers to make connections with others is one we all need to take to heart.
Available in stores now, DRAWN TOGETHER a book you will cherish and one that will fill you with joy!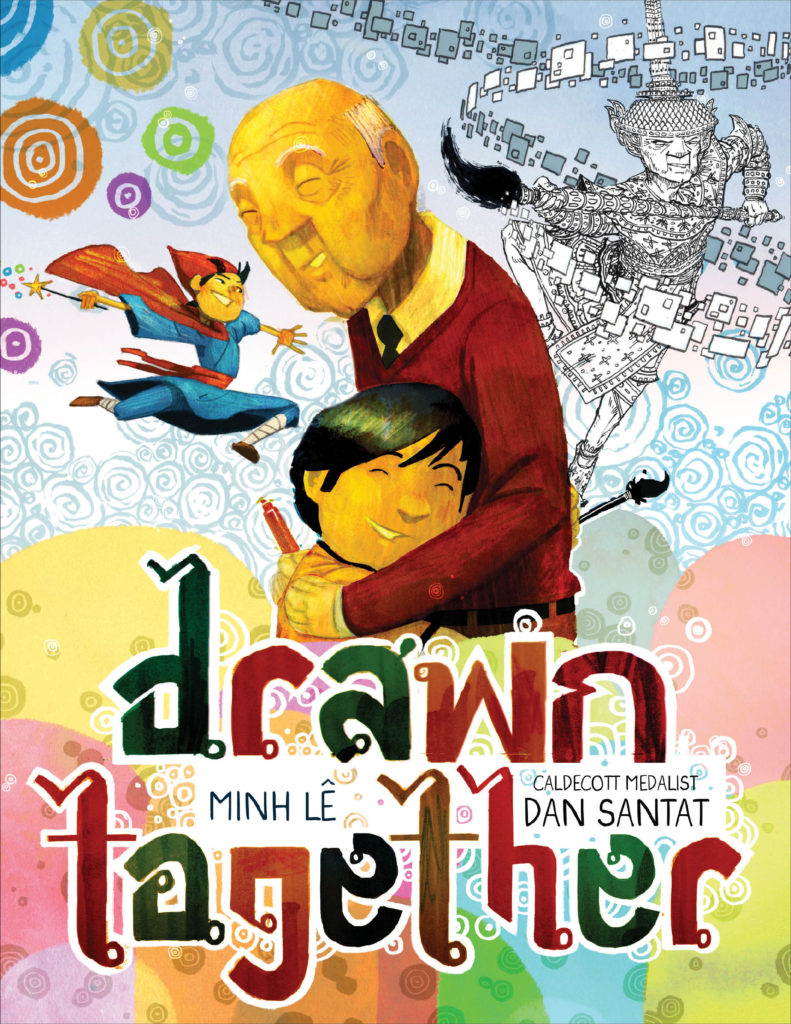 About DRAWN TOGETHER
Author Minh Lê and Caldecott-winning illustrator Dan Santat join forces in a heartwarming story of a grandfather and his grandson as they learn to overcome their language barrier through a shared love of art and storytelling.
When a young boy visits his grandfather, their lack of a common language leads to confusion, frustration, and silence. But as they sit down to draw together, something magical happens—with a shared love of art and storytelling, the two form a bond that goes beyond words. With spare, direct text by Minh Lê and luminous illustrations by Caldecott Medalist Dan Santat, this stirring picture book about reaching across barriers will be cherished for years to come.
For more information:
About the Author of DRAWN TOGETHER
Minh Lê is a writer but, like his grandfather, is a man of few words. He is a national early childhood policy expert, author of Let Me Finish! (illustrated by Isabel Roxas), and has written for the New York Times, the Horn Book, and the Huffington Post. A first-generation Vietnamese-American, he went to Dartmouth College and has a master's in education from Harvard University. Outside of spending time with his beautiful wife and sons in their home near Washington, DC, Minh's favorite place to be is in the middle of a good book. Visit Minh online at minhlebooks.com or on Twitter @bottomshelfbks.
Minh Lê's debut, Let Me Finish!, received critical acclaim, and this new picture book once again demonstrates his sensitivity to readers and mastery of the form.
About the Illustrator of DRAWN TOGETHER
Dan Santat is the author and illustrator of the Caldecott Award-winning The Adventures of Beekle: The Unimaginary Friend, as well as The Cookie Fiasco, After the Fall, and others. He is also the creator of Disney's animated hit, The Replacements. Dan lives in Southern California with his wife, two kids, and a menagerie of pets. Visit him at dantat.com.
Dan Santat's illustrations are robust, vibrant, and packed with emotion, a perfect match for Minh Lê's poignant, and ultimately cheerful, story. Learn about the Drawn Together art process from Dan Santat himself!
DRAWN TOGETHER Giveaway!
Thanks to our partnership with Disney Hyperion, one (1) Rural Mom reader will win a DRAWN TOGETHER Prize Pack that includes:
Copy of Drawn Together
plus a $50 Visa gift card to put towards a day with someone you love!
Giveaway open to US addresses only.
Prizing and samples provided by Disney-Hyperion.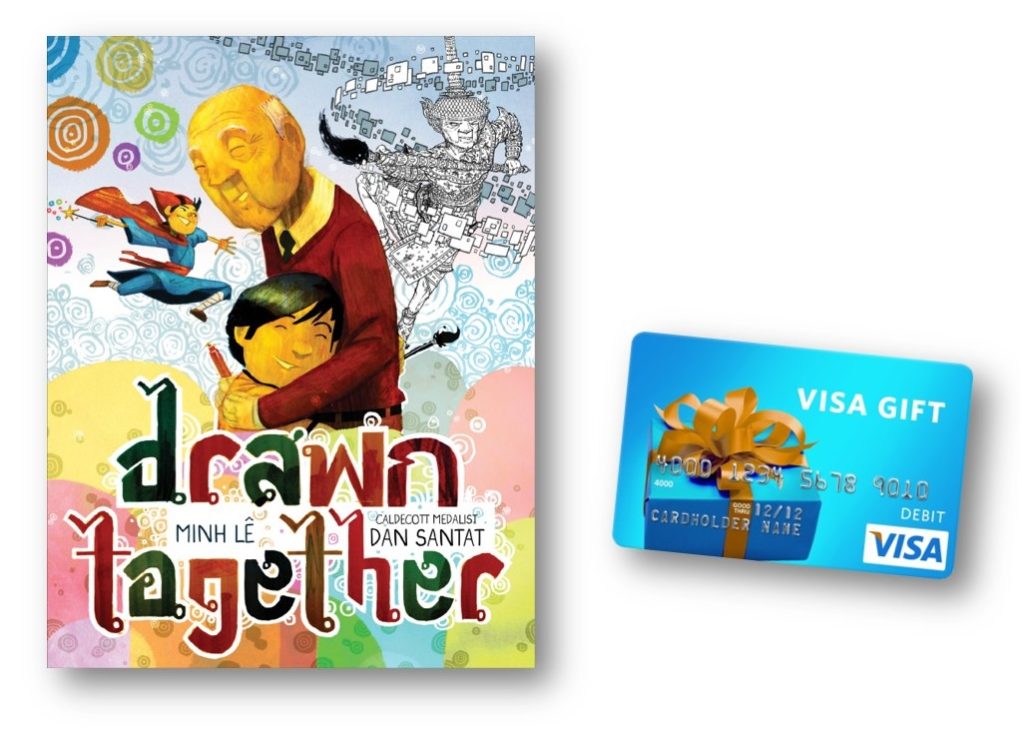 ENTER via the Rafflecopter below:
Do you share a common interest with your grandparents or grandchildren?