I've been to many events in my life, but none quite like this. I was awestruck from the second I stepped foot on the SOLO: A STAR WARS STORY premiere red carpet to this very moment right now, where I am pinching myself as I write this to ensure it wasn't all just a spectacular fan girl dream! Many, many thanks to Disney for including me on this all-expense paid trip to the premiere.
On the red carpet of SOLO: A STAR WARS STORY Premiere
Whenever I return home from a red carpet premiere, friends and family always want to learn how it was and what celebs I rubbed elbows with.  The easy part is rattling off the list of talent I had the good fortune to fawn over – and the SOLO: A STAR WARS STORY (in theaters May 25) had an abundance of mega-talent that caused me to rubber-neck plenty as I walked along. 
Moments after I started along the path the theater, I saw Alden Ehrenreich (Han Solo), Ron Howard… and George Lucas!!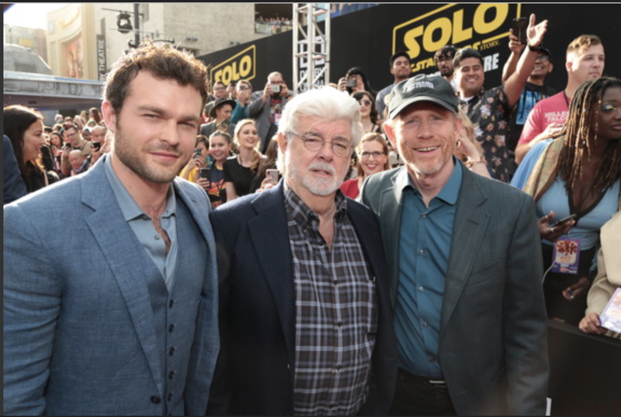 Honestly, took all I had to keep it together and not combust from joy overload!
When I finally looked upward, I felt like my life had somehow circled back to the first time I saw the the Millennium Falcon take off on the big screen in '77 to standing underneath a reconstruction of this magnificent vehicle shadowing the SOLO: A STAR WARS STORY red carpet.  Totally surreal!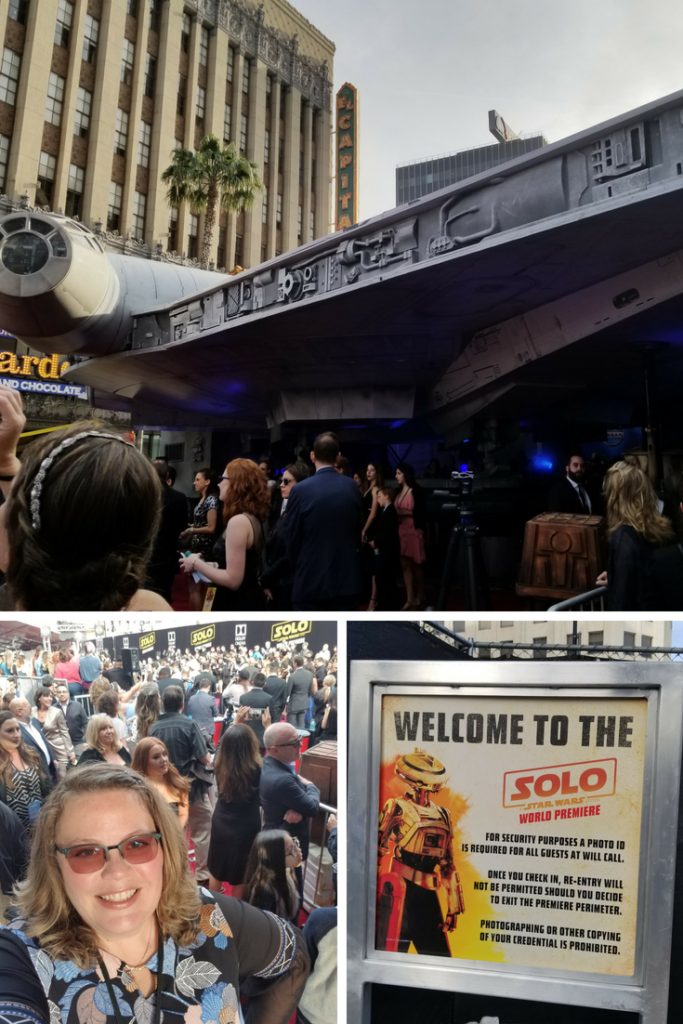 Within a minute of trying to process that I was just on the red carpet where George Lucas had just walked by, I spotted Emilia Clarke (Qi'ra), Woody Harrelson (Tobias Beckett,) Donald Glover (Lando Calrissian), Billy Dee Williams (former Lando Calrissian!), and Phoebe Waller-Bridge (L3-37).
The scene is like trying to watch 12 television episodes simultaneously and somehow soak it all in.  It makes you a bit dizzy, giddy and flustered as you try desperately to fully absorb the dreamlike excitement of the moment.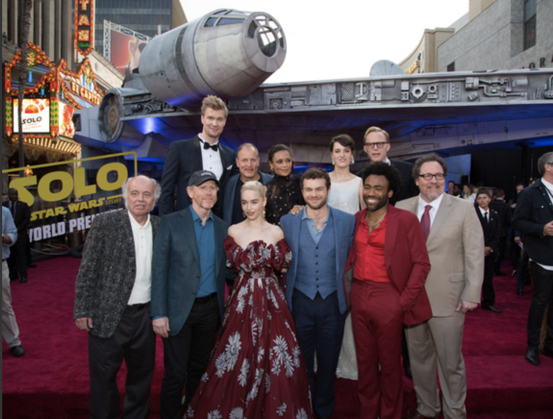 After a jumble of "ooh" and "ahh" moments meshed in with a scramble to remember I was actually there to work, not just fan-girl-geek-out, I managed to get in a photo or three and then – bam! you are at the end of the ride.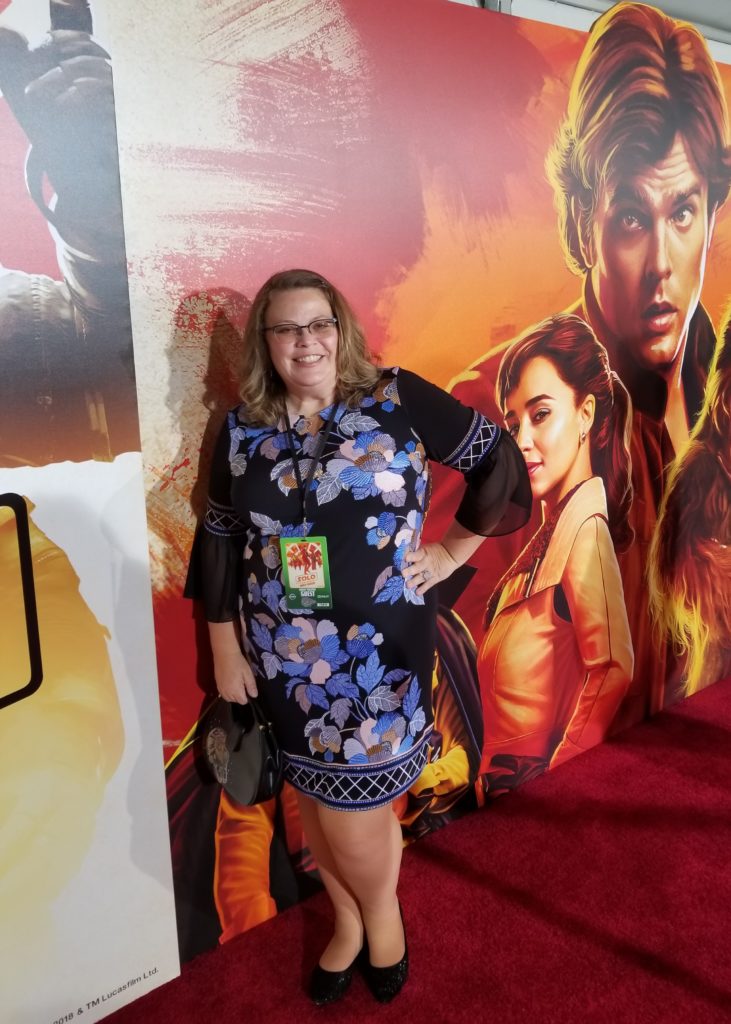 This is when you try to grab some fun photos of your walk down the carpet and sometimes have something wildy-wonderful happen like bumping into Jon Heder (who I also met on THE JUNGLE BOOK red carpet,) and who was lovely enough to indulge me with a fun selfie moment. of our reunion.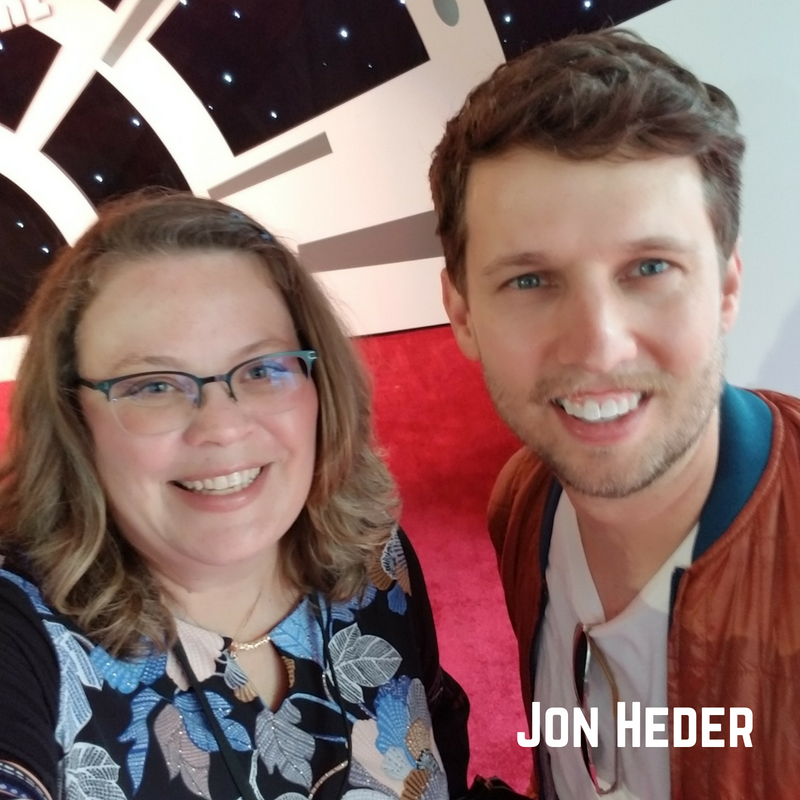 Inside SOLO: A STAR WARS STORY Premiere
At the end of the red carpet, everyone converges into a large bubble where we all grab our popcorn and drinks and then head out to find our assigned seats for the show.  I had a primo view of the screen sitting in orchestra left at Dolby Theater in Hollywood.  Before I sat down, I spotted Mark Hamill, Peter Mayhew and Ewan McGregor just a few rows behind me!!
Right then, at that very moment gratitude washed over me in waves.  I realized that in a few moments I'd be among the first to ever see SOLO: A STAR WARS STORY alongside a room full of incredible Hollywood talent.  In my wildest dreams this wasn't on my bucket list, but this was a spectacular bucket list once-in-a-lifetime-moment for a Star Wars fan if there ever was one!
I can't share much about the film with you yet, but you can take a peek at the trailer:
And get my first reaction to this wonderful movie:
For the record as a #SWfan who had her doubts: The first thing I adore about #SoloAStarWarsStory is they aren't trying to replace or remake our beloved characters. It's Han, Lando and Chewbacca on their way to becoming Han, Lando and Chewbacca and… it's epic! #HanSoloEvent pic.twitter.com/Y2EZbP9stF

— Rural Mom (@ruralmoms) May 12, 2018
At the after party for SOLO: A STAR WARS STORY Premiere
If you have the good fortune to have a golden ticket invite to the after party (which I did – squee!!), when you leave the theater, you follow a special path to a magical venue decked out with movie-themed buffets, posters, special activities and mega-talent galore. 
Here you are shoulder to shoulder with people from all areas of the film industry, working the room with tons of congratulations and awe-struck moments when you come face to face with the talent you most adore.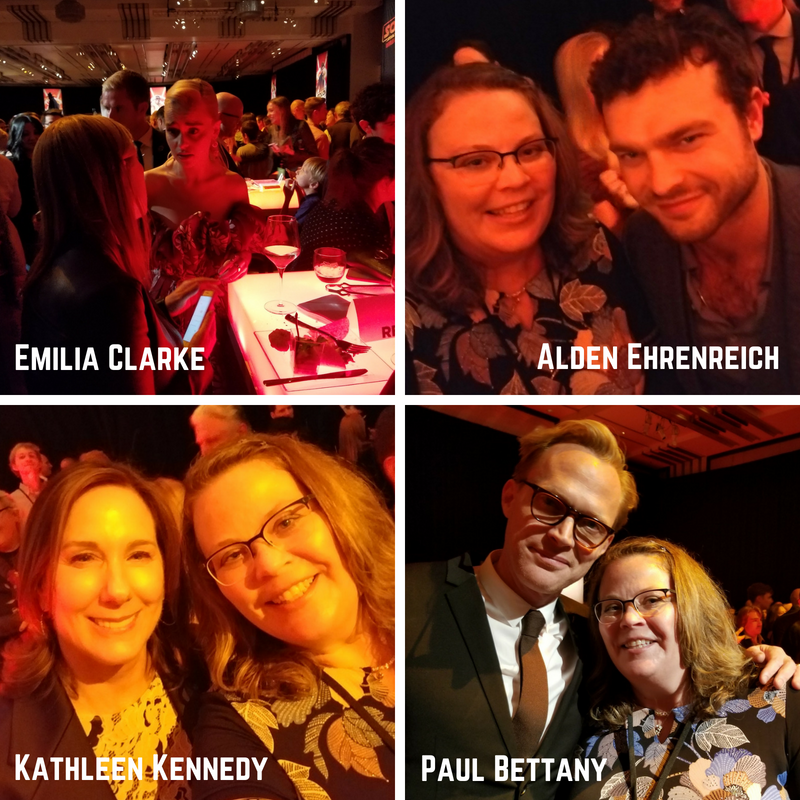 One of the magical moments I didn't get on film but will forever hold in my heart is getting the opportunity to shake Billy Dee Williams hand and share with him how much I loved and admired his acting talent all these years.  He was incredibly gracious and we chatted like old friends for quite some time.  I did ask him what he thought about the younger Lando Calrissian and he shared that he thought Donald Glover "did a fine job."
Some of the super fun displays at the after party were the costumes from SOLO: A STAR WARS STORY: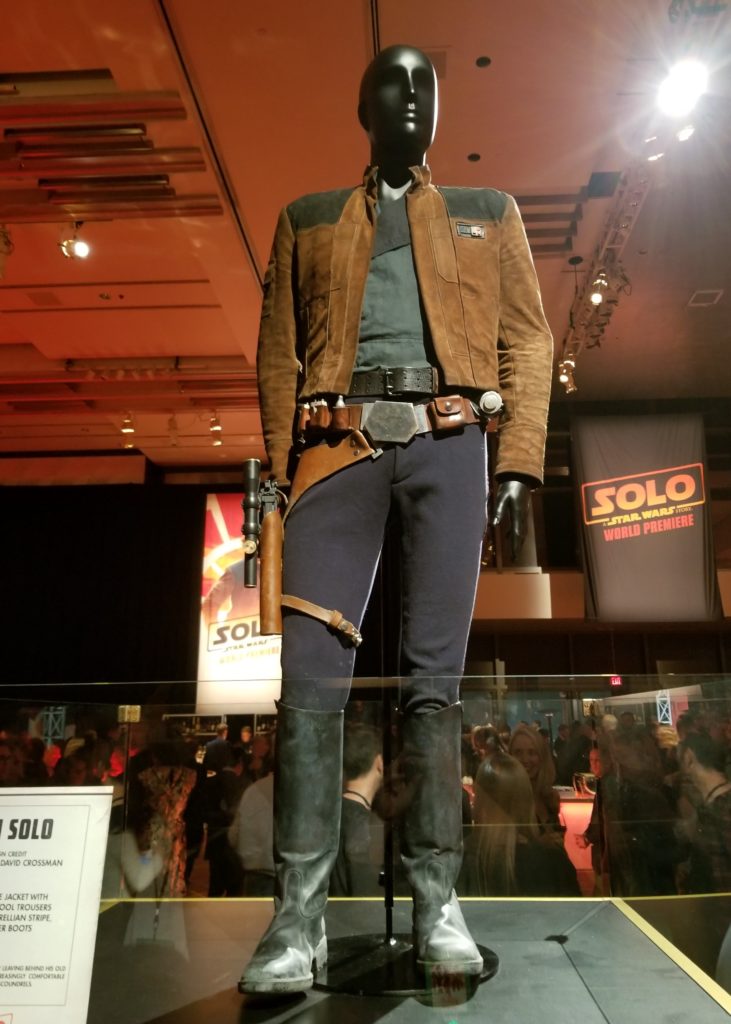 Vehicle designs from NISSAN: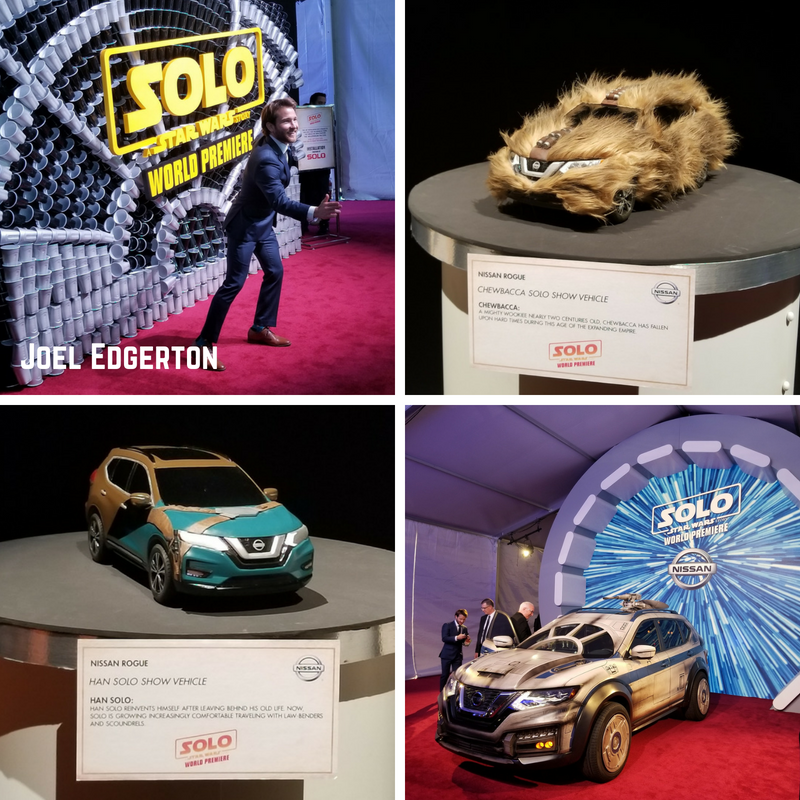 And the opportunity to build your own Millennium Falcon LEGO, participate in green screen video opps, and photo opps with Storm Troopers and Chewbacca (I was lucky to get a photo opp with the man behind the Chewbacca mask, Joonas Suotamo.)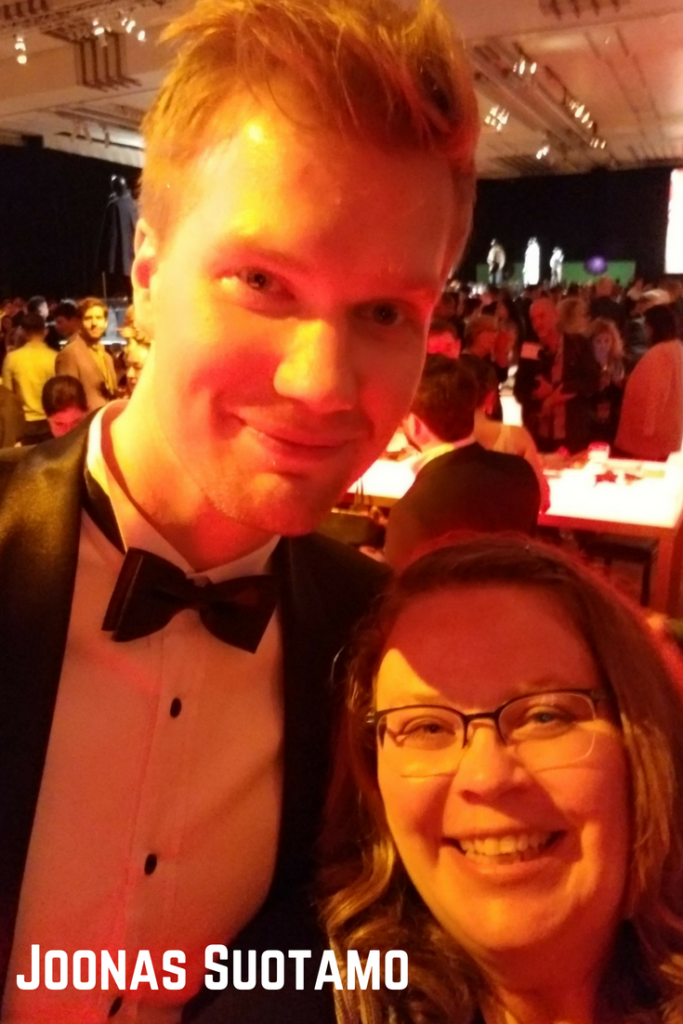 At the end of the evening you are exhausted, full of joy and wonderful anecdotal memories to share and certainly, never left wanting!  I will always be mesmerized by the bright lights of Hollywood, the wonder and magic of the red carpet festivities but I think that my SOLO: A STAR WARS STORY premiere red carpet experience will be really hard to top.
On this particular red carpet, many of the stars dreams were fulfilled and so were mine!