Have you ever wondered what goes on behind-the-scenes of your favorite television show? Thanks to my partnership with Disney and ABC TV, I had the chance to be on the set of GENERAL HOSPITAL (GH) to get a glimpse of the magic of television and some insider views to share with you… read on!
Created in 1963, GENERAL HOSPITAL just celebrated 55 years on television. Yes, 55 years! That makes it one of the longest running scripted drama series in the world and is an awesome tribute to the producers, writers, cast, crew and all the talent.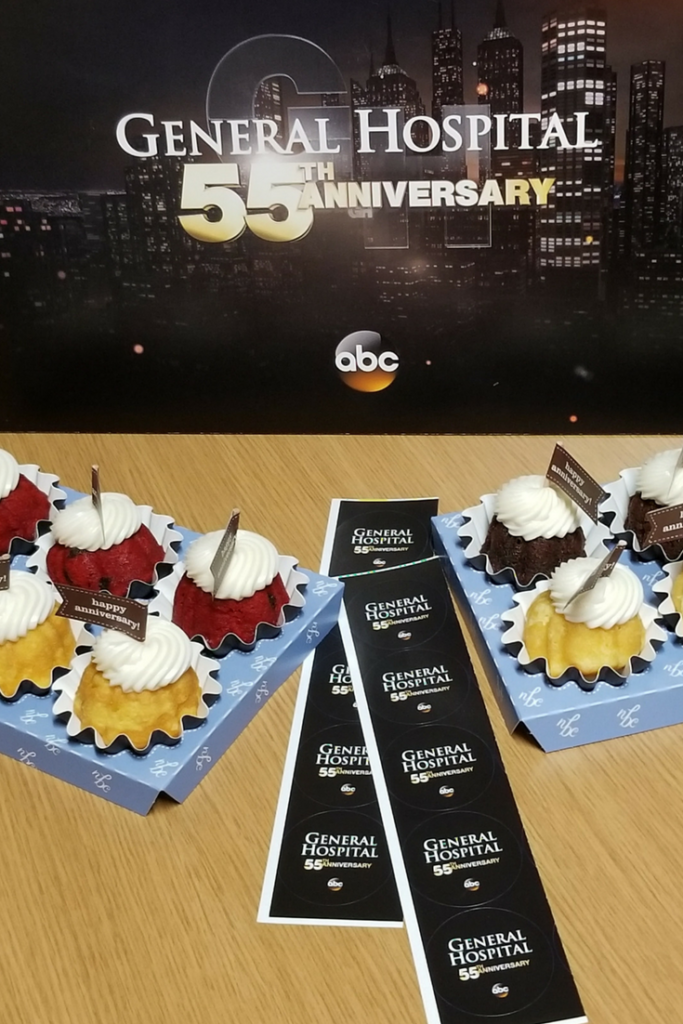 I remember vividly in the '80's how prominent the super couple from GENERAL HOSPITAL, Luke and Laura were.  A friend of mine told me recently that they his college campus was even shut down when Luke and Laura's wedding was aired.  The faculty knew everyone would be glued to their televisions to watch it.  Now, that's one powerful show!
Throughout the years, the show has featured some highly recognizable talent such as Allison Hayes, Mark Hamill, Neil Hamilton, Rick Springfield, Ricky Martin, Shari Belafonte, John Stamos, and Corbin Bernsen.
Celebrity guest stars including India Arie, Elizabeth Taylor, James Franco, Shaun Cassidy, George Takei, Rosanne Barr and Billy Dee Williams also appear in episodes.  All certainly contributing to the show's long-running success.
Fun fact – Meghan Markle appeared on an episode of GENERAL HOSPITAL in 2002 and her father was a lighting director for GH!
Tune in below to learn all about my experience on the set of GENERAL HOSPIAL and tune in to the GENERAL HOSPITAL website for more information.  GENERAL HOSPITAL airs weekdays on ABC (check your local listings) or via live streaming on the app.
On the set of General Hospital
Walking onto the set of General Hospital is a fascinating experience.  The set is sort of like a large warehouse with clusters of mini rooms surrounded by an incredibly complex maze of camera, sound and lighting equipment.
While the rooms on the show appear to be quite expansive, in reality they are relatively small.  They all have 1-2 open walls, making it easy to film.  As our guide explained, that's the magic of television – the ability to bring the sets to life and give them the "realistic" depth they have onscreen.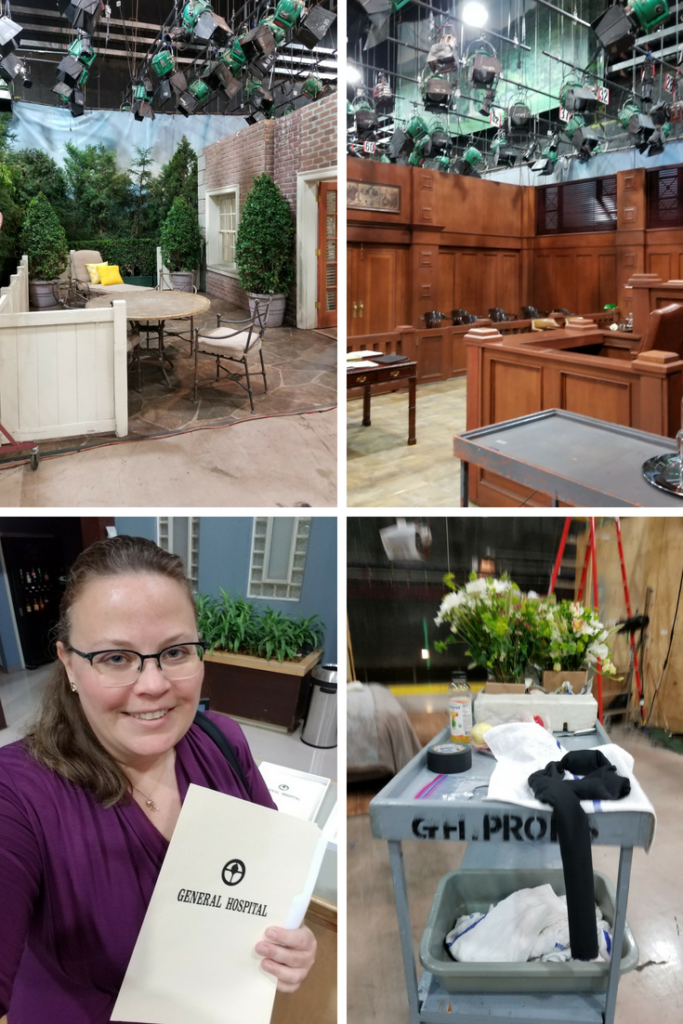 The set we visited has been the current studio for GH for approximately 25 years, but everything looked bright and pristine as we explored as if it were all built within in the last week.  Indeed… some of the sets were built recently (but I won't give away any spoilers!)
We learned that other things aren't always as they appear to be on set, including items as small as the snacks in the vending machines.  Most are simply common products with a fun label stuck on so as to not infringe on any copyrighted material (see photo below.)  Again, part of television magic to make ordinary objects seamlessly blend in so that you have a quality viewing experience.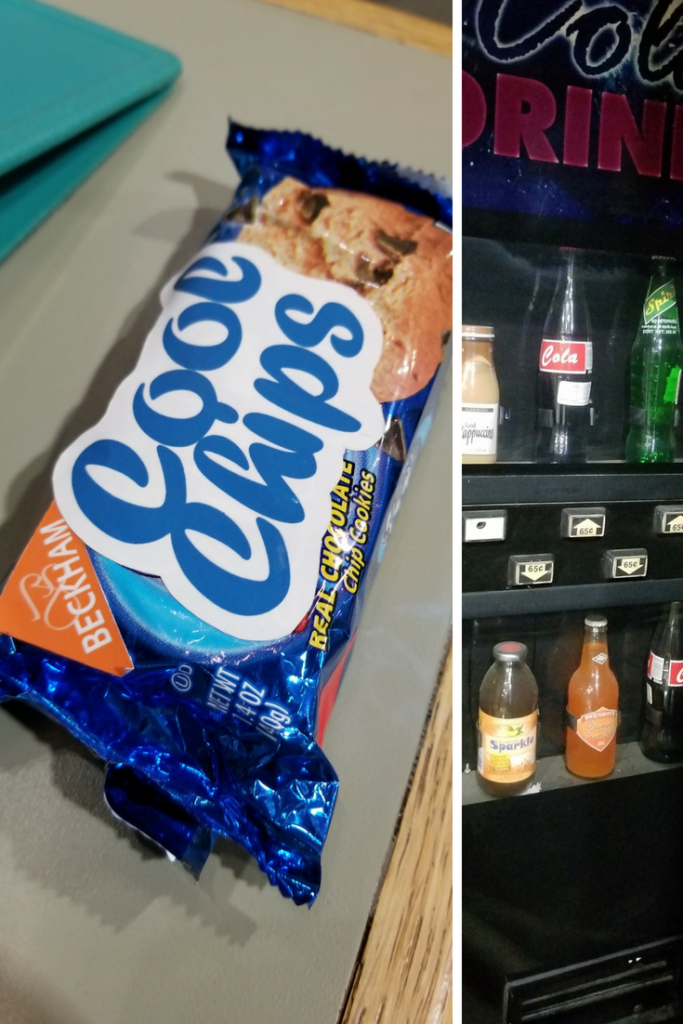 Fun fact – Actors often substitute their preferred drinks for bar and restaurant scenes. The drinks you see are generally not real alcohol, substitutes like iced tea, club soda and non-alcoholic beer are used instead.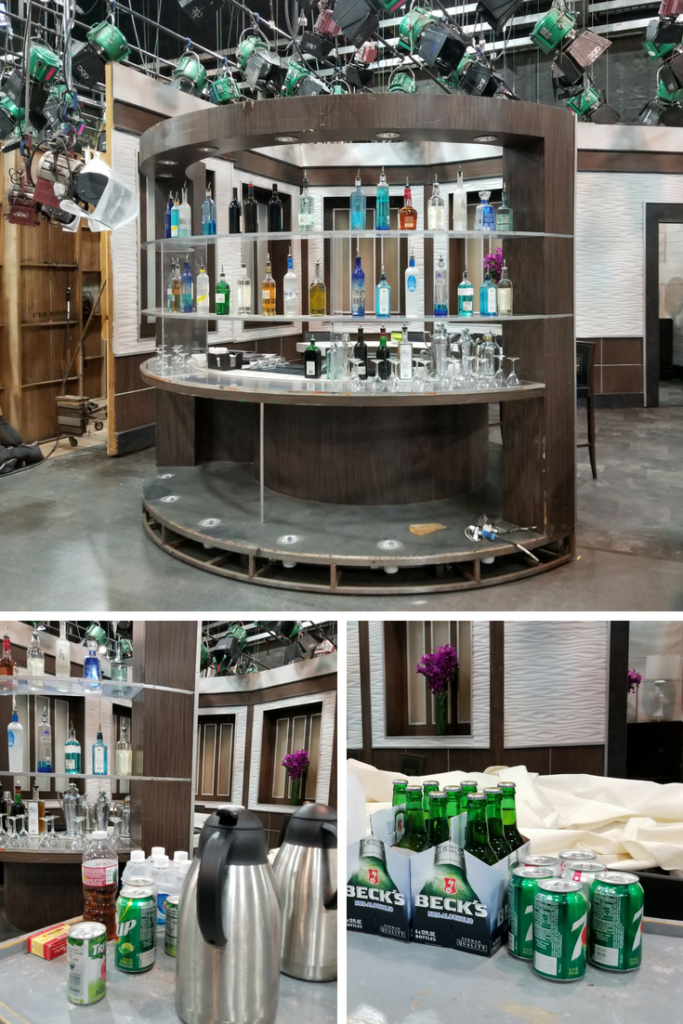 When we were "let loose" on the set, we had a bundle of fun snapping photos on the iconic set.  I had a great time practicing poses with my dear friend Debra of FindingDebra.com.
Do you think we might get a casting call back from our audition? Debra may (she looks like a natural!) but I'm not waiting by the phone (ha ha!)  I am savoring the moment and memories, though, from this special day on set!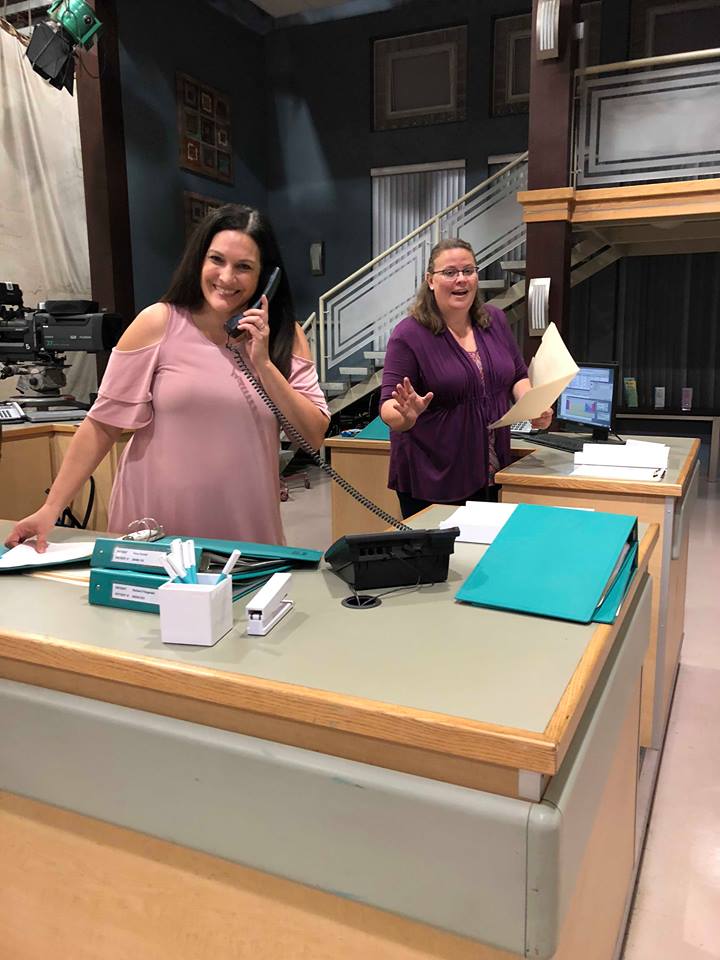 Meet and Greet with Frank Valentini and Joshua Swickard
During our visit to the set of GENERAL HOSPITAL, we met up with some amazing talent from the show including Executive Producer Frank Valentini and actor Joshua Swickard, who plays "Detective Harrison Chase" on ABC's GENERAL HOSPITAL.
Frank Valentini became executive producer of ABC's GENERAL HOSPITAL in January 2012 and Joshua Swickard is a more recent addition to the GENERAL HOSPITAL cast.
Valentini shared a special sneak peek with us of Swickard's upcoming top-secret performance in the Nurses' Ball.  I won't give away any spoilers about the scene but I can say Swickard has a great voice.  It's a super fun segment that's wonderfully performed and after watching it, I became an instant fan of the show!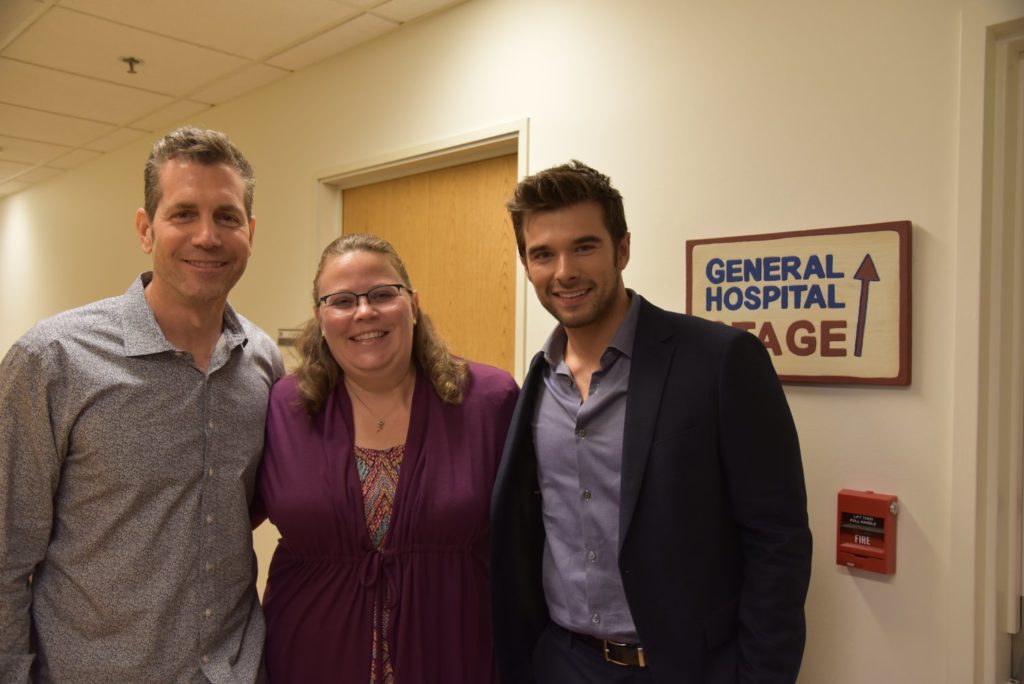 GENERAL HOSPITAL'S Annual Nurses' Ball airs Wednesday, May 16 through Monday, May 21.  Sponsored by Olay this year, the Nurses' Ball was originally founded in 1994 by Port Charles resident Lucy Coe (Lynn Herring.)  It's known to be a very glamorous charity event in Port Charles and is dedicated to HIV/AIDS awareness and research.
This year, celebrity guest appearances include "The Chew"'s Carla Hall and "The Bachelor"'s Nick Viall. In her debut performance, Hall takes on an infamous role decades in the making; while Viall joins Aurora media maven Nina Clay (Michelle Stafford) on the red carpet, as they welcome viewers into what promises to be a memorable night. From Sam McCall's (Kelly Monaco) stunning arrival to Sonny Corinthos' (Maurice Benard) unwavering support and Jason Morgan's (Steve Burton) tireless search for answers, as well as never-before-seen musical performances and a surprise proposal, the Nurses Ball promises to be this year's can't-miss event!
One of the things that keeps viewers returning year after year is the shows' dedication to staying current and addressing real issues, raising awareness as the Nurses' Ball does.  Valentini shared that the show is so much "more than just storytelling."  It's about setting examples and confronting real issues.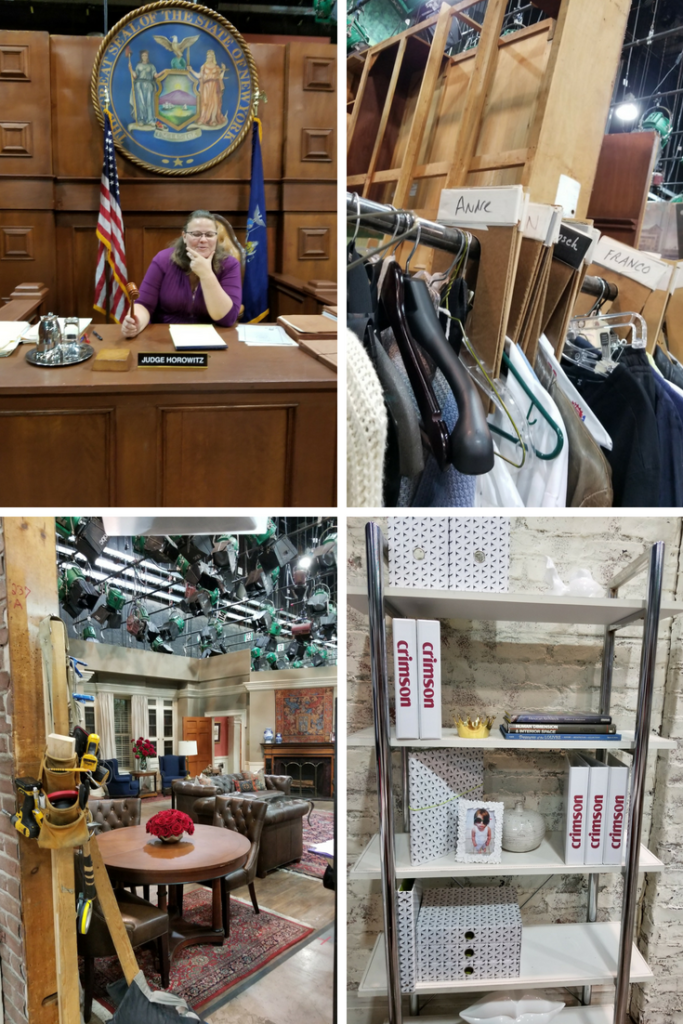 After spending time on set and talking with the show's talent, I can easily see what makes GENERAL HOSPITAL so special.  There is care in every detail from the script to the set that truly delivers a terrific experience for the audience.
While Valentini didn't quite have the answer to what we can expect for the next 55 years for GENERAL HOSPITAL, I feel confident we can expect the show to continue to delight and bring a bit of magic to our daytime TV!