Our pets are more than just animals, they are family members. As such, we like to ensure that we are parenting them well. Just like children, our Great Pyrenees need all the basics of a safe environment, food and shelter but also just like children, they need extra attention to truly thrive.  Today we're chatting about the importance of gifting your large breed dog with time, attention and special treats today in partnership with Milk-Bone, a dedicated to helping to ensure a lifetime of health and vitality for your dog!
Similar to children, each dog has individual needs and personalities, and each will respond to your efforts to enhance their quality of life differently. There are a three universal steps you can take, though, that will help gift your dog a little extra TLC, regardless of breed or disposition.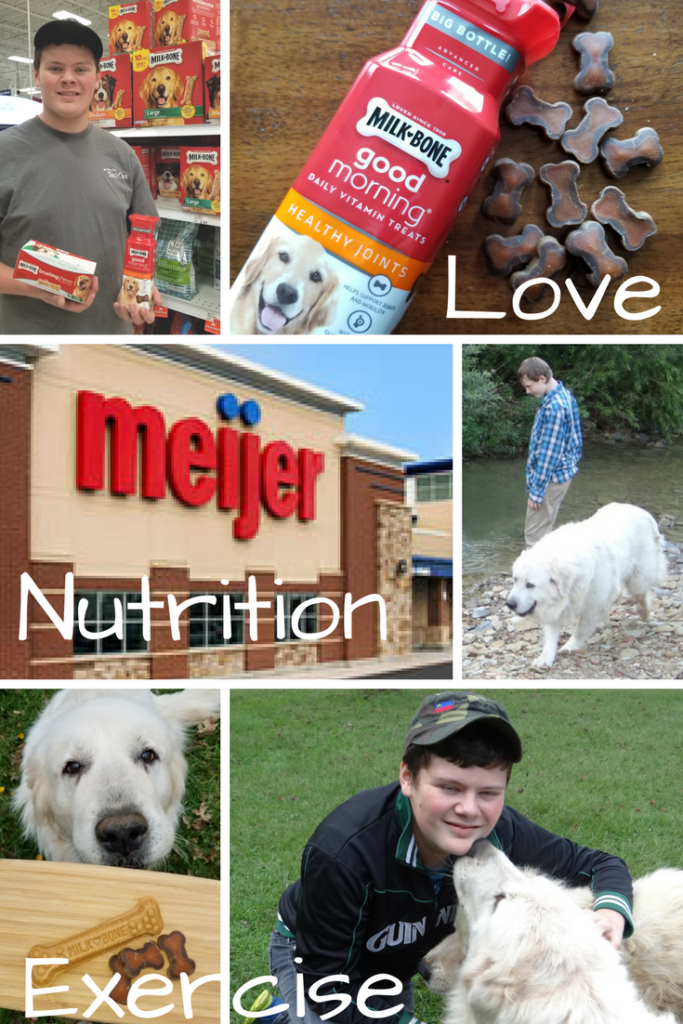 Love
Our family has several ways of taking extra-good care of our pets, but the very first thing we strive to do is to gift them with our time. It's easy to get distracted throughout the week with busy school and farm schedules, so we make a point to schedule in time each day to spend with our dogs just petting them and often brushing their coats, too.
There are always a few snuggles and fun conversations involved. Though our dogs may not understand clearly what is being said, I think talking to your pets can be therapeutic for both human and dog! My sons have been known to share a secret or two and our dogs are excellent friends to do so with (of course, because they always keep things confidential!)
Even when we don't have time to schedule them in, we always make a point to pet them and say "hello" each time we feed or see them throughout our day. It's definitely the little moments that count and add up to one happy farm dog!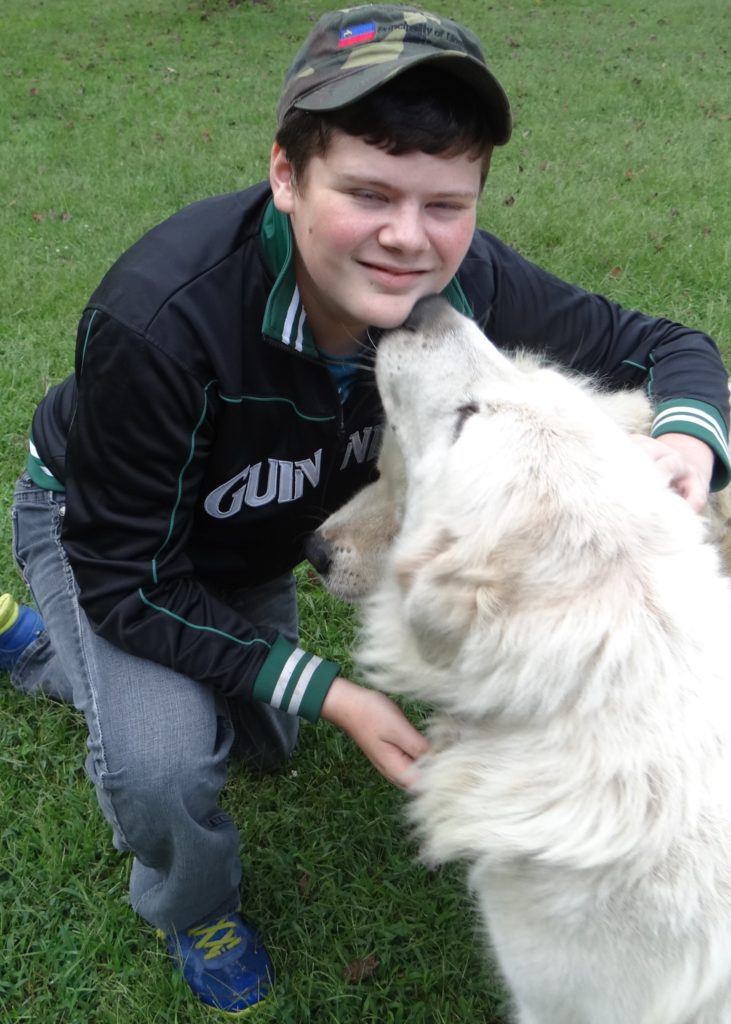 Exercise
The next step we feel is important to pampering our pets is to ensure they have ample time for exercise and a change of scenery. Though they are farm dogs and have plenty of room to roam, taking our dogs for regular walks throughout the week ensures that they stay fit.
Just like humans, dogs can get a little lethargic and prompting them to go on a fun walk helps ensure they stay healthy. It's also a great time for bonding with your pet, training them, and to gift them variety in environment.
Dogs love to explore, too. Our dogs happen to love splashing in the creek on our farm, too, but as it's outside our main fence line, we have to take them down there to do so. It's a terrific time for my sons, too, who enjoy skipping rocks with their best pals!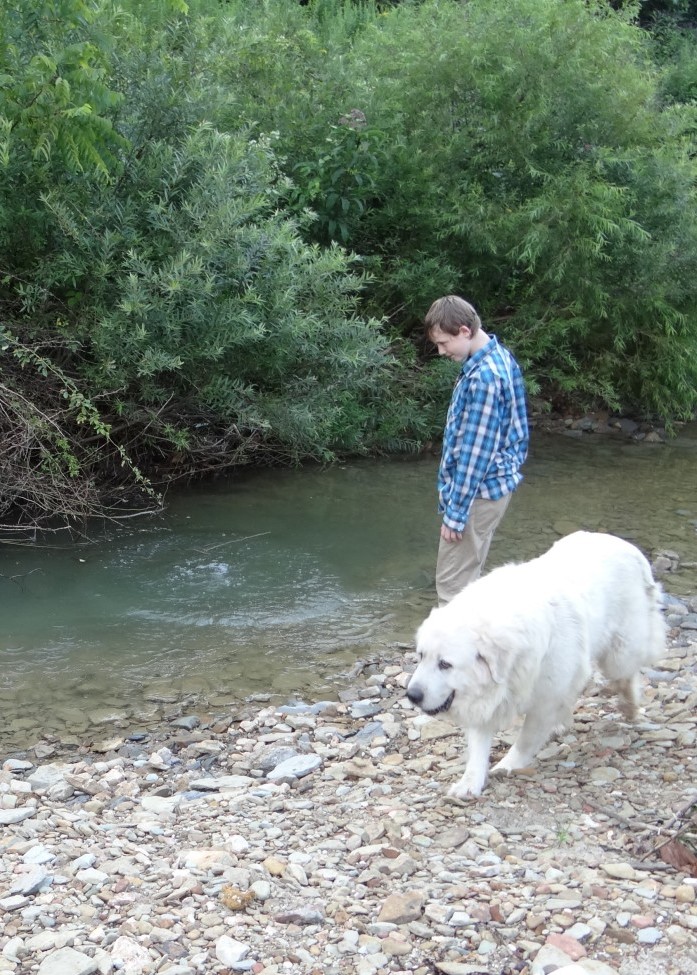 Nutrition
Treating your pets to quality treats like those found in the Milk-Bone Advanced Care Line is another way to show your dog extra TLC. Food is a basic necessity, but just as you worry about what snacks your children have throughout the day, doing the same with your dogs is important. Milk-Bone Brushing Chew Dental Treats and Milk-Bone Good Morning Daily Vitamin Treats are fun snacks for your pups that are also designed to help your dog lead an active and wonderful life.
Just like humans, it's important for dogs to keep their teeth clean and strong.  Milk-Bone Brushing Chew Dental Treats taste like a delicious treat to your dog and help clean your dog's teeth in the process.  The special design is a terrific enhancement for your daily oral care routine.  Available in multiple sizes, they even have a Large bone perfect for our large breed dogs.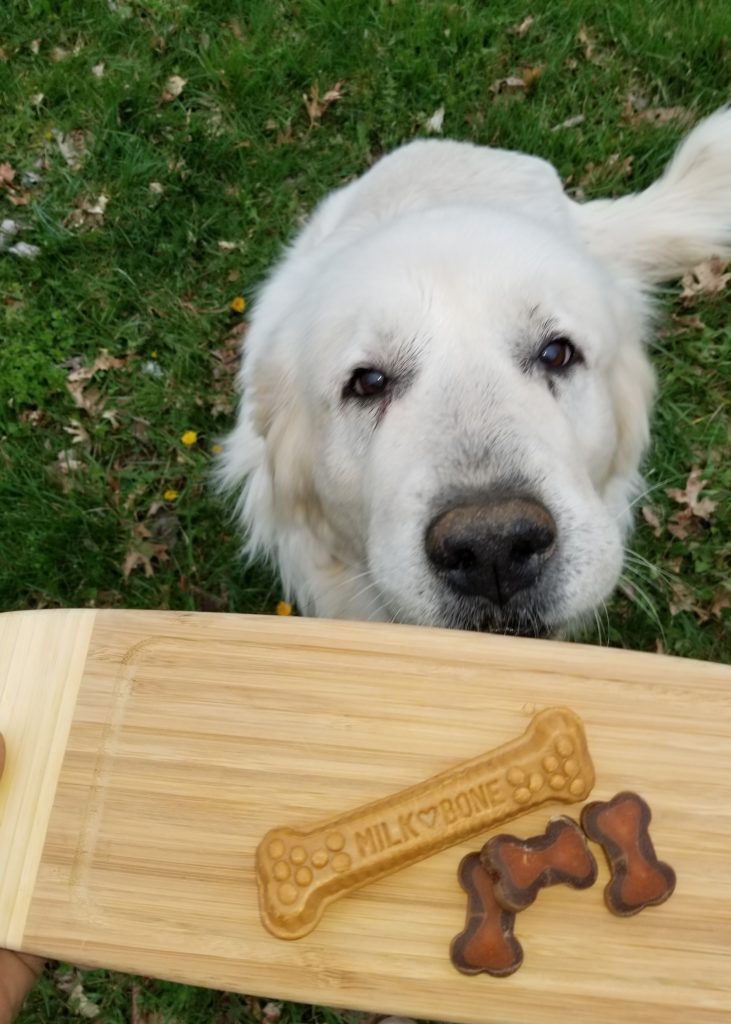 Milk-Bone Good Morning Daily Vitamin Treats are formulated to help with specific areas like skin and coat or overall wellness.  The Milk-Bone Good Morning Daily Vitamin Treats- Healthy Joints formula is the blend of choice for our crew.  Large breed dogs often suffer from joint problems and every little bit of extra support we can give them in this area is beneficial.  It also makes us feel great the these treats have no by-products or meals, no artificial flavors or preservatives and the #1 ingredient is chicken!
If you already have a standard routine or dog food that your pet enjoys, consider adding in a these treats to your normal routine and occasionally buying a special bone for your dog to enjoy. We also purchase (grass-fed cow) bones directly from our butcher. This is an exceptionally fresh, wholesome treat for our dogs and one we know they go ga-ga over!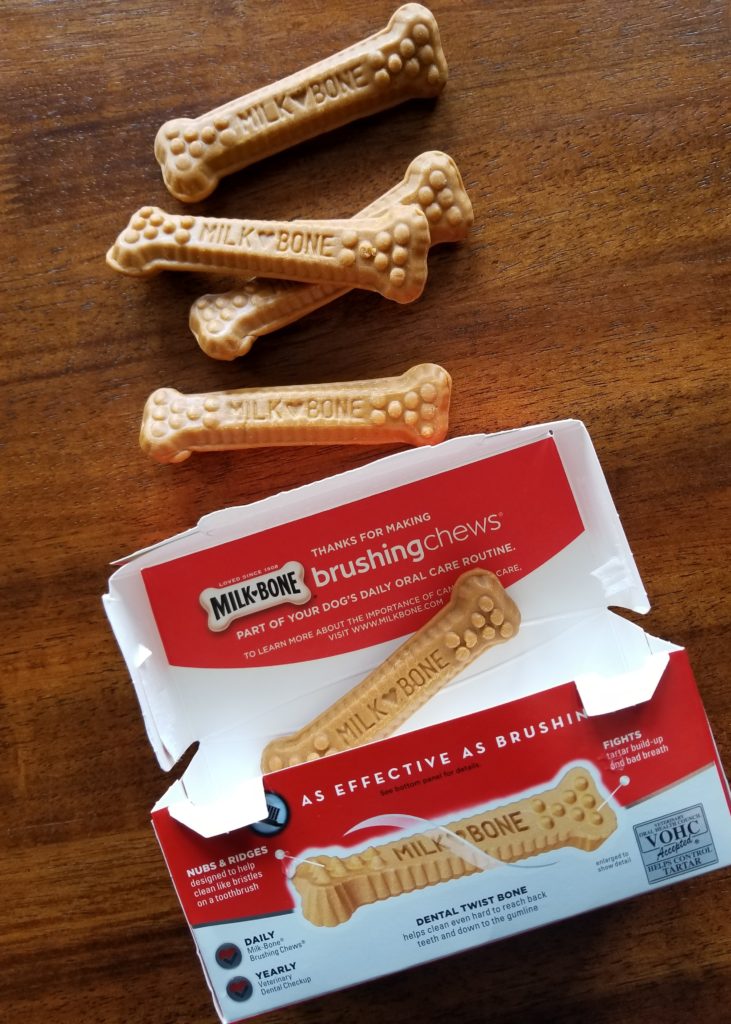 SHOPPING TIP:  Right now, one of our favorite go-to stores, Meijer, has a fabulous MPerks offer for you to save on Milk-Bone Advanced Care Line products – Save 1$ on any Milk-Bone Advanced Care product for up to $3 in savings. (Offer valid through 4/28/2018.)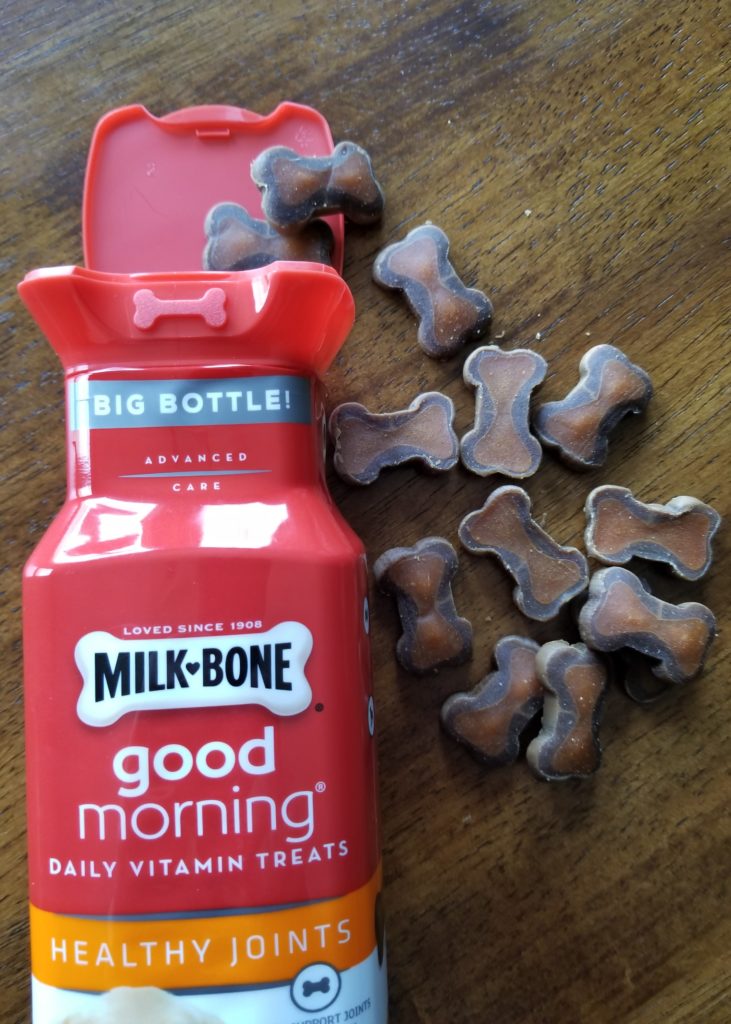 We feel the above three steps are the most important ones you can do to give your dogs a little extra TLC each day, but of course there are many others ranging from purchasing exercise toys and plush sleeping pillows to taking your pet in for a dog massage or "peticure." Even though we do a lot of our own grooming, we opt to take our Great Pyrenees to the groomer at least once a year for a special day. This treatment helps us to keep their thick hair from getting too matted and they seem to enjoy the pampering.
Do you have additional tips for showering your dogs with a little extra TLC to share? We'd love to hear them!