This week Nintendo Switch celebrated its first birthday and we've partnered with GameStop to share their perfect party game – the Nintendo Switch Challenge!  Read on…
The #NintendoSwitchChallenge is a super fun and wacky way to play Mario Kart! We recently added a Nintendo Switch to our game play are are totally hooked! As Switch family, we had to try the Nintendo Switch Challenge out for ourselves—check out our video below.  It was such a blast to watch my sons work their way through the challenge and they truly enjoyed watching their results after.
Now, it's YOUR turn! Film your race, then post it all over social media!
Make sure tag @GameStop with the hashtag #NintendoSwitchChallenge. They are going to be giving away a bunch of awesome Switch accessory prizes for fans who do the challenge.
Be sure to tag me too! I would love to see how your race compares to ours.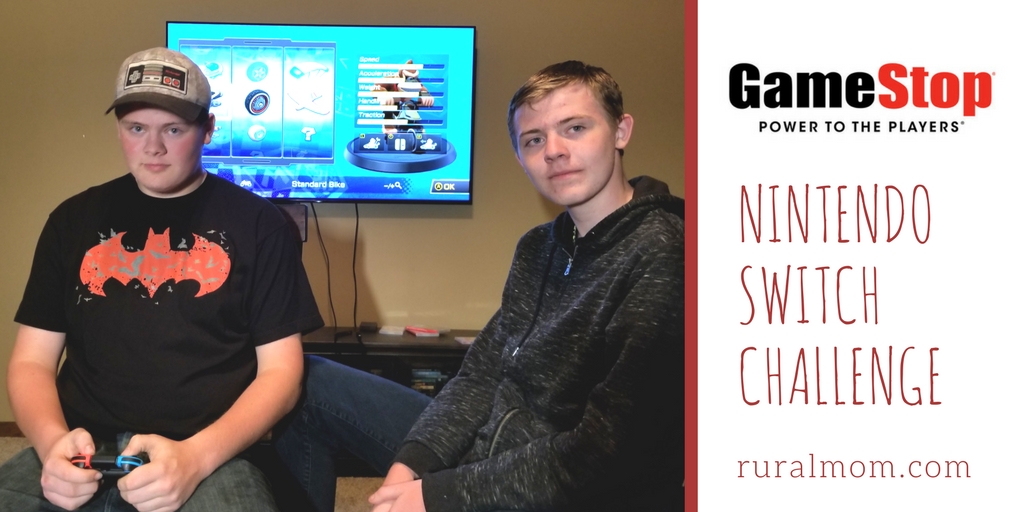 How to complete the Nintendo Switch Challenge
Ready, set, go…. here's how to play:
You'll Need: At least two players, a Nintendo Switch and Mario Kart 8 (don't have a Nintendo Switch? Don't worry—GameStop has you covered! More than 1,400 stores have a demo Switch, where you can film your challenge – check out their Switch store locator to find the nearest Switch-ready store near you)
Player One: This is the "Commander," who sits facing the screen – it's also fun to have more than one Commander, just beware—it can get a little loud!
Player Two: The "Driver" sits with their back to the screen (or blindfolded)—with the Joy-cons or controller
Rev Your Engine: Start up your Switch, fire up Mario Kart 8 and get ready to put your skills to the test
The Challenge: The Commander guides the Driver through the course –telling them when to turn, use their items, avoid running into walls and cows and fences…
Share: Post your best race on your Facebook, Twitter, Instagram and/or YouTube channel! Make sure to tag @GameStop with the hashtag: #NintendoSwitchChallenge
PS: Also be sure to check out all the awesome deals at the GameStop Nintendo Switch Sales Event and a special giveaway on Rural Mom HERE!