As the big 5-0 birthday is looming next year, I've been doing a lot of soul-searching about what I have and haven't achieved and experienced yet in life thus far. I'm happy to (and blessed to) find in my reflections that I have lived a very full life and have plenty of lovely milestones to celebrate.
Like everyone, though, there are those things, big and small, that I really want to accomplish or enjoy and so I decided to make a "50 by 50" list this year.  This list is in the spirit of the popular "50 states by 50" goal that many people are fond of trying to meet.  High on my list was taking time to read, a hobby I'm very passionate about but somehow let fall to the wayside in recent years.
My initial goal is to read a book a month, but I'll give myself bonus points and perhaps a fun gift if I can manage to squeak in 50 more books by 50 (15 months to achieve!) This may sound daunting, but I'm a fairly fast reader, so on average, I can knock out a novel in a few days if I allow myself time.
What will I be giving up in the process?  Thankfully, what I consider some not-so-great habits.  In order to find time to read, I had to take a look at where I could carve out time in my life to do so.  The obvious swap was to now opt to read instead of watching television.  I'm also tucking my Kindle in my purse so I can get in a little reading time during down time like when I'm a passenger in our car, at the doctor's office and so on.  I think those two things will help me easily squeak in enjoyment of a book or two a month.
To hold myself accountable, I'll be sharing each book with you as I read them.  I'd love for you to join me if you want to… and be sure to share what you are reading!  I'll definitely need plenty of ideas for great books to read.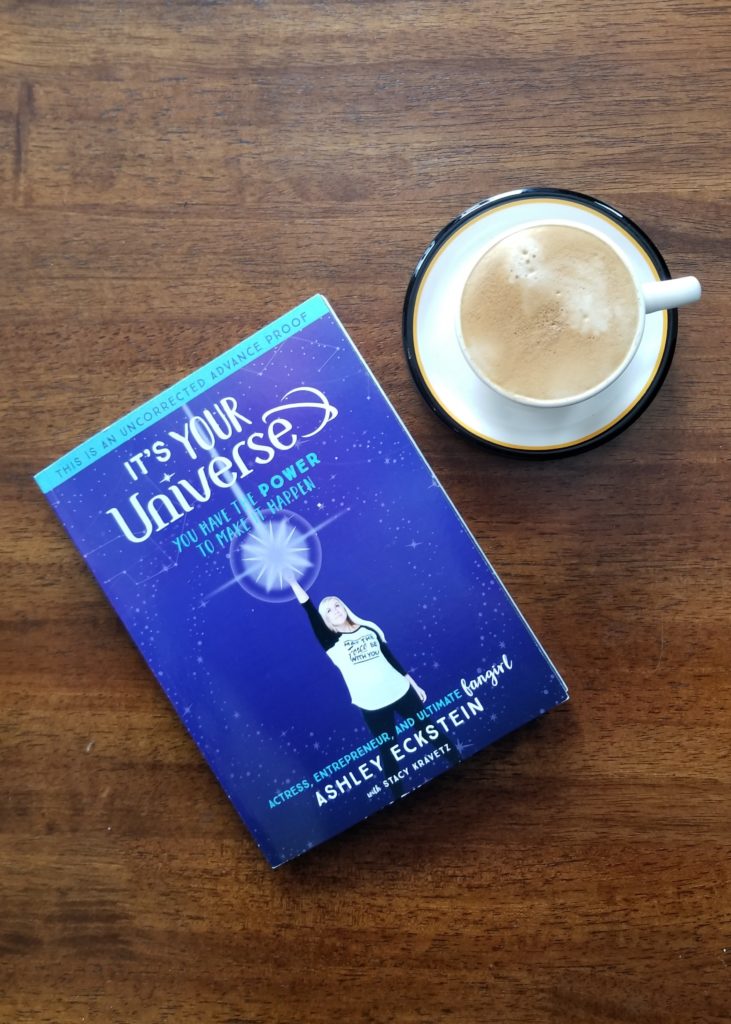 It seems apropos that begin my journey with a truly lovely book I recently received while attending the Disney Social Media Moms Celebration, "It's Your Universe: You Have The Power To Make It Happen" by Ashley Eckstein (on bookshelves everywhere May 8!)  The title alone is empowering and super suits my mission  – if I want to enrich my life with more reading, I certainly have the power to make that happen!
[amazon_link asins='B074518ZJB' template='ProductAd' store='ruralmom' marketplace='US' link_id='c3425979-3fa1-11e8-aba4-01aed4f1b192′]
The book is an inspiring account of Ashley Eckstein's story from childhood dreams of being on a Disney stage to how she became the ground-breaking entrepreneur who created Her Universe, a fashion brand and community for fangirls.  Eckstein shares her insights along with her favorite quotes and inspiration from iconic Disney characters that influenced her throughout her life.
"It's Your Universe" also outlines steps that everyone can follow and master to help make your dreams become reality.  No matter what path you are on, you'll definitely find uplifting sentiments and a wealth of motivation on each page.
This book is very well suited for teenagers. Eckstein shares a lot of her uncertainties and life lessons from the time she first entered the workforce at the age of sixteen to the recent Her Universe acquisition by Hot Topic.  I would have loved to have read this many years ago when I needed a boost of confidence, (which many young adults do, especially when they are first starting their dream pursuits and careers.)
Truly, it's also applicable and empowering for reader's of all ages. "It's Your Universe" will captivate anyone who dares to dream and certainly anyone who loves the magic of Disney movies and characters.
I enjoyed starting off my new 50 by 50 dreams on such a positive note and definitely feel inspired to dream even bigger and enrich my life even more over the next fifteen months!