Each year there's plenty of excitement surrounding the Chinese New Year.  You may be thinking it would be fun to join in the celebrations and certainly, to gift your children with a better understanding of world cultures.  Thanks to our partnership with Oriental Trading, we've put together a few ideas to help inspire you! All of these Chinese New Year activities are suitable for a classroom setting or supplemental learning at home.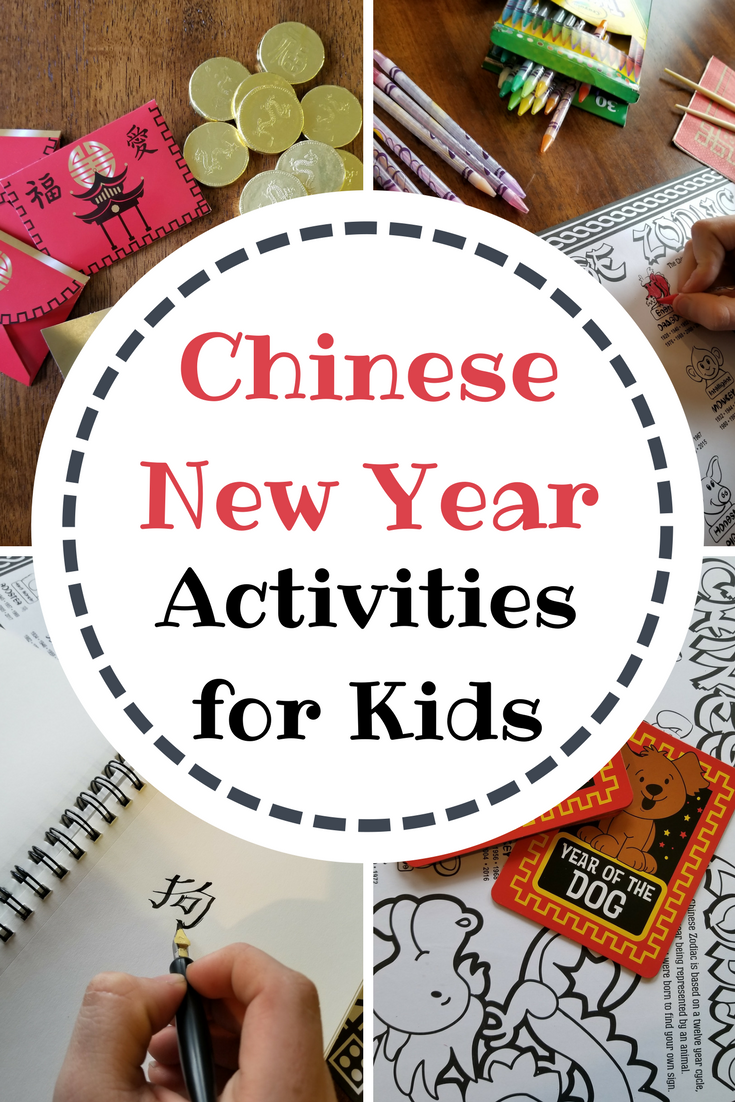 Chinese New Year, often referred to as the Spring Festival, is the most important holiday celebration in China.  It's a time for ushering in the new year and a time for celebrating family and traditions.  This year, Chinese New Year is February 16, a new beginning of the year of the Dog.
Each Chinese New Year corresponds with one of the twelve Chinese zodiac animal signs.  2018 is associated with the 11th position, the Dog.  If you were born in a Dog year (1934, 1946, 1958, 1970, 1982, 1994, 2006, or 2018) then it is thought that some of your characteristics are defined by that year and that a Dog year would generally be favorable for you.  Overall, those born in the year of the Dog are thought to be sincere, hard-working, reliable and understanding.
A great way to introduce children to world cultures is to embrace special holidays, like the Chinese New Year.  Participating in some of the fun of the festivities is an excellent learning opportunity. Giving them hands-on activities will allow them to discover traditions of other cultures in a positive, nurturing way.  Try some or all of these traditions in your celebrations.
Discover the Chinese Zodiac
Children love to explore and learn new things about themselves.  Learning about the Chinese Zodiac gives them a new way to gain insights and understand another culture's views.  You can pull up any number of resources on the internet to find examples of the Chinese Zodiac along with descriptions of each of the 12 animal signs.
Oriental Trading has several excellent tools for self discovery.  The ones I chose for my family were a Chinese Zodiac placemat that kids can color as they learn and a Chinese Zodiac card deck that details each animal sign and the characteristics of each sign.  There are all sorts of other fun products to choose from for this activity or you could simply create your own coloring sheets.  Another clever idea is to have the children draw each animal as you read aloud descriptions to them.
Spring Clean
I'm all about any excuse that engages my children in cleaning up our home and celebrating the traditions of the Chinese New Year is the perfect motivator!  Just as we commonly use Spring cleaning in the U.S. to freshen up for the new season, people in China freshen up their homes prior to the Chinese New Year to start with a clean slate.  It is symbolic of the desire to bid farewell to the old year and welcoming in good fortune in the new year.
Designate a special project for your children, such as cleaning the classroom or helping you to clean and organize your garage.  You can certainly tackle your whole home, if preferred, but be sure to add in some fun features like playing upbeat music and dancing while you clean or giving out small awards for picking up each room.
Enjoy Lucky Foods
During the Chinese New Year, families have special must-eat foods that are considered special.  The main tradition includes sharing these foods with family.  The Chinese New Year is a time for families to come together to celebrate and wish each other good fortune in the new year.
Lucky foods include:
fish (prosperity)
spring rolls (wealth)
dumplings (wealth and prosperity)
glutinous rice cake (higher income)
sweet rice balls (family)
longevity noodles (longevity and happiness)
bright circular fruits like tangerines and oranges (fullness and wealth)
You can set the table for these delicious foods with Year of the Dog tableware and chopsticks from Oriental Trading.  They are a great match to the coloring sheet Chinese Zodiac craft, too!
Wear New Clothes
Much like cleaning the home, wearing new clothes in the Chinese New Year will give you a fresh start.  The color red is considered a good luck color in China and is a great color to select for a new outfit.  Any bright colors are appropriate for the celebration as they are considered positive and upbeat.  Black and white, which are considered to be symbolic of mourning and death would not be appropriate choices for your new wardrobe.
Rather than shopping for an entire new outfit for each child, you could simply let them pick out a colorful shirt or pair of socks to for symbolism.  To take it a step further, create a decorate-your-own activity.  Purchase bright color t-shirts and fabric-safe paints or markers and have each child design their own Chinese New Year wear!
Gift Red Envelopes
Exchanging gifts during the Chinese New Year is a honored tradition.  The most common gift to give and receive is money inserted into a red envelope, generally gifted to children and adults who are retired.  As red is a considered to be a color that brings luck, it is considered a gift of good fortune for the recipient.
In modern times, instead of money, children will often find symbolic gold play coins or chocolate coins wrapped in gold foil.  This is a terrific custom for children to participate in.  Have them create envelopes for all of their friends and elderly relatives, too.  You can find pre-designed Chinese New Year red envelopes and gold foil chocolate coins at Oriental Trading.
A great service project would be to have the class put together red envelopes filled with gold foil chocolate coins to gift to a local senior citizen center.  Alternatively, set aside a day for grandparents to come to the classroom to learn about the Chinese New Year with their grandchildren.
Learn Calligraphy 
The system of writing referred to as calligraphy was formalized in China in the 7th century AD.  This stylistic writing is now popular around the world.  Order a calligraphy set and notepad suitable for calligraphy writing, then practice, practice, practice!  Challenge your children to copy Chinese symbols along with English letters.
My sons and I decided to start our calligraphy journey by learning the symbol for the year of the Dog.  Whatever you choose to practice, everyone will certainly enjoy the artistic process!