Every year it seems a bit harder to get in the Christmas spirit.  I mean, seriously, with retailers putting up holiday aisles when the first signs of fall begin, and Christmas advertisement popping up before Halloween, it's a little difficult to embrace the season when you have already been bombarded by it.
Don't get me wrong, I absolutely love Christmas, and I often wish I had the time or could find a way to fully immerse myself in the spirit of season when I choose to.  Usually this happens a few days before Christmas where I fully unplug from the frazzle and focus solely on the holiday.
Truly, I would love to have that opportunity throughout all of December and this year, and I totally managed to start off the month off in the very best, joyful way!  Do you remember how exciting it was to open an Advent calendar window when you were a kid?  Wondering what surprise would be found, counting down those blessed days until the eve of the most magical day of the year?  That's exactly the feeling I had when we arrived in Santa Claus, Indiana.  I'm positive that we found the awesome surprises behind all the Advent calendar days smack dab in the middle of this ridiculously-joy-filled town!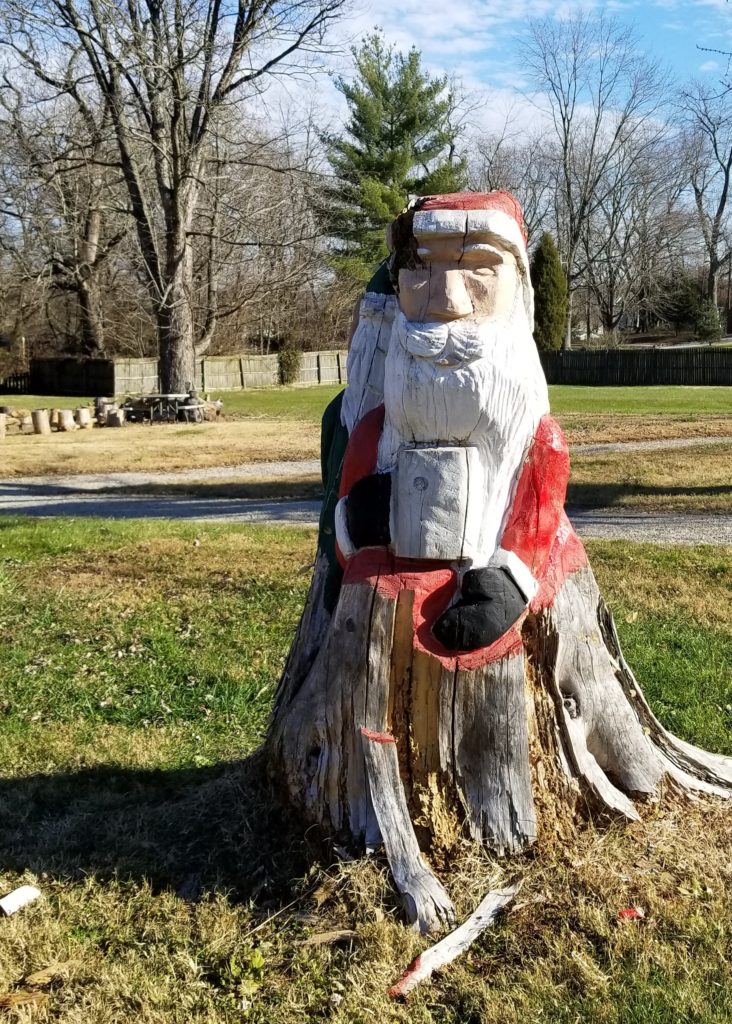 Yes folks, I know where Santa Claus is now and exactly why he loves being in this vivid village of country charm and Christmas carols.
There are other towns in the US that certainly light up during the holiday season, but none have such a dedicated year-round committment to bringing the spirit of Christmas to life.  Touted as "America's Christmas Hometown," Santa Claus Indiana offers a quaint slice of holiday bliss around every turn.  From wonderful get-a-way cabins in the woods to volunteer elves who help children connect with Santa each year, there's a memorable moment for every good girl and boy who visits!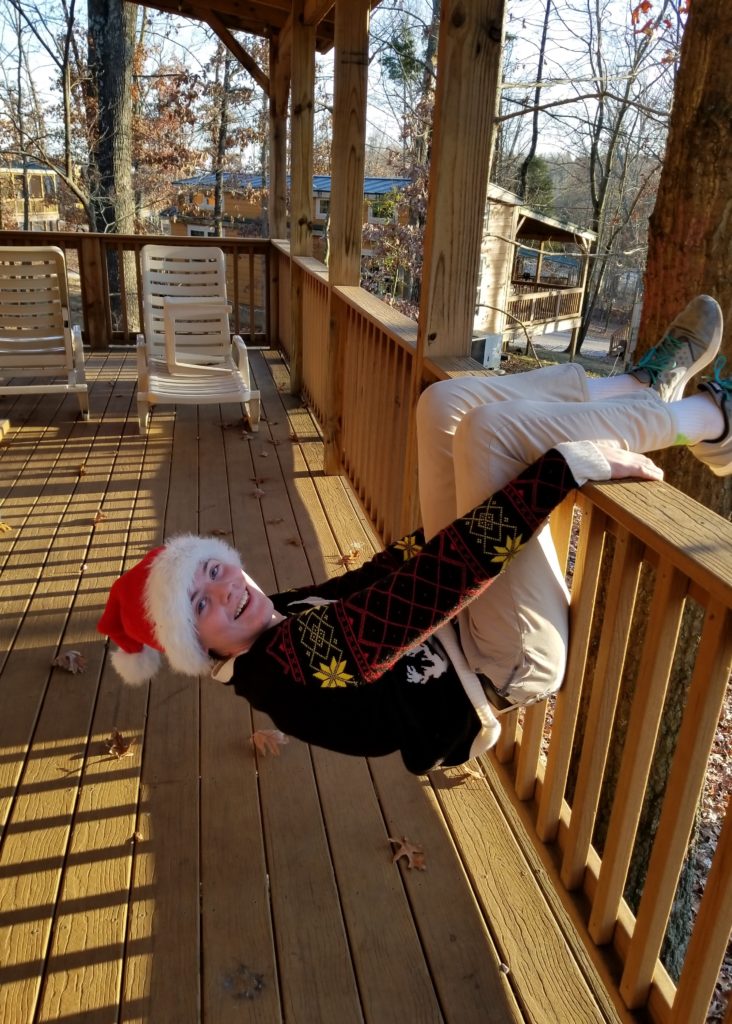 Where to stay and what to do in Santa Claus Indiana
My honest-to-goodness best advice is to pick out where you want to stay and then be open to the possibilities.  You can certainly set an itinerary and some things, like dinner with Santa or a drive through the holiday light show, are activities you'll want to plan out a little ahead of time, but otherwise, it's ideal to simply explore the area, savor each moment and just embrace the pleasant nature of the town.
Our visit included a stay at the Lake Rudolph Campground, a place we are very familiar with from summer visits (it's conveniently adjacent to Holiday World.)  In the winter, the campground completely transforms into a beautiful holiday wonderland with plenty of Christmas Cabins to keep you cozy.  Each cabin is your own little "home away from home" and an excellent place to unplug and spend quality family time together.  There's plenty of sleeping space to accommodate larger groups, a full kitchen space, outdoor grills and fire pits, and everything you need for a comfortable stay.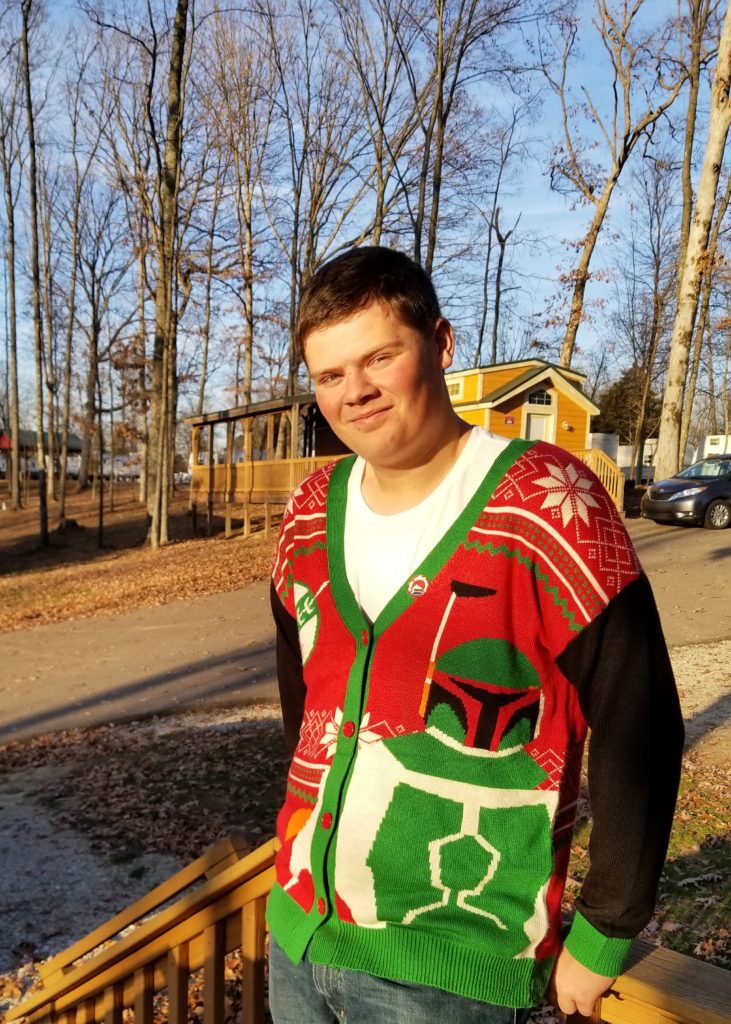 The RV and tent areas are closed off and become home to the annual Santa Claus Land of Lights, a spectacular custom drive-through outdoor light show tells the Shining Story of Rudolph in bright, energy-efficient LEDs – a show not to be missed no matter where you choose to stay!  If you are staying on property, you can purchase a holiday stay package that will include tickets to the light show, breakfast with Santa and some other fun holiday extras.  If you are staying elsewhere or just in town for the day, you can purchase tickets at the entrance to the show.
This year we also discovered the charming Santa's Lodge when we attended Christmas Dinner with Santa, a fun and delicious buffet dinner with a meet and greet with Santa and his elves. This dinner is available as part of the special Santa's Lodge holiday packages during your stay or may be purchased separately.  After dinner, there's a special story time complete with milk and cookies, too.  The rooms at the lodge are spacious and there is a restaurant, indoor swimming pool and a wealth of fun activities for families.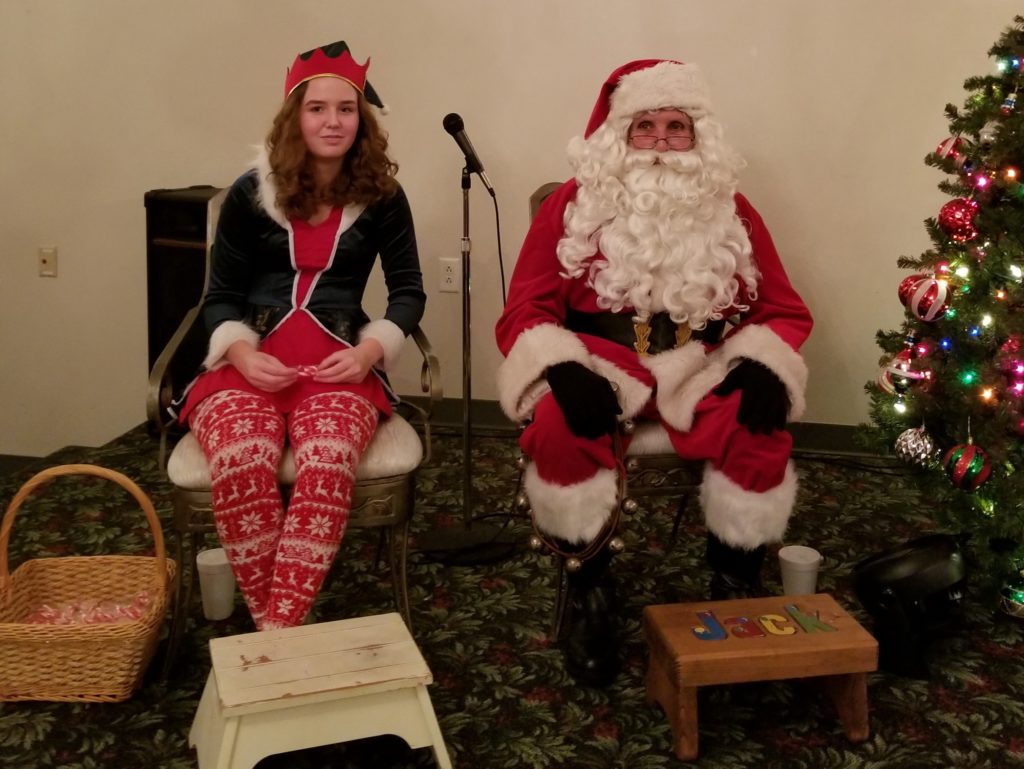 You'll be tempted to relax the day away in your comfortable accommodations, but during the holiday season, you'll want to venture out to explore the town and take advantage of one-of-a-kind activities like the virtual North Pole experience at the Candy Castle.  Kids can login to chat directly with an elf at the North Pole who will help them find out if they made Santa's nice list!  It's a really clever activity that encourages your child to work on the things like brushing their teeth or going to bed on time that they may not be so diligent with, while rewarding them for their efforts with a lovely certificate keepsake as proof they made Santa's good list.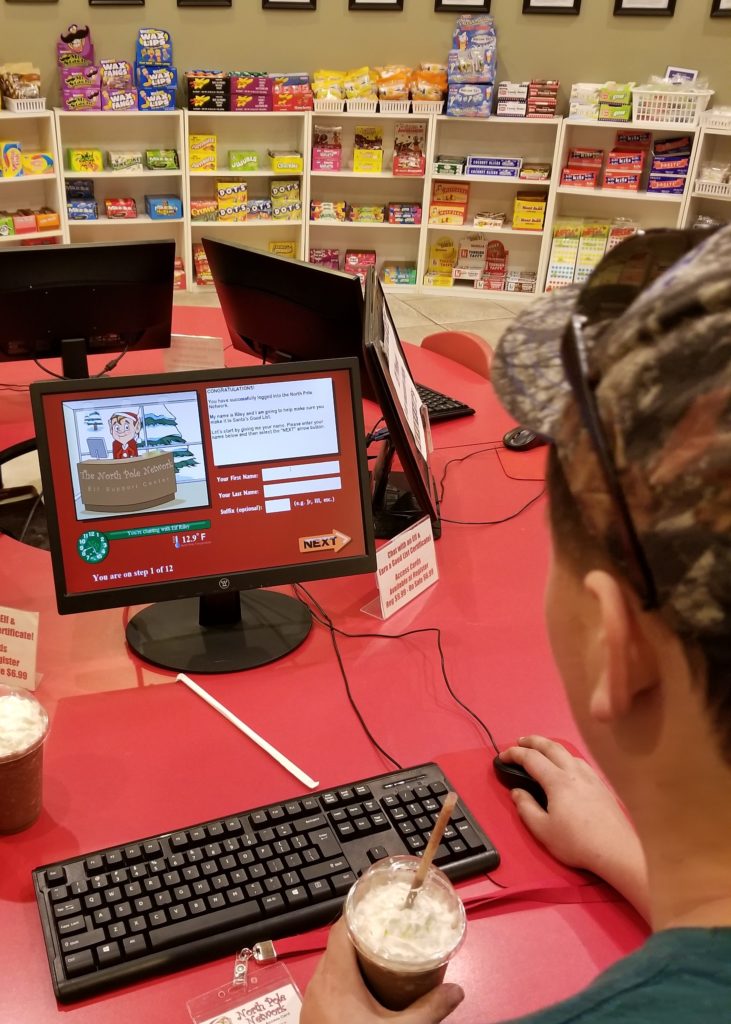 When you are at the Candy Castle, be sure to try the frozen hot chocolate (it's divine!) and stock up on all your holiday stocking stuffer needs.  They have a huge variety of hard-to-find candies, hand-made confections and a fun array of small toys perfect for filling those stockings on Christmas morning.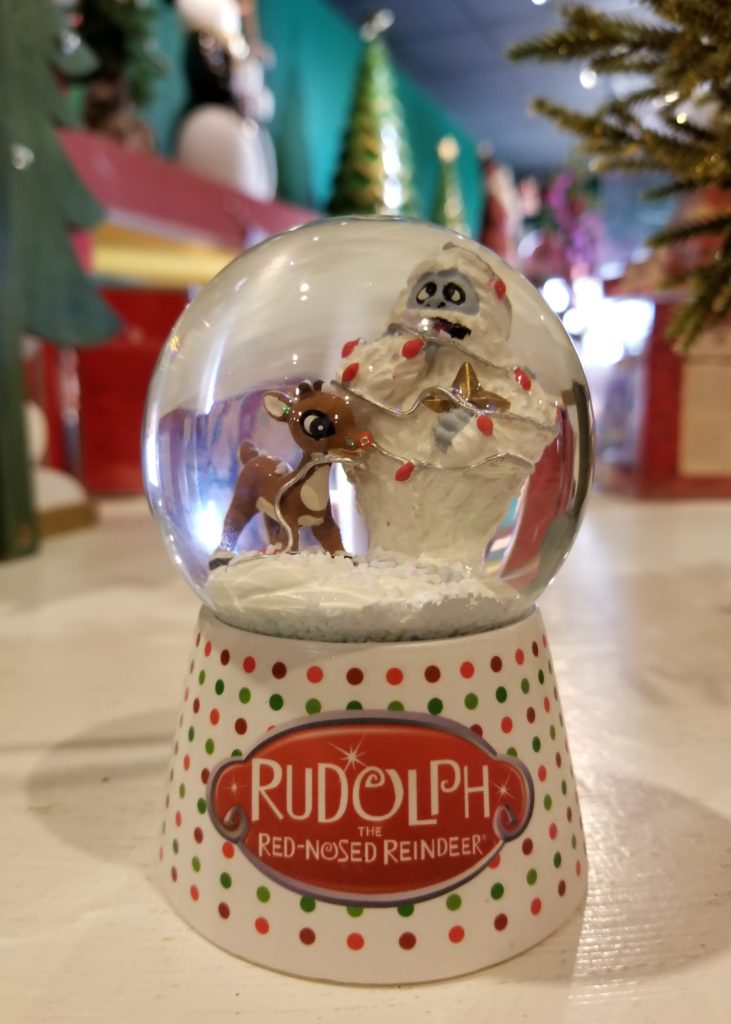 If you are in the mood to shop, you'll find plenty of options to pick up unique gifts throughout the town, including the Santa Claus Christmas Store which is chock full of everything Christmas and Santa's Toys where you'll find an awesome variety of STEM products along with classic toys.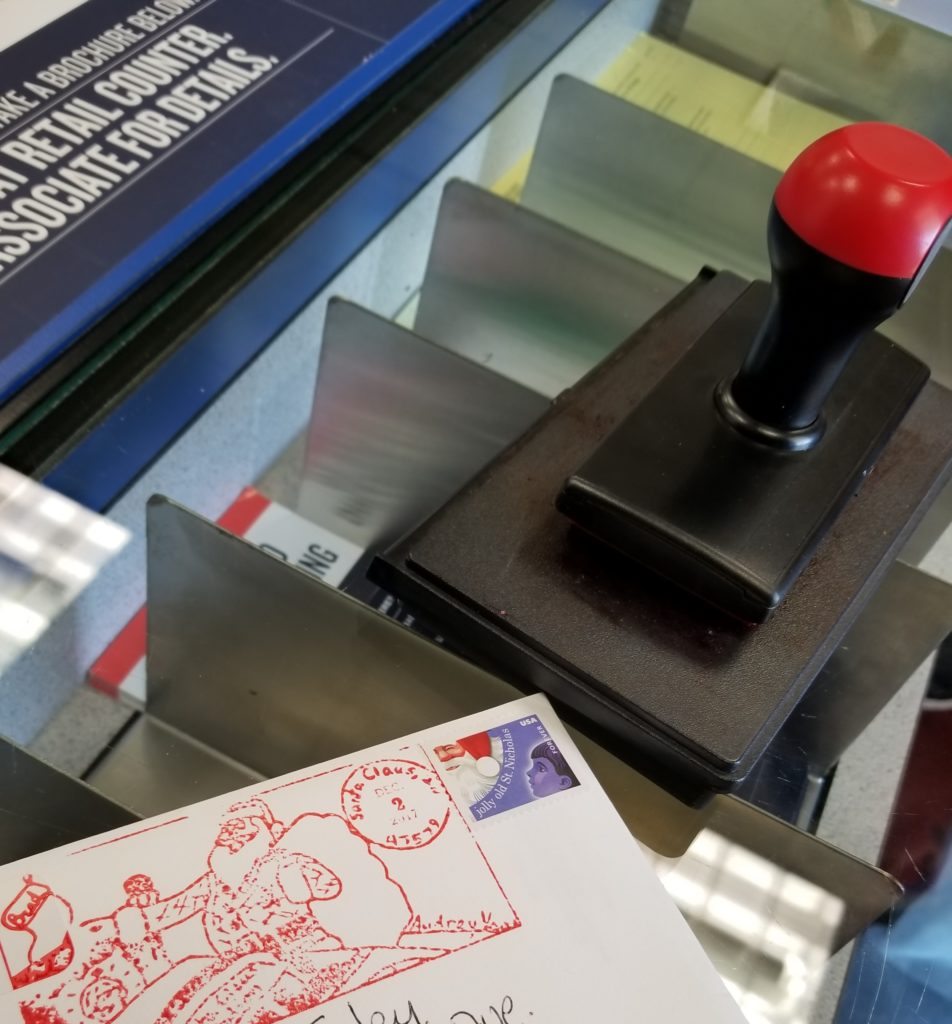 Also be sure to save time for my two favorite activities to complete during our stay in Santa Claus Indiana at holiday time – 1) a visit to the Santa Claus Museum and Village to take a step back in time and write a letter to Santa (or have a letter sent to your little loved one) and 2) a stop at the Santa Claus Post Office to have your Christmas Cards hand post-marked with a very special Santa Claus stamp.
If that's not enough to entice you and fill your days, there's plenty more to explore including nearby wineries, the Saint Meinrad Archabbey, Lincoln Pioneer Village and Museum, and a wide variety of special holiday events throughout the season.  You can find the full calendar of special activities at http://santaclausind.org/events/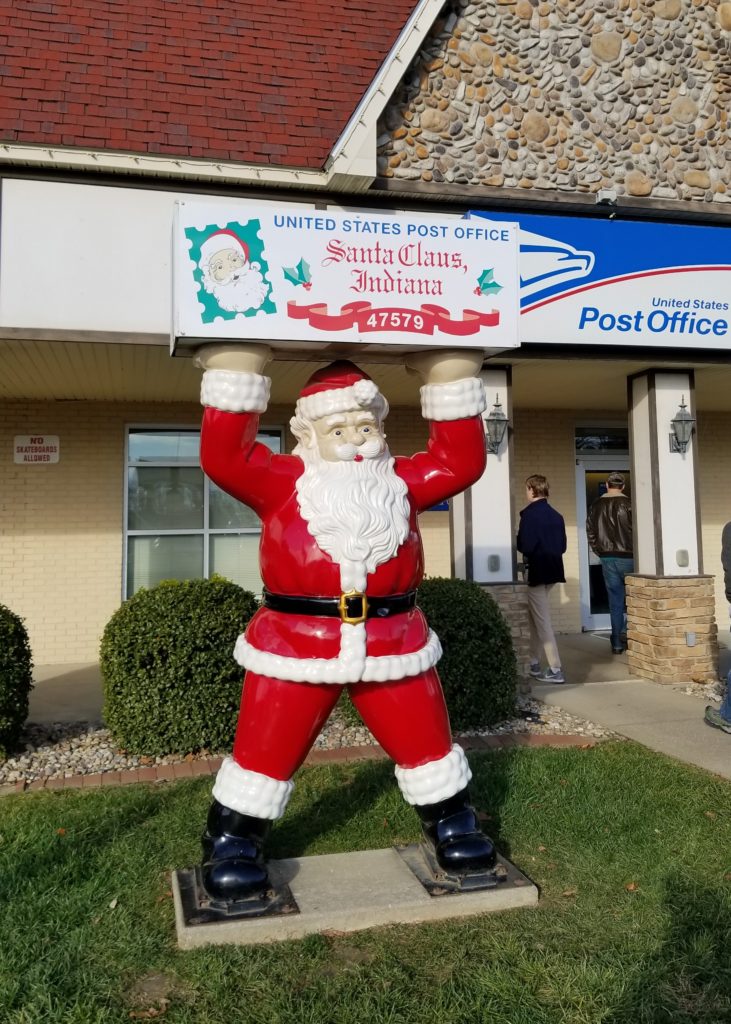 However and wherever you choose to budget your time in Santa Claus Indiana, I can assure you, you will get a glimpse, or two, or three or more of Jolly O' St. Nick along with an abundance of Christmas joy!