What will you be serving for your holiday breakfast this year? Thanks to discovering a fun video from Pillsbury™, I'm making a fantastic Cinnamon Roll Waffles recipe for the holidays to gift the kids a special treat.
Christmas morning has always been one of my favorite times of the year.  The excitement, the smiles, the mayhem and most of all I love our cozy family time that is always filled with joy.  No matter what is under the tree or how much wrapping paper is shredded on the floor, the real magic is simply being together and sharing our family traditions and love for one another.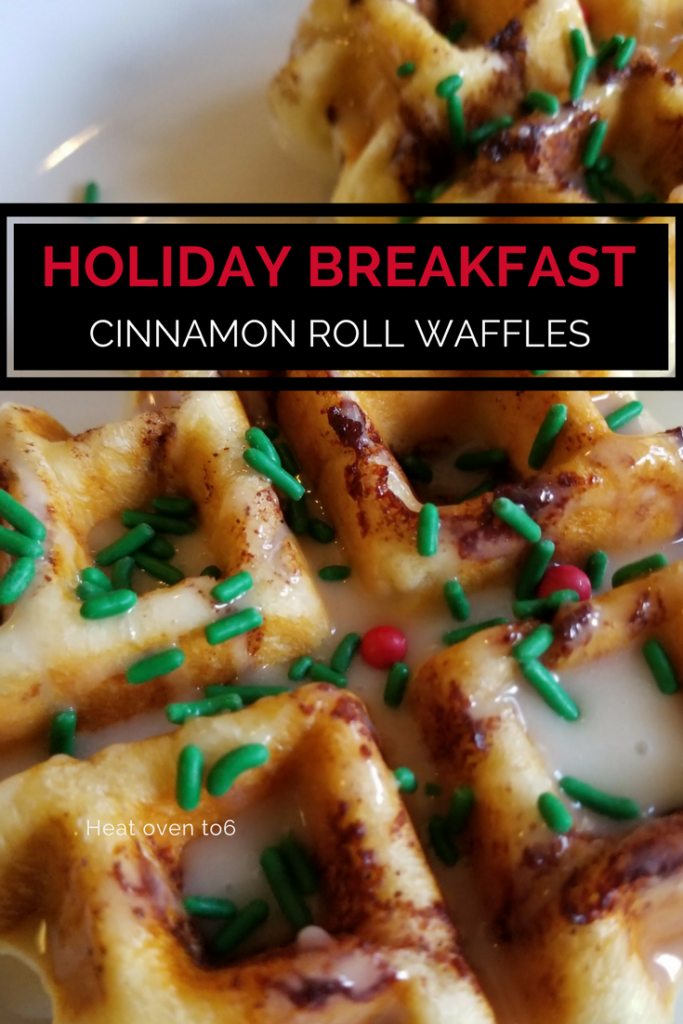 This year, we celebrate Christmas in our new home for the first time.  It's a wonderful chance for us to continue our traditions and to start some new ones, too.  The stockings will be hung by a new chimney, but they are all the ones we've been using for years.  I love how sentimental my children are about their Christmas stockings, too.  Though my youngest's is a bit raggedy, he insisted on keeping it rather than opting for a new replacement.  There's so much comfort in tradition, isn't there?
One of our favorite traditions is having holiday breakfasts on Christmas morning, but I also like to serve special treats in the morning all week long leading up to the big day.  French bread casserole is a favorite and hot cocoa and waffles is another.
This week, I'll be trying something new that I know my children will truly enjoy.  I'm making Cinnamon Roll Waffles with Cream Cheese Glaze.  They are not only super simple to make but are ridiculoulsy-delicious (yup, I sure have sampled 'em!  Every Christmas morning cook must submit to a taste test first, right?)
Making these wonderful littly-ditties is really easy and perfect for any holiday morning celebration!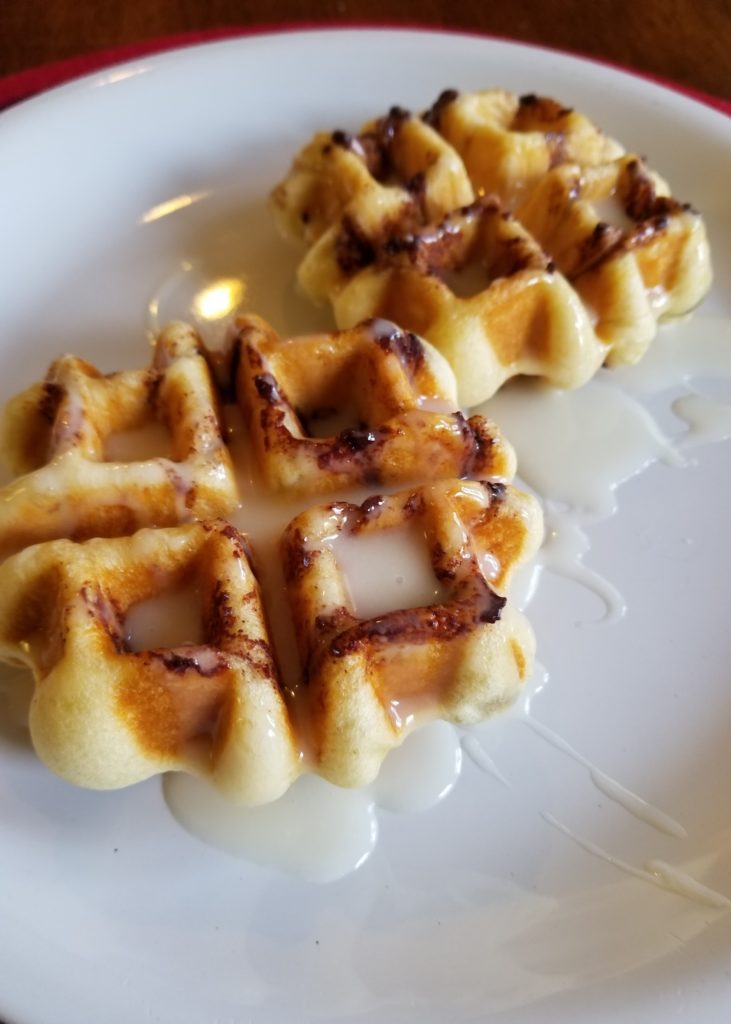 Cinnamon Roll Waffles
The only ingredients you will need are Pillsbury Grands!™ Refrigerated Cinnamon Rolls with Cream Cheese Icing (5 ct 17.5 oz Can), powdered sugar, milk, and vanilla extract.
On the morning you are making Cinnamon Roll Waffles with Cream Cheese Glaze, grab your cinnamon rolls and heat up your favorite waffle iron
Whip up the cream cheese glaze using the Cream Cheese Icing pack in the Pillsbury Grands! Refrigerated Cinnamon Rolls package, 1 cup of powdered sugar, 3 tablespoons of milk and 1 teaspoon of vanilla extract (see video below)
Pop one cinnamon roll from the package into the center of your pre-heated waffle iron (see video below)
Cook as you normally would a waffle per your waffle iron manufacturer's instructions (you may need to adjust the timing to cook the cinnamon roll waffle to a golden brown)
Plate the Cinnamon Roll Waffles and drizzle with Cream Cheese Glaze, serve and enjoy!
For an extra-special touch, I'll be adding festive sprinkles to the Cinnamon Roll Waffles just before serving as I love to glitz up the holiday servings.  You could also serve the cinnamon roll waffles with additional toppings like fresh fruit slices, syrup, or yogurt or pair them with any of your favorite breakfast sides like sausage, ham, bacon or eggs.
What will you serve on Christmas morning?  Do you have special traditions?