Ho Ho Ho! We're so excited to share Rural Mom's 2017 Top Toy gift guide! Our favorite toys are always those that encourage learning, creativity, and activity. This year's top pics really reflect that. We worked hard to include items that fit all ages and abilities, so our hope is that you find something (or several things) on this list that will make your shopping go swiftly and smoothly.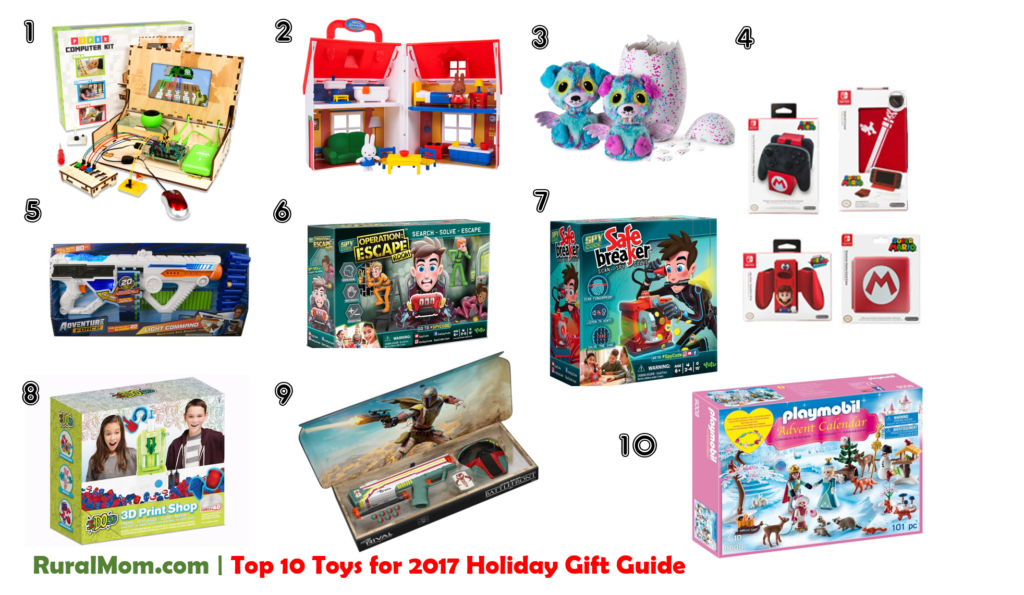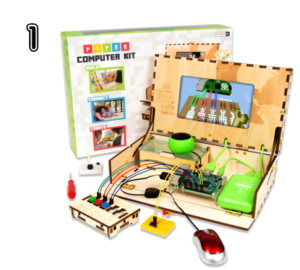 Piper Computer Kit  We're starting with our favorite tech toy this year – the Piper computer kit is our top pick for STEM toys. The kit makes a perfect gift for budding scientists, technicians, and engineers. The self-contained computer comes in a hand-crafted wooden computer case with an LCD screen monitor.
The wi-fi enabled machine also boasts 1gb ram and a 1.2Ghz quad-core CPU, and includes the Raspberry Pi Edition of Minecraft adventure play with hardware components and challenges. It literally has everything kids want in a computer combined with all the fun science parts. The electronic gadgets include led lights, motion sensors, buzzers, buttons, and switches all right there to explore and figure out. It's truly the best of both worlds –  a perfect way to expose a gamer to programming and coding, or for a gadget lover to learn more about how it all comes together.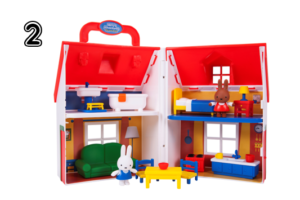 Miffy House Playset If you've got a toddler, you probably already know about Miffy! Miffy's Adventures Big and Small (on Nick Jr.) is a show about the adventures of a sweet little bunny. We love Miffy because the show inspires imagination and celebrates the simple joys in life. The Miffy House Playset lets your toddler bring Miffy's home to yours!
The bright and colorful little doll house holds Miffy and accessories. When not in use, the playset folds up nicely for easy storage or to carry to Grandma's house via the carrying handle. Kids love bringing Miffy on their own big and small adventures! This toy is a popular pick among the littlest littles this year.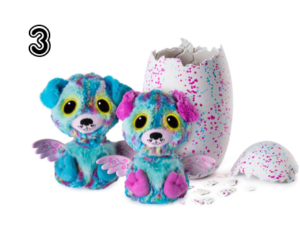 Hatchimals Surprise Remember how popular Hatchimals were last year? This year isn't much different. Spinmaster's newest Hatchimals product has you hatching twins! There are two options for Hatchimals Surprise – Giraven, (a combination of giraffe and raven), Puppadee (a cross between a puppy and chickadee) and Peacat, (a mix of a cat and a peacock.) The twins also come in a few color variations, which is part of the surprise! The newly designed egg is also easier to crack and hatch.
Hatchimals Surprise is a fun way to teach your kids a little bit about animals and a lot about responsibility. First, they rub and cuddle the egg until it hatches (about a half hour) and then the real fun starts! The more you interact with newly born Hatchimals, the more they learn, and therefore, the more fun they are to play with! Hatchimals also come with batteries included to make for a less stressful holiday morning – always a plus in our book! This toy is also a pretty hot choice this year – readers report having to go to a few stores to find it.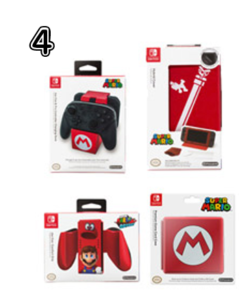 Nintendo Switch Mario Odyssey Bundle Mario and Luigi fans of all ages are asking Santa for the Nintendo Switch Mario Odyssey Bundle! Nintendo Switch has been out for a few months and is predicted to be THE hot game console this holiday season. The bundle includes Mario Odyssey for Nintendo Switch, Mario Odyssey Complete Charger (exclusive to Gamestop), Mario Odyssey Hybrid Case, Mario Odyssey Comfort Grip, and Mario Odyssey M Game Case. It's a bundle you'll want to give and receive too! (Random thought – original fans of the famous brothers now have grey hair and grandchildren, yet Mario and Luigi haven't aged a bit!)
The Switch is a portable gaming system. Not only can you use it on the "big screen" at home, but it easily transitions instantly to a handheld system and can be taken anywhere for a full home console experience. The handheld system features a generous 6.2-inch screen and portable joy-con controllers, which are the perfect size for handheld gaming yet easily popped into larger adapters for home use. The controllers are also equipped with built in motion-sensing technology and new HD Rumble.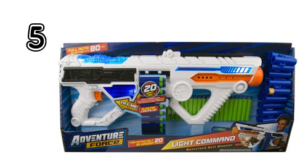 Adventure Force Light Command Toy Blasters are always popular gifts, and the budding space commander or army troop leader on your holiday list will love this new product. The cool thing about these blasters is that they really span all ages. Kids love projecting the soft darts both indoors and out. Adventure Force Light Command is also durable, allowing your child to have fun with their new blaster toy long after the holidays.
The dart blaster allows kids to light up their opponents with the illuminated blast panels. The light up action is especially fun for teens to play at night. The battery powered blaster can send the 20 included darts up to 80 feet! Bonus for those who already have similar products: The darts are compatible with all Adventure Force Blasters and most standard Nerf blasters.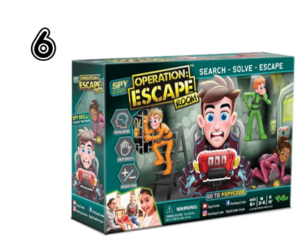 Operation:Escape Room Have you ever been in an escape room? Recently, they've become very popular and you can find them in just about every city. This clever version lets you bring the excitement home with you! The interactive board game engages kids' brains in several ways as they try to escape using dexterity and deduction skills. Even though each game can be finished within 30 to 40 minutes, kids will want to play all day!
The game is recommended for kids ages 6 and up and accommodates 2 to 4 players. The pack includes a timer unit, a keycage with sticks, a luck challenge, and 45 puzzle cards to get the wheels churning. We like this game because it makes kids use their heads, making it a perfect game to play on a snow day, during holiday vacations from school, and any time you want a little challenge. Adults will love playing, too!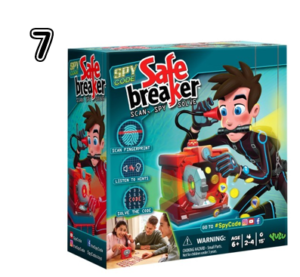 Safe Breaker  Along the same lines, our second board game pick also offers a spirited sense of adventure and challenges memory and logic skills. The goal of the game is to crack the code and open the electronic safe. Clues come from the included super-secret spy stethoscope.
This safe-cracking game is a great addition to your family game night – you'll all have lots of fun trying to crack the code! Because the clues include mathematical chances and a little bit of luck, each round is a new experience, ensuring that the fun and surprises never end.
IDO3D Print Shop  Ever since my sons discovered 3D printers existed, they've been asking for one. Finally, I can fulfill their wishes with this innovative toy! The Print Shop will let your child's imagination explore a whole new world of possibilities. This toy encourages creativity, engineering, and lots of plain fun!
There is no software included – the Print Shop is a safe way to introduce kids to 3D printing. They simply fill the pre-made molds with re-usable Formula 4D cloning compound to create anything their imaginations can conjure! The special ink and LED light safely cure the creations for showing off later.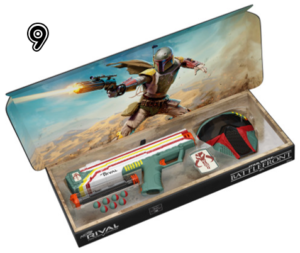 Star Wars Mandalorian Edition Nerf Blaster The ultimate gaming fan and Star Wars fans alike are hoping to find this under the tree this year! Another Gamestop exclusive, the Mandalorian Nerf Blaster allows for hours of pretend play. Inspired by the all-new Star Wars: Battlefront II video game, this blaster and mask set makes a fun toy for a kid and an awesome collectible, too. The graphic artwork on the inside of the box features Boba Fett, the most famous Maldalorian warrior. It's sure to increase in value in years to come.
Kids will love donning the masks and battling it out, Star Wars style! The mask not only looks awesome, but serves a very important purpose – The Nerf Rival Apollo XV-700 blaster is pretty powerful, shooting rounds at over 100 feet per second. The mask gives a little bit of extra protection from a wayward Nerf dart. The set also features a Mandalorian badge, giving the wearer a true warrior feel.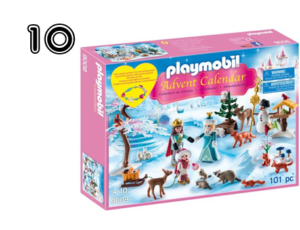 PLAYMOBIL Advent Calendars  Counting down to Christmas is way more fun with PLAYMOBIL Advent Calendars! These calendars are a fun way for kids to keep track of the days left until Christmas morning. They're available in 4 different themes such as 1.2.3., Christmas on the Farm, Royal Ice Skating Trip, Santa's Workshop and Jewel Thief Police Operation.
We're big fans of PLAYMOBIL sets around here. They're well-made, detailed, and ideal for sparking children's imaginations! The advent calendars are awesome. Each day, the child gets to open a new door to find a playset piece. Once Christmas comes, they can choose to keep the set out and enjoy the fun throughout the rest of the year or simply put it back for a fun treat next time.
The holidays make me feel like a kid again! We've had so much fun trying out this year's top toys. It was difficult choosing only 12 toys to feature this year. There are so many that we loved! Do you have anything to add to this list? We'd love to hear all about it!
Disclosure: We receive sample products for review for our holiday guides, most of which are donated to local charities after gently testing and inspecting. If it's not a gift we wouldn't love to see under our own trees or personally gift to a loved one, you will not find it in any RuralMom.com holiday guide. We do not accept payment for placement of items in our guides. If it made it to our top holiday gift pick list, it's earned a spot based on its high quality, reasonable price point, and overall excellence in durability and/or functionality.