In addition to enhancing my sustainable lifestyle in the kitchen, Mason jars truly rock my craft world!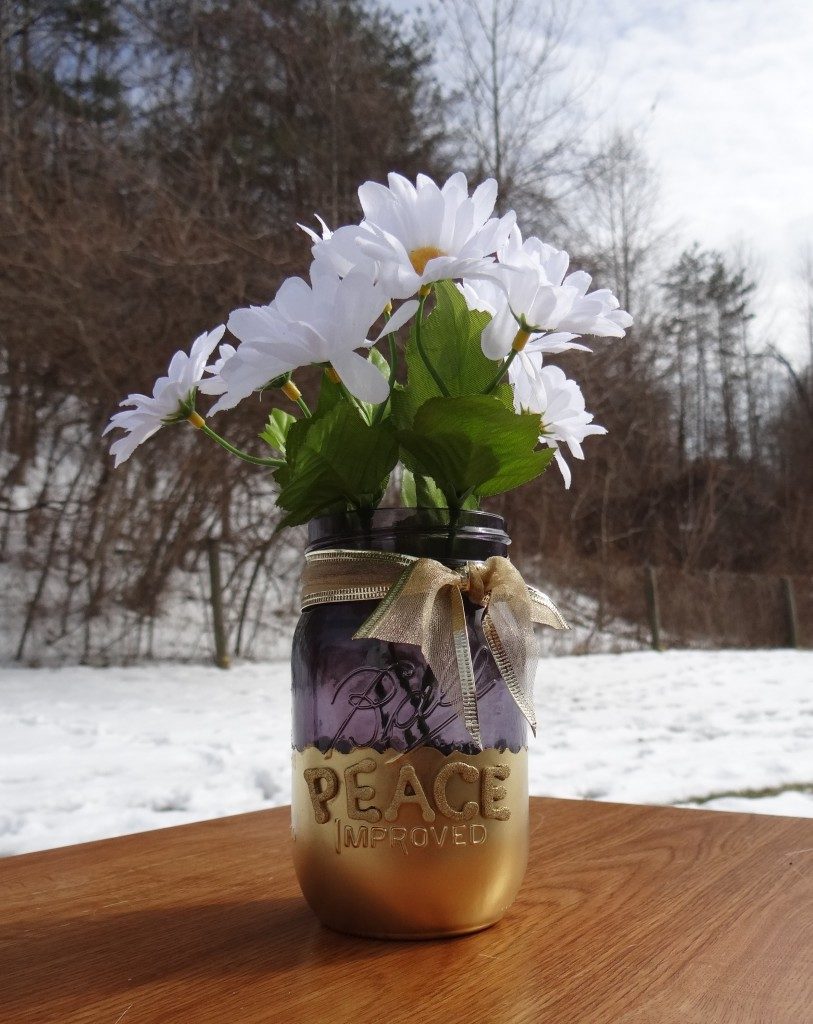 Right now I'm crazy about vintage-colored mason jars.  They are so pretty, but I simply cannot leave well-enough alone, it seems, so I had to see if I could glam it up a bit in anticipation of spring flowers.
Glamming up the jars and achieving an embossed letter look is super simple.  In the process, I learned that crafting embossed letter jars allows me to make "peace improved." So, yeh, there's that! An improvement on peace?  I can live with that result!
Supplies you will need are:
Adhesive foam letters
Spray paint (craft variety that adheres to all surfaces works best)
Painter's tape (or duct tape, masking tape, etc.)
Scissors
(optional) Decorative scissors
Ribbon
Scrap paper
First, determine what want to use the jar for. With the frozen tundra we currently have outside,  I was dreaming of spring flowers so decided a lovely vase might encourage Mother Nature to send a little warmth our way.
(Interesting side bar – the next day it warmed up.  Coincidence or the power of Mason jars?  You decide!)
I thought about lettering with "spring" or "joy," but as my current quest for incorporating a little more peace and serenity into my daily life is high on my goal list, I figured a daily visual reminder would be good to have.
Next, arrange your foam letters on the jar and press them down to secure in place. If you are looking for cut-out letters (meaning you remove them at the end and allow the jar to shine through,) it's better to use flat stickers to ensure no paint seeps through.  As I wanted to leave them on the jar for an embossed look, foam letters are the way to go.
Once your letters are arranged and secured to the jar, you can tape off the areas of the jar you wish to paint.  Often, I'll opt to paint the entire jar, but as I already love the gorgeous purple color of the jars, I wanted to be sure plenty of it was still visible. I decided just under half the jar would be the perfect portion to paint.
Using tape and scrap paper, cover the jar areas that will not be painted.  For a little "extra" embellishment, I used decorative scissors to cut the tape.  You can also leave the tape "as is" to create a straight edge for your painted area.
When you have your tape shield in place, move the jar to a well-ventilated area suitable for spray painting.  I typically toss a tarp down on the ground and spray paint items outside.  When painting half of the jar, it's easy enough to hold the top of the jar with your hand and gently turn it to get an even coat of spray paint on.  If you are doing a full jar, I'll typically turn the jar upside down and insert a sturdy piece of PVC pipe into the jar to hold the jar slightly off the ground.
After the paint has fully dried, remove the tape and viola! you'll have a lovely embossed letter look on the your jar.  If any paint managed to seep under the tape or paper, use a butter knife to gently flake it off the jar.  One of the great things about working with paint and glass is that it's generally easy to remove errors. One of the drawbacks, of course, is that this is a hand-wash very gently-only item.
To improve my peace Mason jar vase further, I cut a length of gold mesh wire ribbon to tie a bow at the top.  This added the extra little bit of balance and glam I desired.
Now, if spring will hurry up and offer up some lovely flower clippings to display in my Mason Jar vase, I'll be all set!
Do you have a favorite Mason jar craft?  I'd love to hear about it!