You will soon gather 'round the table to celebrate with a delicious Thanksgiving meal that has been carefully curated to be this season's best.  A meal this good deserves to paired with equally amazing drinks.  Thanks to our friends at Sparkling Ice and Santa Margherita, we have you covered with seven seasonal delights that will complement all your turkey day fare!
Each of these sensational cocktails are made with zero-calorie Sparkling Ice and world-renowned Italian winery Santa Margherita.  Serve with appetizers, your main course or as an after-dinner treat – whatever your style, your guests will truly appreciate your thoughtfulness!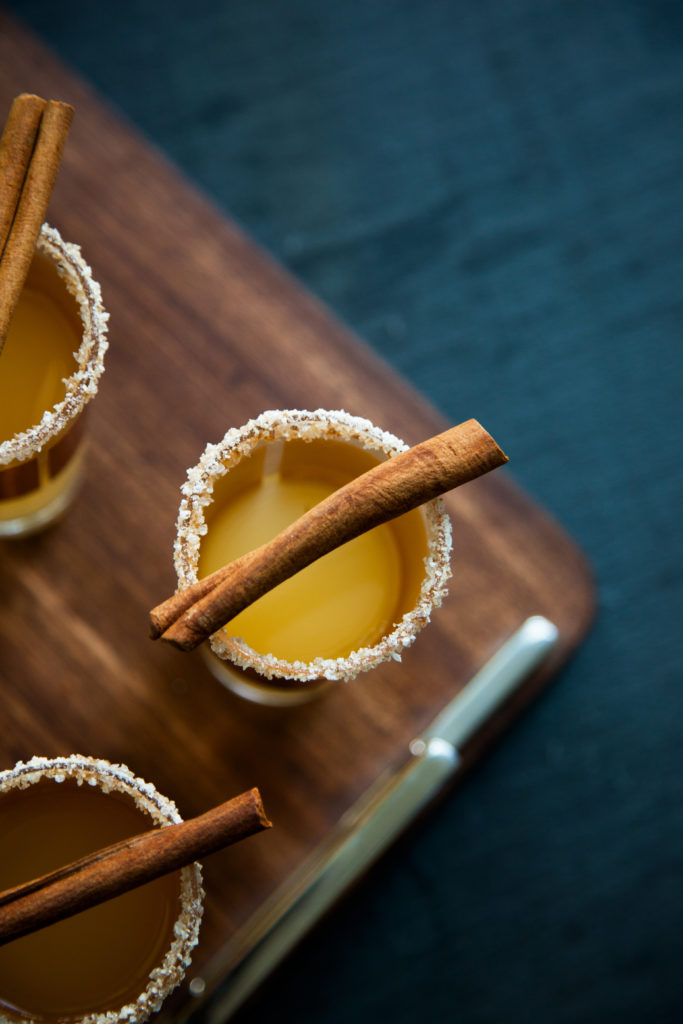 Fall Punch
INGREDIENTS
1/2 cup apple cider
1 cups hard cider
1 cup Sparkling Ice Crisp Apple
1/4 cup bourbon
1/4 cup lemon juice
Cinnamon sticks, for garnish
Cinnamon sugar rim, for garnish
DIRECTIONS
Rim the glass with a lemon and dip into cinnamon sugar, set to the side. Combine ciders, bourbon, Sparkling Ice Crisp Apple, and lemon juice in a pitcher- stir to combine. Fill glasses with ice, then punch. Garnish with a cinnamon stick and serve.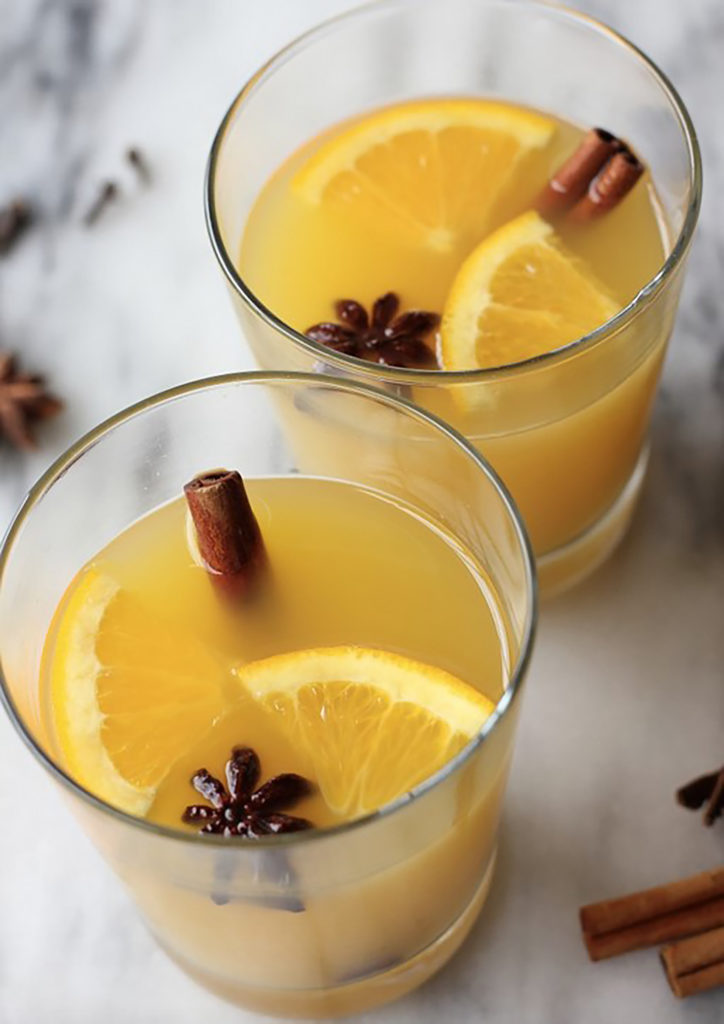 Orange Cinnamon Blossom
INGREDIENTS
1 bottle of Santa Margherita Prosecco Superiore DOCG
1/2 lemon
1/2 orange
1 tablespoon honey
1/4 cup sugar
3 whole cloves
3 whole allspice
2 cinnamon sticks
DIRECTIONS
Rinse lemon and orange and thinly slice them, discarding seeds; quarter the orange slices. Put fruit in a 4- to 5-quart pan. Add honey, sugar (use the smaller amount if you prefer drinks on the tart side, the larger if you want a sweeter flavor), cloves and allspice. With a knife, cut the cinnamon sticks lengthwise into thinner strips. Add cinnamon and 2 cups water to pan; bring to a boil over high heat, then reduce heat and boil gently for 5 minutes. Pour Santa Margherita Prosecco Superiore DOCG into hot citrus base and heat until steaming, about 8 minutes. Keep warm over low heat. Ladle into heatproof cups or wineglasses.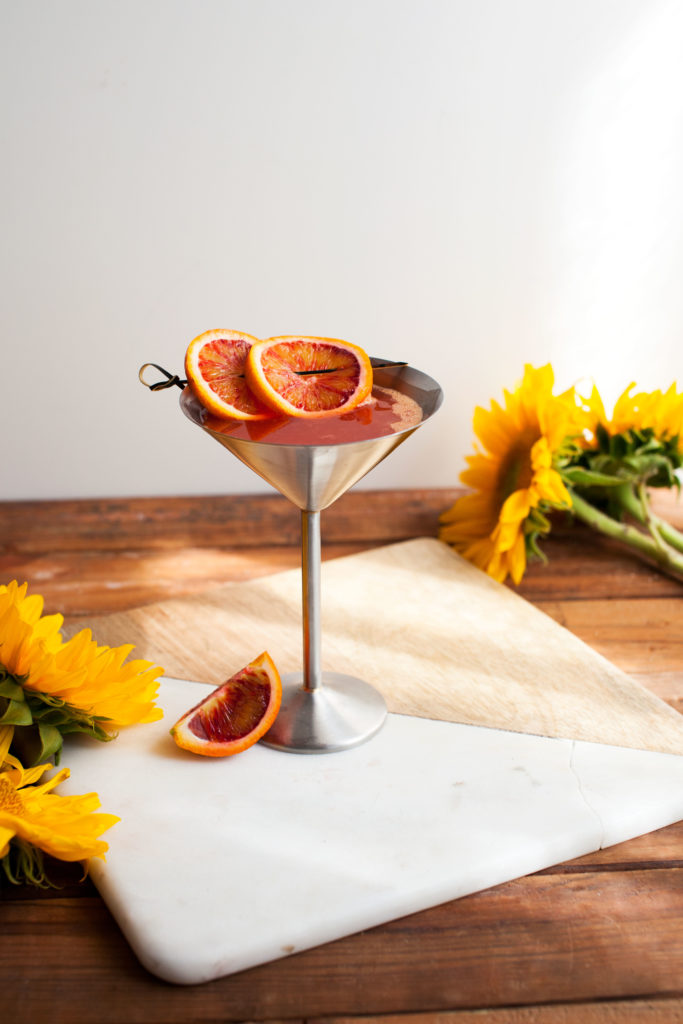 Holiday Train
INGREDIENTS
1 Part Sparkling Ice Peach Nectarine
1 Part Grand Marnier
Blood Orange
DIRECTIONS
Slice blood orange and remove slice for garnish. Juice remaining blood orange. Combing Sparkling Ice Peach Nectarine, Grand Marnier and blood orange juice. Garnish with blood orange slice.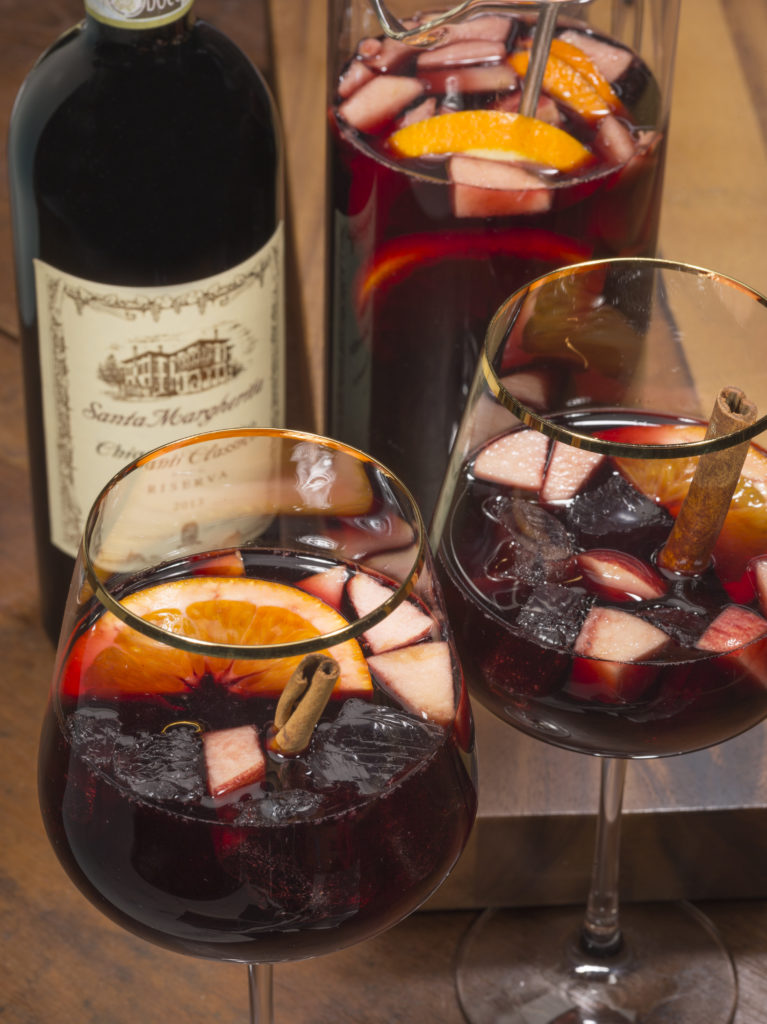 Holiday Sangria
SERVINGS: 4
INGREDIENTS
1 bottle of Santa Margherita Chianti Classico Riserva
1 large orange, sliced
1 large pear, chopped
Seeds of 1 pomegranate
4 cinnamon sticks
DIRECTIONS
Add fruit to a large pitcher. Top with Santa Margherita Chianti Classico Riserva. Place in fridge for an hour before serving. Spoon fruit into glass before pouring wine. Garnish with cinnamon stick. Add ice to top (optional).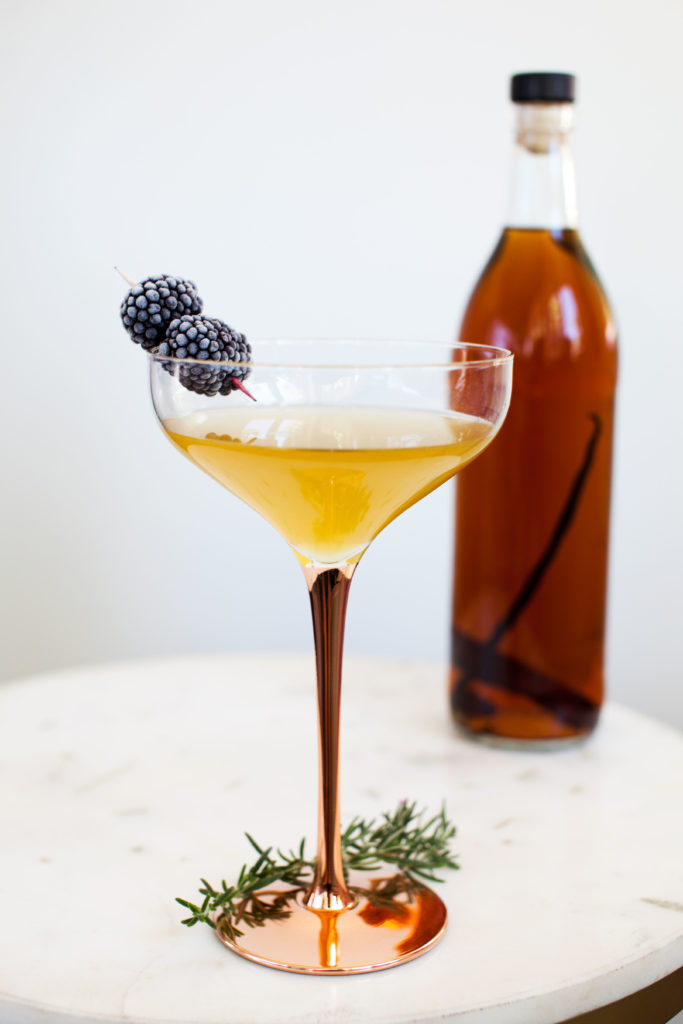 Sparkle and Spice
INGREDIENTS
750ml bottle aged rum
1/2 cinnamon stick
1 clove
1 cardamom pod
1 star anise pod
1 vanilla bean
3 allspice berries
Pinch of freshly ground nutmeg
Sparkling Ice Lemon Lime
DIRECTIONS
Combine rum, cinnamon stick, clove, cardamom, star anise, vanilla bean, allspice berries, and nutmeg in an airtight jar. Split vanilla bean and scrape seeds into jar along with the bean pod. Close jar and allow infusion to sit in a dark place for at least 3 days. Strain rum into an airtight jar with a fine-mesh strainer, discarding spices. Over ice, pour 2 ounces of rum infusion. Top with Sparkling Ice Lemon Lime and garnish with blackberries.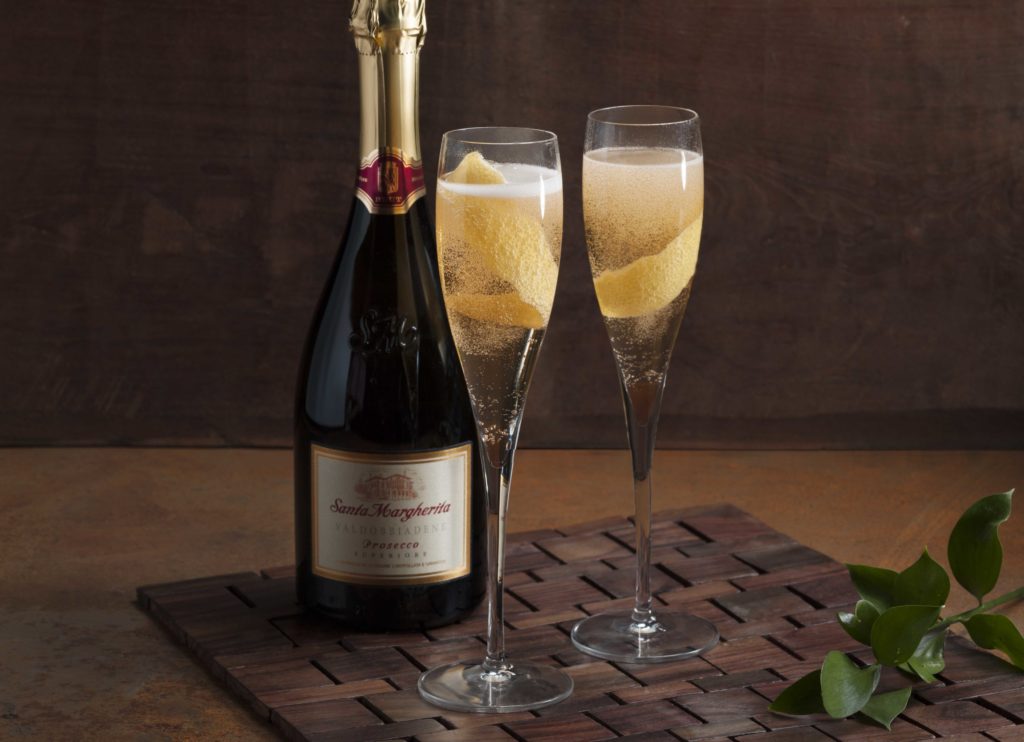 Lemon Elderflower Cocktail
INGREDIENTS
Santa Margherita Prosecco Superiore DOCG
1-2 ounce St. Germain Elderflower liqueur
2-3 drops Angostura bitters
Lemon rind (as garnish)
DIRECTIONS
Place St. Germain Elderflower liqueur into a cocktail glass and add drops of Angostura bitters. Fill glass with Santa Margherita Prosecco Superiore DOCG to mix. Top with twist of lemon.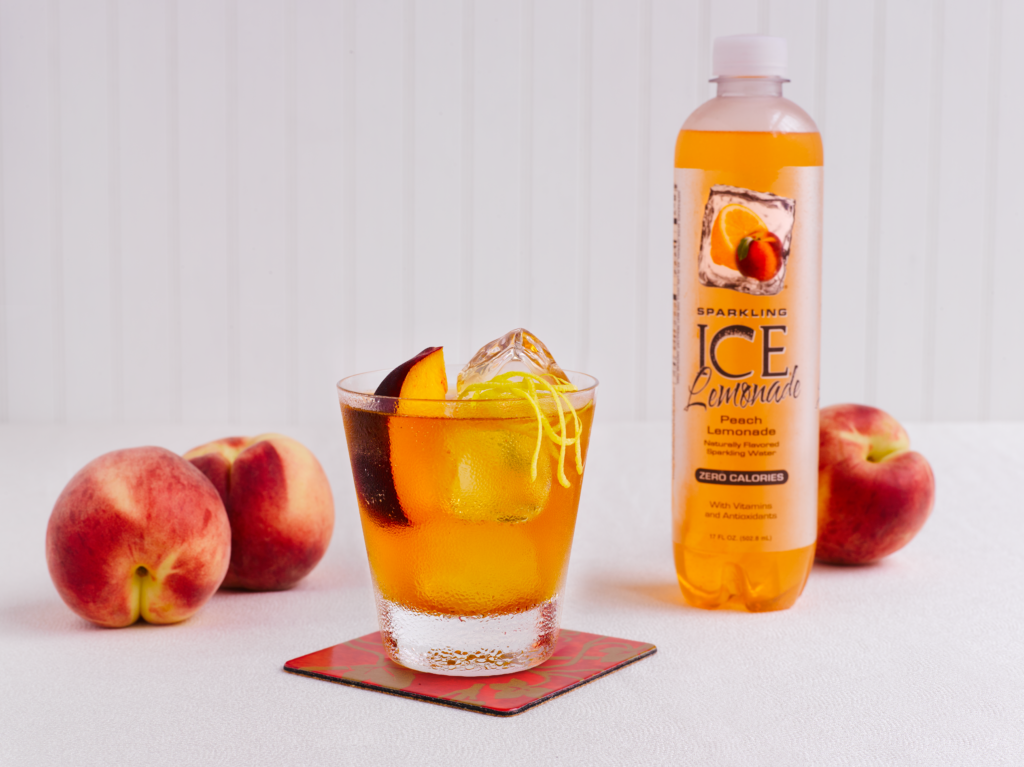 Whiskey Peach Pit Pie
INGREDIENTS
2 Parts Irish Whiskey
1 Part Sparkling Ice Peach Nectarine
Tablespoon Maple syrup
Peach Slice
DIRECTIONS
Add over ice in rocks glass. Garnish with a peach slice.